March 28, 2012 (Day 22)
And the end has finally come.  The worst part about the end of vacation is of course going our separate ways to our separate homes.  Today we are traveling from Positano to Marseille, France.  First we'll drive our rental car back to Naples and drop it off at the train station.  We'll take the train to Rome and spend about 4 hours killing time there.  Then, we take the train to the airport and fly from Naples to Marseille arriving in France at 11pm. 
Since I managed to pack up all our bags last night, we could have a slightly lazy morning getting up and out of bed.  For breakfast we've been having all kinds of different pastries and today was a chocolate filled one that was superb.  We smiled at each other across the table in the sun, looking down over the town for the last time.  We really do like staying at hotels with a great breakfast view.
We actually left the hotel a little early.  It was a great stay.  We were the only ones there the entire time except for one night and we really felt like they took care of us.  Mark had fun taking a video of the winch system taking our luggage up the stairs while I paid the bill and then we were off.  Since we were early, we stopped once or twice because the sun was in the perfect place for more coastal highway photos.
The drive was mostly uneventful.  There was some construction traffic that had us sitting in a long line of cars for more than 5 minutes.  Since the roads are so narrow, construction shuts down one lane and only one way of traffic can get by at a time.  In Naples, the car rental drop off was directly off the highway, so we didn't have to navigate the streets at all.  Thank goodness!!!!!  We got a little turned around, but found ourselves on the right highway pretty fast and the drop off was at a hotel across the street from the train station.
To get to the train station we proved to ourselves that we were now true Italians, and just looked straight ahead and crossed a multi-lane street without bothering to worry about the cars.  We are turning into true Europeans.  Many thing that shocked and amazed us 1.5 years ago seem easy to handle now.  We got our train tickets easily and soon we were on our fast train to Rome.  (only 1hr 10min from Naples)
The Rome train station had a left luggage (luggage storage), so we dropped our 2 backpacks and one duffel bag here so we could explore the town.  I've still got Mark's care package/action packer stored at the left luggage in the Rome airport, so we feel like we are just scattering our belongings all over Rome.  We were reminded of when we did something similar in Switzerland scattering our belongings across multiple luggage storage places.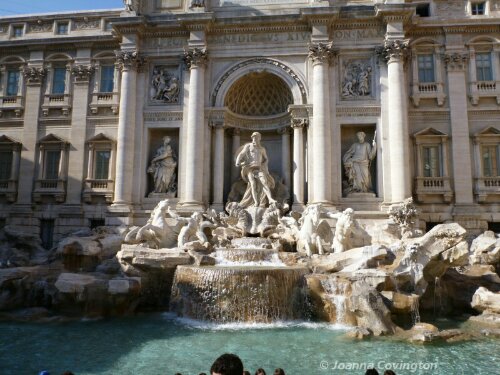 We have 4 hours to tour Rome.  We've been here before, a year and a half ago, so it wasn't like we needed to see any of the main sights.  We took the metro to the Trevi Fountain area to find the pedestrian area for lunch.  Rome is certainly still very crowded even in March!  The place was packed with people and tour groups all following a leader with a bandana on a stick.  I guess we are really now in the neck of the shoulder season.  I don't know that Rome has a shoulder season, anyway.  Our random cafe pick for lunch was delicious as we watched the world stream by.  While we ate, we remembered an article that my friend, Christy had sent me a year and a half ago when we were last in Rome detailing some of the better gelato places here. 
I pulled up the email and started mapping the out to see how many we could hit in a little walking tour.  Yay for SIM data cards and google maps!  The first stop was 1.3km walk from our lunch spot passing by the Trevi Fountain, the Pantheon, and Piazza Navona.  We nearly walked right by our hotel from last time even.  To our happy surprise, the Pantheon was now out of renovation.  Last time we were here we couldn't even see the outside at all due to all the renovation.  It was neat to see the real thing now.  We stood at the Trevi Fountain trying to remember if we had thrown in a coin last time.  If you thrown in a coin, it guarantees that you will be back.  Well, we're ba-aack.  =)
The first gelato stop was one that I fondly remember.  Gelateria del Teatro makes some amazing homemade gelato with real flavors like pistachio from Sicily and lemon from the Amalfi Coast.  They even had 4-5 different kinds of chocolates to choose from.  But my favorite was their coconut flavor packed with so much coconut, you'd think you were eating the filling of a Mounds bar.  In fact, with the dark chocolate in addition, it pretty much was a gelato Mounds bar in a cup.  We ate our cups, took photos, Facebooked, and posted to TripAdvisor while debating going back in for a second round.  It was really that good.  But we had another gelato stop to hit on the way back to the metro stop.
So, we walked another kilometer to the next gelato stop.  On the way we passed by a Sicilian Cannoli-eria!  Well, we have to stop here!  Thank goodness we've been to Sicily and got hooked on cannolis there.  =)  We each got one to eat while we walked on to our next gelato stop.  Yes, we are taking a gelato tour of Rome today.  =)  Our next stop was a more upscale-looking gelato place, Ciampini.  It looked very familiar so we must have been here before.  Here, you paid first and then went back to get your gelato.  There was no plexiglass separating you from tubs of flavors.  Instead, each flavor was listed on its own plaque on the wall and held in silver tubs.  We both had a cone and stood around outside eating while Facebooking, taking photos, and reviewing on TripAdvisor.  =)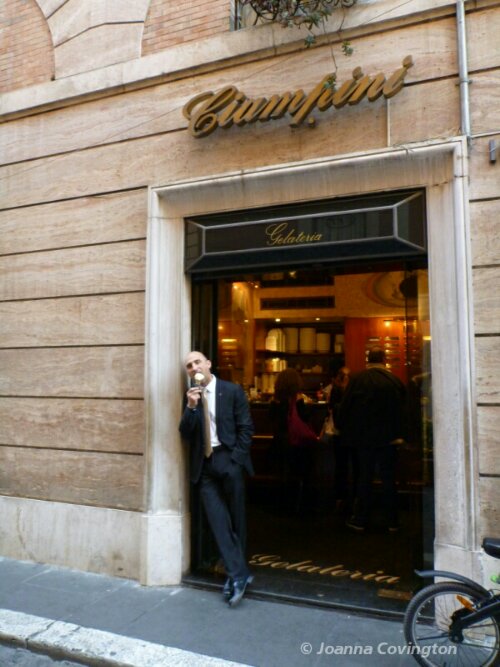 One of my favorite sights in Italy is a man in a suit eating a cone of gelato.  It truly brings out the boy inside the man while he eats with his buddies on the street, talking business, no doubt.  I even managed to accidentally grab a photo of one such businessman.
Finally, our Rome tour ended at the Spanish steps where we found our metro stop to take us back to the main train station.  Here it was easy to pick up our luggage and catch the Leonardo Express on platform 24 for the quick 30-minute ride to FCO airport.  I planned for lots of extra time in our schedule because we needed to do some repacking once we picked up Mark's care package.  Luckily I had built in so much time because it turned out we really only had an extra 30 minutes.  The Alitalia staff member at our check in desk was a stickler for luggage weight and made us do some more repacking.  She even weighed our carry-ons and I thought for sure that mine would be too heavy.  Somehow, it passed the test though.  Then, she would not allow us to check the action packer at her baggage drop off desk.  I've done this a million times before!  She said it was considered oversize luggage and we had to take it to a different desk.  Oh well.  It was no big deal in the end; just more steps.
The security line was fairly long and by the time we made it through to the terminal we really only had 30 minutes before boarding.  This was enough time to grab some dinner for later and wait to board.  The flight to Marseille was uneventful and arrived a little early.  The luggage all made it there safe and we checked into the Marseille Best Western.  I feel like we know all the staff there now.
I have to get up at 4:15am in the morning to catch my shuttle to my flight, so we didn't stay up too late.  Still, it was really only 4 hours of sleep.  We are all packed up and as ready as we can be to part ways tomorrow.  Now all we have to do is actually part ways.  =(  It has been a really awesome vacation and we can't wait until the next one.