March 27, 2012 (Day 21)
Today feels like our last real day of vacation since tomorrow is really a travel day.  We go back home on Thursday already!  =(  But, we won't think about that yet, because we've got a wonderful hike planned for today.
Today we are hiking the Sentiero Degli Dei, The Pathway of the Gods.  This is apparently a more popular walk (they call them walks in Europe, not hikes), there isn't a whole lot of map information on the hike.  I finally decided just to use the description in my Lonely Planet Hiking Italy guidebook to get to the start of the walk.  The directions included:  Now turn right and go up the road, turn left on the staircase between two empty houses.  After 15 minutes, turn right on another staircase.  The path is not marked.  In any case, we were pretty prepared to get lost.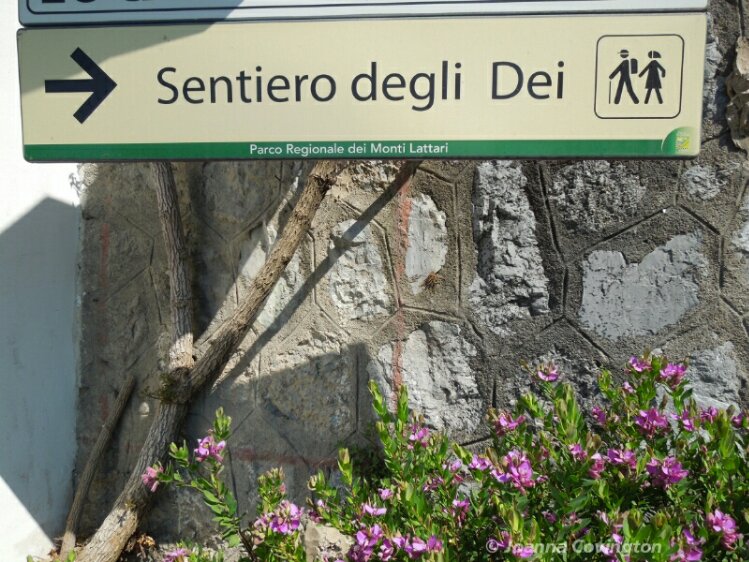 First we took the bus to Praiano, south of Positano.  The goal is to hike is to hike up, up, up into the mountain-y cliffs towering over the roadway and hike back words Positano, and then climb down, down, down.  We joked that we would "hold the sea in our left hand" since this was how the biking cue sheets were worded often.  The bus tickets were purchased in a bar and not on the bus, but once we had our tickets, hopping on was easy enough.  The bus was full of tourists rather than locals and we agreed that neither one of us could ever handle driving a huge bus down these curvy, narrow roads.  It all works out somehow, though.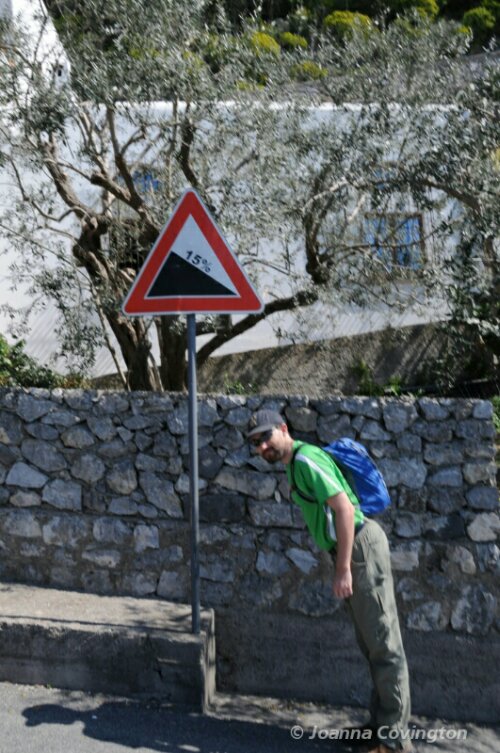 We got off at the first stop in Praiano and low and behold there was a sign pointing us up towards the Sentiero Degli Dei.  We of course had no idea where we might be in our Lonely Planet directions, but we did know that we had to climb, so up we went.  That was the only sign we ever saw indicating the name of our hike.  We started by hiking up the switchbacks of a road, but soon decided to take a random staircase instead.  Then, we climbed.  So many stairs later, our wonderfully civilized staircase pretty much dead-ended into a lightly trampled goat path.  We started taking the path not knowing anything about it.  No signs at all.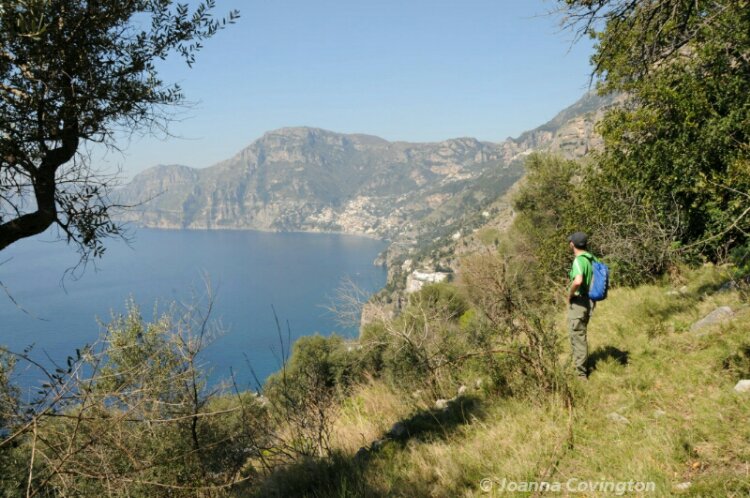 Our little goat path seemed to take us to an abandoned house where it was unclear of where to hike next.  After several mis-tries, we decided to hike through a low stone arch and scramble up a bank onto what could have been someone's terraced farm.  Then, we found  more terraces.  I was reminded of Peru since there were rock stairs allowing us to scramble up each terrace.  The farms seemed to be abandoned, and if they weren't I'm sure the people here were used to tourists scrambling around in their backyards.  No one came out yelling in Italian, at least.  =)
After many terraces later, we actually reached a building built into the side of a cliff that was labeled Colle della Serra.  This was where we were supposed to be!!  Excellent.  I was starting to wonder where we were headed.  The building turned out to be some sort of water tower since we could hear the water and see the pipe leading down into the ground.  We turned around and admired the amazing view.  The day is perfectly sunny, with a cool breeze to keep us from sweating too much, and weather in the high 70s.  The ocean down, down, beneath us was deep blue and we could see for miles down both sides of the coastline even all the way out to Capri.
From here we climbed more stairs.  We almost reached what I would have considered to be the ridgeline before the stairs finally petered out and we were faced with a flatter hiking path, high up above any of the towns below.  Surprisingly, though, as we hiked we walked straight into a sheep and goat farm waking all the far animals up.  The dogs guarding the sheep woke up and barked their warnings at us.  We promised not to steal any goats and got out of there.  We had probably half a kilometer to a full kilometer hiking through some sheep and goat farms before we turned a corner and were all alone again.  So far we hadn't seen a single person on this hike.  I fully expected to be alone all day.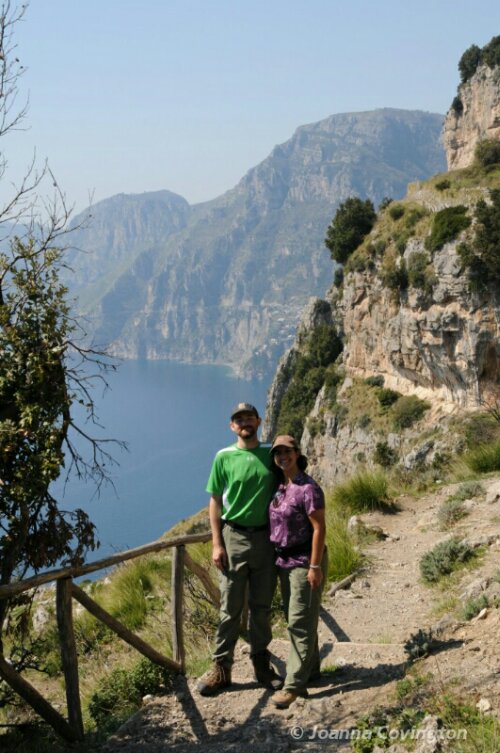 With incredible views all around us, from steep rocky cliff walls on our right to steep drops down to the ocean below on our left.  Eventually we came across a picnic bench!  What a perfect place to stop and eat lunch.  From here we could see for miles while we took our break.  I think I could have laid down and napped here as well.  I would imagine that this would be a wonderful spot to watch the sunset since we could see across to the west where the ocean met the water, but there's no way I wanted to be up here when it got dark.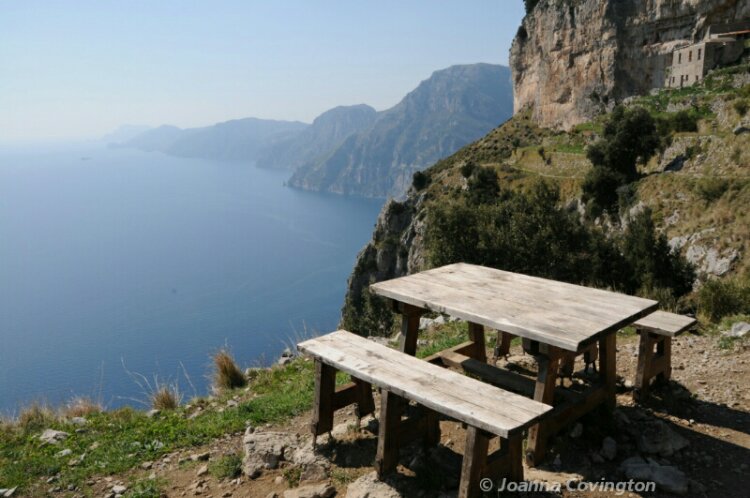 I should also mention that the lizards love the sunlight.  There were hundreds and hundreds of lizards all out sunning themselves and then scattering away when we hiked up the trail towards them.  It was rather comical at times when a lizard went leaping away.  Then other lizards would appear to be all brave until they saw me reach for my camera and they'd leap away.  We must be very scary looking.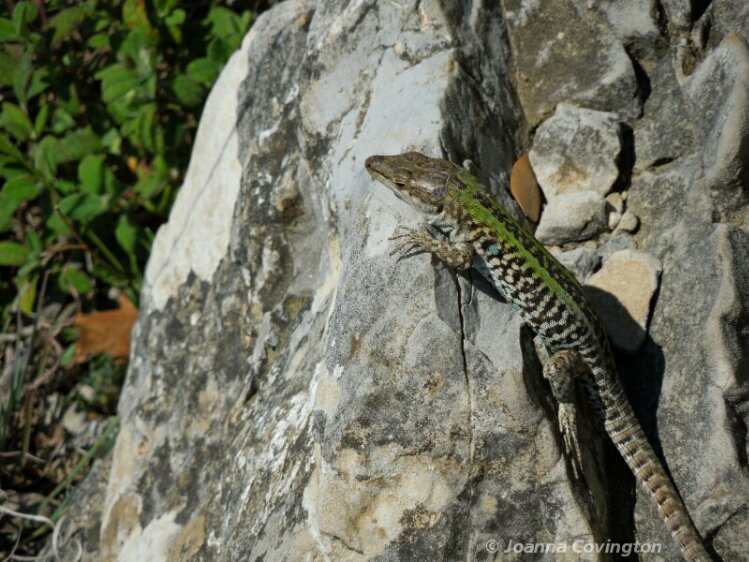 Our hike continued mostly flat, but with a few ups and downs for several more kilometers.  We had to keep stopping to marvel at the new views and take photos.  There were a few flowers scattered along the trail, but nothing compared to Sicily.  We also saw a few butterflies here and there, but for the most part it was all lizards.  Then we arrived at the bottom of some incredible rock cliffs with stalagmites dripping down the sides way above us.  There were several caves here and there hidden above us and we could see where some bird were nesting.  Every now and then, we'd see an impossibly high farm building of sorts and wonder how it got there.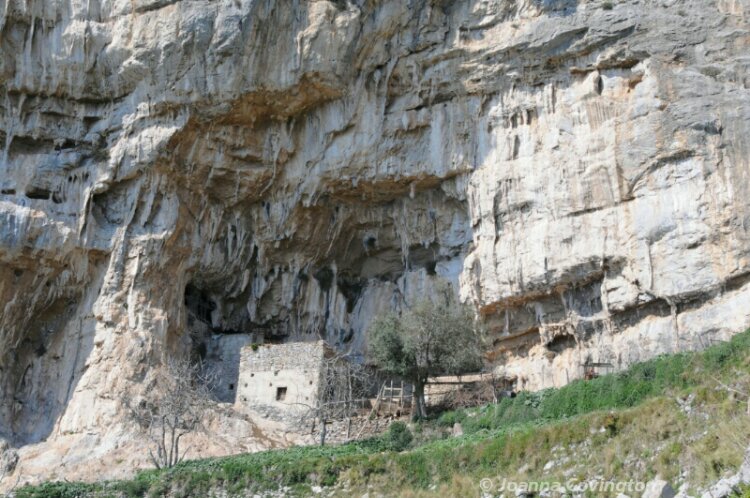 We did pass about 3 other groups of hikers along our journey and several other picnic benches with perfect views.  We also passed a herd of farm goats walking along a path towards home.  I expected to see a farmer following, but the goats seemed to be traveling on their own.  They passed us near a very echo-y part of the cliff walls and we could here the baa-ing loud and clear.  One little goat was baa-ing so much he sounded like a person.  I can still hear his call ringing in my ears.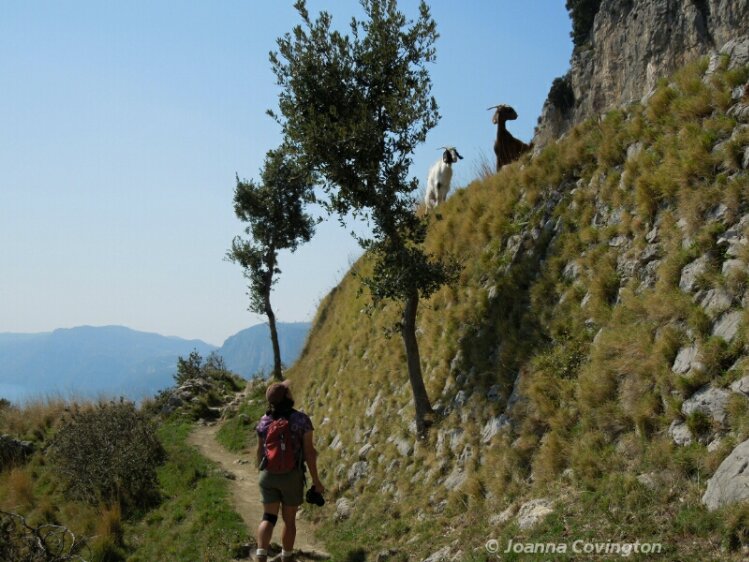 Eventually, we got to the town of Nocelle.  It's always amazing to hike in Europe and find yourself in a town.  The dirt and rocky path we'd been following emptied out onto a freshly laid concrete sidewalk through Nocelle.  There was nothing in the town that we could stop at; just people's houses and gardens.  Many did have beautiful flowers out for display.  However, here, we started our path down, down, down, down, and more down.  We probably had to hike down 2000 or so stairs before we ended up back on the main road.  I figured we took a wrong turn in the town, since we were supposed to stay up on the ridge for a little longer, but we sure weren't going to turn around and hike back up!  In any case, it was nice to hike along the road for a bit since we soon came across the first turn down to Positano.  Here there was a nice little gelato shop where we could take our after-hike snack.  This is not such a bad way to end a hike.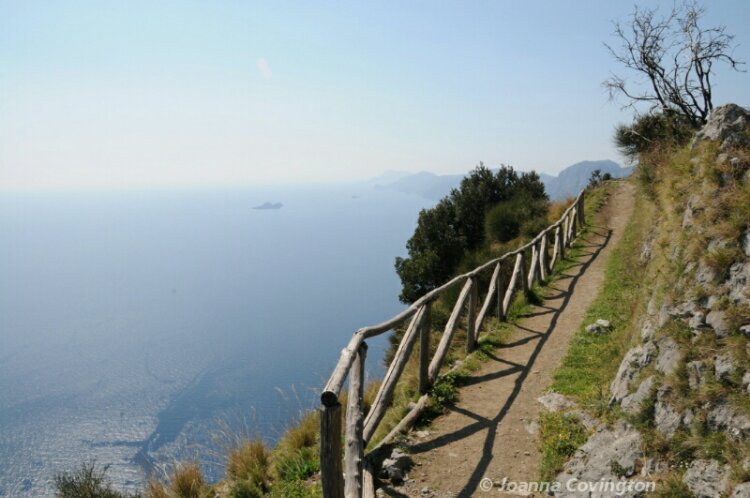 On the way back to the hotel, we passed by a spot that I vowed to come back to to take some night photos.  It was a 10-minute walk from the hotel, so we'll see what I feel like after the shower.  And, then, finally we arrived at the hotel.  I forgot to mention that our host earlier warned us of a planned electricity outage from 9am to 4pm today, so we were happy to arrive after 4.  Time to relax on the porch with some snacks, a Guinness for Mark, and some chips for me.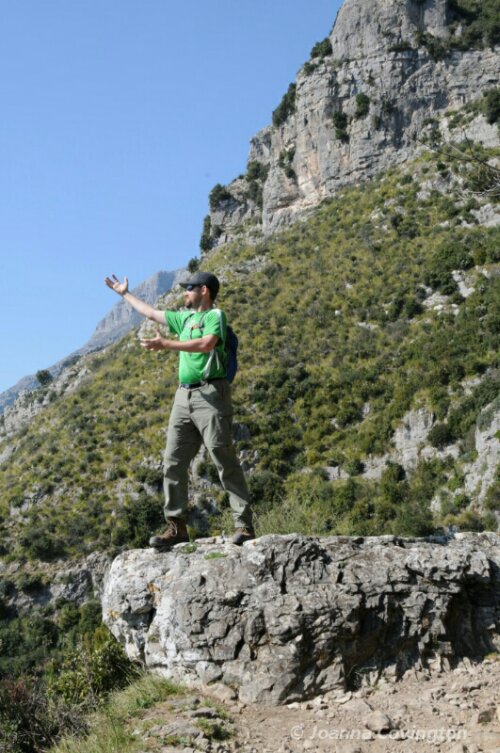 We had a great surprise in the shower as they had sometime replaced our leaky shower faucet hose, so we had water pressure!  I don't know if I mentioned that we were very much lacking in water pressure at this hotel.  But it was back tonight.  I managed to avoid sitting down so that I'd be able to go back out and capture some night photos during the "blue hour."  We are on the wrong side of the peninsula to see much of a sunset, but the city lights after the sun goes down are pretty spectacular.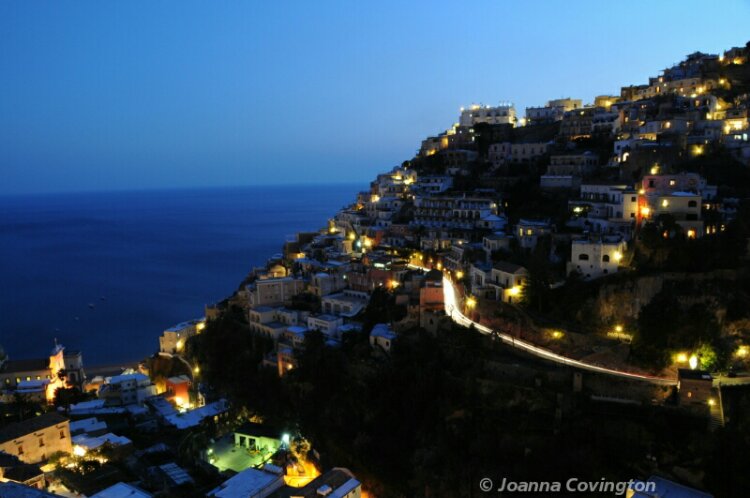 We even managed to walk down to eat a delicious dinner as well.  Mark finally got his beef steak and I decided that sea bass with orange and lemon sauce was one of my favorite fish dishes.  For dessert, we managed to find some chocolate lined cannolis at a bar with our names on them.  Today was a pretty good last day of vacation.
Tonight I just have to pack and then tomorrow we've got another travel day.  Planes, trains, and automobiles……but not in that order.  Until then….