March 19, 2012 (Day 13)
Bike Odometer: 33.4 km (20.75 miles)
Bike from hotel to Trapani and back
Bike time: about 11:30am – 6pm
Weather:  sunny, 70 degrees, very windy
Today Mark and I are celebrating 7 wonderful years of marriage.  We are happy to be able to spend our anniversary together this year. 
Breakfast at our hotel in Nubia was a mix of carbohydrates as is the usual Italian hotel breakfast.  We were the only guests last night, so only one table was set up for breakfast, and all the items to choose from where right there on our table.  Breakfast did include some very tasty fruit tart slices that were fairly amazing.  We were slow going this morning.  We spent some time on the internet, though the speed was rather slow. 
Siciclando had provided us with a cue sheet to bike up to the mountain town of Erice and back today, but we chose instead to just bike to the coastal town of Trapani and back.  The wind was blowing strong today, and it was Monday which meant the cable car that would have taken us and our bikes up to Erice was closed.  Oh well.  It is supposed to be a cool medieval town, but we figured most everything would be close on the Monday anyway, and we didn't want to spend 9 km biking straight up in the wind.
So, off to Trapani we went.  Our doggy friend wanted to come along, but we had to leave her behind.  The ride to town took us alongside the Trapani salt pans and we admired the views before we got to town.  Our first goal was to find a recommended bike shop to see if we could find any Italian jerseys.  The town was pretty crazy to bike through, though.  We were kind of hoping we could just park the bikes and walk around, but the town was much bigger than walking distance.  We got to navigate the Italian traffic on a bike.  It was not that much fun, but we made it.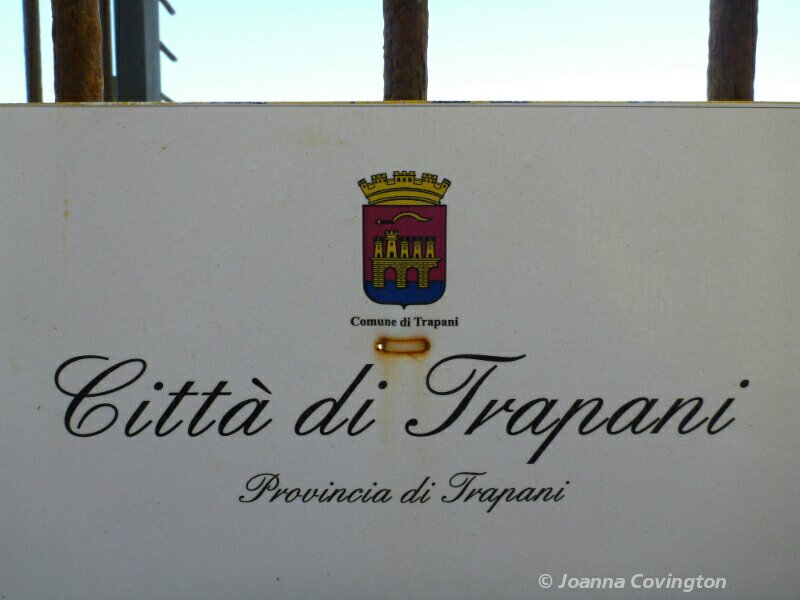 The hardest part, really, was just trying to figure out which direction to go.  Street names are impossible to find, and all the one way streets going in somewhat random directions made it that much harder.  Thankfully with our Italian SIM cards, we could stop at nearly every street corner and pull up Google Maps on our phones to try and figure out both where we were and which direction we needed to go next.
By the time we reached the bike shop, it of course was closed for the afternoon siesta and we had to come back later.  Now our goal was to find some lunch, but it seemed like every single food-type shop was closed up tight as well.  We decided to bike to the port area, hoping it might be a little more touristy and have at least something open.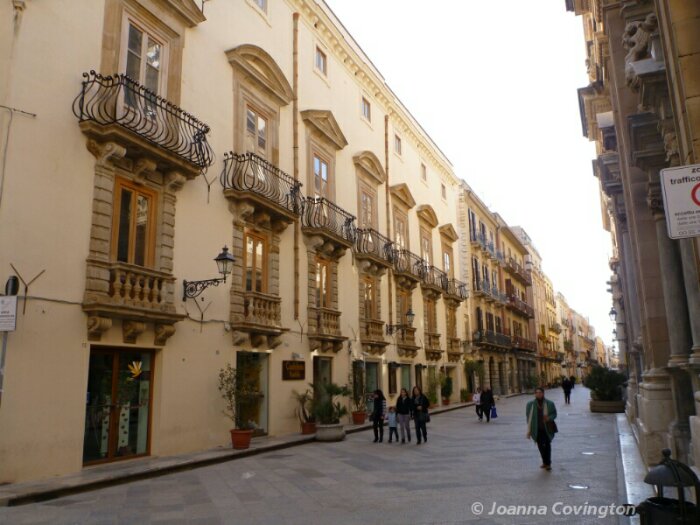 We picked the right street!  We had a straight shot to the port and a nice wide-open street with lots of room for cars to pass us.  We hit a piazza (piazzas here are so much smaller than in mainland Italy) and found a little burger joint in the square open and selling to many people.  Wow, we haven't had a burger yet, so we decided to eat here.  We got two burgers and two fries and had a pretty fine lunch sitting in the sun and mostly out of the wind.  There were plenty of people here eating as well, so obviously not everyone goes into hiding between 1 and 4 in the afternoon.
While still killing time we biked over to a different area and found a gelato shop open for a snack.  With the bikes, we would go in one at a time to order our treat and the other person would stand with the bikes.  We've done this several times now.  I went in first and got a tasty treat on a cone and then Mark turned to go inside.  Oh, no!  The shop owner was locking the door and leaving!  Mark put on his frowny face, but the shop owner indicated he'd be back in 5 minutes.  So, poor Mark had to sit there watching me eat my chocolate and pistachio cone.  The shop owner did come back and then it was my turn to watch Mark eat his tasty gelato treat.
At this point we locked up the bikes and started walking around the pedestrian area.  Everything was locked up tight and closed.  It is a little annoying that everything shuts down in the afternoon when we most want to be out, but we certainly can't mess around with the Italian siesta.  I hear it's like a religion to them.  Perhaps in the US we should have an afternoon nap time as well.
In any case, we were able to take some photos and also find one shop just opening up and selling some postcards for me.  We grabbed our bikes again and attempted once again to find that bike shop.  We failed miserably with our memory of the streets and once again had to stop on every street corner to check Google Maps and see where we were and where we should be. 
Finally, we arrived at the bike shop and it was open!  Hurray.  They had jerseys even, but only team jerseys and nothing touristy with a big Sicily or Italy on it for us.  =(  We tried another bike shop, but found the same story without anything that we were looking for.  Oh well.  We can say we've tried.  Also, we can say we've been in some Italian bike shops!
Now we just had to figure out how to get out of this crazy city and back out into the country where our hotel was.  Oof.  This was another exercise in GoogleMaps hunting, but finally we made it out.  It seemed to take forever to do not much of anything today, but we had our adventures.  Life is about adventures, isn't it? 
The best part of the day was now biking literally into the sunset along the road with all the salt pans.  We had absolutely gorgeous views with the sunset reflecting in the water and the windmills in the distance.  We stopped to take photos and then made it to the hotel before the sun was gone.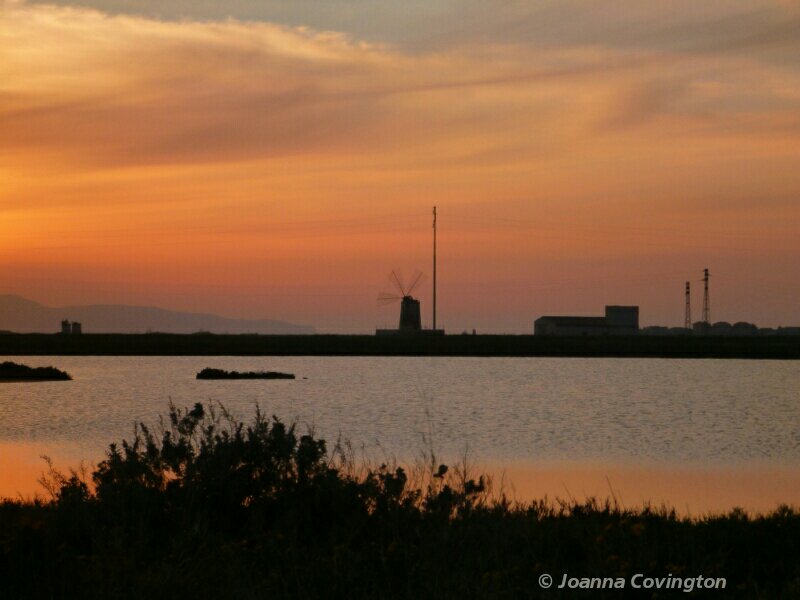 We had checked with the hotel earlier in the day and they assured us that the salt museum was serving dinner tonight.  However, when we arrived back at the hotel at 6pm, this guy mentioned they were not serving.  Boo.  But, the same restaurant as last night was serving and he could drive us there again tonight.  Excellent.  We went up to shower and relax.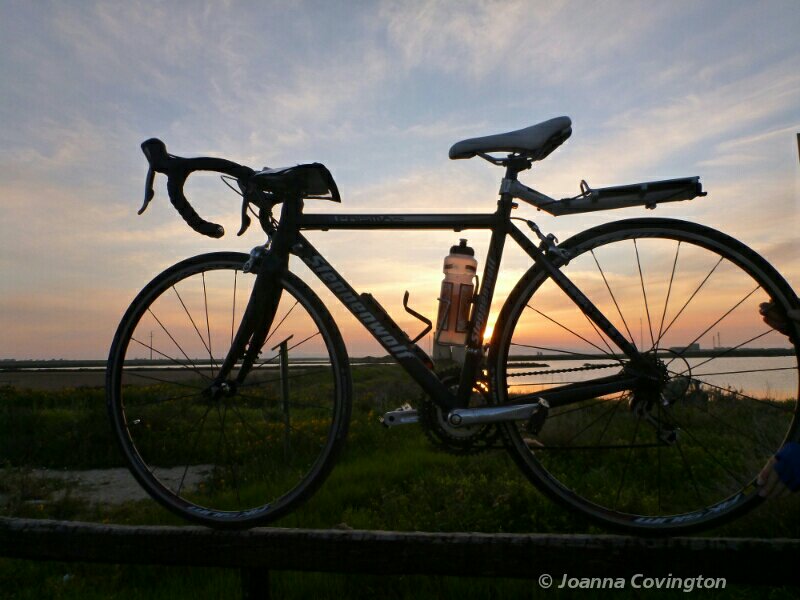 However, around 8pm just when we were going to head down to dinner, the hotel guy called us to say that in fact nothing was open.  It is a Monday.  Apparently this explained everything.  =(  Booo, no food for us.  We tried to remember if there were enough street lights to bike out to a grocery store and pick up some supplies, but then Mark came up with the great idea to ask if we could order in a pizza.
The hotel guy was dubious at first, but the first place he called was open and would deliver out to our hotel!  Excellent.  We each ordered a pizza and the total was only 10 Euros.  We figured this had to be a mistake and I tried to give more money to tip the delivery guy, but  no, it was a cheap meal for us tonight.  While we waited for our food, our hotel guy cooked up a little surprise for us and set up a table and laid out our pizzas.  This was a really nice touch.  We basically had a delicious moonlight pizza dinner with a bottle of local wine for Mark and a bottle of local water for me.  It was a perfect end to the day. 
Tomorrow we leave this hotel and bike along the coast to our next stop.  Until then…