March 18, 2012 (Day 12)
Bike Odometer: 56km (34.8 miles)
From Castellammare del Golfo to Nubia (near Trapani)
Biking Time: 10am – 3:30pm
Weather:  Sunny, windy, 70 degrees
What beautiful days we have been having!  We wake up every morning to sunny, clear skies and great spring weather.  Daylight savings time has not hit Italy yet, (it starts on March 25) so the sun comes pouring through the window early each day.  This morning was no different.  We woke up to lots of clean, dry clothing hanging around our room ready to be packed up.
Breakfast was still good and we noticed that the hotel was pretty packed last night since all the breakfast tables were full.  Oh, and the most interesting thing about breakfast was the chocolate cake sitting there.  It was absolutely decadent with chocolate shavings on top and everything.  Mark assured me that it was delicious.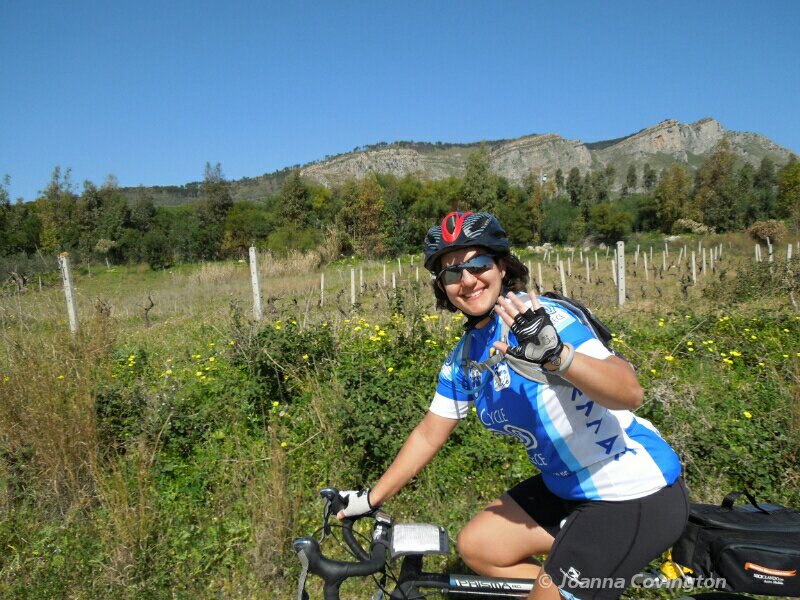 It was fairly easy to pack up our stuff and leave our luggage at reception this morning.  Someone will come by and take it to our next hotel.  And then we were off, biking up the steep climb out of town and onto the road to Trapani.  We are staying in Nubia tonight, which is near Trapani.  The route today was absolutely marvelous and mostly on little-used side roads.  Finally we could ride side by side instead of hugging the side of the road while the cars streamed past.  The roads are really very smooth especially to my Houston-standards.  (Houston roads are terrible and full of cracks, potholes, and bad pavement)  In fact, whenever there is a slight crack or bump in the road, the Sicilians put a little sign next to it to point out the hole.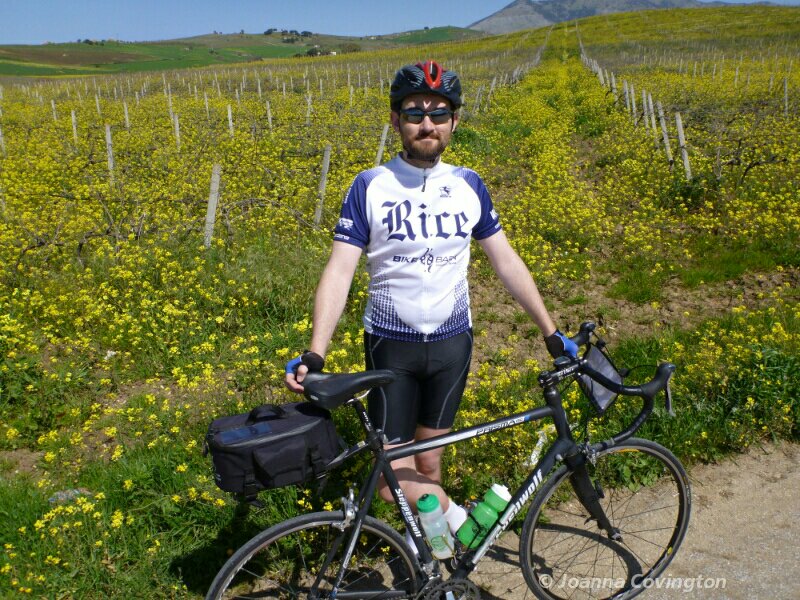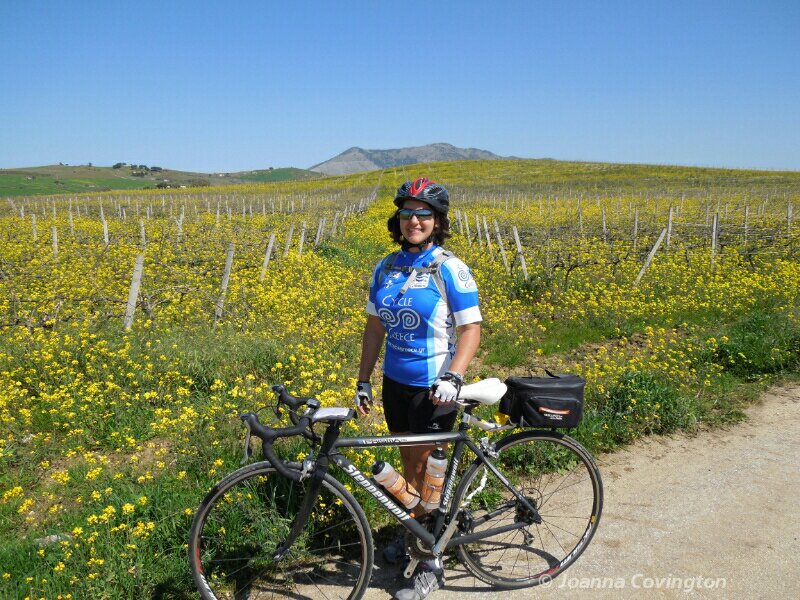 The first half of our ride was mostly climbing and somewhat windy.  Biking in Houston has certainly taught me the mental toughness needed to keep pedaling through the wind, so it wasn't too bad.  I let Mark draft behind me since I'm so used to wind, though I'm sure he didn't need the help.  =)  I didn't see him racing to the front, though.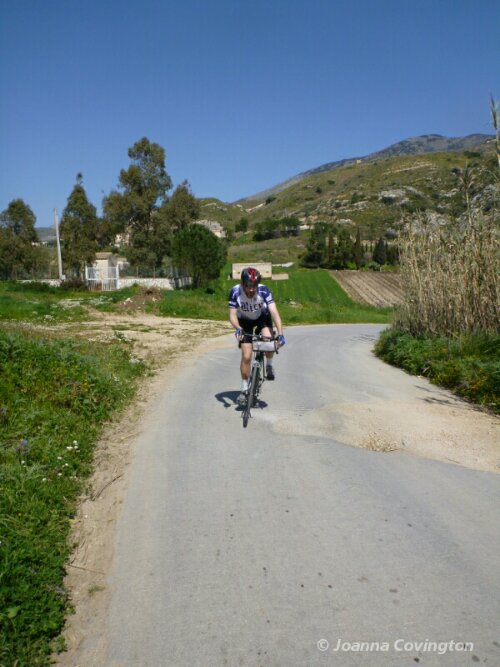 The landscape was beyond beautiful.  We are biking along some wine trail (Erice DOC) and the fields surrounding us are just covered in flowers.  The grape vines are bare, but underneath the flowers can shine through giving all kinds of color to the landscape.  Also, the greens of today are just amazing.  We saw some of the richest, and darkest greens we've seen in a while.  I was reminded of how green Ireland was.  I guess it made sense to be so green around St. Patrick's Day, though no one around here acknowledges the holiday. 
At one point we were stopped by a driver who rolled down his window to go on and on asking us something in Italian.  Finally he took a breath and I said, "no italiano."  Then he just waved and drove on.  I'm sorry I couldn't answer his question, but I certainly didn't know where anything was anyway.  =)
We stopped many times to take photos.  The roads were fairly clear as I mentioned earlier which made biking so much more fun.  We stopped in a little town at the top of our climb for lunch.  There were only two shops open, a market, and a pastry shop.  So, we had our typical market-bought bread and cheese lunch and then went to the pastry shop for dessert.  I had gelato while Mark had a cannoli on a bread roll.  Finally, it was time to leave the town because they were entering siesta mode.
The rest of our bike ride was downhill, literally!  However, the winds picked up a bunch this afternoon.  The crazy crosswinds on the downhill portions made me a little nervous with all the gusts and we had to brake all the way down to control our speed.  Though the winds were high, we mostly coasted all the way down to Nubia with little work on our part.  And all of a sudden we made it to the hotel, appearing in the middle of nowhere. 
Our hotel, Relais Antiche Saline is a former farm and right next to the salt mining pans of Trapani.  We can see the main city of Trapani in the distance and the mountain that is Erice just beyond.  When we arrived, the doors to reception were shut and I tried pushing on them to open, but they did not.  There was only one car in the parking lot.  Inside, though was an amazing dog looking out at us.  I motioned him to go get her owner and we wandered around.  When we came back, the dog had pulled through for us and reception was open. 
Once again, they knew exactly who we were, but mostly because we are the only people staying here tonight!  We parked our bikes in the bike rack outside and were shown to our large room with a view out to Trapani and Erice.  We actually beat our luggage here, so we had some time to kill and wandered over to the Salt Museum next door. 
The dog became our best friend and came with us as a tour guide.  She showed us exactly where to go and stayed with us for the hour that we wandered around.  She acted like she belonged to us and it was pretty amazing to "own" a wonderful dog for a little while.  The Salt Museum appeared to be closed, though there were plenty of cars pulling in and out of the lot.  The outdoor portion, was definitely open, though, so we just wandered around.  The salt pans are far from salt mining season obviously, because they are all still full of water.  Basically the water from the ocean is pulled inland through a series of pools to evaporate the water and make the salt available. 
The wind was still gusting all around us, but we had a good walk with our dog.  Finally we came back to the hotel and our bags were waiting for us in the room.  =)  We were told to meet someone at 8p for dinner which confused us, but this gave us plenty of time to shower and nap and get some internet in before dinner time.  I'm not a fan of these late dinners after a day of biking, but when in Rome….
Finally, dinner time rolled around and we went downstairs.  The guy at reception asked if we were ready, and lead us to his car.  We shrugged and got in.  He drove us to the only restaurant open in the area and told us he'd be back to pick us up afterwards.  Okay.  We were the only people here and the waiter/owner told us he would make up a menu for us and bring it.  Sure.  We will just eat what he brings. 
Oh, I forgot to mention that when we walked in there was a tv projector shining an Italian-dubbed version of Crocodile Dundee on the wall.  We watched for a while until a few other patrons came in and the channel was switched to the soccer game.  Our dinner consisted of a huge starter with tastes of various seafood dishes.  We had two types of octopus, a fish cous cous, a breaded sardine, and warm bread to start.  When we were full, our first course came out.  We had a delightful seafood pasta dish.  When we were bursting full again, our main course arrived.  We each had a fresh fish and a salad.  When I could eat no more, dessert came!  Dessert was a light cake of some sort with all this gooey melted chocolate on top and was irresistible. 
Finally, dinner was finished and our waiter called our hotel for our ride back.  I think I could have rolled home.  =)  Tomorrow we stay again at the same hotel and we have an optional bike route ride up to Erice.  Unfortunately, the cable car that can take us to the top does not ride on Mondays, so we'll probably skip the climb and instead check out the town of Trapani.  Until then……..