March 20, 2012 (Day 14)
Bike Odometer: 79 km (49 miles)
Bike from Nubia to Mazara del Vallo
Biking Time: about 10am – about 5pm
Weather: sunny, 70 – 75 degrees, windy
Wow, it is yet another beautiful sunny day outside.  It seems less windy than yesterday already, so we are looking forward to today's bike ride.  The ride should be fairly easy too since there is just a tiny climb at the beginning and then the ride is pretty much just flat.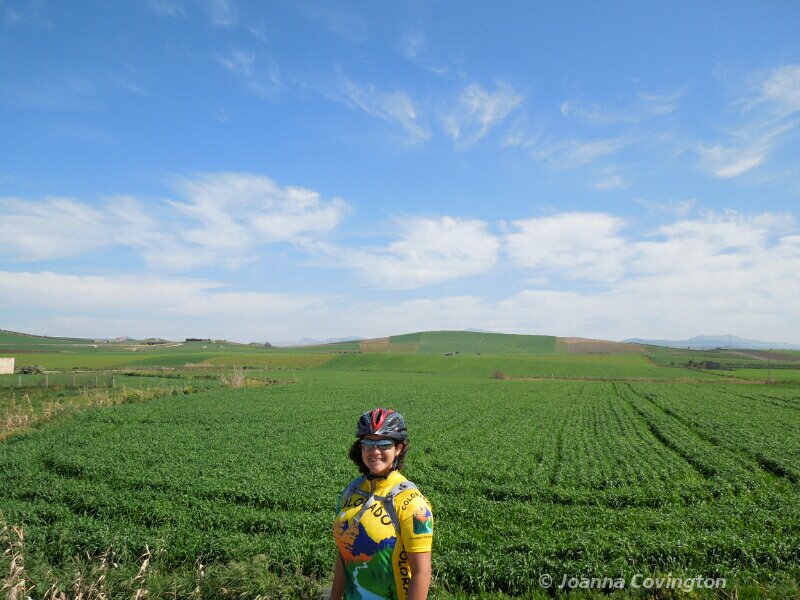 We were the only guests at our hotel last night again, so breakfast was all set out at one table for us.  We had a selection of breads, a yummy fruit tart, fruit, and yogurt just like yesterday.  It is certainly a little odd being the only ones at the hotel.  It was easy enough to pack up this morning and before we knew it we were on our way.  We said goodbye to our doggy friend and took off down the road.
The first part of our ride was mostly inland, though plenty windy unlike we had first hoped.  In fact we were biking right next to several large wind turbines spinning away producing electricity.  We had some rolling hills and the scenery was unreal.  I had to keep stopping to take more photos.
One missed photo opportunity, though, was when a herd of sheep was crossing the road.  We slowed down to stop and I planned to take out the camera after we stopped.  Well, the shepherd started yelling at his sheep to stop crossing and they all looked up and saw us at once and all Baaaa'ed in unison.  It was incredible to be the object of so many startled sheep.  So, we didn't get to stop and take a photo since the shepherd motioned us on past the sheep.  As we rode though, the few sheep that were on the road startled and ran away from us as fast as they could. 
After a couple hours we finished with the rolling hills and hit the coast.  Here we were biking towards some more salt pans.  In the middle of all the salt pans, there was a little tourist boat dock taking people out to a little island and also a little bar and ristorante.  We got here just in time at 12:15pm to find out they were opening for lunch at 12:30!  Perfect timing for sure.  We didn't need the boat ride, but we had fun admiring more salt pans while we waited for lunch. 
This was the first restaurant lunch we've had in a really long time.  It was incredibly tasty too.  It was hard not to eat too much food because we still had plenty of biking still to go. 
After lunch we pretty much biked all the way to Mazara del Vallo along a coastal road.  The riding was flat and somewhat windy as well.  We took turns pulling.  We did ride through a fairly major town of Marsala, however our route did not take us by any bars or gelaterias as we were hoping to pick up some gelato along the way.  Instead we had to settle for many pretty coastal views and incredibly blue Mediterranean water.  We can't complain.  =)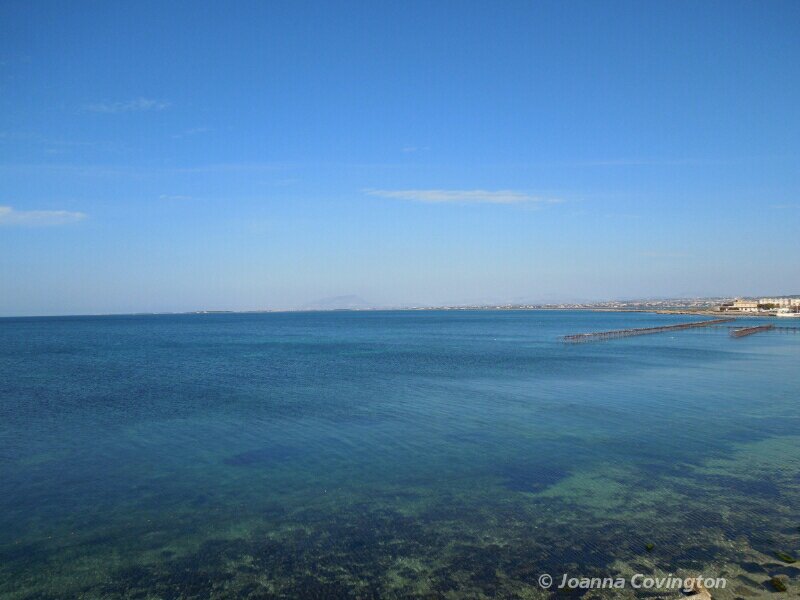 We however, did find that there was absolutely no place after lunch to stop and take a pit stop.  The whole way to the hotel was through completely barren villages with nothing to offer us.  The wind picked up in the afternoon and at one point we had a long flat stretch through several farms of vinyards and olive trees where the headwinds were fairly brutal.  With such high winds, we just bike as hard as we can with all the energy going into the biking.  We don't even talk during these stretches because we wouldn't be able to hear each other anyway.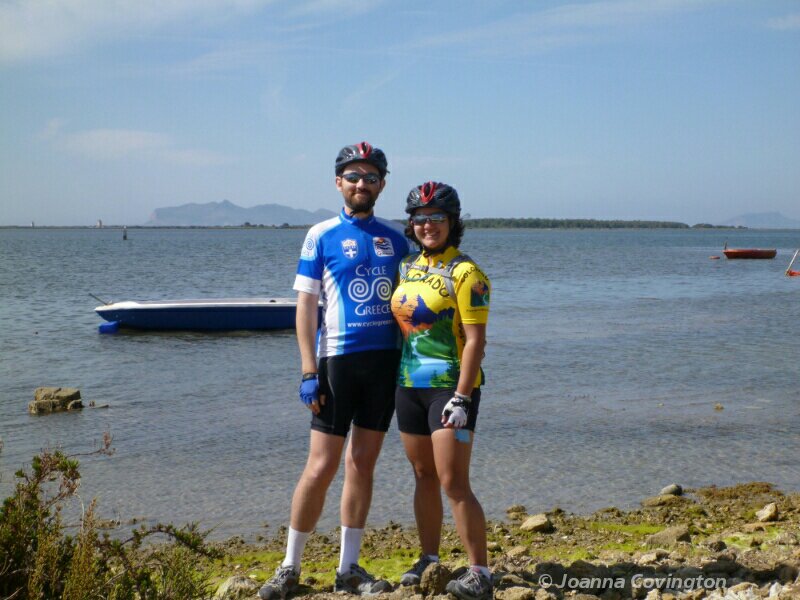 Finally we hit the town of Mazara del Vallo and had to bike several kilometers through the town before hitting our hotel.  Unfortunately, 2 kilometers from the hotel Mark's rear wheel suffered a broken spoke!  Thankfully, the wheel still rotated, though it was completely out of true and wobbled all over between the brakes.  I was able to tie the broken spoke to another spoke and we cycled incredibly slowly to our hotel.  It was nice of the spoke to wait and break until we reached our last stop.
Our hotel is one of the biggest we've stayed at yet.  With many floors, there are surely hundreds of rooms, though I'm sure we were one of about 5-6 guests at the hotel this early in the season.  They had a garage for us to park our bikes and our luggage was waiting for us in the room.  It sure is nice to have someone else worry about our luggage for us!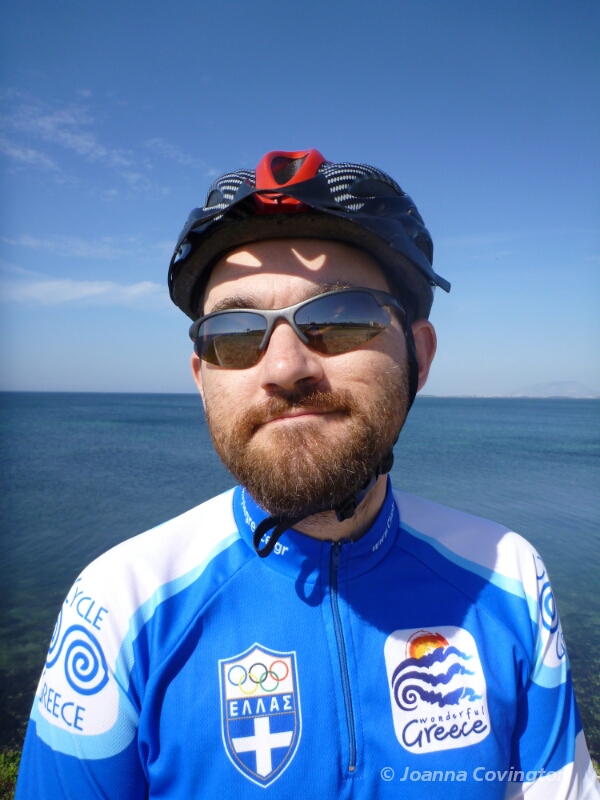 Once in the room, we called our Siciclando contact to let him know about the broken spoke and within minutes he had figured out a way to get it fixed.  He talked to the hotel and had one of their staff take the wheel to a bike shop to get fixed.   The wheel will be ready tomorrow morning before we go biking.  Awesome!  Very little effort on our part.  Tonight dinner at the hotel is included, but in the meantime, we had a patio to sit on and enjoy the last rays of sunlight while we relaxed with some snacks.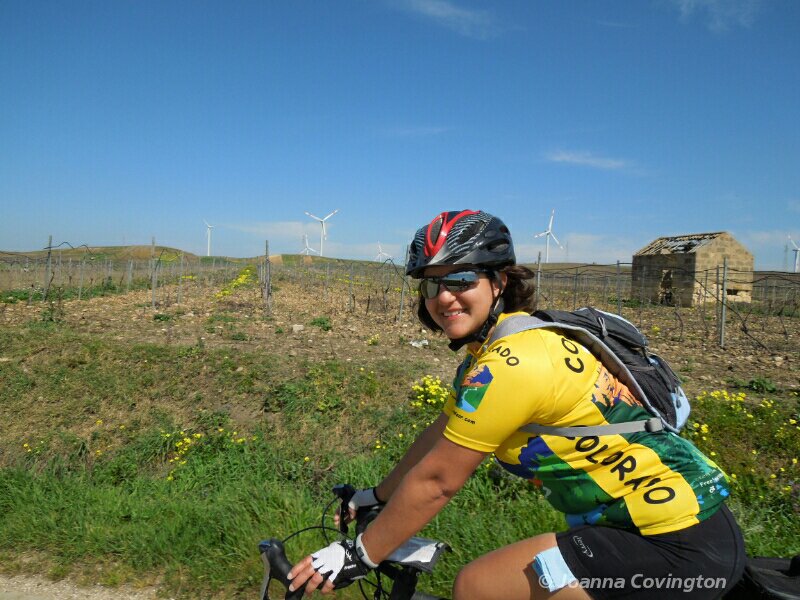 Dinner at the hotel was certainly easy and included a starter, a main course, and then a dessert.  I had a wonderful vegetable soup as my starter and Mark enjoyed a fish ravioli with zucchini cream sauce.  For our main course I had a yummy roasted swordfish and Mark enjoyed his mixed fried fish.  Dessert was rather amazing as well.  We pretty much came back to the room afterwards and fell right to sleep.  We really do sleep quite well when we bike.
Tomorrow we are doing a little bike loop to the Selinunte archaeological site and staying at this same hotel again.