March 11, 2012 (Day 5)
We keep looking at the weather starting Monday and seeing sun in the forecast.  For now, though, on Sunday the weather is still cold and rainy.  One thing about this kind of weather, though, is that we are taking more time to relax instead of rushing to do everything.  So we had another amazing breakfast this morning at our hotel, Villa Carlotta in Taormina.  Check out was not until noon, so we had the morning to slowly pack up and plan out our driving route for the day.  We said goodbye to Taormina and took a very long winding route to reach the highway.  I think it might have taken longer to find the highway than it would have been to just skip the highway and take surface streets.  =)
On our way to Randazzo, we decided to take another chance to drive up Mt. Etna and we used the north entrance to drive up.  On our way, even with the clouds, we could see more of Mt. Etna, but we have still never seen the top.  We managed to make it up quite a bit farther than yesterday before the fog got really thick.  In fact, we were soon surrounded by high banks of snow on either side of the road.  The temperature dropped down to 2 degrees Celsius and we passed people in full snowsuits going up to ski.  We stopped to take photos of the snow, but for the most part, we just stayed in the warmer car.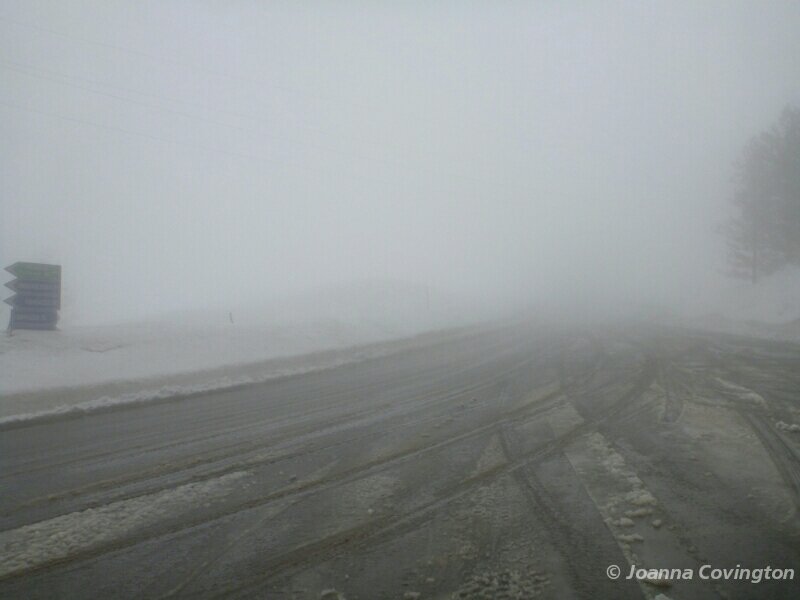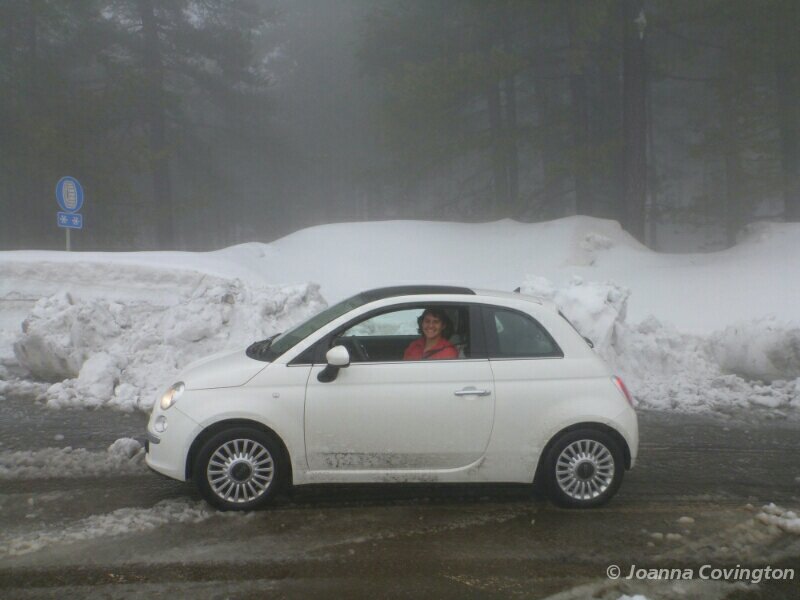 Soon we arrived at our hotel in Randazzo, Hotel Scrivano.  This is pretty much the only hotel in the town.   Randazzo is listed as the most interesting Mt Etna town and is a starting out point for most of the outdoor activities around Mt Etna and the park to the north Parco Nebrodi.  However, on a cold, rainy, day in the shoulder season, there really isn't too much to do.  We couldn't do any of the Etna hikes due to the snow, so instead we decided to start driving around the western base of Etna.  The town of Bronte is surrounded by acres of pistachio farms, so of course the pistachio ice cream is popular.  We drove past the farms, but the pistachio trees don't have any leaves of flowers yet and just look like stick trees.
During our drive the sun started to peek out a little bit and we even saw some blue skies.  There were some trees that are very similar to cherry blossom trees flowering on out drive and other trees with white flowers.  Olive trees were all around us as well.  The scenery was very pretty.  We made it down to Adrano and got out to see the Norman castle and have our pistachio gelato there.  We reached Adrano around 4pm, just as the afternoon siesta was ending.  It's so funny to watch all the people come out from behind closed doors and take off the gates to their shops.  All of a sudden the town looks active and livable.  Mark  joked that they found out the zombies were not eating brains today and they could take down their shields.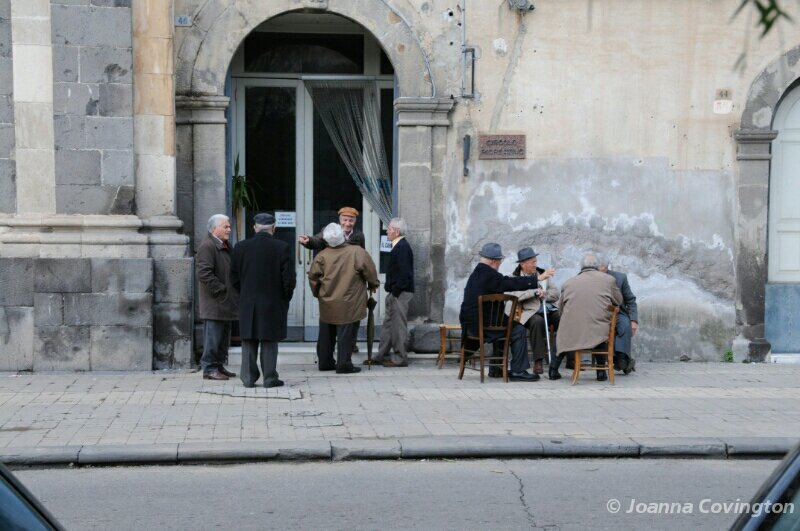 On our way back to Randazzo, we took a wrong turn and ended up on a road traveling through a lava field.  This actually ended up being an interesting detour, so we stopped to take photos of the sun going down behind the lava fields.  It was getting cold again, but the scenery was nice and we didn't have power lines in the way like on the main road.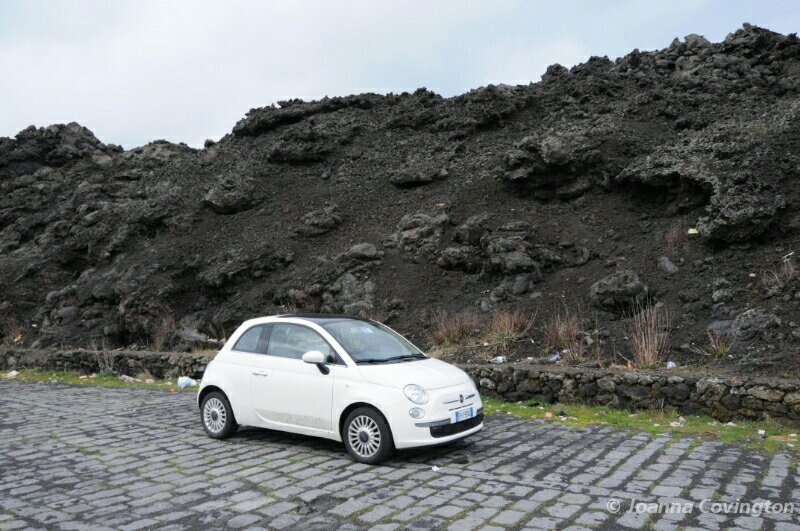 I have to say something about driving around the Sicilian towns.  First off, these are not your typical small towns with only one main street.  These towns stretch on for miles and the streets wind around barely two car-widths wide and there never seem to be many traffic guidelines to follow.  You just keep winding around the small streets taking unknown turn after unknown turn and somehow you finally end up at a destination.  It got to be quite funny.  I felt like i was just driving around spinning my wheel this way and that.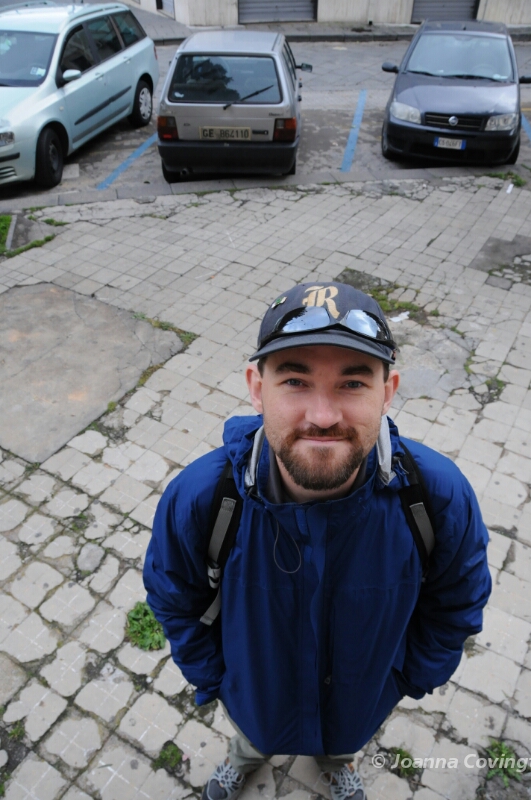 In Randazzo we went to dinner at the one place the tour book recommended and we were the first people there.  Downstairs they were setting up some sort of band for a large party, but we were seated upstairs.  I think it took over an hour and a half from entrance to exit with the slower Italian service, but we had fun and we had nowhere else to be.  The food was delicious, and listening to the band downstairs warm up the whole time provided the comedy for the evening.  By the time we left, one more couple had shown up to eat, and the party downstairs hadn't even arrived yet.
Now we are back at the hotel to sleep.  Until tomorrow….