March 12, 2012 (Day 6)
We had a little bit of everything today.  We had both clouds and clear skies, we were in the mountains and on the beach, we were lost and then found, we drove windy roads and a highway, we had a boring breakfast and a wonderful dinner.
Our morning stared out in Hotel Scrivano in Randazzo.  I was afraid we would have been cold all night since the heater didn't seem to work much, but all the blankets piled on the bed sure did the trick.  I think we both slept for about 11 hours before my alarm went off.  I figured for sure we'd be up before my alarm!  We really only came to the hotel to sleep and we didn't even unpack much, so it was easy to get ready to go.  Breakfast was included, but it was a very light continental breakfast with really just some bread and cereal and a few cookie/crackers.  Soon we were packed up and on the road.
Now when we drive the rental car I've got a couple products called pacsafe that lock up our backpacks inside a wire mesh and then lock the backpacks to the car as well.  We will just be overly safe now.  Our first stop was at the Parco Nebrodi office which was open!  The man inside spoke some English which was amazingly helpful especially after no one at the hotel spoke a word of English.  He was impressed that we were from Texas and knew of the Dallas Cowboys.  He's now the second person that has heard we are from Texas and referenced the Cowboys.  He gave us a park map, but told is it might be cold if we wanted to go hiking.
Cold was a bit of an understatement.  When we drove up to the area we had planned to hike, it was covered in a couple feet of snow (though the roads were clear) and it was -1 degrees C outside!  Oh, and extremely windy.  I don't even want to know what the windchill was.  Brrrrrrr indeed.  It was much less foggy than Etna was the past 2 days and we had fun stopping the car to take some photos.  It really was super pretty outside with the snow.  We even found some trees covered in hoarfrost.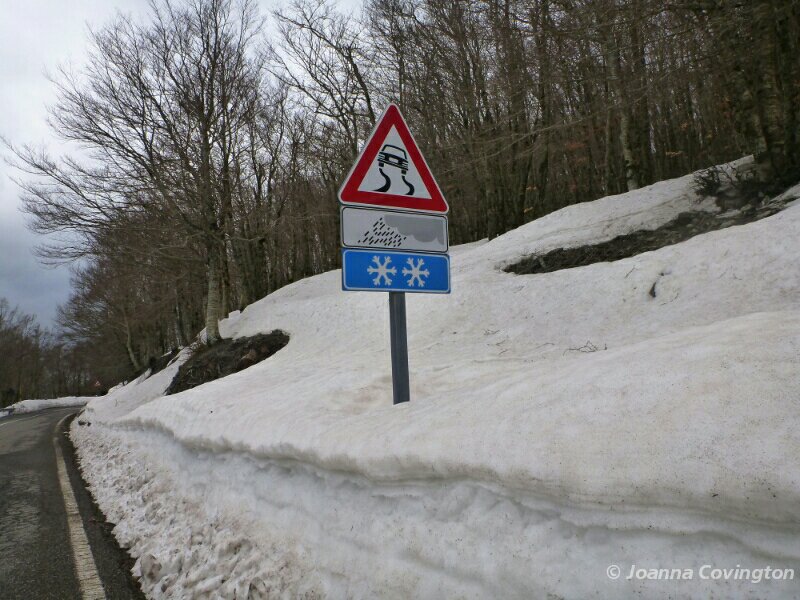 Coming down off the mountain and towards the north coast of Sicily we found a park area with picnic benches, changing rooms, and showers.  It was all locked up of course, but this was the first real pull-off we've seen all day, so we stopped the car to eat our lunch inside.  We purchased some fruit from a fruit stand and some bread and cheese from a grocery store on the way.  While we sat and ate lunch, the sun actually came out and almost all the clouds blew away.  We now had blue skies smiling at us and it was warm in the car from the sun.  (still cold outside though)  So we drove down, down, the mountain and to the north coast of Sicily.
How beautiful Sicily is with blue skies, sunny days, and flowers lining the roadside!  We decided to head east along the coast to a site of Greek ruins rather than west to our hotel.  Along the coast, there are 2 ways to travel.  One is by the coastal road which goes through each little town.  These roads are extremely curvy and once they hit the small towns, it is anyone's guess how to get through the town.  Most of the streets are one way, and really I just guess my way through between all the tall and narrow buildings built right up to the street and the parked cars on the side making squeezing our little car through tough at some points.  The other way is to use the highway/tollway which goes so much faster and is mostly straight.  It even goes straight through the mountains with very long tunnels.  We tried a little of both to get out to the ruins of Tyndaris. 
First there was a very large and ornate church at the top of a hill/mountain and then down the road were the Greek ruins.  We went in to see the Greek theater, and other building ruins that of course were explained all in Italian.  However, the part that impressed me most were the fields and fields of yellow flowers lining the walkways.  I snapped photo after photo as we walked along.  There were some really interesting blue flowers that almost looked neon blue from farther away.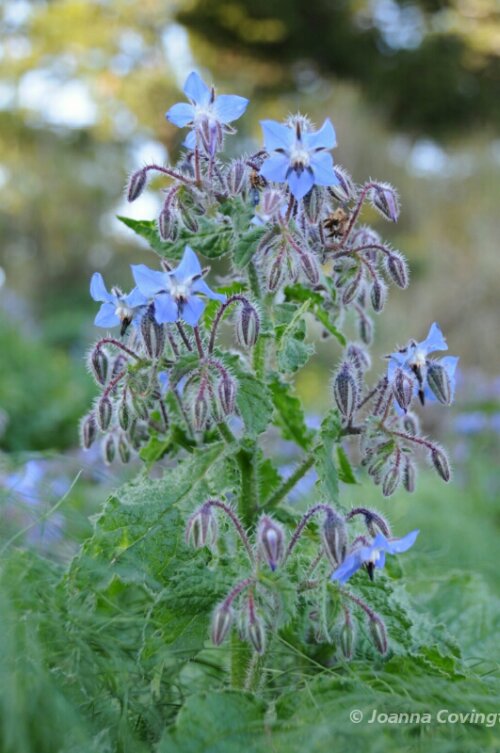 After the ruins, we basically just drove on the tollway all the way to our hotel in Castel di Tusa.  This tiny town is a fishing town with probably one hotel in it.  We stayed here mostly because the hotel is basically a modern art museum with hotel rooms.  Each room is done to a theme by an artist.  Our room, the Water Bearers room is actually split into two rooms.  There's a cold ice room with a huge bed shaped like a parallelogram and fake ice lit up by LED light in the corners.  The walls and ceiling aree lined with sheet metal giving the room a very cool feeling.  It looked really cool though.  The other half was a warm room with copper colored sheet metal lining the walls, floor and ceiling.  The best part was the huge wall-length window giving us a full ocean view as we are right on the coast.  Our bed faces a small pool with floating candles and then the crashing waves outside.  At night as I type, we are serenaded by the ocean in our dark, candle-lit room.  It's really very neat. 
Now comes our adventure!  The tiny town of Castel di Tusa is asleep at 7:30 when we go out to find dinner, so we drove about 9km up the mountain to the bigger town of Tusa to find a ristorante.  As I mentioned before, it can be rather difficult to navigate the tiny streets of these towns, and boy did I get myself stuck.  I started by following a car, but it turned out he was going home and lead me into a residential section very fast.  I tried to turn down the largest looking streets possible, but soon I was on the skinny, skinny streets where I almost needed to pull in both side mirrors in order to fit through.  Finally, I made a turn up what I thought was going to be a great street out of here, but I was at the top of a steep switchback hill with a dead-end in front of me.  My attempt to turn around was foiled mostly by the fact that a car at the top of the hill wanted to come down and I had to just reverse down the hill and get out of his way.  He rolled down his window to try and help us, but of course we didn't speak Italian.  When we got back down into the tiny streets again, there the same guy was!  He asked where we were going and I said, ristorante, food, and he motioned for us to follow him.  How nice!  He lead me out of the twisty turning residential, steep streets and to a restaurant.  We wouldn't have found this place if we had tried since it looks nothing like a restaurant.  We were the only ones here to eat of course, but the owner took care of us.  He brought us all the "typical" foods he could think of and we had a huge dinner of antipastos, a primo dish of spaghetti in olive oil, and of course dessert.  Our antipastos included a basket of bread of course, a plate of olives, some green peppers called pomodero verde, some bruchetta, cheese, and probably one other thing.  Our main dishes were a plate of delicious spaghetti in an olive oil mix and a plate of mixed green vegetables.  We ate until we could no more and then he brought out the guestbooks for us to sign and dessert!  Amazing find. 
Finally, several hours later, we made it back to our hotel and to bed.