March 10, 2012 (Day 4)
The wind howled and howled all night long.  I kept waking up to check outside and see if there was any rain, but it was all just the wind.  This morning we woke up to a very blustery day.  I think of Winnie the Pooh saying "Happy Windsday"…only it isnt Wednesday today.  The winds blew in all kinds of allergens as well and I've been rather sneezy today.
But, we did get to go out and check out the Greek Theater here in Taormina today.  Actually, first I should tell you about the enormous breakfast buffet.  This is not your normal hotel buffet with cardboard eggs, cold cereal, and a waffle maker.  There was one table devoted to cooked vegetables like bacon-wrapped asparagus, eggplant parmigiana, and stuffed mushrooms.  The sweet table was covered in pastries including scrumptious-looking fruit tarts and cakes.  There was a delicious fruit table with fresh honey dew and blood-oranges to peel.  There were plenty of other assorted fruits.  Then of course there were a few cold cereals and bread for toasting.  Needless to say, we enjoyed our breakfast at the Hotel Villa Carlotta here in Taormina.
Now I can tell you about our visit to the Greek Theater.  This theater, built first by the Greeks in 3rd century BC is the second-largest Greek theater in Sicily and arguably the world's most dramatically sited.  The views are amazing!  While you are sitting in the top rows to watch a play, you can look out over the whole Bay of Naxos, the coastline towns, and even up to snow-capped Mt. Etna.  Behind the theater we could see panorama views of Taormina.  The Romans came in and added to the theater in AD 1 and further additions were made in the 12th century when a noble Spanish family built a villa over part of the theater.   During the summer, they still hold plays here and I would have loved to be here for one of them.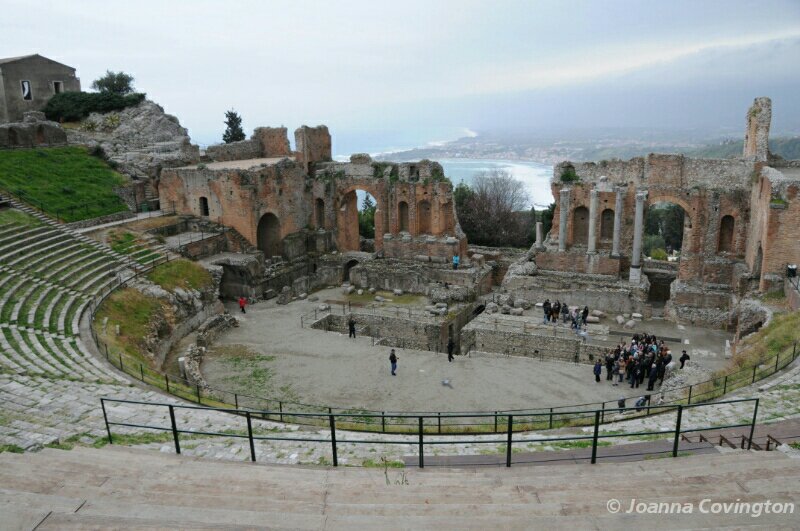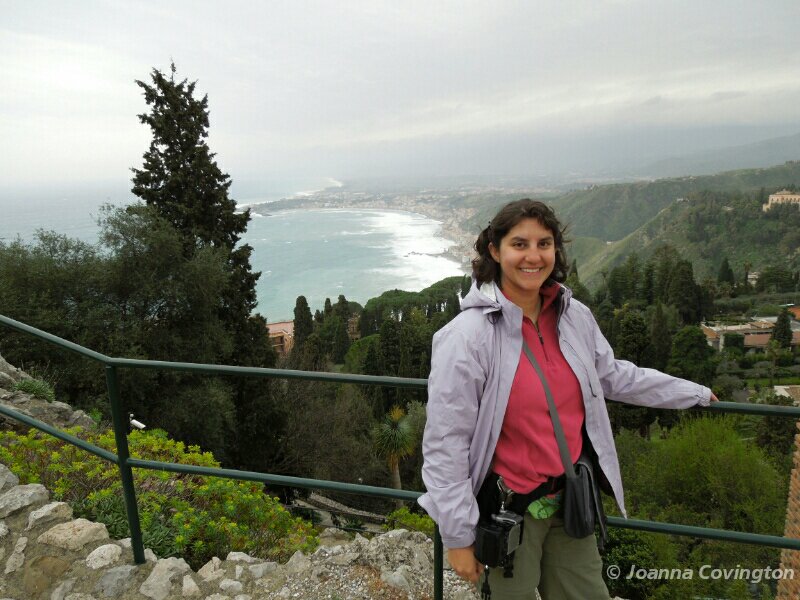 It was windy at the top of the theater, but walking through town did nothing to help with the amount of wind.  We visited the other half of the pedestrian street that we missed last night and even found a barbershop for Mark!  This is a true barbershop instead of a hair salon and Mark walked away very light-headed.  We did a little shopping mostly to get out of the wind and then headed back to our hotel to re-group before the afternoon.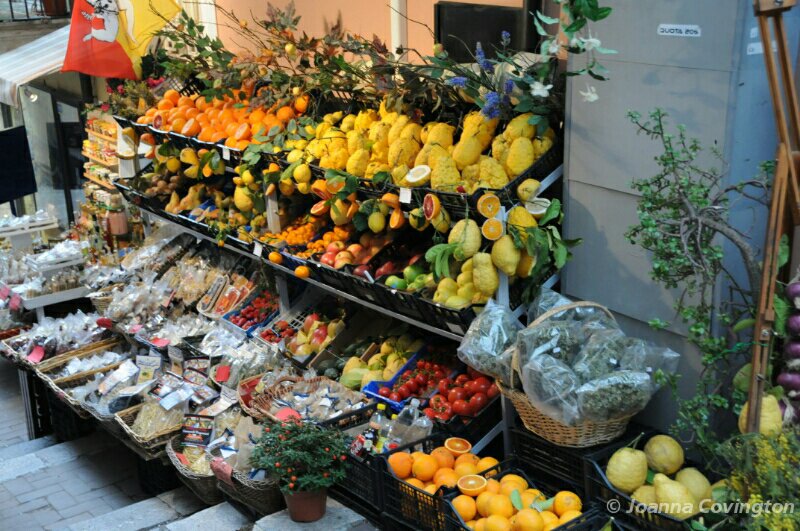 This afternoon we had planned to drive to Zafferana Etnea on the eastern slopes of Etna.  This town has a long tradition of producing up to 35% of Italy's honey.  I wanted to take Mark to a honey shop in our tour book, Oro d'Etna that offered honey tasting.  Unfortunately the streets were hard to navigate by car, so we figured we'd just park and start walking down the correct street.  Ha!  Best-laid plans and all that….  The walk was up the street, up the mountain and much longer than anticipated.  We arrived during siesta time and I was positive the shop would be closed when we arrived.  Sure, enough when we got there, the shop listed it's opening hours at 3pm, in 40 minutes.  But as we stood outside in the wind and rain, the owner motioned us in.  We got to taste honeys like orange honey, chestnut honey, lemon honey, wildflower honey, and more.  We even got to taste a fruity tea with their honey.  The honey here in Italy is very different than we've found in other areas.  It is not quite as viscous and instead is hard to dip into or spread since it holds its shape. 
Back at the car after a rainy walk back, we found that our drive up to Etna took us right back up to the honey shop and we laughed and joked about going back in to buy in bulk now that we had a car.  We figured from here, even though it was raining and we couldn't see any of the top of Etna, we'd go ahead and start driving just to see how far we could get.  I was pretty sure the ski resort still had snow, but we gave it a shot.  I had to drive around a barrier in the road.  I couldn't tell if it was just there to keep us from a pothole or if it was there to say the road was closed.  We gave it a shot though.  Soon, we drove up into the low clouds and with the spattering rain, we couldn't see much past the front of our car.  We saw some bits of snow on the side of the road and eventually gave up.  I was driving extremely slowly and we were still 10km from anything Etna-related.  So, we turned around and came back to the coast and a small town down here. 
It was the end of siesta time and people were coming back out on the street.  We found a cafe with parking and had some savory pastries to tide us over until dinner.  We also were right near a 3 store (wireless carrier for mobile phones) and went into the shop to purchase 2 SIM cards.  It took a long time, but we finally walked out with 2 activated SIM cards for our phones.
At this point, we didn't have much else we wanted to do on a cold and rainy afternoon, so we just started driving back to our hotel.  We drove along the coast and the waves were high and choppy due to the weather.  Even the locals were out taking photos of the crazy waves.  We took a few photos and then came back to the hotel.
It is still pretty windy outside, but I think we'll try and head out for dinner soon to see if we can find a place.  Some places might close down due to the wind, but we'll walk around and see what we can see.