Trouble viewing email?  Click here
September 22, 2011 (Day 2)
Itinerary: Joanna flies from Amsterdam to Marseille, Mark flies from Skikda to Annaba to Marseille, We both fly from Marseille to Brussels to Amsterdam arriving after midnight
Today is yet another travel day.  My flight to Marseille was easy and uneventful.  Mark had uneventful flights from Algeria to Marseille as well.  And then our adventures began.  You must know the feeling of waiting for your bags to come on the conveyor belt.  Everyone gathers around forcing themselves to the front before the conveyor belt even starts.  I won't see Mark until after I get my bags and pass through the doors into the main hall.  The bags started coming out and you can see everyone's sigh of relief when their bags appear.  Soon, there were only about 5 of us left staring at an empty conveyor belt with hopeful eyes glancing down into the dark hole where the bags magically appear.  We stayed for a good 5 extra minutes of an empty belt rotating around giving us false hope, but when it finally shut down and stopped we headed to the lost baggage office.
Luckily as I glanced outside the one-way automatic doors I saw Mark and motioned him inside with me so he'd know why I hadn't appeared.  From Mark's perspective he saw all the people exit baggage claim without checked luggage in a wave.  Then there was a wave of people with checked baggage.  Then he kept waiting for me to appear and I never showed.  He was just about to go find an internet connection to find an email from me stating I had missed my flight when I showed up to motion him to the lost baggage office.
Neither of my two bags (action packer to stay in Marseille or duffel to go with us to Athens) had arrived and honestly I can't figure out how they got stuck in Amsterdam when we had a good 2 hour layover.  The KLM rep was very helpful, spoke good English and even was able to route the two bags to the two different locations we needed them to go to.  We can only hope they get it right and we don't get the action packer in Athens with a bunch of food and supplies while all our vacation clothes show up at the Marseille hotel.
After setting up our bag routing system we now could move freely without many bags to the Marseille Best Western for lunch and to let them know our bag would be arriving sometime tomorrow maybe and to store it for us for 3 weeks.  They were very accommodating as well.
Back at the airport we checked with the lost baggage office and learned that only one of our bags had made it on a flight arriving at 4:45pm, but we didn't know which one.  Our flight to Athens on another airline was at 5:35, so we would not have time to wait for it and check it in.  But, since security had next to no line and our plane to Athens seemed to be delayed, at 5:10p, I ran down to the office again hoping for answers, but found our helpful representative busy with others and no time for me to wait.  So, we can only cross our fingers and board our plane to Brussels and then Athens.
We arrived in Brussels without much time to spare for our connection, but after hurrying to our gate, we found our next  flight was delayed 2 hours.  This left us plenty of time to find dinner and sit around in the Brussels airport.  Neither of us has transferred through this airport before and it reminded me, I think, of the Barcelona airport with out open it was and how the majority of the light came from skylights and windows.  However, once it got dark outside, the airport appeared very dark as well and shut down very early with all its shops and food shut down by 8:30p.  Our flight was now scheduled for 10pm.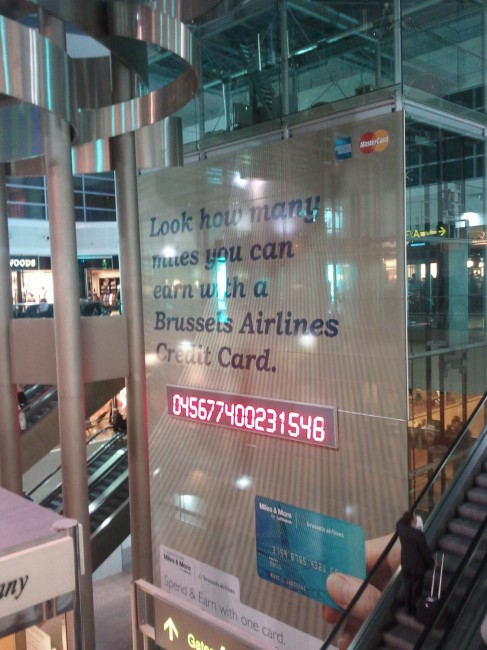 We flew on Aegean Airlines to Athens late at night arriving 2 hours late at 2am in the morning.  For some reason they left the lights on the plane on full brightness so it was difficult to sleep.  Also, we were happy to hear that  one of the languages spoken on the plane was English along with 2 other languages.
Finally, we arrived in Athens and found that this airport was bustling with people.  Shops were even open as well as information desks and the like.  I guess this airport gets a lot of late flights.  Signs were in Greek and English and we soon found out there was a transportation strike currently going on.  We had thought that without our checked luggage we could take the metro to our hotel.   We were confused as to whether or not the taxis were running as well, but the cost was high.  The information desk let us know that there was one bus that was taking tourists to the city center and departing every 30 minutes.  We had to wander about to find it, but eventually we saw a bunch of people putting luggage on a charter bus.  A random guy told us the ride would be 5 euros and would take us to the city center at 3am.  I guess we were in the right place.  We joked that this might just be some guys who own buses and come to the airport during transit strikes to make a buck.
The bus got us to the city center a little after 3:30am in the morning and we had about a 20 minute easy walk to our hotel once we got our bearings.  The hotel was easy to enter and our reservations were still there so we came up to the room and crashed hard after 4 in the morning.  What a long day of travel!  Hopefully the right lost baggage arrives here tomorrow.
We are here in Athens, though, and ready to start vacation after all this traveling.