Trouble viewing email?  Click here.
September 23, 2011 (Day 3)
Itinerary:  Walk around Athens, Acropolis museum
We were apparently very tired after our early morning escapades this morning and slept practically all day.  We stayed in our hotel room playing on the internet and finally left the hotel around 4pm.  =)  No sign of our lost baggage yet.
During the day Athens is bustling with people.  The weather was beautiful, sunny, and possibly in the 80s or so out.  Our hotel, Acropolis Museum Boutique Hotel is right near the Acropolis, so we had just a short walk to the Acropolis and the museum where we decided to start.  It's too bad we didn't learn until much later that on Fridays the museum is open until midnight.
The new Acropolis Museum is very well done and laid out.  They completed it in 2009 and it's well worth the visit.  It was built to house all the sculptures from the Acropolis in one protected location.  The top level was probably the most impressive because around the edges the various artwork, sculptures, and  friezes that surround the top, exterior of the Parthenon are laid out here.  The museum was built to just the right size to show off all this artwork where we can really get a look at it.  We spent a decent amount of time in the museum through about sunset.
Outside at sunset, Athens was beautiful and shining.  Kids were out playing ball or riding bikes.  The red sky at sunset cast a beautiful glow on all the buildings.  Various musical groups were outside playing and everyone was strolling around and very happy.  The weather was extremely pleasant as well and we had a very enjoyable stroll around the Acropolis all lit up for the night.  Down below, the lights of the city shown bright.  We'll come back to Athens after our bike ride to really tour the Acropolis, but for now we can settle for the outside.
We found a little street cafe for dinner serving…….Greek food!  Shocking, I know.  We ordered the set menu including a sampling of appetizers, Greek salad, bread, and pork souvlaki.  It was all very tasty.  The streets were like anywhere in Europe, tight with pedestrians and street cafes, tourist shops, and several touts out trying to sell stuff.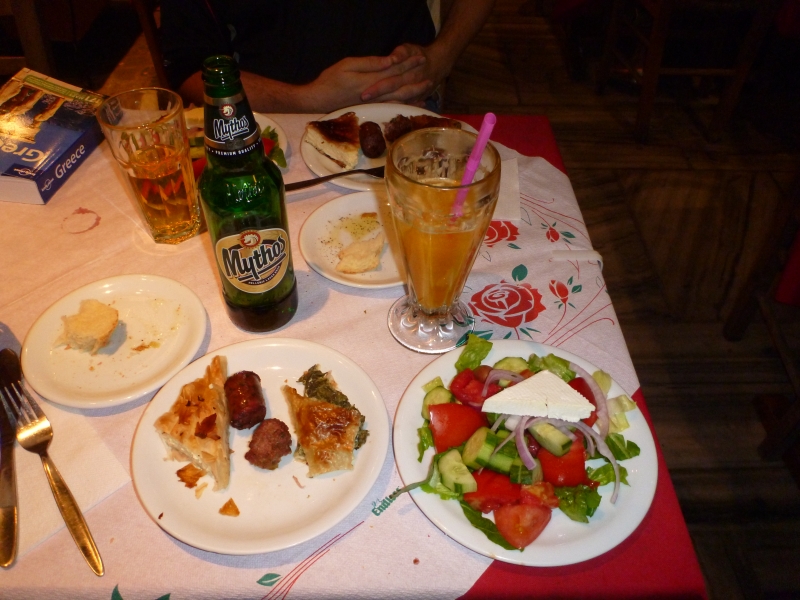 Overall it was a great evening, but we had to come back to the hotel so that we could get ready for our bike ride tomorrow since we have to meet out group at 9am.  At 10pm, our luggage has not arrived, but the airline did call to say it would be coming tonight.  We shall wait and see.