Trouble viewing email? click here
July 16, 2011 Safari Day 8, Canoe Safari Day 2
Itinerary: Wake @6am, canoe out at 7am, stop for a couple hour hike before lunch, lunch, one hour hike, canoe rest of way to camp by 5pm. Canoe about 20km today.
Animals spotted: hippo (thousands), eland, impala, baboon, monkey, heron, crocodile, bee catcher bird, lion, elephant
This morning, our first morning in Mana Pools, was a little chilly, but nothing like Hwange or Matobo Hills. We can handle wearing a fleece in the morning. What an absolutely gorgeous sunrise, too! A deep red sun appeared on the horizon rising through the trees. None of my photos could accurately show how amazing the sunrise was.
Today was an absolute perfect day to be out in a canoe. There was no wind to speak of. On the river so early in the morning, we canoed into the sun rising in the clouds, spreading sunbeams as far as the eye could see. We started out without many hippo sightings making the canoeing very easy and enjoyable. I can't even begin to describe the peaceful calm of canoeing on a river early in the morning. The only sounds we heard were the soft slap of the water as the paddle dipped in, the chirps and calls of the morning birds, and the distant calls of hippo, just barely audible. We didn't even talk or we might disturb the peace.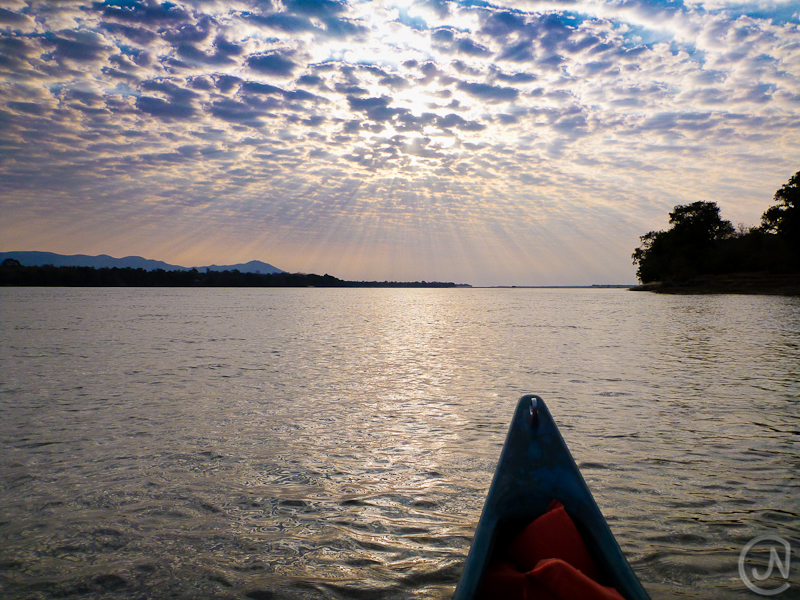 We stopped on a sandy bank to change into our hiking shoes and spend a couple hours wandering the floodplains of the Zambezi. While we changed we could see all the animal tracks in the sand. We saw where a crocodile had slipped back into the water, where hippo had tread, where a stork or heron had stepped, and where elephant had come down to drink. There were many hoofed tracks from impala or waterbuck and also even some frog prints.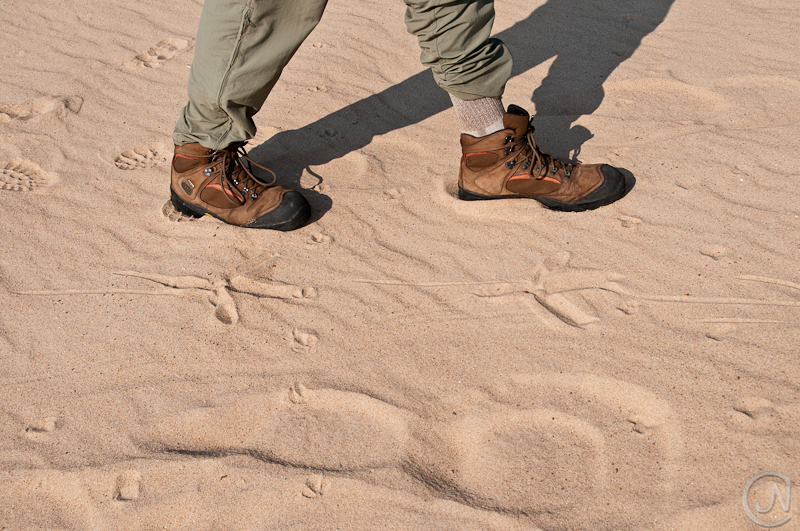 Soon after we hiked inland a bit, we came upon a field of adrenaline grass. This is bushy, tall grass that usually isn't eaten by the animals since it provides no real nutrients. However, the grass provides great cover for any animals that might like to lurk around like lion or hippo. We had to cross between two stretches of adrenaline grass and I have to say that I moved through very quickly. We stopped to look around with binoculars, and a ways in front of us, several lion popped out of the adrenaline grass and started walking away from us!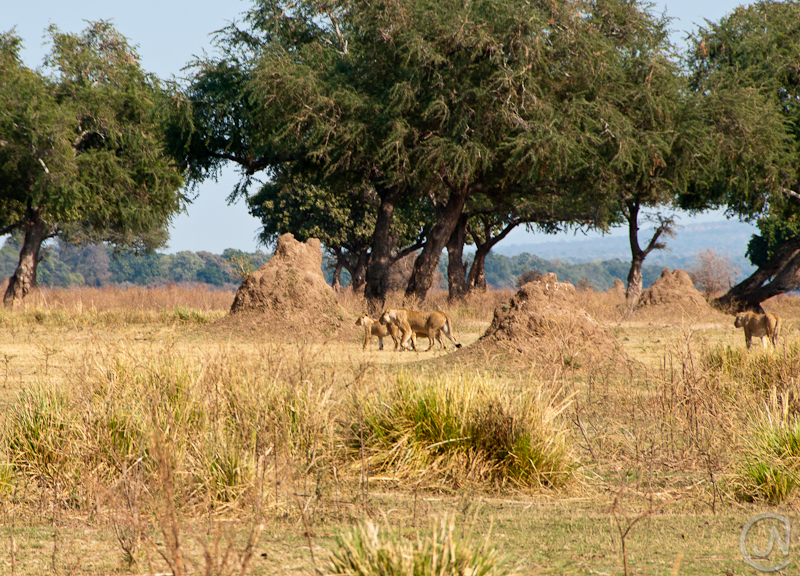 Our guide said that he couldn't decide sometimes if he was excited to see lion while hiking or not. I can understand. Most of my hiking stories with dangerous animals up until this point only involve bears and usually on trails with plenty of people. Dealing with lions is a little different than bears. Soon after the first lioness emerged from the grass, another lioness followed and then 2 cubs came out. The cubs were perhaps a year old. We stayed a decent distance away from them in order not to spook them or change their natural behavior. We started hiking towards them staying behind the large termite mounds. We just moved across the floodplain from one termite mound to another. Eventually the lions settled down under a rise in the bank under some trees to watch while we watched them.
While we stayed hidden, we could see another hiking group of 3 much closer to the lions heading in that direction. There was nothing we could do as they were too far away, but we watched as the lioness got angry and made a good growl at the group. They stopped with the lion between them and us. In order not to create a human sandwich, they backed up, looped around and met us at our termite mound to chat. As it turns out, the guide leading this group was also named Mark and later on in our trip we would become great friends with him.
After a bit, we continued to hike towards a tower of vultures in the trees ahead. Andrew was hoping to spot a carcass there. On our way, it seemed as if every step we took we encountered an obstacle. First it was the lions, then hippo, then elephant, etc. Hiking will never be the same again after hiking in Africa. Each time we see an animal we change our course a bit to stay on the safe side.
We didn't find a carcass, but we did find all kinds of hidden treasures like a perfect pond covered in water hyacinth with a hippo or two poking out. Several elephant stood near our canoes, keeping us from coming back too early and by noon we were back in the canoes, pushing away, back into the calm river.
After another hour of zig-zagging around the hippo in the river, we stopped for lunch in a group of trees. Canoeing will never be the same again after canoeing with the hippo. The river is extremely wide, but every so often, we stop and pull out the binoculars to look for hippo in our path. The guide gives us a plan of action: First we are going to head over to the right to get around the group of hippo on the bank, then we will canoe towards the left to avoid that group of hippo in the water, and then we'll try and go back towards the right bank. But soon after, our plan changes as the hippo change position.
Lunch in the trees was similar to yesterday, only with less wind and afterwards we packed up and did a quick 45 minute hike. Life is laid back on the river, and we did a lot of calm sitting and watching birds and other wildlife carry on around us.
Back in the river, we tried to go down a little channel that proved to be interesting. As we started canoeing, a group of hippo appeared in our path in front of us and all of a sudden the directions were: "back-paddle, back-paddle!" We backed upstream where Andrew put us in a little cove to wait out the hippo and see where they'd go. Once they settled in, we turned our canoe back around and had to canoe with one hand on the bank to keep us as far as possible from the hippo. This was probably the closest that we've had to pass the hippo now and we certainly felt the thrill of making it through the channel.
When we approach hippo, they start grunting and honking away. As we get nearer, all we see are hippo eyes staring at us as we glide by and ears flicking. When we get too close, they will go under and then come up with a phssssh of air in another location. One hippo was quite mad at us for passing and kept following us down the river appearing closer and closer behind us, honking away and opening his mouth at us a few times.
After 2 hours and hundreds of hippo, we arrived at our camp for the night. We had to keep changing our plans on how to get down the river on account of all the hippo. There were several times when we had to push ourselves with our hands along a bank of a channel to stay as close as possible to the bank and shallow area and as far from the hippo as possible. There were a few interesting looking channels that we had to avoid due to the number of hippo and their spacing.
Finally, near camp, we had a nice peaceful ride again without much wind as we glided into camp. Unfortunately, we found out soon that our camp had several noisy human neighbors. There was a family down the way making a lot of noise and cars coming and going behind us. Luckily though, we were the only ones staying the night and all the day visitors had to be back in their camps or lodges by 6.
We watched the sun set behind the mountains on the Zambia side of the river. A lone hippo walked along a sand bank towards the reflection of the sunset and I vowed to get the perfect photo.  The sun went down faster than the hippo could get to the spot I wanted him in, but I think I still got a decent photo.  In the distance, lions sang and birds chattered. This was a grand spot on the river for camping. As the full moon rose, we ate our dinner by candlelight and told campfire stories until bedtime.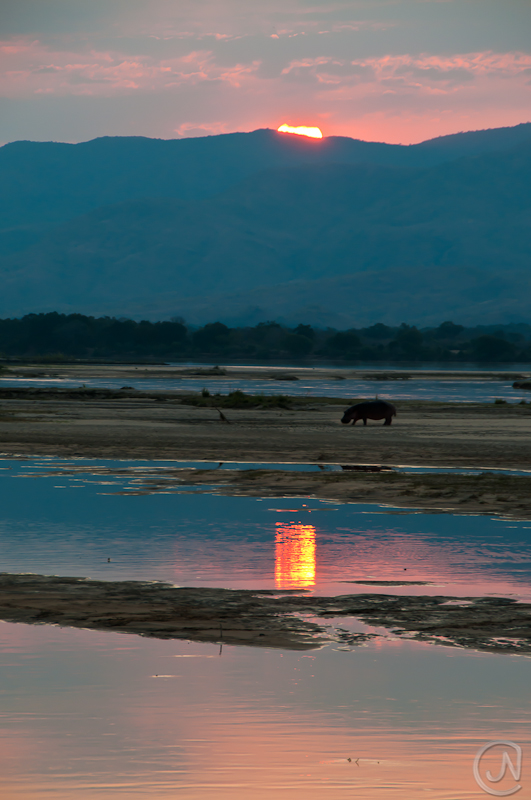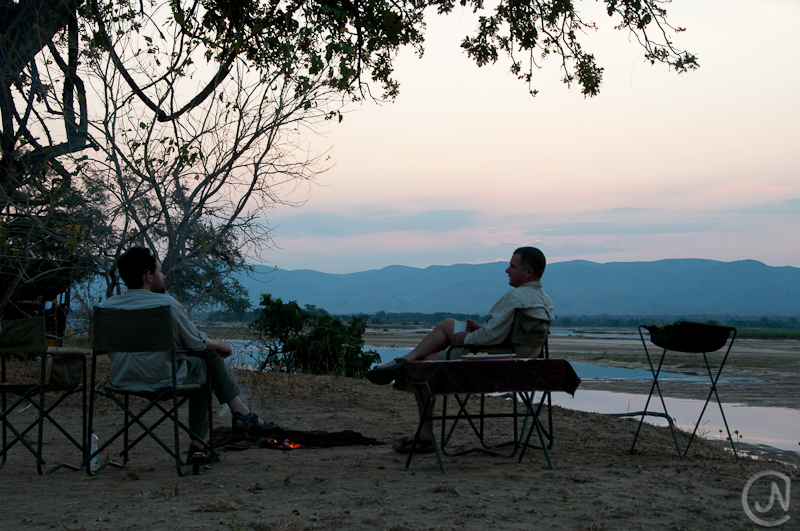 —————————————————————————————————————————————————————-
Below you'll find a slideshow from flickr showing more photos. If you are receiving this post via email or an RSS reader or facebook and the slideshow does not appear, please click on this link to see the original post: http://thetravelgeeks.com/?p=403 and scroll to the bottom. To view the slideshow, click once on the play button, or triangle, in the middle of the image below.