Trouble viewing email?  click here
Safari Day 7, Canoe Safari Day 1 (July 15, 2011)
Itinerary: fly from Hwange to Mana Pools, start canoe safari, night in mobile tents
Animals spotted: monitor lizard, hippo, grey heron, goliath heron, warthogs, impala, waterbuck, zebra, elephant, drongo (making noises like an owl), crocodiles, kingfisher
Overnight I woke at 2:45am to hear more animal noises  that sounded like lion, but were probably just baboons.  In any case, it felt much more like a night in the African wild than our previous silent nights.
The morning started too early with our 6am wake up call.  We watched the sun rise while eating breakfast in time to leave camp at 6:40.  It takes an hour to drive back to the airstrip and our plane was due at 7:45am.  Ah, the safari life means getting to the airport 5 minutes early.  =)
The drive was cold and uneventful since it was not a game drive.  Even with 3 layers, hat, and gloves, we were shivering upon arrival.  The plane taking us to Mana Pools is huge compared to our bush plane ride here.  With about 15 passengers and 2 pilots (both  named Alex), we felt as if we were on a commercial jet, almost.  A family of 4 were leaving Hwange headed for our same camp, Vundu Camp in Mana Pools.  Several other passengers were already on board.  The flight was almost 2 hours long before we touched down on the Mana Pools airstrip.  Though  many planes fly through this airstip, this is definitely the smallest airport we've been to.  The airport consisted of a box nailed to a tree with a clipboard inside for pilots to sign in.  And I thought we had a small airport in the Peru jungle!
We could see immediately that Mana Pools was warmer than Hwange since all the guides outside were wearing shorts.  Edwin at Camp Amalinda had warned us about the guides in Mana Pools who wear short shorts.  Amusing.  We later learned that this is indeed the tradition.  Even on the coldest day, the guys wear shorts and heavy jackets.  They were raised to wear shorts.
Our first surprise of our arrival was that we were to start our canoe safari right away, today, now.  The second surprise was that we were the only ones on the canoe safari with our guide, Andrew.
We really have yet to see a full lodge of people even after all the warnings to book early and possibly hire a private guide for part of our stay.  I guess Zim tourism hasn't picked up since all the political and economical mayhem from 2000 – 2009.
I would have liked to have advanced notice of our canoe safari simply so that I could have packed better to prepare.  But luckily we are pretty flexible travlers.  So, we took a short ride to the river, unpacked our river shoes and jumped in a canoe.  Two staff members will drive all our stuff and set up tent for us at our nightly destinations and Andrew will accompany us in a canoe.  Mark and I were in one canoe and were to follow Andrew in his canoe.  The rules were pretty simple.  Don't leave your hands and feet in the water for too long or a croc might find you, stay away from hippos, and follow Andrew.
Mark and I haven't canoed together in a while, so we spent a little time falling into a pattern.  We will canoe about 14km today to our first mobile camp.  We are canoing on the famous Zambezi River that runs along the northern Zim border between Zimbabwe and Zambia.  The river is very wide and the fourth largest river in Africa.  I am no good at estimating, but I'd guestimate that the width was more than 200 yards wide, maybe 300.
Saying there are hippos in the Zambezi is an understatement.  There were hundreds of hippos, thousands of hippos, (but not quite millions and billions and trillions of hippos.)  Extra points if you know what children's book that's from.  It was a popular bedtime story for us growing up.
Canoeing down a river with hippos in it is like nothing I've ever had to worry about before.  Luckily the river is so huge.  Basically we started in the middle planning to move towards the Zim bank eventually, but with hippos the plans are always changing.  Andrew would outline a plan and then the hippos would move and we'd change our plans.   Also, for some odd reason, hippos are terrified of us.  As soon as they catch sight of sound of us, all the hippos on the bank resting like beached whales in the sand stand up, start honking and crash into the water to hide.  A hippo will always head for deep water, so our trick with lots of hippo was to stay in the shallows if they were near.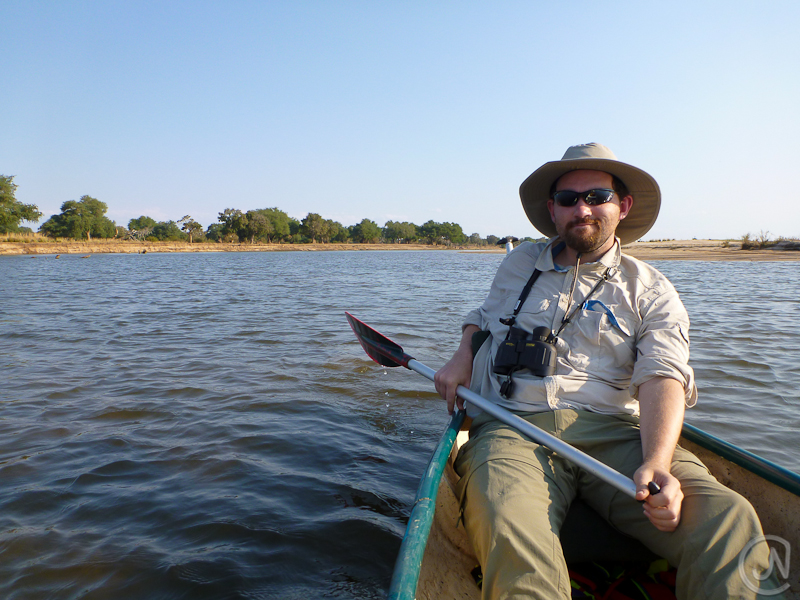 The weather was pretty windy on the water, so it wasn't long before we stopped to go for a walk.  During our walk we found a buffalo skull on the ground covered with the fecal sacs from the boring moth dried onto the horns.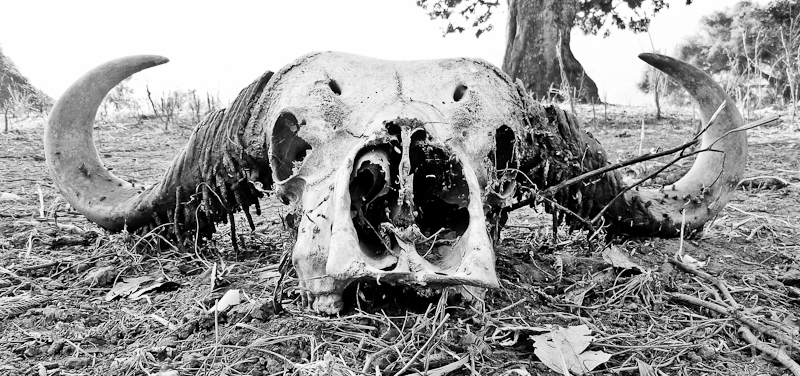 We also saw several elephant.  Andrew said in Mana Pools, the elephant travel in much smaler herds than in Hwange (usually only 2-5 at a time) and will occasionally stand up on their hind legs to reach the good branches.  He's going to keep an eye out for one for us.
After our walk, the wind died down and we got back on the river for some good canoeing.  The warm weather in the sun was probably between 75 and 80 and just about perfect.  Without the wind, the river was so calm.  We drifted downstream silently gliding along enjoying the outdoors.  I felt as though i was completely in my element.  This is such a wonderful way to see wildlife rather than a land rover.  It's so great to be out of a car.  Along the banks we found elephant, waterbuck, and other antelope along with the hippo.  Also, the crocodiles were out in the sand sunning themselves….well at least until they spotted us and ran into the water.
Watch a composite video I put together of our canoe trip with the hippos. Experience the quiet calm of the river, the hippos grunting, and the hippos run into the water.

If the video does not appear, visit this link: http://www.youtube.com/watch?v=mYCl0nPylS4
We stopped again to set up a lunch table.  In the sand we found elephant footprints (easy to recognize), crocodile claw marks, tail marks, and swirls, waterbuck prints, and also croc feces.  We set up the lunch table under a tree on a high back overlooking both the river and the floodplain behind us.  The floodplain floods during the rainy season, but now, during the dry season is the prime grazing ground for all the herbivores in the park.  More inland the ground is dry and the grass is brown.  Here, though, the animals have access to water, an open space to watch for predators, and good food.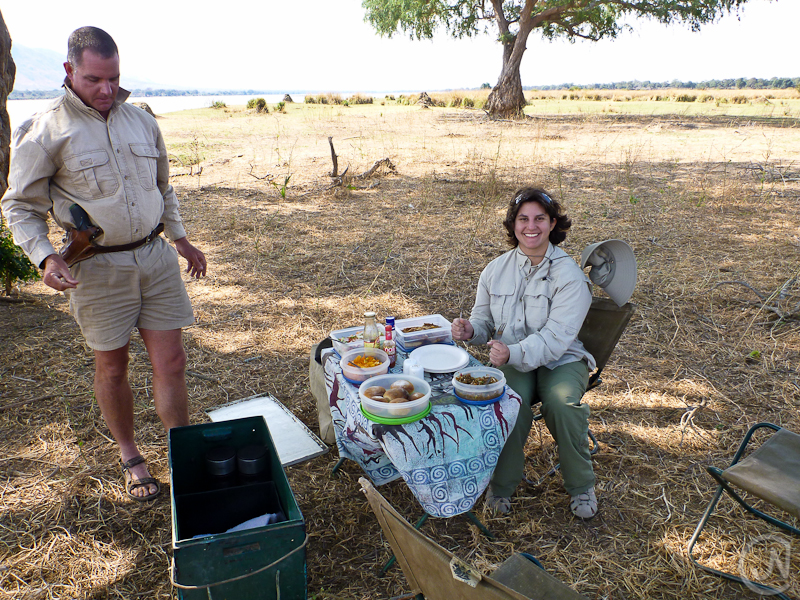 What a luxurious lunch on the river.  We not only had a table, but we had 3 chairs and a variety of foods and drinks to keep us stuffed.  I think we sat for a couple hours getting to know each other and learning about Mana Pools.  We also just sat and watched the lovebirds frolic in the trees.  One we had our fill, we headed out for another walk leaving our lunch spread out.
The guides have so many rules that they have to adhere to to keep the guests safe.  On the river, Andrew carries a pistol on his waist just in case of a hippo encounter and the rifle is in a bag.  On  land, he carries the rifle and we follow along.  Walking in the African wild is nothing like a hike in the States.  We, or at least the guide, is always on alert listening for sounds, watching for tracks, or spoor, and paying attention to the surroundings.  We don't want to accidentally walk into a herd of elephants or find the lions hiding in the tall grass known as adrenaline grass because of what might pop out.  Plus, there's always the occasional hippo that might see us and run for the water.  Anyway, though we felt completely safe it was funny to see Andrew walking with both a pistol and a rifle.
On the way back to our lunch table the herd of elephants we'd been keeping at a distance (okay it was 2 elephants, not a herd) had found their way to our lunch spot.  We stopped to wait them out.  You just have to think what might be going through an elephant's mind when she finds a table, chairs and food all laid out under a tree she wants to munch on.  I was expecting the eles to find our fruit, but eventually they moved on and left our lunch untouched.
Back on the river, we didn't have much farther to go until we found our mobile tent site.  The staff with the trucks had set up a cooking tent, a tent for us, and a tent for the guide.  This is the definition of luxury camping.  I thought we had luxury camping on the Inca Trail hike, but no, this time we had a thick canvas tent complete with a queens size bed and ceiling high enough for even Mark to stand up in.  Attached to our tent  was a room with a toilet and a room with a bucket shower.  I told Mark we better not get used to this treatment.  =)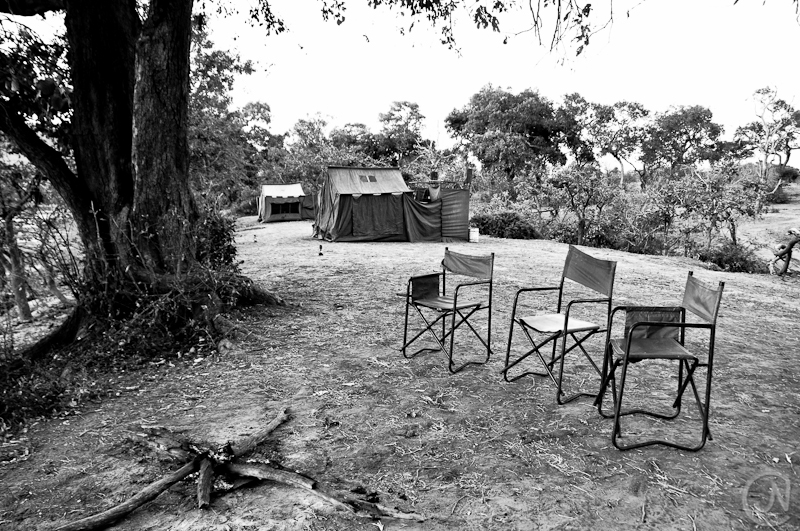 While we watched the sun set behind the mountains, a 20 liter bucket of water was warmed for my shower and then again for Mark's shower.  We sat and ate snacks around the campfire and admired the deep orange full moon that was rising in the south.  I pulled out my telephoto lens to take photos while Mark and Andrew chatted.  Beneath us, the hippos were grunting away.  They make a very memorable noise with a combination of grunting, snorting and spouting water.  When they come up for air they look and sound like a dolphin might with a spray of water straight up in the air and a psssshhh sound.  When they kind of do a scream grunt, and when they are alarmed, they just grunt and snort.  I kept trying to come up with an analogy for their noise and i decided they sounded like a lawn mower that just won't start no matter how much you pull the cord.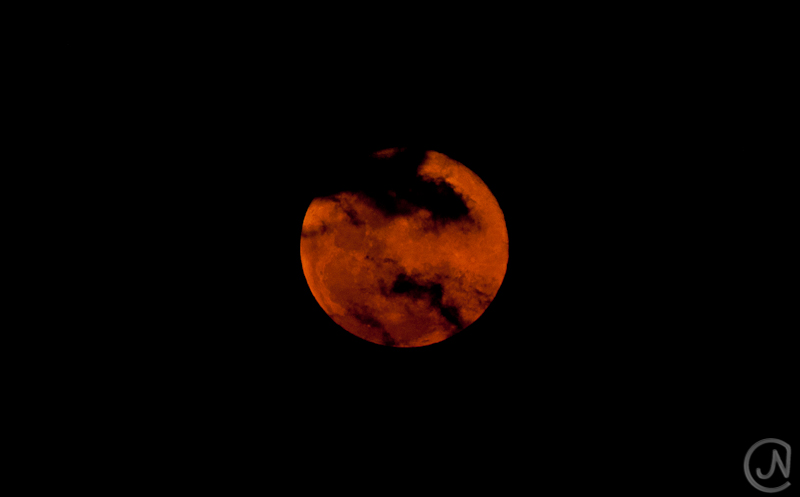 In the background a hyena howled, and we heard the stories from Andrew about Mana Pools.  This is one of the parks that is open to the public to come camp in.  This of course means that all the South Africans drive up here to camp.  All the camps in S. Africa are fenced in, so what do the S. African's do when they come to Mana Pools?  They bring a fence!  They put all their tents next to each other side by side so that if you roll over you hit the guy in the next tent.  They park their cars in a circle around the tents and then the string up a wire around the perimeter connected to a car battery.  They are just so scared that something is going to come eat them  in the night.
Andrew is a fun guy and we had fun hanging out with him.  Mark finally  had someone he could joke around with since all our previous guides were all so serious.  Thank you Andrew for an amazing time in Mana Pools.
After a 3 course dinner by candlelight we were off to bed.
—————————————————————
Below you'll find a slideshow from flickr showing more photos. If you are receiving this post via email or an RSS reader or facebook and the slideshow does not appear, please click on this link to see the original post: http://thetravelgeeks.com/?p=389 and scroll to the bottom. To view the slideshow, click once on the play button, or triangle, in the middle of the image below.