Trouble viewing email? click here
Note: Sorry for the brief hiatus in the Zimbabwe travel journal. If you like reading this journal, be sure to come visit the website and make a few comments. Just click on the link above.
July 17, 2011 Safari Day 9
Itinerary: Wake @6am, driving safari back to camp for lunch, afternoon driving safari, settle in at Vundu Camp in Mana Pools
Animals spotted: hippo, elephant, eland, impala, waterbuck, squirrel, cape buffalo, baboons, spoonbill stork, saddle billed stork (black one), cattle egret, fish eagle, zebra
This morning we woke at 6am to a gorgeous African sunrise and several elephants grazing in the distance. Unfortunately we are not canoeing today. Instead we are starting our driving safari and heading to the lodge where we will check in and get settled.
We are sad to leave our mobile tents and canoes on the river, but we are curious to see how Vundu Camp will be. We've heard many good reviews. The drive back would take a couple hours without stops, but that wouldn't be a very good driving safari now would it?
Along the road several squirrels started chattering at us on our approach. They were very squeaky and I was unable to capture any photos. We also saw an elephant pushing on a tree in the distance that had a fish eagle on the top. The fish eagle is a relative of the American bald eagle and looks very similar. The eagle didn't seem to mind that his perch was being disturbed.
The Mopane woodland trees were a sight to see on our drive. The leaves were almost a neon green and the bark and trucks were a very dark brown.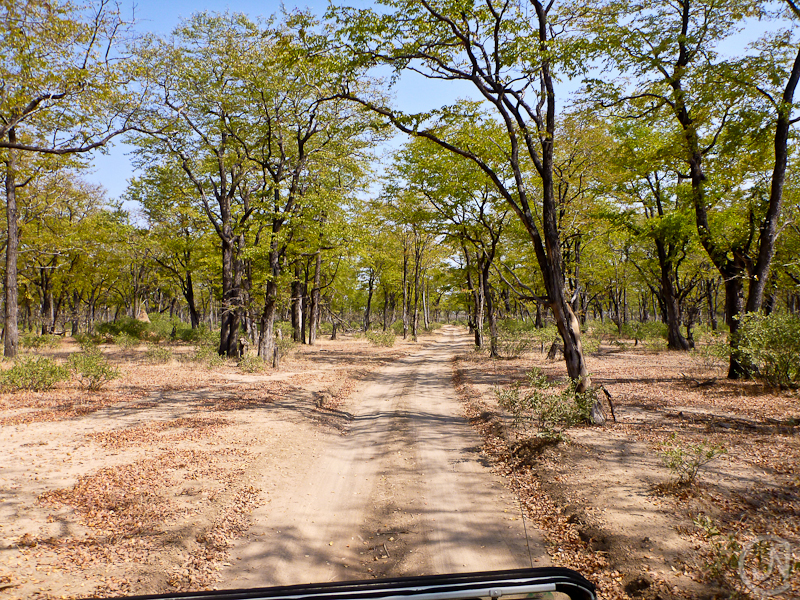 Our first stop was at the Chine pan. The water holes in Africa, or at least in Zimbabwe are called pans. We got out of the land rover to go for a walk since we had seen a herd of eland going to this pan. The pan was really mostly dried up from what we could tell. Walking through the dried mud was tricky, like walking through craters on the moon. The dried elephant and hippo footprints are especially deep, so it made walking interesting.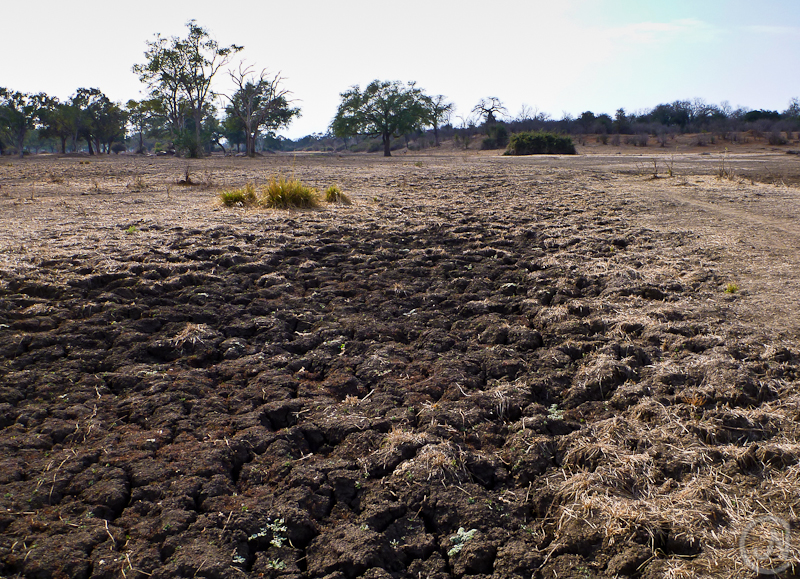 We spotted the herd of eland and what a large herd it was. Andrew, our guide, was impressed at the herd of about 60 and we walked around to avoid scaring them. One eland had a broken horn hanging down the side of her head making her very distinguishable. Andrew found a spot for us to sit and take photos. The male eland are more gray in color than the brown-tan females and are huge. They have a dewlap hanging under their necks to give them an appearance of a much larger animal. This appearance of size helps protect them from predators. The males are very majestic. The females were pretty to look at with their tan coats and thin stripes on their back making me think of the kudu. The little ones were hesitant and stayed with the older members of the herd.
When the eland were out of sight we crossed over to the hill behind the pan. From here we could see that there was a small area of water still there for animals to come drink. We climbed the hill and found a huge Baobab tree at the top. We've been seeing these magnificent trees throughout Mana Pools and finally got to learn more about them. The Baobab trees with its hollow centers have been used by people for centuries for various purposes including spiritual spots, houses, even prisons, and other various structures. The tree has a very high water content which is loved by animals and people alike. Elephants love to tear the bark off the tree for food and water and people use all parts of the tree as well. For instance the fibrous bark can be used to make rope. Now, the tree is protected from people, but the elephants still tear it apart. Many trees we've seen look ready to topple since about half the trunk is carved out by elephants. The tree usually grows alone and each one has a personality to it.
We heard some shuffling ahead, so Andrew had us tiptoe around some trees to see what was up there. We stopped and let him go ahead to find a cape buffalo just down the side of the hill from us. We came very close to it and just above it, but some running impala scared him down the hill. He turned and gave us a few snorts.
The next pan was stopped at was Long Pan where we found about a hundred hippo and many crocodiles. The hippo were mostly lazing around in the water and we sat in the car watching them for a while. The crocodile stayed on the opposite bank with their mouths open showing off their teeth. The crocs in the pans are usually the smaller crocs that aren't big enough yet to defend themselves on the Zambezi. So they come up the streams during the wet season and find a spot to hang out and eat catfish during the dry season when the pans dry up.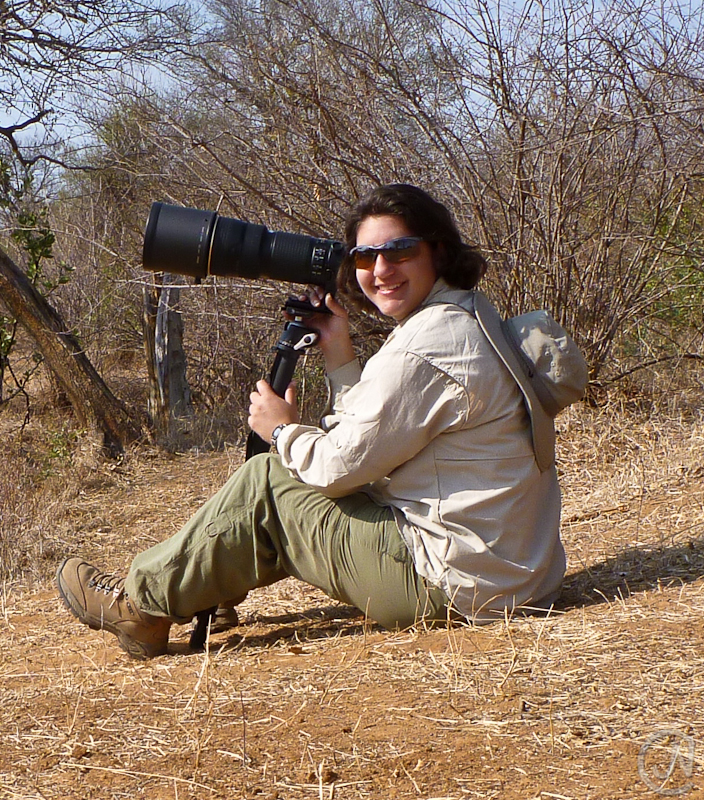 Just on the other side of long pan was a vast stretch of dry, desert-like conditions that looked amazingly uninhabitable. It was hard to believe water was just a few feet away from this dried out land. We didn't see very much driving through this area, but Andrew pointed out clear stretches of ground where villages might have stood up until about 60 years ago.
We stopped on the road to watch a herd of impala make magnificent jumps over the road in front of us. I wish I had known at this time that impala tend to always jump at the same spot. So if one impala makes a flying leap, all the others following will leap there as well just in case there is something to jump over. The leaps over the road were smooth, practiced and graceful and reminded me of ballet dancers.
We arrived at Vundu Camp just before lunch and were taken to our room to unpack. The room was spacious and wonderful. Especially after 2 nights in a tent, the room seemed too huge for just the two of us. A bed surrounded by mosquito net stood off to the side and then the room opened up to a sitting area with chairs and a table, and some furniture along the wall. We noted that this was probably our first bathroom with a door and also the bathroom, though enclosed, was open to the sky. Two basins of water sat where a sink would be and rock ledge outlined a spot for the shower. The toilet did flush and we were told that we'd have hot water whenever we wanted.
We heard the drums beating from the dining area indicating that lunch was ready and we met the family we'd been on the plane with at the table. We also met another retired couple who had been there a few days as well. All of us used the Africa Adventure Company as our travel agent and we were all from the States. Their American accents sounded so strange to us after so much time without bumping into fellow Americans.
Back on the typical safari schedule, we siesta'd until 3pm when we had tea and then went out for a safari drive. We got to meet Owen, the 3rd passenger who would be in our vehicle with Andrew for the rest of the week. All parks in Africa have different rules about how you are allowed to access the park. We chose Mana Pools because this park allows hiking and canoeing in the park as well as driving. However, Mana Pools does not allow driving after dark, so we had to be back by about 6pm.
We took a short drive to a water pan and got out for a walk. We found a small herd of elephant that came down to the water to drink. The cows and young elephants don't stay in the area of the water for very long since they are out in the open. They came down long enough for everyone to drink, roll in the mud, and then throw sand on their backs from the bank. One of the little elephants seemed to get stuck down in the mud and put on a big show rolling around and trying to get up. Even the guys thought he was pretty adorable stuck in the mud.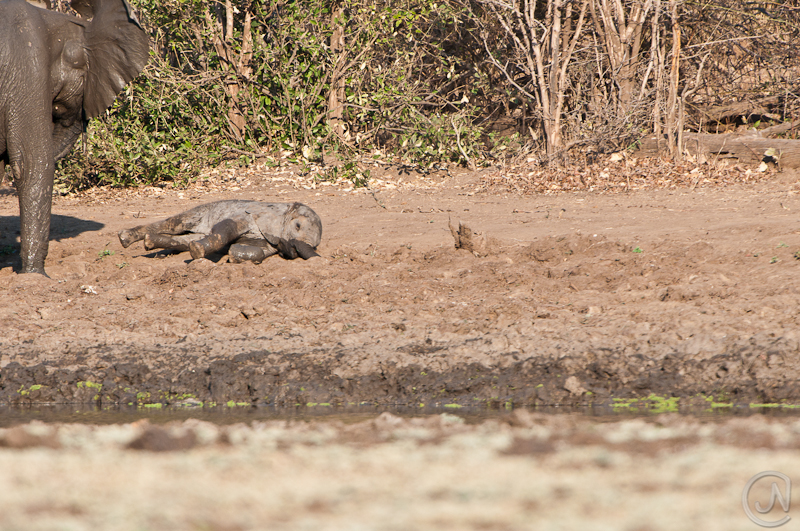 A little further down the hike we found a very old buffalo skeleton on the other side and then walking back we found some civet droppings. A civet is a small cat that we haven't seen yet. They pick an area in the woods to use as their latrine and keep coming back to the same spot again and again. There was quite a large pile of droppings for that tiny cat.
Down the road again we stopped for a bull elephant who was reaching high into the branches for leaves. We hoped he would stand up on 2 legs to reach higher as they tend to do in Mana Pools, but we didn't get that lucky. It was still a sight to see. Two younger bulls were following the big bull elephant hoping to pick up extra leaves and seed pods fallen when the big bull is able to shake a large tree. We were able to sneak up to the bulls and sit behind a termite mound fairly close to the elephant. They didn't seem to care about us at all. Also down in the clearing were waterbuck, impala, zebra, and baboons. It was amazing to sit and be surrounded by so many species all fairly calmly grazing. One impala definitely saw us and sounded his alarm at regular intervals so that everyone was aware of the intruders. No one ran away though. The impala alarm sounds like short barks that I mis-heard as hippo noises the first time I heard him. It's crazy how the animals make sounds that we don't expect. We found some porcupine quills on the ground as well. Overall this was an excellent stop.
Back at Vundu since the sun had already set, Andrew walked us to our room and then would come back and pick us up. His tent was beyond our lodge so it made sense. The outdoor shower with the open ceiling was wonderful with warm water at a fabulous water pressure. We heard a noise outside the shower wall and Mark figured it was baboons. When Andrew came to pick us up he asked if we had seen the elephant that was walking around outside our room! Now we were imagining an elephant truck reaching over our shower wall to taste the water or even spray water in, Flintstones style. =) Luckily we had no issues.
Dinner was a BBQ down around the fire with steak, pork and sausage all perfectly cooked. We hadn't known the other guests here very long, but apparantly there was an inside joke running around. The staff pulled a prank on the girl belonging to the family who flew in with us and served her a cake made with elephant droppings. They didn't let her eat it, but it was funny. Probably more funny to those who understood the inside joke, though. We managed to stay up until about 9 before it was back to the room and to bed.
———————————————————————–
Below you'll find a slideshow from flickr showing more photos. If you are receiving this post via email or an RSS reader or facebook and the slideshow does not appear, please click on this link to see the original post: http://thetravelgeeks.com/?p=416 and scroll to the bottom. To view the slideshow, click once on the play button, or triangle, in the middle of the image below.