Sunday, September 28, 2014 (Day 5)
Itinerary:
– breakfast at hotel
– 9:40a start driving
– 12:10a stop in Triberg for lunch (charity event on street)
– 1:15p Black Forest cake from Cafe Schäfer
– visit House of 1000 Clocks
– 2:30p leave Triberg, waterfall hike
– 5:10p leave waterfall
– 5:35p arrive at hotel, Höhengasthaus Kolmenhof
– dinner at hotel
Weather:
Sunny and clear.  Temperatures ranged from 55 to 73 throughout the day and dependant on elevation
Odometer:
Starting km: 165km
Ending km: 309km
It is another beautiful day for driving with the top down.  There was not a cloud in the sky when we woke up and we had a great night's sleep.  Jetlag is now officially over.  We even slept in a little bit.  Breakfast at the Hotel Heiligenstein was fine.  There was no hot breakfast, but there was enough cold food to satisfy. 
We started driving for Triberg and realized that we were going to be driving right into the sun.  The great views were either off to the side or behind us, and I managed to forget my sunglasses at home.  I brought my empty sunglasses case thinking the sunglasses were inside, only to arrive and find the case empty.  =P  So, we've been looking for a spot to buy sunglasses as we travel.  There isn't much open on the weekends, though, so it will probably wait until tomorrow at least.
The Black Forest drive on the B500 towards Triberg is very scenic.  There is just the hint of fall colors in some of the trees, even and we stopped at one pull out to get some car photos.  The car is still brilliant in the sunshine, but it is starting to show some dirt and bugs from driving.  The photos still look great, though.  This isn't quite like driving in a National Park in the US, where there is a pullout at every lookout and lots of places to stop in between.  So, there were not too many places to stop and get photos, but boy did we enjoy the drive!  With the top down, we had a great view above us as well as off to the sides.  As the birds passed overhead, we could see the flocks soar through the air.  The wind whips through our hair and once again, I'm super happy that I have a short cut.  The wind does not get down by my feet, so papers or items are not at risk of blowing out of the car.  Mostly, though, the car has absolutely no place to store anything, so anytime we need something, we have to stop the car and get it from one of the trunks.  =)  We are still getting used to stepping in and out of the car, too, as it is so low to the ground.  but, it does make driving fun!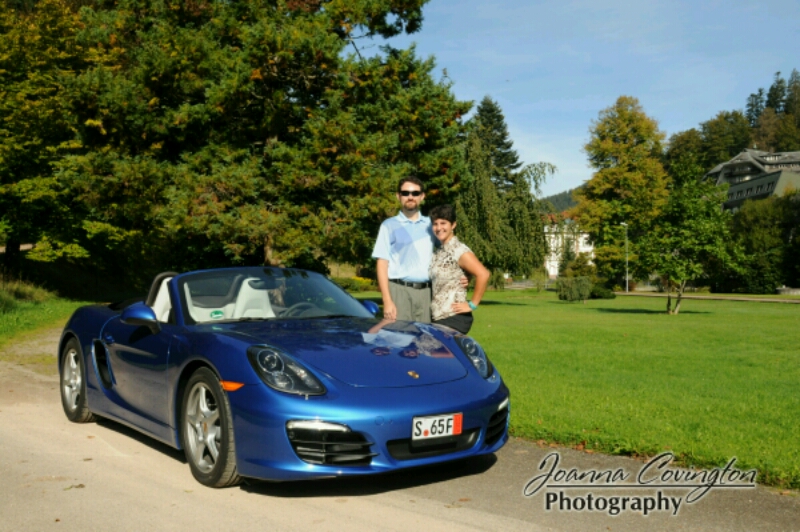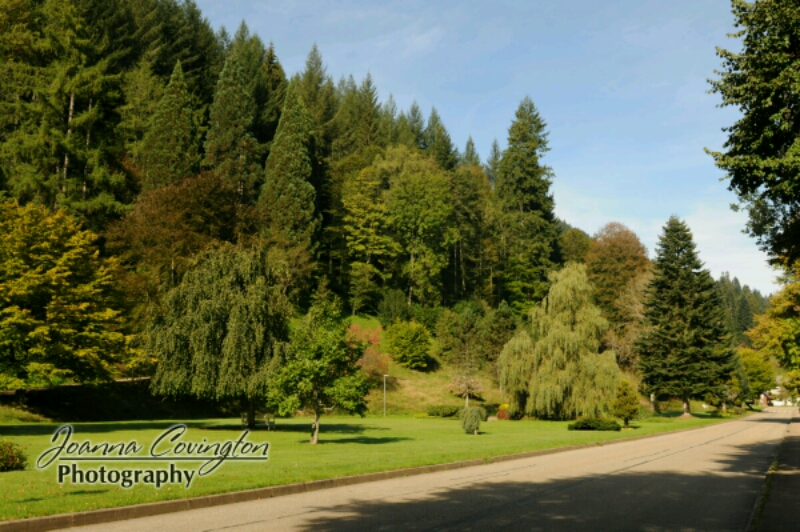 We made it to Triberg in about 2.5 hours and found a parking garage to stash the car while we walked around town.  I love Triberg!  It is a super cute German town with gorgeous buildings.  We arrived around noon, and there were not many people walking around, but by 1:30pm, the streets were getting crowded and the shops were opening up.  I guess the day just starts later here on a Sunday.  We ended up finding some sort of charity (maybe a school?) selling brots on the street, so we had lunch with them.  The brots were cut up and drowned in a ketchupy sauce with a side of fries, but it was all good.  Mostly, though, what we wanted to do was try the famous Black Forest Cake, or the Schwarzwälder Kirschtorte.  The place to do that was at Cafe Schäfer that used an original recipe from 1915.  The bakery has been open since the late 1800s even.  The shop was super cute, but the wait was long to get service and then our cake.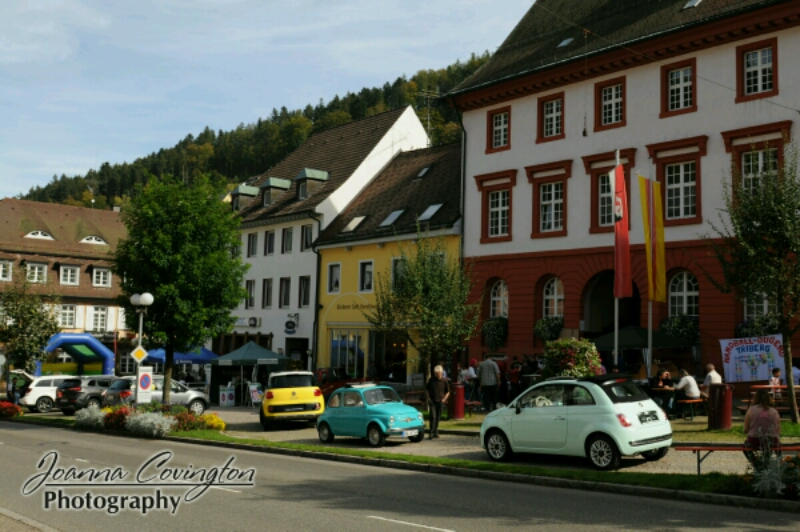 Black Forest Cake typically consists of several layers of chocolate cake, with whipped cream and cherries between each layer.  The cake is decorated with additional whipped cream, maraschino cherries, and chocolate shavings on top.  Also, kirsch (a clear liquor distilled from tart cherries) is added to the cake.  We were happy that we tried the cake, but neither one of us ended up liking it much.  I wasn't sure how much of the liquor would be in the cake, but it turned out that it was throughout all of the whipped cream, making it impossible for me to eat.  So, I picked around the cream and ate some of the cake.  Mark ate most of his cake, but agreed the cream was too strong and he wouldn't order it again.  But, we tried it!
After cake, we headed over to see the next famous stop in Triberg, the House of 1000 Clocks.  Cuckoo clocks are famous in the Black Forest and this is apparently the cuckoo clock capital.  We were very, very impressed by all the clocks in the shop.  They even had smaller clocks for under 100 Euro, as well as very ornate clocks from 800 – 3000 Euro.  I would love to have a cuckoo clock, but, I'm not yet ready to make the investment.  These are all made by hand and are absolutely beautiful.  Most of the clocks were off, but the shop keeper could turn the clock to the hour so you could watch it "cuckoo" and see how it moved and danced.  Amazing!  The store kept going, too, and there were some modern cuckoo clocks.  Some of the modern ones allowed you to see the inner workings which was fantastic, and others were just either colored or shaped in modern styles.  I've never seen anything like it.  Plus there were lots of other highly decorative clocks in the store.  We stayed here for a while admiring it all.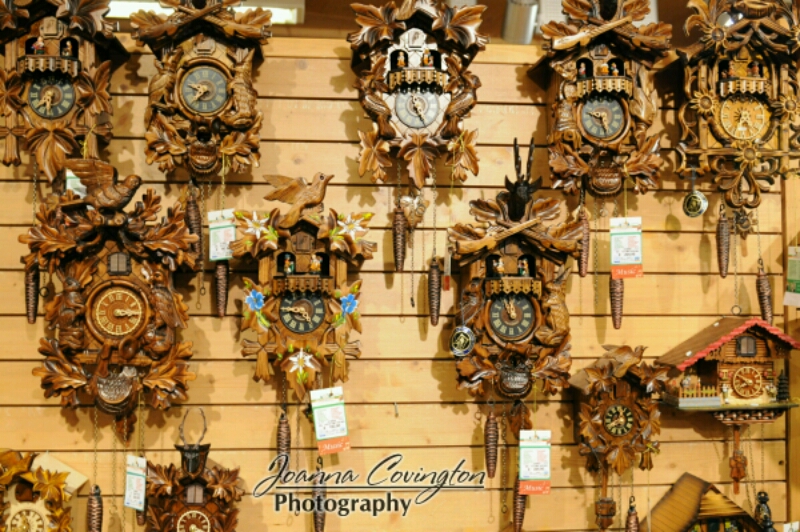 Finally, we had to leave Triberg, but not very far as there is a waterfall and hike just outside of town.  Finding parking for it was tricky, but we found a spot and spent several hours hiking around the waterfall and taking photos.  It was a pretty well-known area and hike, so it was full of people, and there was even a fee to get in.  But, there were lots of viewing spots along the stream and the waterfalls, so it was well worth the visit.  Plus, the weather was perfect hiking weather.  It was shady for photos of moving water and warm enough for short sleeves and hiking pants.  But it wasn't too warm that we were breaking a sweat.  As I said, perfect weather.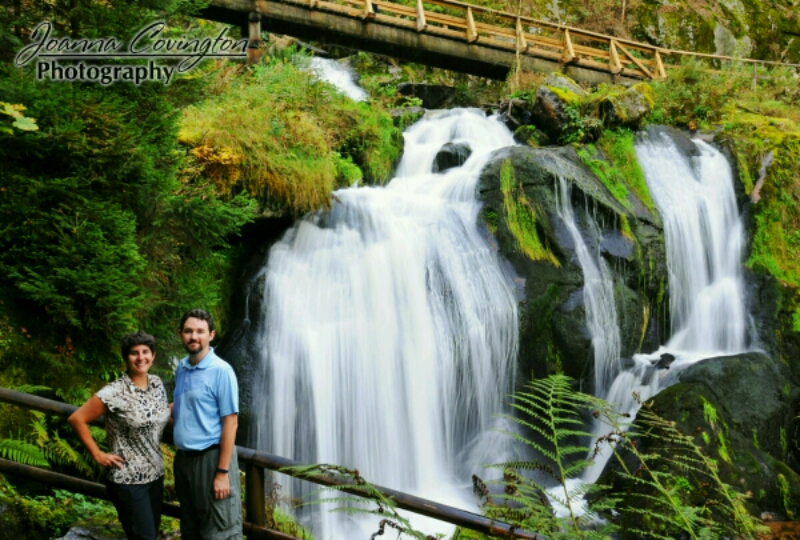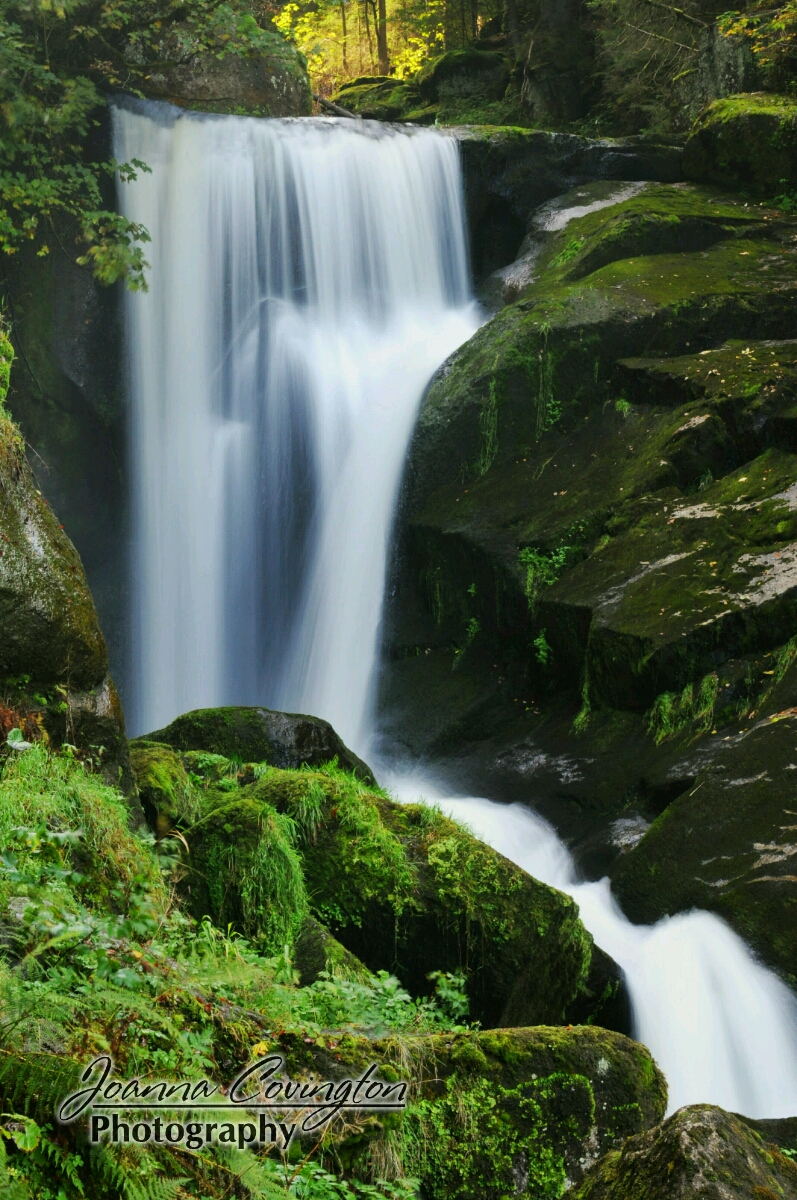 After the waterfall hike, we headed on to our hotel which was a few miles outside of town.  The Höhengasthaus Kolmenhof was a family owned guesthouse up at the top of a road and had a wonderful area to sit in the sun and relax with food.  There was a family dog that roamed about, but didn't seem to want anything to do with us.  He was relaxed and calm and just meandered about as he owned the place, but didn't want to stop and get pets.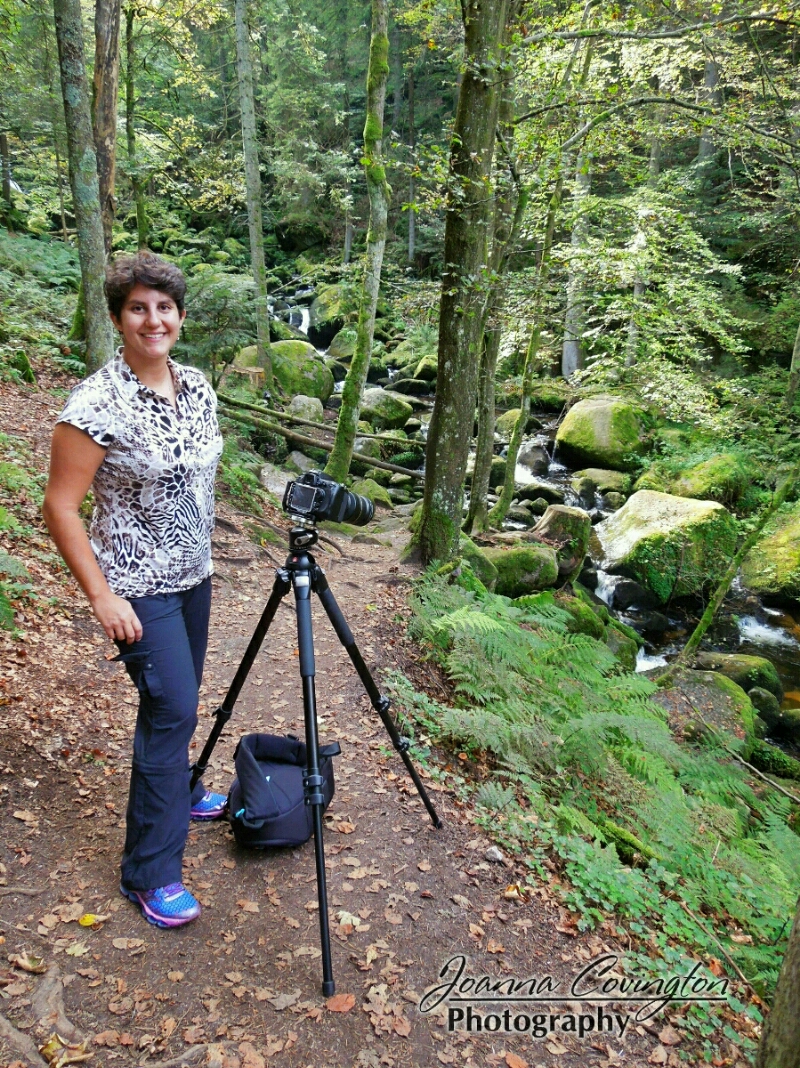 We sat and relaxed for the evening, had a wonderful dinner here, and eventually headed up to our room to bed.  The room was decorated in a more old-fashioned style, so it was cute and comfortable.  It was actually very chilly overnight, and we even turned on the heater to go to bed.