Saturday, September 27, 2014 (Day 4)
Itinerary:
– Leave hotel at 11am
– Pumpkin Festival at Ludwigsburg Palace
– Leave festival about 3:15pm
– Drive through Black Forest to Baden-Baden area
– Arrive at Hotel Heiligenstein about 5:30pm
– Dinner in Baden-Baden (Fresh Choice)
Weather:
Sunny, clear, with highs in the 70s cooler in the high elevations of the Black Forest.  Chilly at night
Odometer:
Starting km: 40km
Hotel km: 155 km
Ending km: 165km
Since we slept last night in 2 shifts (I was awake from 2a-5a), we actually slept in this morning until about 9:30am!  This was a shock when we first woke up.  We had a lazy morning getting up and ready for the day.  Breakfast at Hotel Heiligenstein wasn't very extensive.  We were the only ones down when we went and as such there was no hot breakfast.  But we knew we were headed off to the Pumpkin Festival shortly and would eat food there. 
First, I found in my research, that Ludwigsburg was an environmental area and in order to drive in these areas, we need an environmental sticker tag on the car.  Luckily, the hotel reception was able to help us find a car service shop that sold these stickers.  It was easy to get, but took a little extra time.  And, we had to put a sticker on the car windshield!  Now, at least, we are cleared to drive in any other environmental areas we find.
Ludwigsburg Palace is open year-round, but for September and October, they also have a pumpkin festival on their grounds.  Ludwigsburg is about halfway between our hotel and Stuttgart, but still not very far away at all.  Since it is a Saturday, there are plenty of cars in town and all trying to find a parking spot for the pumpkin festival.  We sat through many traffic lights and finally found our way to a parking lot and got lucky to find a spot open!  The Palace and its grounds are quite large with a maze of gardens in the front and in the back.  There were tons of people, too, and it was easy to figure out where the festival was in the back since that's where all the people were headed.
Just inside the entrance, we could already see that pumpkins were lining the gardens, the fountains, and the walkways.  There are thousands of pumpkins here!  I read that about 80% of the pumpkins come from this area, even!  I'd like to find one of those pumpkin fields!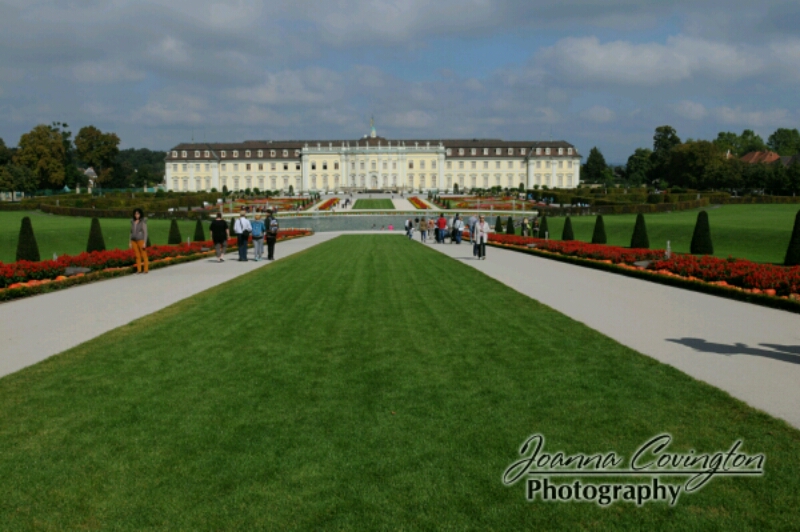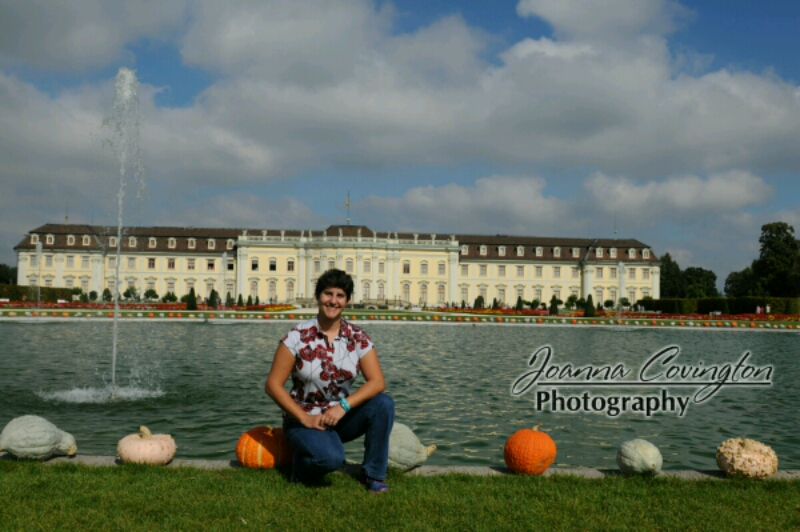 We headed behind the palace and every so often, there would be a small sculpture made of pumpkins.  First we saw some road signs, then we saw a lion, a crown, and then we looked in the distance and saw oodles of sculptures made out of pumpkins!  The sculptures just got bigger and bigger the further we walked.  The photos don't even do them justice, but most were much taller than a person.  Also, interesting, was that the base of each sculpture was also made of pumpkins.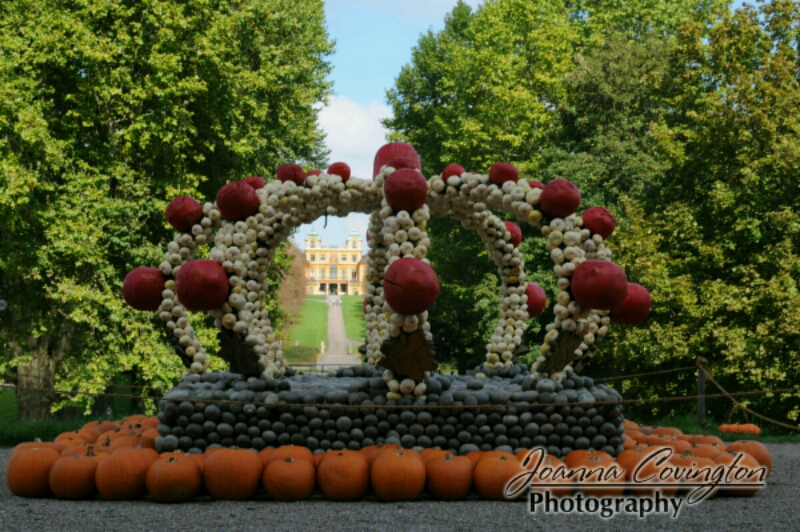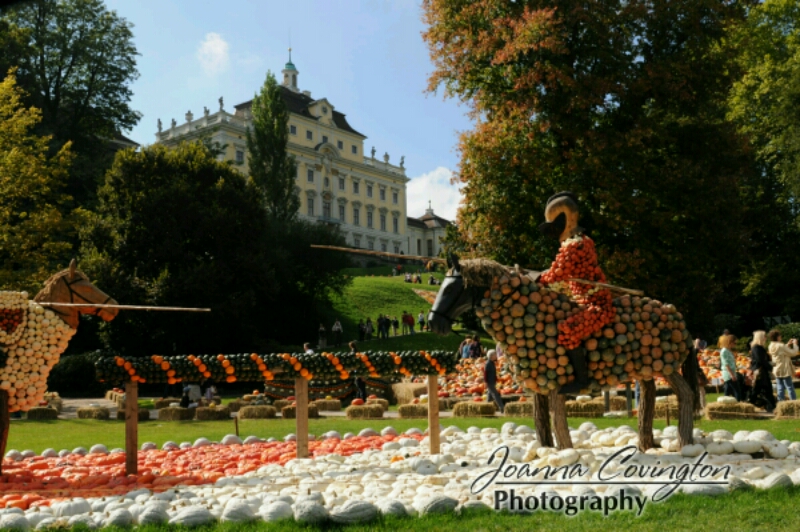 They had lots of pumpkins and squash for sale (whole) in several places.  Also, there were lots of food places to buy pumpkin treats.  But mostly we walked around and marveled at all the pumpkin art.  This is quite a festival!  One of our favorite areas was where the pumpkin artists took some gourds of some sort and added sticks as arms and legs and then made each gourd into a human character.  There were some gourds waiting in line to use an outhouse.  There were some gourds fishing.  There were gourds having dinner around a table.  Everything was so creative and life-like!  We loved it.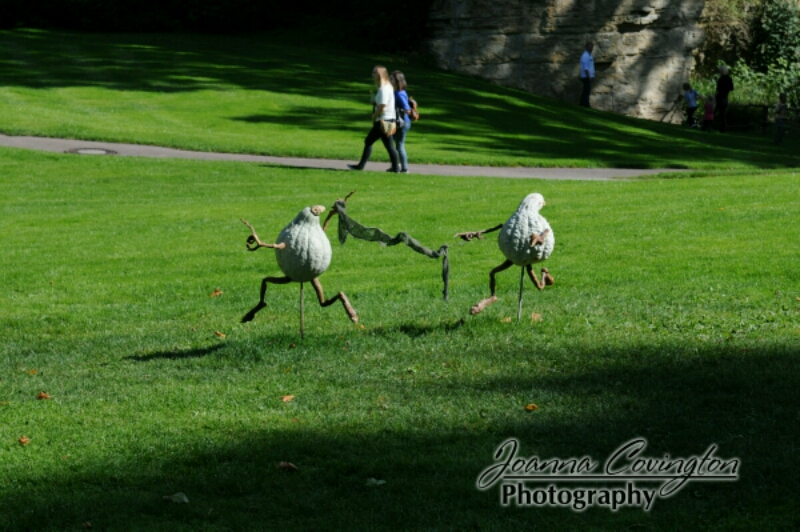 Finally, we decided it was time to eat pumpkin and we started the process of standing in line.  The food lines were quite long.  We started with some pumpkin soup, of course.  We also got some pumpkin fries which were extremely good.  They were close in taste to sweet potato fries, but much thicker than any I've had before.  Then we found another line that sold pumpkin strudel, a pumpkin cookie, and we had to try the pumpkin soda.  The strudel and the cookie, of course were delicious.  However, the soda had too much of the carbonated water taste for me.  We also kept walking by a booth selling 3 flavors of seeds and the cinnamon and sugar seeds smelled absolutely delicious.  We got a hot cone of fresh cinnamon and sugar seeds and just loved them!
In the souvenir shop we also even found some chocolate covered pumpkin seeds to take with us.  We didn't get pumpkin-ed out, but eventually we figured we better leave and get on with our road trip.  So, around 3:15p, we headed out.  This was the first time we left the car in a public lot, and it was good to find it still there and safe.  =)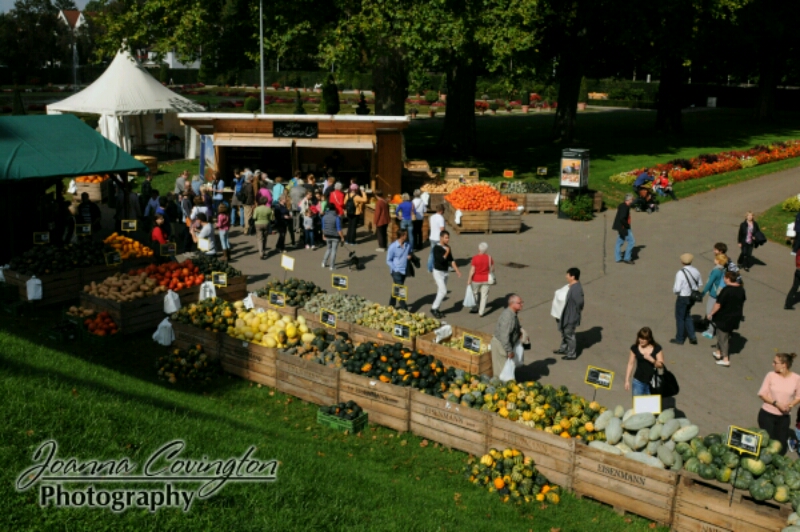 From here we drove to the Black Forest which is in southwestern Germany.  Specifically, we headed towards the Baden-Baden area on the north side of the Black Forest.  The weather is gorgeous and sunny and driving with the top down was a lot of fun.  Sadly, there weren't as many areas to pull off and take photos as we would have liked.  But the roads were very windy and full of switchbacks and we went up and down in elevation.  Since we were going up and down, we could watch the temperature fluctuate between about 55 degrees and 73 degrees depending on if we were in the sun or shade or up in elevation or down in elevation. 
Our Hotel Heiligenstein is not in Baden-Baden, but about 10km away in a small little residential area.  The hotel had a great view of the surrounding hills and we had a lovely porch to look out on the lowering sun as the landscape turned golden.  We arrived at about 5:30pm and took some time to settle in.  Then we headed back out to the town of Baden-Baden where we found a parking garage to leave the car and went for a walk around town.  Even though it was only 7pm in the evening, the pedestrian area was pretty closed down and empty.  All the shops were closed as it was a Saturday and things close early on Saturdays in Europe.  Plus, we couldn't seem to find an open restaurant.  We did managed to find a little sandwich place called Fresh Choice and had some sandwiches and smoothies for dinner.  The town was just completely empty.  But we had a nice walk around both before and after dinner.
Back at the hotel, we were disappointed to find that all the hotel parking spots were taken.  The reception, though, told us we could park on the street corner which made us a little nervous.  But the car was right under a street light and even better, we had a great view of the car from the hotel room.  Luckily all was fine leaving it there. 
We are loving the car and loving the road trip so far.  We are looking forward to more sunny days ahead.