Monday, September 29, 2014
Itinerary:
– 7am wake up, breakfast at 8a
– Depart Höhengasthaus Kolmenhof at 9a
– 10:50a stop at the border between Germany and Switzerland
– 1p Lunch in Gruyère
– 2:15p Maison Cailler chocolate factory tour
– 4:20p leave Cailler
– 8:10p arrive in Friedrichshafen, Comfort Hotel
– 9p dinner at Cafe Delhi
Weather:
Sunny, clear 50 degrees – 70 degrees  through the Black Forest.  Mid-70s in Switzerland and cloudy after 4pm
Odometer:
Starting km: 309km
Switzerland km: 408km
Gruyere km: 583km
Ending km: 913km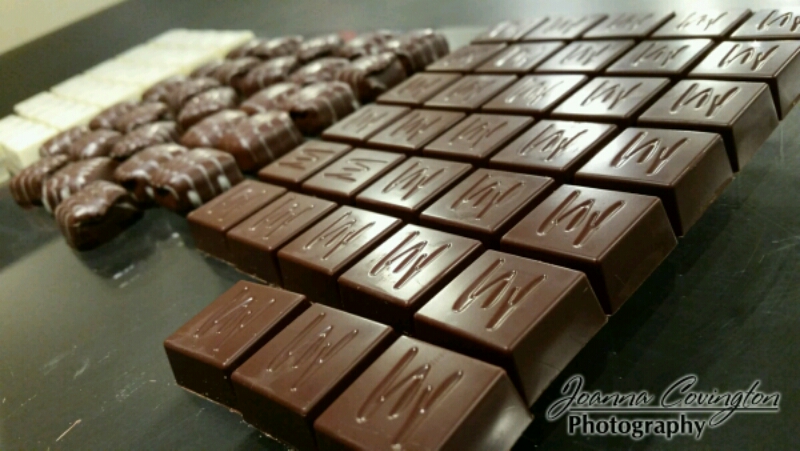 We woke early as last night we decided to break from our originally scheduled itinerary and make a side trip into Switzerland to visit the Callier Chocolate factory.  We love their chocolate, and they have one particular candy type that we can't duplicate in any other brand.  Also, we've only ever seen Callier chocolate being sold in Switzerland.  So, we will make our 3rd visit to Callier.  We've now visited in September 2010, September 2012, and September 2014.  I guess in 2016, we better plan on visiting again!
It's going to be a long day of driving, so we had breakfast as soon as the hotel offered it at 8am.  They had a good choice of cold breakfast items and we said goodbye and started heading out.  It was starting out quite chilly at 50 degrees, and with all the wind from driving with the top down, I was snuggled up in my fleece in the car.  We took a scenic route out of Germany passing two scenic lakes.  Lake Titisee had some absolutely fantastic reflections in it, but there was no pulloff from the road we were on and we could only enjoy it by car instead of by camera.  I was a bit disappointed, but I didn't want to spend the time to see if we could find a place to detour and stop at the lake.  We did find a place to stop at Lake Schluchsee which also had some decent reflections.  Here, I also found places to take more photos of the car, too.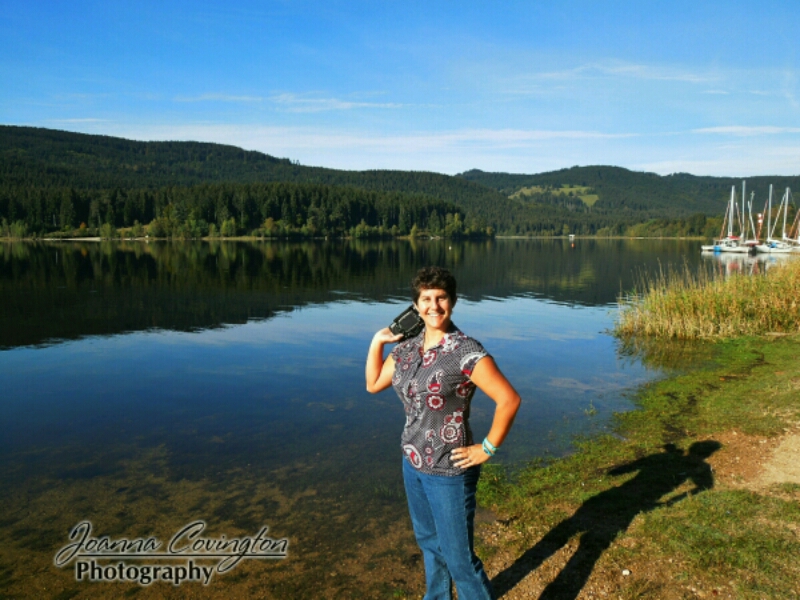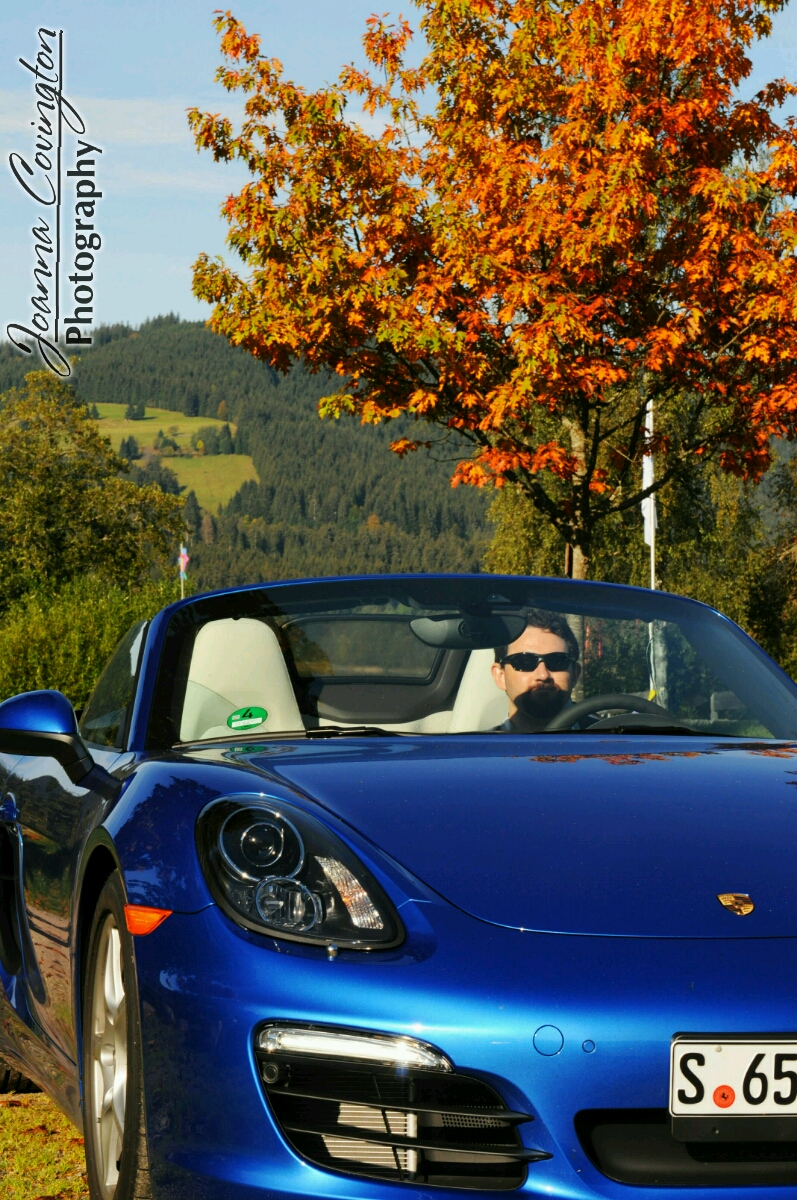 There is a river at the border between Germany and Switzerland, and as we headed down in elevation to that river, all of a sudden we entered a thick fog.  It was quite crazy that we were just above the fog in sunny Germany, and the in the border town it was all gray and foggy.  We stopped for a gas fill up and also to purchase a tolltag as required to take our German car over the border into Switzerland.  One more sticker on the car!  Luckily, it was easy to purchase and soon we were on our way to pass into Switzerland.  I was all set and prepared to take a photo of a Welcome to Switzerland sign, but there was none!  The only way we even knew we crossed the border (other than the map telling us we did), was a boring tollbooth that we didn't even have to stop at.  So it was anticlimatic.
Soon, though, we drove out of the clouds and had a beautiful, clear sunny day with gorgeous views of the Swiss countryside.  It was starting to look a lot like the Switzerland we remember and the jagged mountains in the distance were a great backdrop to our drive.  In the foreground were bright green rolling hills spotted with the friendly faces of the Swiss cows.  Yay Swiss cows!!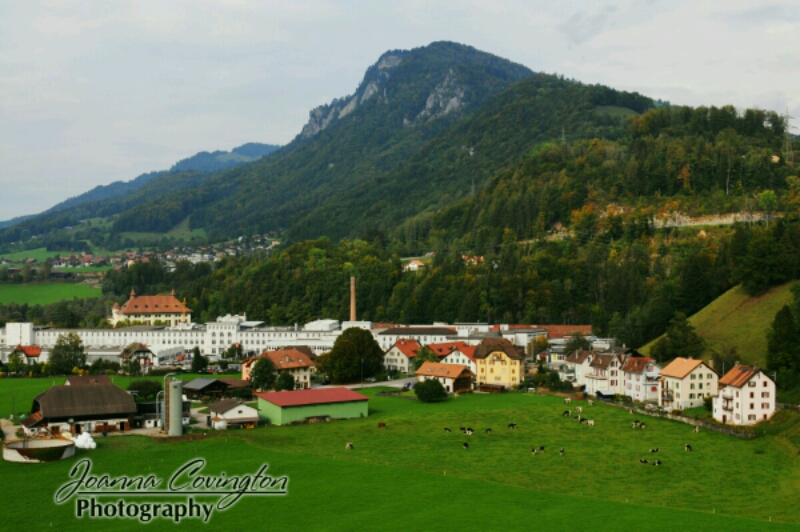 We were speeding along the highway at high speeds, so we could only glance around and appreciate the view as we whizzed past.  The car goes fast, too!  And it gets rather loud with the top down to the point where there was no point in trying to communicate.  We went through a few tunnels that were even louder.  But, it was still a lot of fun and Mark was having a blast driving his car.
We decided that we better eat some real food in addition to chocolate, so we made the stop in Gruyère at the cheese fromagerie to lunch.  It was crammed full of people, and we weren't sure if we would get our lunch in a timely fashion!  But, we managed to get our cheese fondue with potatoes and bread as dippings and had a fantastic lunch.  The small round potatoes came in a little potato bag to the table, which was just too cute.  After a perfect lunch, we drove a few short kilometers over to Broc where the Cailler Chocolate Factory stands.  It was very different visiting by car and not by train and foot as we came in from a whole different direction.  They were doing some construction work on the front of the factory, so it was not as picturesque as it normally is, but we have other years of photos to choose from.  We were here to fill up on chocolate!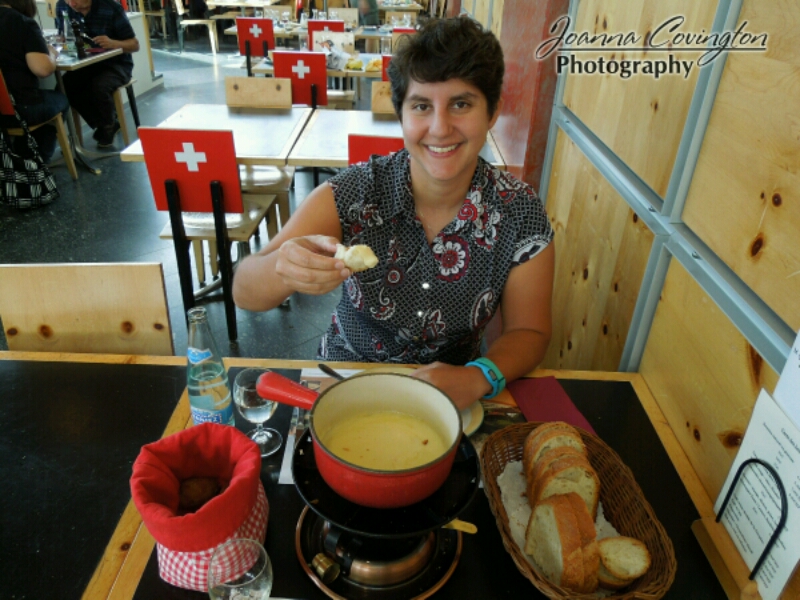 The English tour was in 10 minutes and we patiently went through the tour with the anticipation of the tasting room at the very end.  The tour hadn't changed.  We stepped through various rooms that were automated to give us the history of chocolate and then got a chance to watch a conveyor belt make chocolate for us to taste.  We peeked inside the workings of the factory, and then finally we were in the tasting room that was filled with chocolate.  As long as we stayed in the room we could eat as much as we want, and we ate until we would burst.  They had a few new pieces out, too, and of course some were better than others.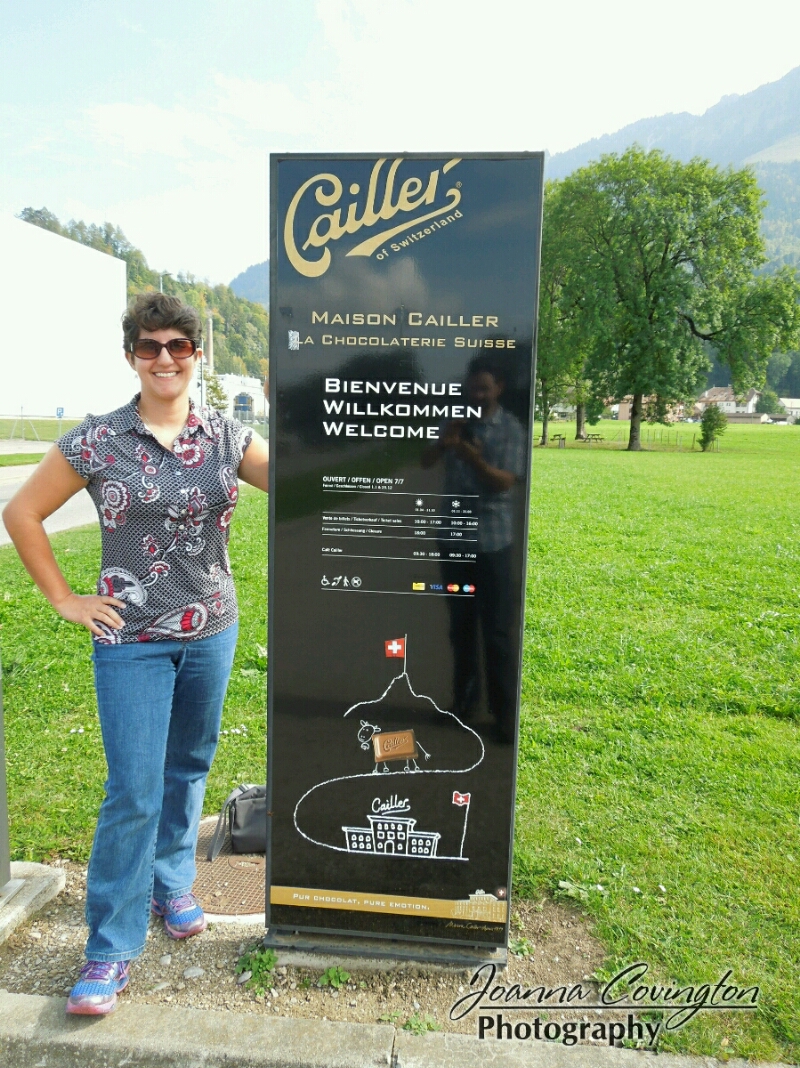 We ended up in the gift shop where we bought lots and lots of chocolate.  I saw they had some baking chocolate, so I am looking forward to making some tasty treats at home.  We also had to get new tshirts and some mugs as their new graphic has the chocolate cows walking down a mountain to the factory and I just love their chocolate cows.  =)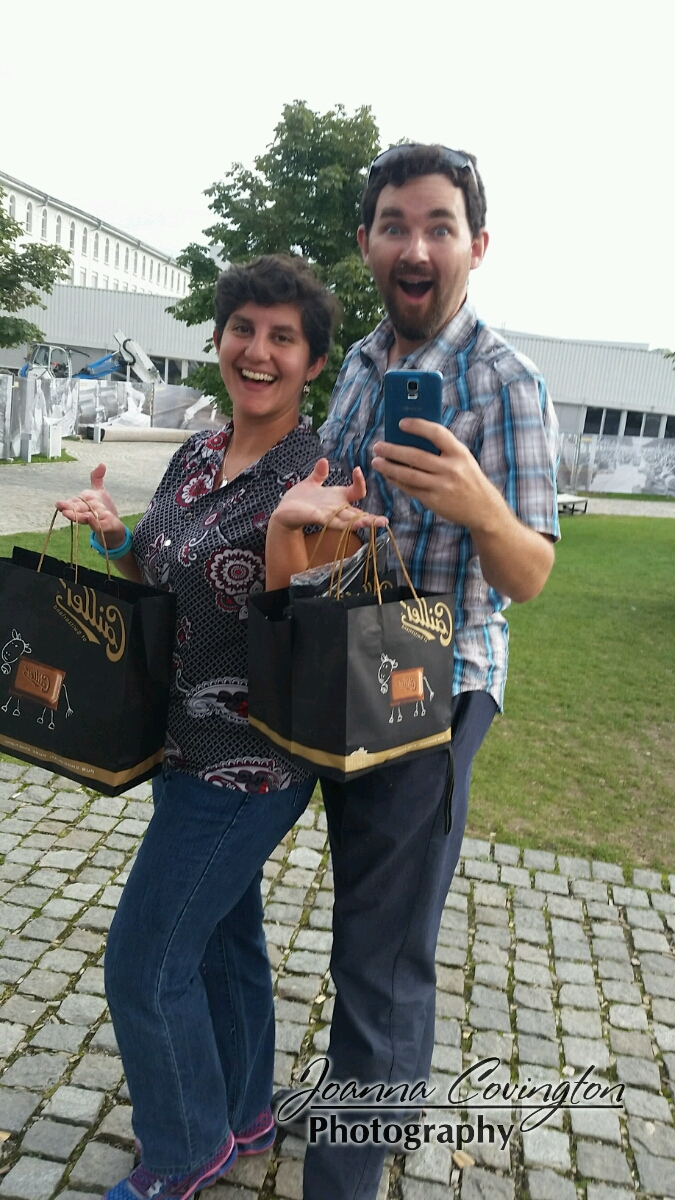 Sadly, we had to leave, and with a long drive ahead of us, there was not much time for stopping for photos and exploring more that Switzerland has to offer.  Plus, as we exited the factory, the sky was full of clouds and it just wasn't quite so photogenic anymore.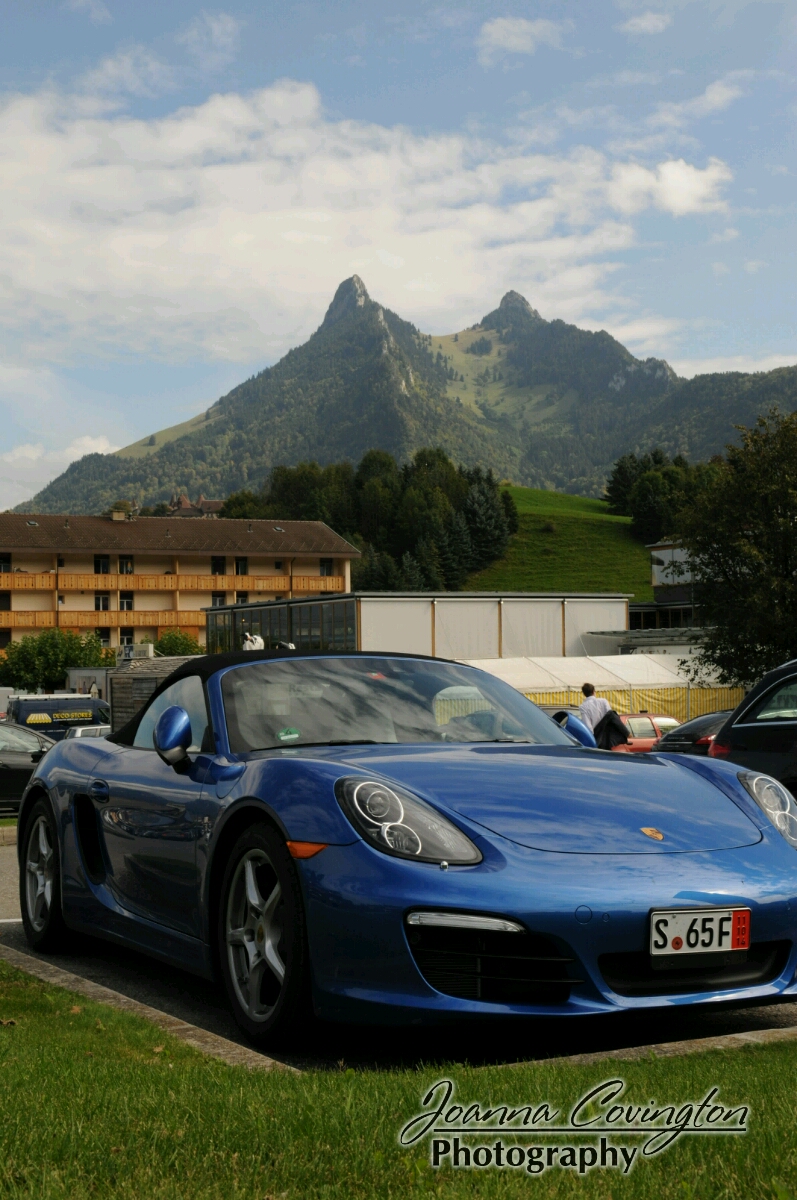 The drive back into Germany and over to Friedrichshafen on the north side of Lake Constance was mostly on highways.  Even Mark had to stop and put on his fleece to stay warm, but we were able to keep the top down the entire time.  At the Germany border crossing, this time we were stopped in a long line of cars and were asked by a border agent why we were entering.  But, it was easy to enter and once again, there was no big "Welcome to Germany" sign. 
Speaking of signs…I don't have any photos, but each region of Switzerland had a huge sign of the area that showed the whole silhouette of what the region or city looks like.  Many of the Swiss areas had mountains and rivers and trees.  Why couldn't they have a large sign to signify a border crossing?
The drive through Germany was now mostly in the dark and we made it to the Comfort Hotel in Friedrichshafen around 8:30pm.  The hotel is very new and modern and clean.  The room has a painted sky above the bed, so you sleep with your head in the clouds.  We were happy with the choice, though, this is definitely the most "hotel-y" hotel we will be staying at during our road trip.
We quickly dropped off our stuff and then went to the main Friedrichshafen waterfront for dinner, but most everything was closed and no one was walking around.  We found a restaurant that was serving food for another 10 minutes and were able to eat dinner, but this is definitely not a late-night area.  As we continue on through the Alpine route over the next few days, we will need to make sure to eat dinner before 7:30p, I think.