Safari Day 1 (July 9th, 2011)
Itinerary:  Fly from Johannesburg to Bulawayo, get picked up at the aiport and driven about 45 minutes to Camp Amalinda, where we will stay 3 nights to visit Matobo Hills National Park
Finally, it's safari time.  Today the highlights included seeing several giraffe and checking into Camp  Amalinda.  The day started for me too early in the morning at 4am when I just could not sleep anymore.  After my 4 hour nap yesterday, plus a full night's worth of sleep, I was finally awake and ready to face the day.  Mark was able to sleep until our 6am alarm at least.
The Peermont Metcourt hosted a plethora of foods for breakfast.  We had choices from fruit to french toast to cooked tomatoes to crackers and cheese to quiche.  There were an assortment of cereal and pastries too.  I would certainly recommend this hotel to anyone required to stay overnight due to a delayed flight.  It was funny to see everyone from our Munich plane at breakfast with us.  We've been seeing them all day yesterday and now this morning.
Per our instructions we arrived at 8am at the ticket counter to check in for our 10:40am flight to Bulawayo.  Luckily we were there so early because it took about an hour bopping between two of the counters to sort our ticket situation out.  Thankfully after that hour we had boarding passes.  The plane wasn't even full and we had a row of 3 to ourselves.
In Bulawayo we were taken to the "temporary terminal" consisting of a tin roof shack of a building.  Customs agents were around to make sure we bought our Zimbabwean visa, got our passport stamped, and declared any goods.  Eventually we made it through the double doors keeping us outside of Zimbabwe and were greeted by Pricilla.  Pricilla drove us the 45 minutes to Camp Amalinda.  I should also say that touching down at the airport finally felt like Africa.  The airport was no where near town and surrounded by low brush and red-brown dirt.
The drive was uneventful.  The town of Bulawayo was bustling with some weekend event and a market.  It was a small town, and very run down as was expected.  The outskirts of the town held the run-down homes for those living in the area.  Along the sides of the road, people walked pushing huge wheelbarrow-like carts or biking along.  We breezed through 2 roadblocks without a second glance.  Our guide told us that they usually just stop the buses.
At  Camp Amalinda, we found out that we were only the second group there tonight.  Even though it is the peak season for travel in the area, the tides of tourists ebb and flow.  We came during a slower time, which is fine for us.  It is completely silent here.  So silent, the silence is literally deafening.  I had to start talking just to make my ears stop ringing with silence.  The rooms are quite literally built into the side of a  rock formation.  If you were to come across this formation, you would never believe 10 rooms where here.  We were taken along a rock pathway to our room.  We went up and down and around and through a hole in a rock to get here.  But once here we can see how amazing the rooms are.  Our room is divided in half with a rock wall.  One side is the bathroom and the other the bedroom.  Outside our room is a sort of rope bridge with wooden slats to a viewing area all our own.
Our room is probably the size of my second floor or slightly bigger, though not quite as long.  A hanging mosquito net hangs over the bed and many old artifacts decorate the room.  An old wooden truck sits at the base of the bed and various antique-looking items dot the dresser.  We were very surprised to find electricity with both outlets and overhead lights.  Also, hot water is prepared each night with a hot burner outside our room.  A fire is lit under the water at 5:45am and 5pm every day.  The shower simply consists of a faucet coming out of a rock wall with a drain nearby.  We did find a bathtub outside;  probably used more in the summer months.
We met up with Billy, our camp host for our stay by pool.  The pool had a great view of the surrounding area and would be great in the warmer months.  Billy took us on a drive into the game reserve part of Matobo Hills National Park.  Apparently this park has been stocked with wildlife at some point in time.  But it's not quite as bad as I first thought when I heard this.  Zimbabwe had basically lost all of it's wildlife game to hunters and poachers and at some point decided to re-introduce the native Africa species into protected areas.  This area is supposed to be one of the best places to spot the black rhino.
Our weather today was chilly, windy, and overcast.  So it was not a great day for spotting game.  But Billy was glad to take us into the park anyway.  We enjoyed the scenery as well as some hippos, several giraffe, impala, duiker, and klipspringer.  The giraffes were amazing and right off the road.  Mark spotted them while Billy and I were admiring the rock formations.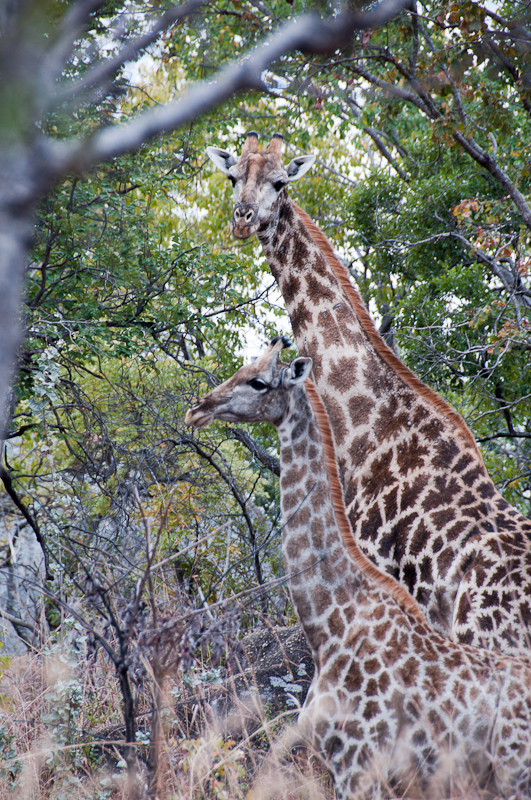 We saw three, one older and taller male and two younger looking giraffes.  There are 3 varieties of giraffe and this was a variety not in the Houston Zoo. I could immediately see the differences.  Our first real game today were several hippos hanging out in the water, but we only got to see their eyes, noses, and flapping ears.  The granite domes of Matobo Hills resemble Texas's Enchanted Rock so much that we felt as if we were back home.  In fact two domes right next to each other resembled the big and little rocks almost perfectly.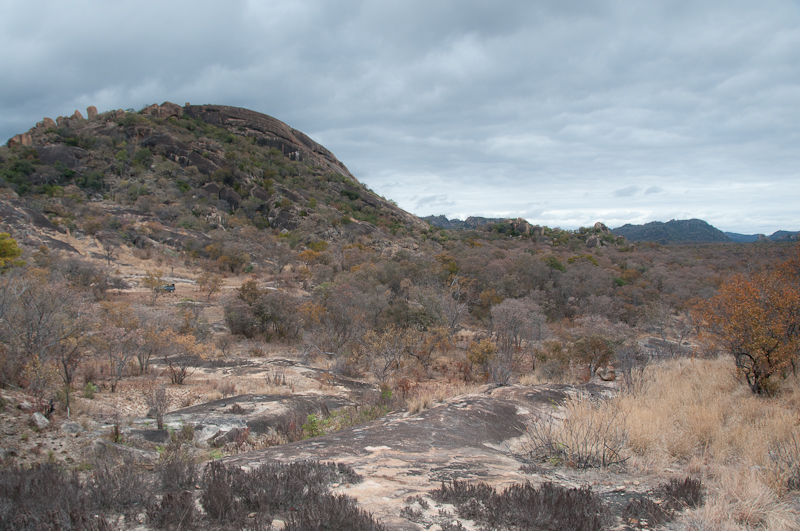 The guide let us get out and walk around a few times, but we didn't have much  luck seeing game.  Billy mentioned that this was very rare to not see much game, but perhaps tomorrow we'll see more.  I'm not really worried.  The drive was relaxing, the scenery was enjoyable, and we did get to see several species  including giraffe.
We arrived back at camp just as the sun was setting and enjoyed the fiery-red sky as the sun set behind a line of clouds turning the horizon yellow and the clouds pink.  Hot water was ready for us when we got back.  We were freezing by the time we were back in the room after driving in the cold with the windows open and taking a shower didn't sound immediately appealing.  However the hot water did.  Water pressure was laughable, but the water was hot and in the end we did warm up a bit.  Though there is electricity in the room, there is no form of heat, so we joined everyone else down by the fire and the dining room while we waited for dinner.
Two other groups were here for dinner.  Both were from various parts of South Africa and were taking their kids on drives through the parks.  I think both just are staying here the one night.  We chatted by the fire while we warmed up and then had a delicious 3-course dinner that included soup, steak, and lemon merangue for dessert.  I am stuffed!
Tomorrow we will do hiking and a game drive.  Hopefully the clouds clear for us.