Safari Day 2 ( July 10, 2011)
Itinerary: breakfast at Camp Amalinda, all day drive including driving through a local village, hiking to Silozwane Cave, picnic lunch, game park, dinner around the fire
First I'd like to note that I typed up the whole day of activities probably weeks ago, but somehow the file was overwritten.  So, we'll see what I can remember.  =)
We were hoping for sun today, but we woke up again to an overcast sky.  However, today we are going on a hike to our first painted cave.  We had our breakfast and then headed out with Billy, our guide, on a full day trip.
Silozwane Cave can be found by first driving through the recreational part of Matobo Hills National Park, and then through a local village.  The sun started to appear through the clouds, so we stopped to remove the canvas roof of the safari vehicle so that we could have a better view.  The road changed dramatically when we left the recreational park and became more of a smoother dirt road.
We learned that the locals in this little village we were driving through don't have much and live off the land, but they are very proud of what they do have.  Therefore, all the little thatched roof huts are very tidy inside of a fence built with straight lines and corners.  In fact, even the dirt outside the home is swept every day to keep the tidy appearance.  I was very impressed by how neat and clean everything was.  We passed many farm animals and little fenced in huts before finding a little shopping center.  Billy went in to buy candies for the kids we'd pass.  He says that his nickname is "Sweets" in this village because he always hands out candy when he passes through.  This of course reminded me of a character on the TV show Bones.
Billy was right.  As we started driving, kids would sprint out of their houses when they saw our vehicle and run towards us yelling "sweets!"  We were coming through on a Sunday and usually most of the kids are in school.  Billy gives candy only to the kids out of school since their parents can't afford to send them.  But today all the kids wanted sweets.  We managed to drive through the village without running over any cows, goats, chickens, or kids and make it to the end of the road.  Here we start our hike.
Today's hike is not very long, but it is pretty steep.  Once again, Mark and I were amazed at the similarities between Texas's Enchanted Rock and the Matobo Hills granite domes of rock.  Even hiking felt just like climbing Enchanted Rock.  Soon we arrived at Silozwane Cave.  Billy stopped to let our eyes adjust to the cave before telling us about the paintings inside.  Silozwane is a word meaning "place of death" and it is thought that this was a spiritual cave.  Also, when this cave was discovered, it was found with a pair of skeletons inside.  The tribe of people living in the area are the Matebele and it is thought that the Sam painted inside this powerful cave.  Through various methods of dating techniques, it is thought that the paintings in this area were made anywhere from 3000 years ago to 9000 years ago.
I felt just like the character Ayla from Jean Auel's Earth's Children's series of books.  The latest book, book 6 is entitled Land of the Painted Caves and tells the story of Ayla touring many spiritual painted caves.  When we entered the cave, I could have been back in the stone age discovering the paintings from my ancestors.  How amazing to stand here where people stood thousands of years ago.  We could see various paintings that had been painted at various times.  Paintings overlapped in several places making us look twice to try and see why the artist picked that particular spot to paint.  We could also see several spots where the paint had all chipped off, but still showed as an outline of a painting on the wall.
Billy pointed out several paintings that he really liked and then suggested that we spend some time and walk around ourselves to see what we saw.  No one can say for certain what the paintings mean.  It is up to each individual who enters the cave to make up their own mind as to what the paintings might represent.  One aspect that really stood out to me was the many different sizes of paintings and the various locations.  There were huge images of people very high on the wall and then also very small images of people and animals lower down.  Several circles along the wall seemed to correspond to holes in the rock below.  It is thought that a map might have been drawn as to what was in each hole.  These holes would have been perfect for storing food and other items.  The images of the giraffe in particular were so amazingly detailed that you had to wonder how someone could paint this using fingers, sticks and blood.  I took several photos of course, but none can really show how amazing standing inside this cave really was.

After our eyes had our fill of ancient paintings, we stepped back outside noting that back in the wind and outside the cave, it was quite cold.  We trekked to the top and could watch a front of clouds coming in covering the sun.  At least we did get to see the sun for part of the day.  I took a 360-degree panorama from the top of the rock and made an interesting stiched image in Photoshop.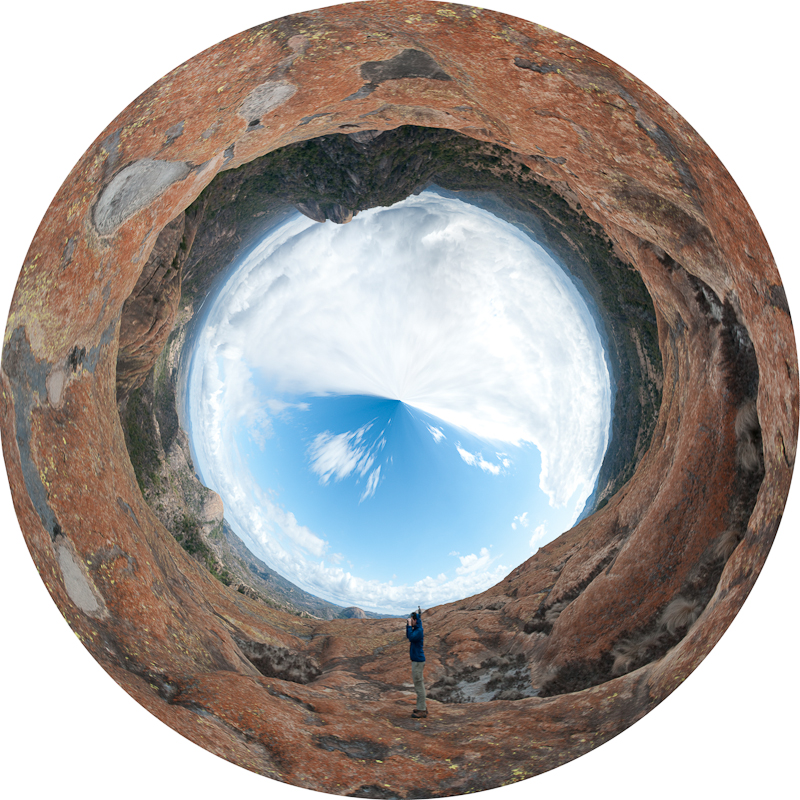 Most notable on the rock was the amount of lichen covering the surface.  In fact it looked as though someone had dropped buckets of paint down from helicopters and the paint had splattered all over the rock.  Mark and I had a discussion on whether the brown lichen was growing on top of the yellow lichen or vice-versa.  We had to agree to disagree.

After our hike down and back at the car we saw that some of the local villagers had set up a little curio shop at the bottom.  We took a look over their hand made items.  Billy pointed out that $5 would feed a family for a week.  Of course a huge group of kids had gathered wanting sweets as well and we shared the whole bag with them.
Back on the road and into the recreational park we found a spot that was sheltered from the wind to have a picnic lunch.  Camp Amalinda packed us a huge lunch including sandwich, chicken drumstick, fruit, chips, and probably some other items.  We ate overlooking a small dam at the end of a lake with a weir structure at the end that I admired.
When a few drops of rain started to fall, we put the canvas back up on the car and drove to the game park to see if any animals would come out to play.  Unfortunately, they were not interested in coming out in the cold wind.  I think all the wildlife was hiding in the rocks.  We did stop to see the hippo again.
Also, Billy found some fresh rhino tracks and decided we were going to find those rhino.  We stopped the car several times to hike in several meters and then back out to drive to a new spot.  Each time I dutifully brought my "big guns" consisting of my rented 200-400 telephoto lens mounted on a tripod and carried on my shoulder.  I figured if I ever left the camera in the car we'd find the rhino for sure.  Billy even suggested I do that and when we find the rhino we could come back to the car for the camera.  =)
We did find many tracks and evidence that a rhino had been there recently.  We followed some rhino tracks, saw where it sprayed urine to mark its territory, found the bent grass where it lay down, saw plants damaged when it walked through, and followed the tracks until we got too near the rocks.  Here we had to turn around because the rhino were obviously hiding in the rocks and we did not want to happen upon one and frighten it or we might get charged.  So, no rhino today.  I think Billy was more disappointed than Mark and I.
We were happy to see the hippo, several klipspringer and most excited to find Zazu, a yellow-billed hornbill.
At the end of the day we headed back to camp and our warm shower.  Though the water was warm it took a lot of courage to shower in the cold room.  Thankfully dinner was around the fire tonight instead of the table.  We met some new guests from Harare and learned a lot about the fall of the Zimbabwean dollar.  It must have been incredibly crazy to live in Zimbabwe before they changed over to the US dollar in April of 2009.  We were told that money lost its value by the minute.  So in the morning you had a million dollars, but by the afternoon it wasn't worth anything anymore because prices were now a billion dollars.  They had to keep reprinting money with trillions on it.  We heard that even shopping in the grocery store was a mess because by the time you reached the check out counter, the price on all your food had gone up.  The main issue was that the value of the Zim dollar falling so fast, it was imperative to shop and spend all your money the second you got it.  The Harare couple we were talking to even built an extra room on the house to hold all the food they ended up buying and stocking up on.
After an interesting dinner, we hiked back to our room and to bed where we were once again so glad to have an electric blanket in the bed.  I think temps dipped down to 40 or 38,but the wind chill was certainly close to freezing.