Sunday, February 9, 2014 (Day 12)
Chitabe Camp, Day 3
Typical Safari Itinerary:
Wakeup knock: 5am
Breakfast: 5:30am
Game Drive: 6:00am
Lunch: 11:00am
Siesta: noon – 4:00pm
Tea Time: 4:00pm
Game Drive: 4:30pm
Dinner: about 7:30pm
Last night I kept waking up to various animal sounds.  I think the main reason I was waking up was because I was wishing I could somehow photograph the animals and I felt like I was missing out on something by being asleep.  We went to sleep with the sounds of hippos grunting in the distance, and then just as I fell asleep, I was awakened by a new noise from a whole new direction.  Then I slept for a few hours and boom was wide awake with another noise.  I did notice that at 2am, it seemed much quieter.  The noisy bugs had finally gone to sleep and the hippos had moved on.  This morning though we were awakened by the sounds of lions in the distance.  That was exciting.
This morning we had the typical safari wake up call at 5am followed by breakfast and our game drive was at 6am.  We had an absolutely lovely sunrise this morning as well.  The clouds were starting to part for the sun and it was looking to be a perfect day.
I also found out how to make mud look beautiful.  Put all that muddy water in front of a pink sunrise and everything has a beautiful pinkish hue.  I know I should have asked the guide to stop so I could take some sunrise photos, but since the guide had also heard the lions this morning, I knew we were off to hunt the lion and I didn't want to get in the way.
We had an amazing encounter along the way with several herds of elephant.  We ended up in the middle of the herd on the road and had a few younger bulls challenge our vehicle by shaking it's head, trumpeting, and giving us a few little fake charges.  But as soon as we moved an inch, those guys got scared and ran off with their tails up.  The elephant here are traveling in family groups, with the female, it's babies, and a male or two hoping to get some action.  This is different from the herds of elephanat we saw in Zimbabwe that traveled in packs based on their age.  The herds were large, there, with all the females and babies together, then 30 minutes later the males would come through, and moments later the younger teenage males.  I'm not quite sure if this is just a seasonal difference or a difference in the geographical setting.
One herd of elephant were quite amusing to watch.  There was a female who was looking quite small next to the huge dominant bull elephant.  She had two young ones with her.  One was obviously a bit older than the young baby.  There were two other large male elephants about as well and all were trying to get the attention of the female.  The huge dominant one decided to show it's dominance by toppling a dead tree.  It wrapped it's trunk around the tree, and used it's tusks, but soon realized that no one was watching him.  (Except those of us in the car of course.)  So, he didn't put much effort in and just kind of stood there.  He let go of the tree, but one of his tusks was still stuck(?) In a Y in the tree.  So we sat and watched for a good amount of time, but he never knocked over the tree nor got himself unstuck.  We were amused.  I'm sure he was fine, but we felt a little sorry for him.
We saw quite a bit of the "normal" stuff this morning and with the sun out tons of beautiful landscape scenery.  But the guide was on the hunt for lion as requested by Robin and Jill, so we didn't stop often for the smaller antelope.  However, I absolutely love to watch and photograph the impala in the morning sun.  They glow such a perfect golden color.  Also, I love to watch the giraffes move about and we even got to see one run off as we approached.  It's intriguing to watch them run as they look both awkward and graceful at the same time.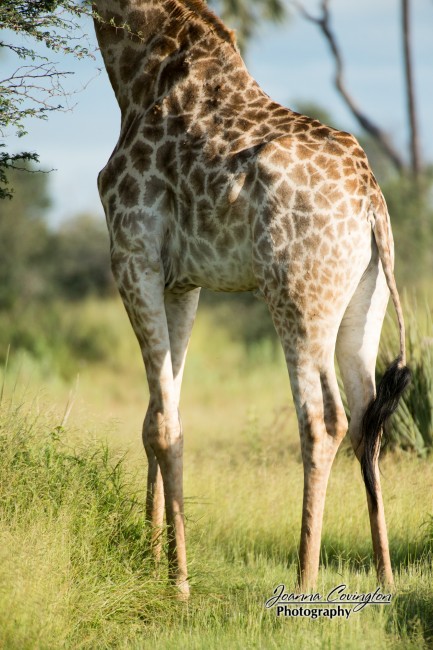 Many times, we would drive through a butterfly-infested area and it was beautiful to be surrounded by butterflies in flight as we drove through.  The butterflies would be inside the vehicle above our heads or flying along-side the car at the same speed as us.  It was like being surrounded by magical fairies.
We see the herds of antelope here are fairly small and often we see zebra mixed with impala mixed with wildebeest.  Oddly, the wildebeest seem to mostly travel in singles or pairs and group with either zebra or impala.
Also due to the dense shrubbery, grass, and trees, many times we will be traveling around and BOOM we turn a corner and there is a huge giraffe just in front of us.  We would have no idea it was there.  We turned corners and found elephants too.  It's crazy how such large animals can completley disappear.  And as soon as they move away from us, they immediately disappear.  Amazing.
We did see quite a bit as we were driving along.  At this point, it seems silly to give you the whole long narrative of every single sighting, so I'm going to try out just listing what we saw this morning and typing up a few of the stories.
Animals seen on the morning drive and interesting facts:
– elephant
– The termite mounds with the darker patches are active mounds as the termites did some work overnight.
– Red lechwe which are aquatic antelope only found in this specific area of Africa.
– plenty of lion tracks, including 2 large males
– 3 fish eagles quite close together in a marshy area
– The palm trees that look chopped off at the top are showing the damage done by woodpeckers.
– Male giraffe with horns
– Lappet-faced vulture
– hyena tracks from which we could tell they were hunting
– more giraffes
– Southern masked-weaver making a fresh nest.  You can tell these by their bright yellow bodies and red eye
– plenty of Lilac breasted rollers
– knob-billed duck (boy did this one look strange)
–  Large male kudu with an oxpecker
– Southern red-billed hornbill
– Large herd of zebra on the airstrip
– yellow mongoose
– black-backed jackal
– The wood termites stock pile grass for the dry season.  Also they only build their mounds at night.
– dwarf mongoose which is the smallest variety
– giraffe
– long-tailed paradise-whydah
– 2 ostrich on the airstrip
– dead tree forest
– kudu and baboons
There are certain areas where you can tell without a doubt that you are in an elephant feeding area.  The trees are all chopped to a certain height and appear dead, but then they are covered with green vines as well.  It all makes for some very course-looking shrubbery.  When the elephants come through they basically tear all those trees to that height and kill them as they graze, eat, and scratch.
We had a long-tailed paradise-whydah fly up in front of the vehicle.  This was notable, first, because it was such a strange looking bird, with a very very long black tail.  As it flew up, it looked to me like a flying water snake!  Also, it was gone right away, so there was no chance for any photos.
Towards the end of our drive we came across a baboon in a tree that turned into a whole large baboon family, or troop.  There were a few young male kudu as well, and we stopped to watch the baboon play, groom, eat, and forage.  Most notably were a few baby baboon and one looked like it had just barely started growing fur.  It was so tiny, pink, and adorable.  The lighting was absolutely terrible for photographs as they were back-lit by a cloudy sky, sitting in the shade of the tree.  But, I think I got a few while playing with exposure control.
A few moments before arriving back at came, we started to get a light misty rain that really only lasted a few minutes before the sun came back out just in time for lunch at  11am.
Lunch was fantastic as normal and the mango here are superb.  After lunch we took a walk up and down the boardwalk from cabin 1 to cabin 8.  Each cabin is separated by enough distance to make it private and there are only two of us couples here right now.  So the camp is pretty empty.
For siesta time it did start to get really hot and muggy feeling and we are so thankful to have a fan in our room.  We napped away some of the heat.  It definitely feels in the higher 80s now as opposed to before the last two days when it was rainy and cloudy it felt as if it didn't get above say 78.  These are all guesses though as there is no weather station here.  I also packed up since we are already moving on tomorrow.
Tea time at 4pm included some delicious scones and tiny pizzas and we learned that our companions were being pestered by baboons outside their cabin all siesta period.  We were next door and didn't hear a thing, but apparently the baboons were pretty loud.
The weather for our evening game drive looked to be a bit hot, but it cooled down enough so we were back to comfortable somewhere in the 70s.
The evening drive included sightings of:
– lilac breasted roller
– Jakana walking on lilypads
– Village Indigo bird, all black with a pink beak. Tiny
– woodland kingfisher with a centipede
– steenbuck – 3 times
– scrub hare
– slaty egret, all black heron
– white-footed bee eater
– pied kingfisher hovering over lake
– hippo in pond chomping on water
– double-banded sand grouse, very short legs on the sand.  They store water on their chest like a sponge for the babies in the nest far from water
– blacksmith lapwing mother with eggs, mud colored eggs
– african marsh harrier which was like a hawk
– giraffe, an old male with battle scars, broken horn
– Hammerkop duck
– giraffe herd with zebra and impala
– kudu, 1 male and 2 females
– elephant family, trumpeting and charrging
– 6 hippos in pond
– wildebeest and large wattled crane group.  One wildebeest was limping, one nursing
– 2 saddle billed storks
– crocodile
– spoonbilled stork
– tree with vultures
– 2 giant eagle owls, very deep "whoooo", with southern grey-headed sparrow
– night jar in road
– night heron
During our evening drive, we got to experience a little roadside maintenance in the bush.  We were rolling along when all of a sudden we had a flat tire!  We had to stop and change the tire.  Luckily there was no wildlife around.  We were commenting while changing the tire that it was a good thing we weren't in the herd of elephants from earlier or next to a hippo pond.  Mark and I were impressed with the size of the jack used to lift the large safari vehicle up.  The guide had our tire changed rather quickly, actually and he radioed to camp about the stop.  Later on camp sent out some people over to us with an extra tire for us and took our flat.  What service!  During the tire change, we noticed large ants crawling around in the sand.  The guide mentioned that they put off a very distinctive smell when they bit.
Back at camp this evening, we were told that we would be dining separately from Robin and Jill.  I was wondering if there were going to be any more surprises from the camp since on our form I mentioned that we were celebrating multiple holidays including Mark's birthday, our anniversary (really on March 19th, but we won't be together then), Valentine's Day, Christmas, and etc, etc.  It turns out that the camp decided to give us the best anniversary dinner we've ever had!!
For our anniversary dinner, we were seated at a table for two out on the deck by the plunge pool.  The night was pitch black, but we had a view overlooking the grasslands.  A storm was brewing in the distance and though we never saw the rain, we were treated to a fantastic lightning show while we ate!  We sat listening to the frogs, watching the lightning and discussing our wonderful luck at being able to be on our second safari in Africa.  Though it is not technically our anniversary date yet, we thought this was the absolute best way to celebrate 9 years of marriage.  The staff came by periodically to give us more food or refill our drinks, but for the most part we were alone in the wilderness, luxury camping and the only sounds were from nature.  It was perfect.