Thursday, September 26, 2013 (Day 16)
Bike Day 9 Itinerary:
Bike the Mt. Subasio loop:  Assisi – Spello – Collepino – Armenzano – Assisi
weather:  sunny, some sparse clouds, 70 degree start, 80 degrees, headwind for the very end of the ride
– 8a wakeup, breakfast
– 10a hotel departure
– 12:15p water stop in Collepino
– 1:30p reached the top!!  800 meters
– 2:30p arrived in Porta Nuova (entrance to Assisi)
– 2:45p lunch in the main square, followed by gelato
– 3:30p showers and laundry
– 5p Basilica of S. Chiara
– 5:30p Basilica of San Francesco (Upper and Lower)
– sunset watching
– 7:30p dinner at Buca Di San Francesco
Bike stats:
Total Distance: 36.1km = 22.4 miles
Moving Time: 2hours42min
Max Speed: 38.2kph = 23.7 mph (and only because I was too afraid to go any faster!!)
Map:

–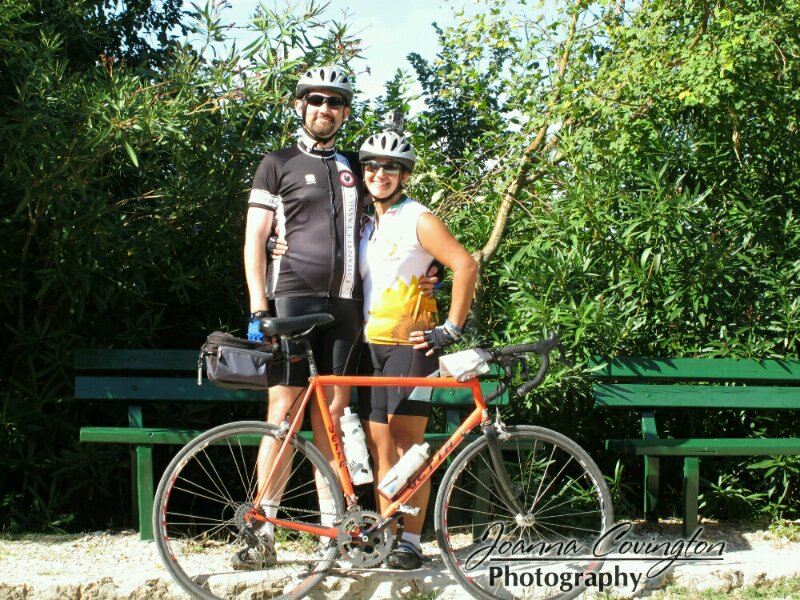 It is another beautiful day in Umbria!  A few clouds rolled in, but really just added texture to the sky for photos.  It was so beautiful outside today!  We were joking that today would be considered our "bad" weather day only because of the pretty clouds in the sky versus the clear skies we've been having.  I still can't believe how pretty all our days have been.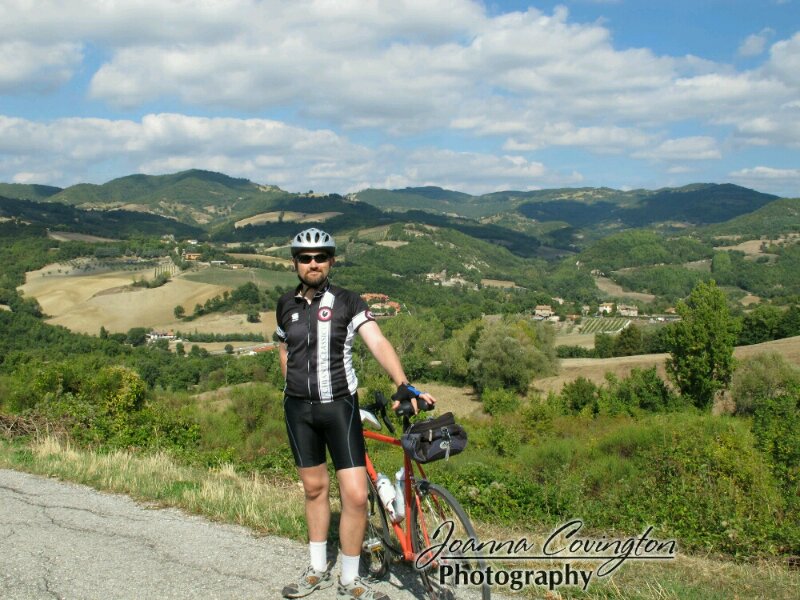 We had absolutely no rush this morning since we are staying at this Hotel Umbra again tonight, but we were still up at 8a and off to find breakfast.  The hotel breakfast here was very good with a range of good foods to eat.  We knew we'd be having a late lunch, so we filled up on breakfast items.  Then, we took our time getting ready to go biking since we were still waiting for the morning chill to burn off.  It was 70 degrees by the time we got started around 10a.
Today we decided to do a challenging route.  We had the option of an easy loop from Assisi and back, but it turned out that most of that ride we were going to repeat tomorrow, so there didn't seem like much of a reason to do that route today.  Our other option sounded like a fairly short (34km) ride around the mountain park that is just in back of Assisi called Mt. Subasio.  The toughest part was going to be a 550 meter climb (that's 1800 feet) to the top.  It always sounds better before you start riding.
Anyway, so we were on our bikes and off riding down out of town.  We very soon turned off on a narrow, single lane path that followed around through a grove of olive trees and had magnificent views of the countryside down below.  We stopped often for photos.  =)  Inside joke alert:  Mark and I have jokingly started calling ourselves Team Meat because we enjoy a good steak every night.  Several of our friends do not eat meat, so we are always glad that we can enjoy a good steak together.  Anyway, so all day today we were giving ourselves high-fives for Team Meat.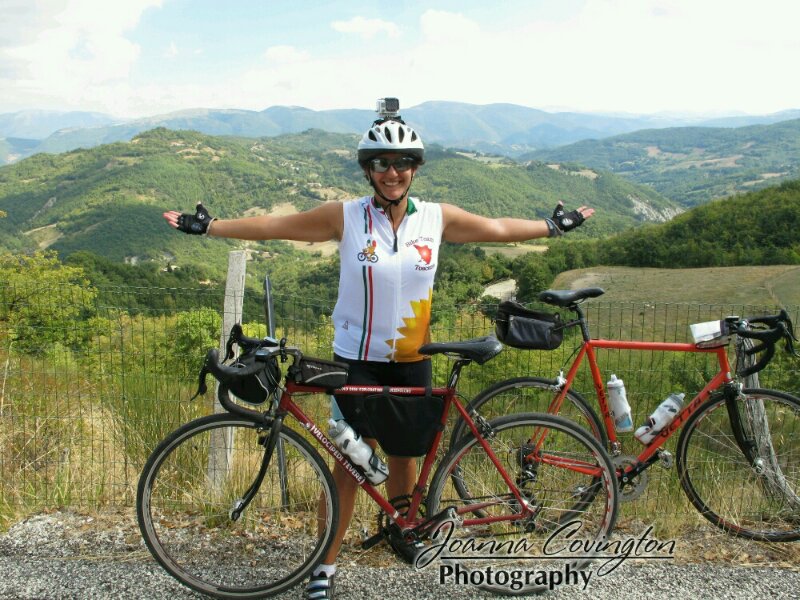 Our narrow road barely had any cars on it at all, and soon we were passing by the town of Spello.  We didn't stop to visit the town, but kept going.  Here was where our climb really started.  The grade started out fairly flat, and the climb was slow, but steady.  We stopped every so often to take a break or to take some photos, but the pavement was nice and the grade was easy.
Then, we started hitting a steeper grade and as we biked towards Collepino, we stopped much more often.  We did see a few solo road cyclists on this route, and they always zipped on by us since they were local riders who were out for a spin.  I will admit to wanting to race on ahead and see if I could keep up with a local cyclist at times, but I resisted the urge.  Mark and I are at different skill levels right now mostly because I'm in the best biking shape I've ever been in and Mark hasn't really ridden his bike in the past 3 years.  I'm impressed that we were able to do this challenge route today and also impressed that with basically no training, Mark can just hop on a bike and bike miles and miles through the rolling hills of Tuscany!
So, on we climbed until we could finally see Collepino in the distance and we decided to stop there for water once we arrived.  The town of Collepino is smaller than a small town, and it was pretty barren.  The streets were truly pedestrian only streets and paved quite nicely and the buildings were very close together.  We wandered through until we found a restaurant open that sold us some water and then we moved on.
Now we reached the challenging section of our climb because from here on to the top, the asphalt pavement turned very uneven, broken in places, lots of holes, and several spots of gravel.  It was do-able of course, and it was sure nice that we had the entire road to ourselves so we could swerve all over the place to avoid bad paving spots.  It took quite  a while to climb this section with lots of stops and some amazing photographic views too!  Did I mention how pretty it was today?
Finally, though we reached the top, about 800 meters up, and as we crested there really wasn't much time to celebrate, because the road immediately turned down and we started zooming down the other side of the mountain.  We did stop for some good views, and also stopped to give our hands a break.  The descent was very, very technical because the road was narrow, there were lots of turns, and it was steep, like sometimes 10% grade steep.  I had to often sit as far back in my bike seat as possible, sometimes behind the seat so that I could keep my weight distributed over the bike correctly on the steep grade.  And I was just picturing smoke billowing out behind me from my brakes as they squeezed the wheels to keep me from careening off the slope of the mountain.  Wow, I'll admit there were some scary spots in there!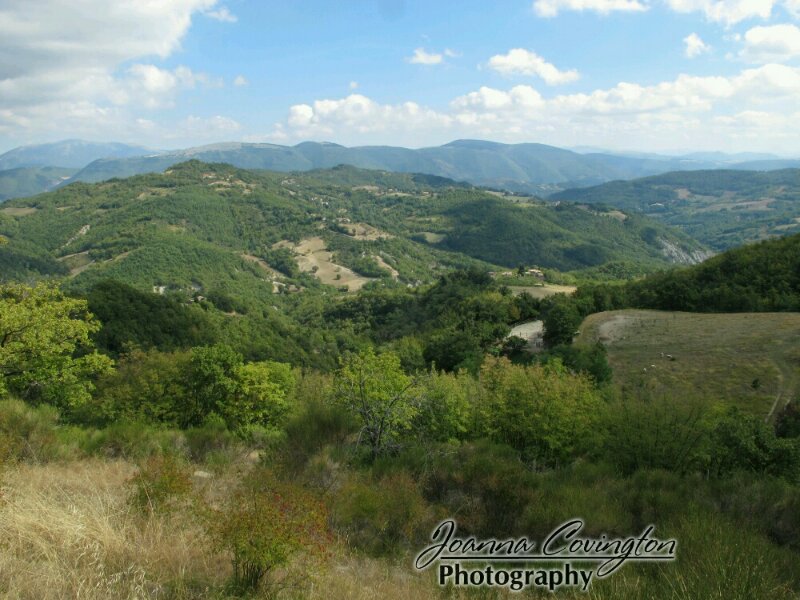 We also checked the brake pads when we stopped periodically to rest to make sure we weren't burning up too much rubber.  =)  Thankfully, we both still had plenty of brake pad.  It's just easy to imagine it wearing down fast.  I was able to video most of the descent in several files on my GoPro, and I've got quite the project ahead of me when I go home to work on the video to post and share it with you.
Eventually, we did hit the bottom of the slope, but sadly we weren't in Assisi.  In fact, we still had probably 5km to go before we hit the edge of town, and it was flat at least.  However, the headwind was pretty stiff for this section.  We trudged on and made it to the gates of town starving and ready for lunch!
We stopped at the hotel first to park our bikes and then pretty much picked the first place in the square outside the hotel that had pizza for lunch and chowed down.  After lunch, we rewarded ourselves with gelato, and only then could we come back to the room to get cleaned up.  =)  We were done relatively early compared to other days, so there was still time to do some touristy things after our showers and laundry in the room.
We first hit the Basilica of S. Chiara which was the location where we took sunset photos last night.  No photos were allowed inside, but we spent some time admiring the artwork in the church before headed on to the main tourist attraction of Assisi – the Basilica of San Francesco.  This is the big and main basilica in Assisi built for Saint Francis.  It is an enormous church with a full upper and lower church include.  The Pope is actually coming next week to speak here on October 4th, so we could see where they were building the stage for him to speak on the anniversary of Saint Francis' death. 
Inside, we managed to arrive just as they were getting ready for a mass, but we still were able to look around and then visit the tomb of Saint Francis in the crypt under the alter.  Then, as we were coming out, there was a procession of monks (maybe not monks, but religious men clad in brown tunics) chanting and bringing crosses into the church.  Anyway, we felt our timing was pretty good to catch this.  The town of Assisi has been full of monks and nuns walking about, probably preparing for the Pope. 
We walked up to the upper church area and the sun was starting to set behind the church creating a beautiful golden light over the courtyard.  The upper church was full of many paintings and frescoes that were quite different from the ones we'd seen in other churches.  After a quick tour inside, we went back out and basically sat on the railing for an hour watching the sun set behind the church and behind the distant Umbrian hills.  Beautiful. 
Finally, it was late enough that we could head to dinner and our food at the Buca Di San Francesco was delicious.  We had a very yummy pasta dish to share, and then we were both very happy with our beef steak main entrees.  Once again, Team Meat!  Also, amusing us for the night was a bee that was lost and kept buzzing around the little lamp on our table.  The table next to us was really freaking out about this bee, but we managed to not get too worried.  The best, though, was when I saw the bee land in the ashtray on the table, so I calmly picked up  my empty wine glass and set it over the bee, capturing it.  Mark pointed this out to the waiter who then, took the whole contraption far away to release the bee.  Of course another bee came back to us later on, but I didn't catch that one.
And now, we were exhausted and ready for bed, so it was back to the hotel where we fell right to sleep (after doing a little packing to get ready for tomorrow of course).