Friday, September 27, 2013 (Day 17)
Bike Day 10 Itinerary:
Bike from Assisi to Perugia
weather:  Surprisingly cloudy morning, temps only up to about 75, sunny after 2pm
– 7:30a wake, pack, breakfast
– 9:40a departed Hotel Umbra after putting luggage downstairs
– noon lunch stop in Torgiano
– 1:30p Detour from prescribed route to head to Perugina chocolate factory
– 2p Perugina Chocolate Factory and tour
– 4p biked final 10km to Perugia city center and our Hotel Fortuna
– 5p arrived at Perugia gates
– 6:30p watch sunset
– 8p dinner at Il Falsetto
Bike Stats:
Total Distance: 55.6km = 34.5 miles
Max Speed: 46.6 kph = 29mph
Moving time: 3hours 23minutes
Map:

–
–
We've become so routine now, waking up and seeing a clear, blue sky outside our window and exclaiming, "What a beautiful day in Tuscany/Umbria!"  But today was different!!  We woke up to a cloudy sky.  I think I finally jinxed us last night or something.  So, our first cloudy day on the bike vacation, and only the 2nd "bad" weather day of the whole trip because we had one day in Siena where it was a tad rainy.  But, no rain was forecasted, and really it was still very pleasant outside.  There just wasn't any sun.  The sun did finally come out around 2p this afternoon.
So, we went down and had our yummy Hotel Umbra breakfast here in Assisi.  We were pretty happy with this hotel, mostly because of the balcony out in the sun that made laundry drying so easy.  The shower was large and got a Mark thumbs up.  The staff was super nice and really the only complaint we might have was that the plug outlets were hard to get to to plug in and charge all our electronics.
After breakfast, we finished packing up our stuff and took the luggage down to the hotel reception by 9:30a for the last time because today is our last day on the bike tour!  It's a little sad to be finishing the bike tour and it will be quite strange tomorrow not to back up the bike gear and get on the bike.  We really do love cycling on vacation because it allows us to slow down, see the countryside, and feel a little more like a local.  We get to see so much more when we cycle because we aren't whizzing by.  Also, we visit many more areas and small towns that we wouldn't otherwise visit if we were just taking the train from major city to major city.  Cycling is definitely the way to go!  Plus, we can pull over off the road anywhere we want to grab photos.  =)
So, the last day of cycling, and we headed out of Assisi and down, down, out of the city to the flats of Umbria.  Our directions to Perugia are 3 pages long and have many, many, many turns on them.  We think that it was a little tough to get us there on minor roads and we ended up biking small distances on many farm roads.  Some of the roads were gravel, but they were well maintained and smooth, so it wasn't a problem.
With the cloudy day, we didn't stop too much for photos like we had been doing in the past, and plus, this morning we booked tickets for a chocolate tour outside of Perugia at 2:45p.  So we didn't want to add any delays so we'd get to the chocolate factory in time.  We pretty much only stopped to change pages. 
And then, before we knew it we were in Torgiano which was really pretty close to Perugia.  It was just about noon, so we found a very tiny grocery store, bought some bread and cheese and then had lunch in a park right there with our Chianti-area salami, the bread and the cheese, and all was good. 
We didn't stay long, and we were off again, now paying close attention to when we would have to stop and deviate from our written directions from Iron Donkey and switch over to google maps to get us to the chocolate factory.  Perugina, the chocolate factory, is actually west of Perugia, and our directions had us getting into Perugia from the south. 
We found our detour spot, and immediately we were on some very busy roads now that we were close to the populated area of Perugia and following google maps.  The last several miles to the chocolate factory were less fun, because we were basically hugging the side of the road as the cars came by, and also we were biking uphill for most of it.  Nestle-Perugina is located in San Sisto, and we arrived and fairly easily found the factory.
Our tour was for 2:45p and we arrived about 20 minutes before 2p, so really perfect timing!  We had plenty of time to lock up the bikes and then we found out that the chocolate shop and area with the tour didn't even open until 2p!  So, we had to sit outside the doors and wait for 20 minutes or so.  The factory really is a big working factory and the chocolate tour is more of an aftersight.  So, we didn't go through any grand gates or anything and we were basically just waiting on the side of a large parking lot in front of a large industrial factory building.
But, the best part was the smell of chocolate in the air, and we were able to keep busy until the doors opened.  Inside, we were immediately drawn into the chocolate shop and all its goodies.  Mmmmmmmm.  I was hungry from biking and I couldn't wait for the tour to start so we could get our free chocolate samples.  I figured it would be similar to the chocolate tour we had of Callier in Switzerland and the chocolate tastings would be at the end, so I was anxious to start.  After perusing the store, we noted that there was a large room adjacent that was full of exhibits depicting the history of the chocolate and the factory.  It was all in Italian of course, but we still looked around.  Finally, we were directed down to the video room as the English tour was starting.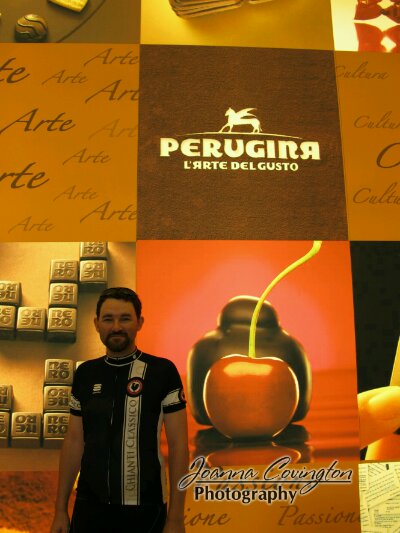 We actually started well before 2:45p, probably more like 2:30p for the video where we learned the brief history of Perugina.  The factory started around the 1920s and their signature candy starting then was the Baci or Bacio (I saw both spellings) candies.  These are small truffle-sized candies with a hazlenut-type filling, a hazelnut on top, and then all covered with chocolate.  This is still their main claim to fame for Perugina, though when Nestle bought them in 1988, they added a whole bunch of extra types of candies.
In the video we could watch the chocolates go through quite a bit of the chocolate factory process from cacao beans to the wrapping process.  The Perugina factory produces 120 tons of chocolate per day and 1.5 million Baci chocolates per day!  wow.  Also, very impressive to us in the video was when they showed us their mechanized warehouse with 22,000 pallets.  Pretty awesome. 
Right after the video we were lead straight to the chocolate tasting room!  Score!  In front of us they had laid out about 8-10 different types of their chocolates for us to gorge on.  Our tour size was fairly large, maybe around 30 people, so there was a little bit of shuffling to get to the front and start popping chocolates in our mouths.  Mmmmm.  Perugina chocolate is definitely good.
Then, we took about the fastest tour through the factory as possible.  It was neat, though, because there was a whole maze of glassed-in catwalk up above the factory that we got to walk through and we pretty much got to see all parts of the factory.  I just wish we didn't have to run through it all and we could stop and take it all in.  They were producing chocolate right there in front of us, from the cutting of the candies, to the sorting, to the wrapping, and the packaging.  =)  very cool indeed.  But the tour was too fast.
We came out into the museum-y area and then we actually did get to get some explanations from our tour guide of various aspects of Perugina.  The tour guide didn't speak enough English and we had to make some guesses at some things she was saying, but between all of us we could mostly figure out the code.  Then came the amusing part where she played several videos for us.  We watched some old commercials like a Frank Sinatra commercial, and then an absolutely hilarious 1980s commercial for their marketing of putting Bacio in tubes to market to the younger crowd.  We also saw a video of how they put together the biggest chocolate candy and won a Guinness Record in 2003 for their 5980kg (13,183 lb) Bacio candy for the Perucia Bacione chocolate festival that year.  The whole candy was eaten in 3 hours by all the visitors to the festival!!
In the end, we were quite happy with the tour and bought some chocolate to take with us.  We had to reorganize our items on our bike a little bit so the chocolate wouldn't melt on the way to Perugia, but it all worked out well.
And now, though we would have loved to be finished with the chocolate tour, we still had about another 10km to bike into the heart of Perugia.  Oh, and boy was there a ton of traffic now that we were in a more major town.  With the traffic and the big climb up to the historic center, I can't say the last 10k of the bike tour was as sweet as the first 10k, but we made it through. 
We took our now routine photos in front of the town sign at the bottom of the hill, but this wasn't the end of our tour, so once we climbed the big hill to the top and we were really, really done biking, we found a great overlook to take our final photo.  Woohooo!  Good job to both of us for completing 382 kilometers (237.5 miles) from Siena to Perugia in 8 days of cycling.  And now we celebrate.  =) 
We walked into the historic center and it was incredibly easy to find our hotel and get checked in.  They had a room for our bikes, that ended up being more like a dungeon under the building.  We did a double-take as they opened a door with a tiny opening on the side of the street and the stairs were so steep down into the room that we couldn't even see the stairs!  We unpacked our bikes for the last time and then took them down into the dungeon to be left for Iron Donkey to claim later.
Our room is a good size, but what really stuck out was that as soon as we looked inside, we both first saw the exercise bike!  We were laughing so hard at that.  I had to hop on the bike for a little photo op of course.  =)  Then, we spread out all over the room and unpacked some stuff.  Then, we headed out for our celebratory gelato.  Sure, we had chocolate not too long ago, but we have to end our bike tour with some gelato, right?  After gelato, we checked out the roof-top terrace that the hotel had and found out we had an unimpeded view of the sun setting behind the distant mountains!  Amazing. 
We went down for a camera, and back up again where we relaxed on the terraced with the sunset and chatted with a couple of Australians who where up here as well.  Of the mother and daughter group, the daughter had gone to UQ in Brisbane, so we chatted a bit about what college we were from and such.  I haven't talked about my Australian adventures in a long time, so it was fun to talk to someone that knew the area.
And, after the red ball of sun, dipped below the clouds and the mountains, we went downstairs for our overdue showers.  Tonight we will have a later dinner than usual.  We went to Il Falsetto (the falcon) and had a delightful dinner with amazingly good food.  The ravioli dish that was split was to die for.  It was a pumpkin ravioli which we have now had at least once before on this trip, and it was superb.  I highly recommend it.  Then our meat dishes were delicious and dessert was quite good as well.  Happy End of Cycling to us!  What a great trip we had and what a great way to celebrate with good food.
Then it was back to the hotel to pack up to head to Florence and the tailend of our journey tomorrow.  It's pretty crazy to think that we are going home just on this upcoming Monday already.