Wednesday, September 25, 2013 (Day 15)
Biking Day 8 Itinerary:
Biked from Montone to Assisi
weather: sunny, clear, cooler morning, 80 during the day, slight headwind
– 8am wake, pack, breakfast
– 9:30a luggage downstairs
– 10a depart Hotel Fortebraccio in Montone
– 11am Umberide Wednesday market
– 12:30p lunch stop in Rescina at a park
– 2:30p gelato stop in Palazzo at Bar Gelato Oxy
– 3:45p arrive in Assisi
– 7p sunset
– 8p dinner at Ristorante Medio Evo
Biking Stats:
Total Distance:  55.4km = 34.4 miles
Max Speed: 40.1kph = 24.9 mph
Moving Time: 3hours 11minutes
Map:

–
–
Well, this is getting to be a bit repetitive, but it is another beautiful day outside as we woke up this morning to clear, blue skies and a perfect day for biking.  We sure did luck out on weather for this trip.  I told Mark he  might get tired of hearing me say how pretty everything is (how pretty the day is, how pretty the scenery is, how pretty the vineyards are, etc), but he hasn't yet.  We are having a great time.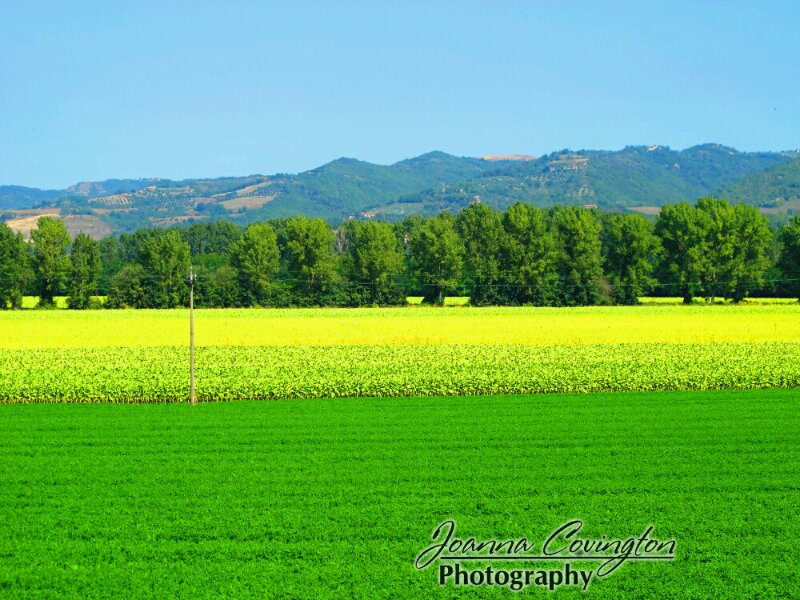 Also, today is our first full day of biking in Umbria.  There are two big differences between biking in Tuscany versus Umbria.  Umbria is much flatter (yay!), however, the pavement is much bumpier (boo).  I was loving that perfectly smooth Tuscany pavement to bike on that was smoother than anything I bike on in Houston, even.  The scenery is different as well.  We are seeing much less vineyards on hills and more flat tobacco farms.  The towns seem to be closer together, and it is easy to find a place for lunch.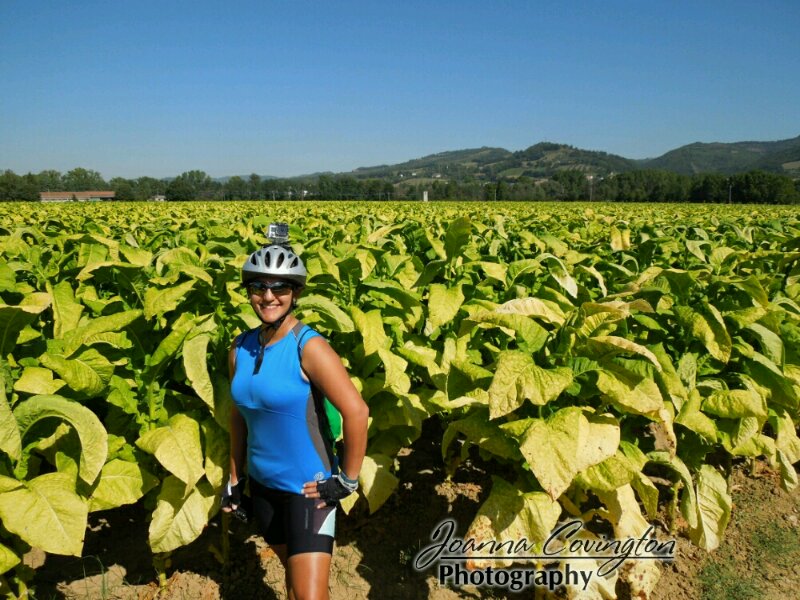 Anyway, back to the start of the day.  I'm getting ahead of myself here.  This morning we were up and down at breakfast probably by about 9am.  I still had two items I left drying on the balcony and I knew we had until 9:30a to drop our luggage off at reception, so we left everything pretty much all packed in the room except for those last items before going down to breakfast.  Usually, we take our luggage down on the way to breakfast.  Breakfast at Hotel Fortebraccio left us desiring more food.  There was a scant offering of the normal stuff and it wasn't even all that tasty, so we didn't really eat much.  I figured since we were hitting Umbertide (a more major town) in about 9km, we could just pick up a snack there. 
We got our luggage down in time, but kept delaying our hotel departure mostly because the air was still chilly.  It was sunny, but I'm betting it was just under 70 degrees, and I knew our first steps of biking were to zoom downhill which is a chilly way to start out a chilly morning.  We managed to delay until about 10a, when we finally decided it was time to take off.  =)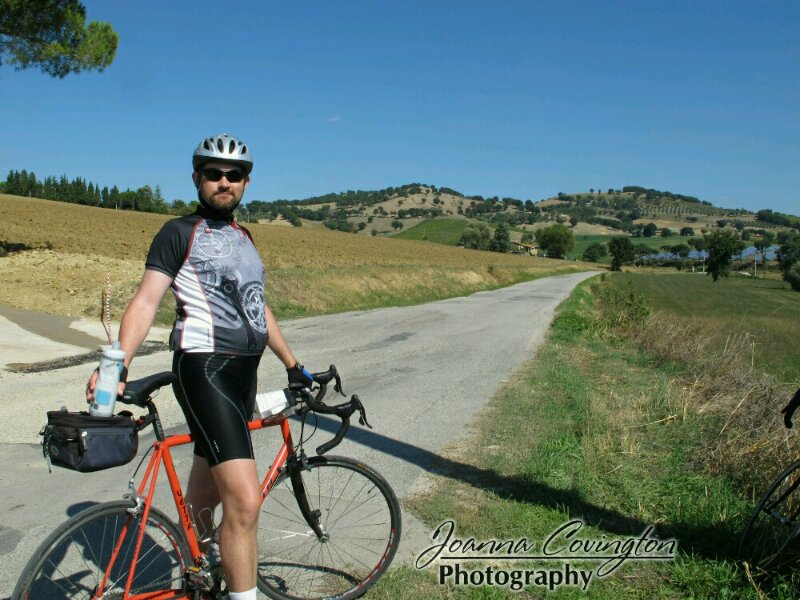 The 8-9 kilometers into Umbertide were indeed a zooming ride downhill and I had goosebumps on my arms.  We hit Umbertide and found out that it was Wednesday Market day!  The streets were packed with vendors and people shuffling around from station to station buying their produce, or their live chickens (yes, there was a truck selling live chickens!!!), or their meat.  It was definitely a more local type of market with vendors selling regular clothing and foods, and other random household items.  We found the most popular meat truck and bought a few pork sandwiches to go.  They have the pig/boar?  lying right out there, and just slice the meat (panchetta) off to go in the sandwiches all fresh and everything.  Oh, and we got a taste while he was cutting and it was some of the best tasting pork you've ever had!  we stood in line for at least 15 minutes to get the sandwiches, but it was certainly worth the wait. 
I packed up the sandwiches in my backpack and we went off biking again.  The directions that we were given at the start of our self-guided tour are wonderful and really very detailed, however, when we hit these larger towns, it is very easy to get turned around.  With the market and everything, we definitely had to go around in a couple circles before we finally let googlemaps help us out of town.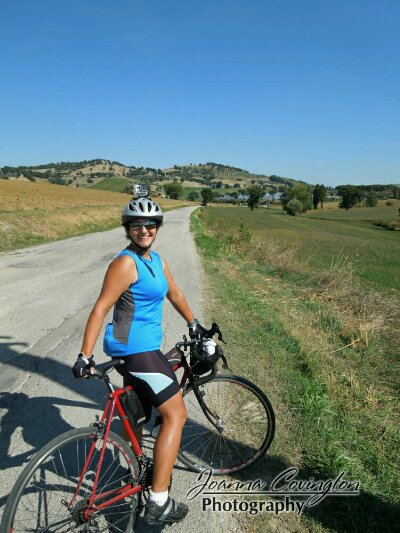 And now the biking was really either downhill or flat and quite lovely.  I was in my element as I'm used to flat biking.  We biked mostly down some very pretty forested roads, and along and crossing the Tiber river.
Eventually, it was after noon and it was time to eat, or so my stomach told me it was time.  And just around the corner was a pretty park with benches and a minimarket within sight so we could get some drinks and chips to go with our sandwiches.  The town we stopped in with the park was Rescina, but we didn't note anything specific about the town.  Just like yesterday, we ate lunch in a park with kids' playground equipment and not a soul in sight.  It was nice for us though!  We can't figure out where everyone is.  Our lunch stop had perfect temperatures as we enjoyed eating and laughing at what looked like large paper-machete moon-rocks or something scattered around the park as decoration.  The trees in the park were showing some nice red fall colors and I got some photos of fall.  It is still really summer to me at least until the end of October, but I guess the rest of the world is starting to think about fall now.  =)
And then we were off again on the bikes for some very pleasant and flat biking through beautiful Umbrian scenery.  All of a sudden, we were almost to our destination in Assisi and our guide mentioned a great gelato stop about 6 kilometers away from the final destination in a town called Palazzo.  So, of course we had to stop!  I'm glad we did because this gelato shop had many, many flavors and we both ended up with delicious choices.  Though, it was really very hard to get back on the bikes after our stop.  We really should keep the gelato for the end of the ride when we can relax and be done for the day.
There was a small climb up to Assisi, as of course it is a hilltop town.  It's actually a decent sized town with a population around 26k and we had heard it was a popular tourist destination.  This meant of course that there was more traffic on the road than we were used to in Italy, and lots of the traffic was made up of buses or trucks, and we kept to a single-file line hugging the edge of the pavement while we climbed up to Assisi. 
We are now noting how all these little Tuscan/Umbrian towns are located on the hills surrounded by city walls and with large gates, or portas as the entrances into the towns.  Assisi was no different and once we biked all the switchbacks up here, we arrived at Porta Nuova at 3:45p where we gathered all our biking stats and proceeded to walk into the town and to find our hotel, Hotel Sole.  It was easy to get to Hotel Sole and as usual, I had a hotel voucher from our tour company for our hotel and I walked in with this and our passports.  I promise that this is the hotel name that was on our voucher and the name that was given to us in the list of hotels and even the hotel name in our directions that directed us here.  However, the lady that was checking me in had no idea who I was and didn't even have rooms for us.  She was confused and I was confused.  =(  I was also very confused b/c she should have already received our luggage and if she wasn't expecting us….that must mean our luggage was not here.  So, in the confusion, she went to go check with someone.  She walked away for about 2 minutes, and when she came back, she had the information!  We were actually booked at Hotel Umbra down the street!  How she got this information, I have no idea!  I'm amazed that she could walk away and find this out.  So, she gave me directions on how to get there, and just as she was doing this, an older couple walked in and over heard us.  They were lost trying to find their hotel, and walked into the first doorway to ask for directions.  It turns out they wanted to know how to get to Hotel Umbra!  Wow…..what are the odds?  This was just a surreal experience, really, and quite amusing to me how it all worked out.  So, we walked our bikes another couple blocks down to Hotel Umbra and yes, we were booked here.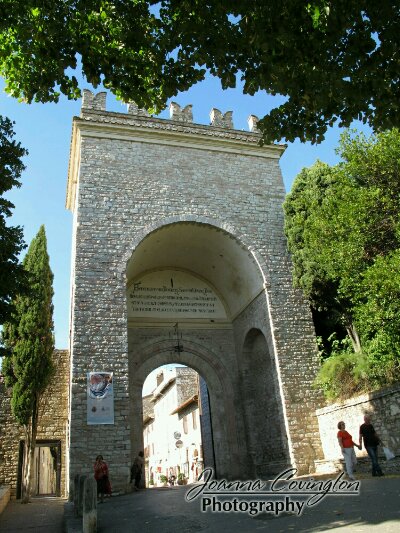 I walked into the hotel and asked the reception, "I think I have a reservation here, but I'm not positive, so can you check and see?"  =)  Yup, we had reservations here and our luggage was here and in our room already.  And the other couple walked in behind me as well, so they were able to find the place, too.  All worked out great.  We parked our bikes out on their patio and then were shown to our room where we were so excited to see that we had an excellent patio for a)watching the sunset and b) for hanging laundry to dry in the sun!! 
I planned to do a whole bunch of laundry tonight, so this was super exciting to me as I'm sure it is not to you.  =)  The shower is large enough so that our elbows don't bump into the walls and there is even free wifi here (which we were not expecting from Hotel Sole).  So, this really could not be better.  We are very happy.  We went out and grabbed some gatorades from a shop nearby (oh, and our hotel is on the main square!) and then proceeded to go through our normal routine (unpack, showers, laundry, get ready for dinner).
We have quite the routine all set now.  =)   We are here for 2 nights, so it'll be nice not to have to pack up again in the morning.  Tomorrow we will do a challenging, but shorter loop ride in the hilly park located uphill from Assisi.  But tonight, we chilled out in the room and then went for a walk to take some sunset photos.  Then, we wandered around the main tourist street and bought some cannolis for later for dessert from Gran Cafe.  After all our trouble finding cannolis in other places, we ended up finding several pasticcerias with cannolis here in this town.  Mmmmm, sugar.  And then we had a very tasty dinner at Ristorante Medio Evo. 
This restaurant was around several corners and down an alley, so it was off the beaten path, but we were still surprised to be only 1 of 2 tables seated during the whole time we were there.  But the food was great!  We loved our ravioli starter and then our fabulous beef main dish. 
It has been another wonderful day on vacation and I can't believe we only have 2 biking days left!  Tomorrow we will do a bike loop out of Assisi and then maybe do the main tourist stuff in this town, and then the next day we bike to our final destination, Perugia.  We have one night in Perugia, then 2 nights in Florence and then it's on a plane to head back home to the States!  Amazing how time flies.
As always, thanks for reading through our travel journeys.  I hope our stories are entertaining even if you weren't here with us.