Thursday, September 19, 2013 (Day 9)
Biking Day 2 Itinerary:
Bike from Buonconvento to Montalcino
weather:  sunny, 80 degrees, light breeze
– 8:30a wakeup and breakfast
– 9:30a luggage downstairs
– 10:30a depart Pieve a Salti
– 11:30a Monte Oliveto Maggiore Abbey
– 1:00p lunch in Chiusure at Il Paradiso
– 3:30p flat tire
– 5:00p arrive in Montalcino at Hotel Il Giglio
– 7:30p dinner at Ristorante Pizzeria San Giorgio
Bike Stats:
Total Distance: 43.8km = 27.2 miles
Max Speed: 58.3 kph = 36.2 mph
Moving Time: 3hours 25min
Map:

Day 2 of biking Tuscany starts today and we are still in the tougher part of Tuscany.  In fact, we took the typical Iron Donkey Day 1 itinerary and broke it into 2 days since we aren't used to climbing.  It was easier this morning to wake up and get ready to go before 9:30a mostly b/c we went to bed early enough last night.  =) 
The Pieve a Salti hotel outside of Buonconvento gets a good review from me.  We had a nice, clean room, with a good-sized shower.  The wi-fi was a bit too weak for our tastes in the room, but we ended up not using it much.  They did charge us 1 Euro for the second wifi connection.  The main awesome part of the hotel were the beautiful grounds and the gorgeous views and setting.  The pool was pretty, though cold.  The breakfast had a good mix of foods and the dinner last night was tasty.
We had a slow start this morning and eventually got moving around 10:30a.  There really is no rush to get biking very early since we have a fairly short distance to ride, and it's nice to wait for the day to get a tad warmer.  We have another beautiful Tuscan, sunny day for us today with temp highs getting perhaps up to 81 or 82.  Standing around in the sun got a little warm, but it really was a perfect day for biking or doing anything for that matter.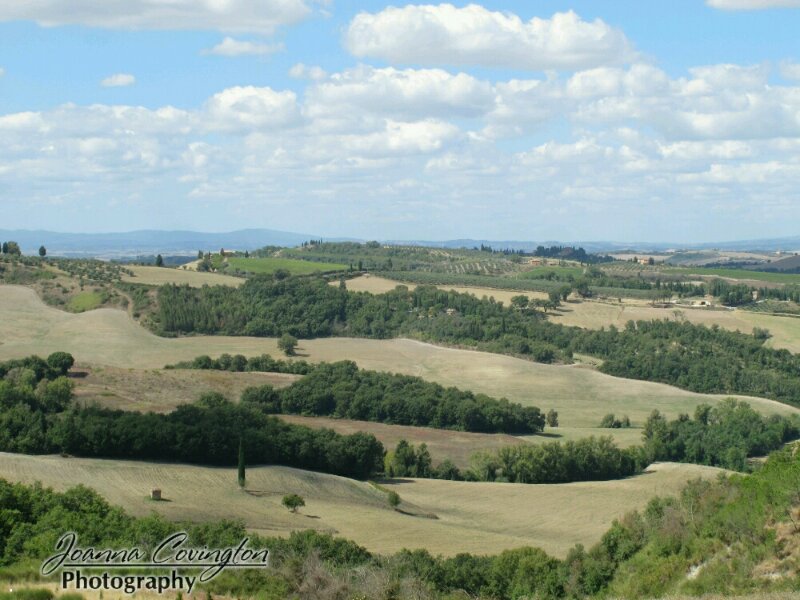 We had a thrilling 3km descent into the town of Buonconvento down a couple 16% slopes (that we had to climb yesterday!) and our tour started in town.  The first hour of cycling was pretty much mostly a slow climb up to the Monte Oliveto Maggiore Abbey which was supposed to closed to visitors at noon.  We didn't really think we'd have any issue with time since it was just 8km away from town, but it turns out that it's not so much fun to start the day climbing and we were slow.  Plus the views are absolutely gorgeous and it's hard not to stop all the time to take photos!  I didn't get any complaining from Mark when I wanted to stop for photo-ops.  =)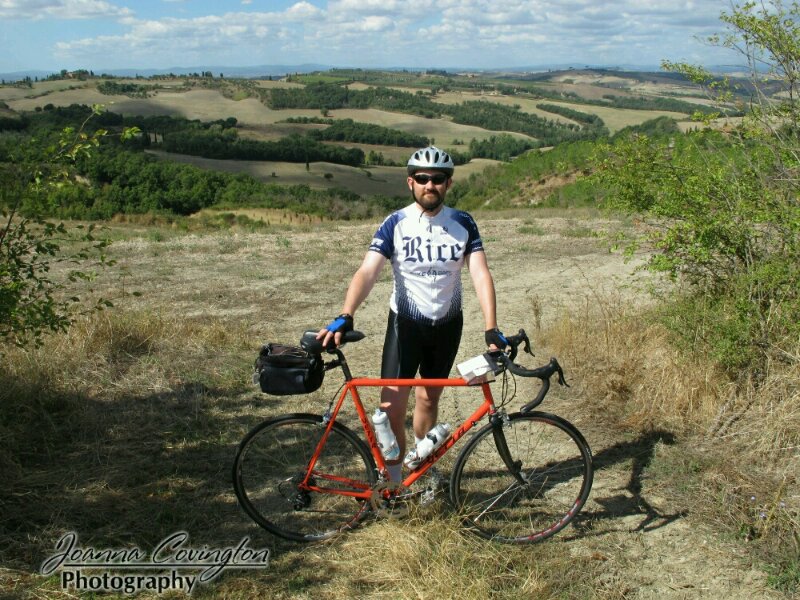 It's nearly impossible to get just one snapshot of how beautiful the view is because we are seeing it with our eyes and a full 360-degree view versus trying to flatten it in a snapshot to share.  Biking uphill allows us to have the time to really look around and enjoy as well.  We passed through several vineyards, a couple more fields of dying sunflowers, and some fields of hay.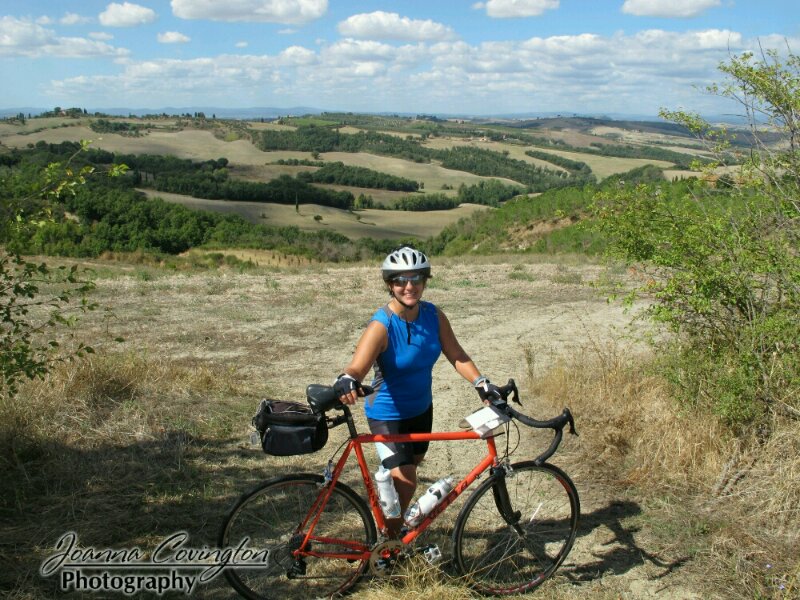 When we reached the Abbey at 11:30a, we didn't have much time to check it out since it closed at noon and there was a long walk down to get to the actual Abbey from the parking lot.  The Abbey was built in 1401 and has a courtyard full of 31 fresco murals.  We had a quick tour around the murals, but didn't get a look inside the church part before we were kicked out by the monks.  I did bring a shirt to wear to cover my shoulders while we were here, but it turned out that also our bike shorts didn't cut it and the monks wanted us to tie some cloth around our waists so we were covered all the way down to our knees.
The Abbey and it's surrounding buildings were quite a much bigger tourist attraction than I had realized, and it was really pretty crowded with tours coming off of tour buses complete with their guides walking them around. 
We took off soon after we were kicked out and continued on, mostly uphill again to the town of Chiusure which was a very small, but adorable town up on a hill and with a great view of the Tuscan countryside.  We figured it was a good time to stop for lunch and we had a 1p lunch at the only place we found, Il Paradiso.  Mark had a pasta and Joanna enjoyed a mixed plate of bruchettas.  We bought extra water from them to fill our bottles and then we were off just as the restaurant was getting very crowded.  there were only about 8 tables out on their small patio, so when we got up to leave, we made a couple very happy to get our table.
Through the afternoon the next interesting biking story was when we got off the main road and hit a section of gravel road.  Oh, and of course it wasn't a nice flat gravel road, but one that went up and down for 3km.  Well the map said it was 3km, but I feel like it was longer than that.  I hate riding my bike on gravel, probably because I've only ever ridden a road bike and with the skinny tires, it is too easy for the gravel to either a) puncture a tire or b) wobble the wheel too much.  Through the dirt and gravel, it is also very hard to turn the wheel because the dirt grabs it and makes you feel like you are off balance.  Perhaps if I ever got into mountain biking I'd have a different story to tell, but for now I really hate biking along dirt and gravel roads. 
I also go extremely slowly on gravel roads, especially when going downhill.  It was actually a fairly nice gravel road as far as gravel roads go, and we really didn't have an issue until we were maybe 2/3rds finished with the road and Mark had a flat front tire.  Two days in and our first flat.  Oh, and it wasn't me that got the flat!!  But, I'm very good at changing flat tires and I even impressed Mark with how fast I can change a flat and soon we were off again.  We were biking through vineyards and farms and stopped often for photographs.  Also, good for us was that the whole time we were on the road we were only passed by a handful of cars.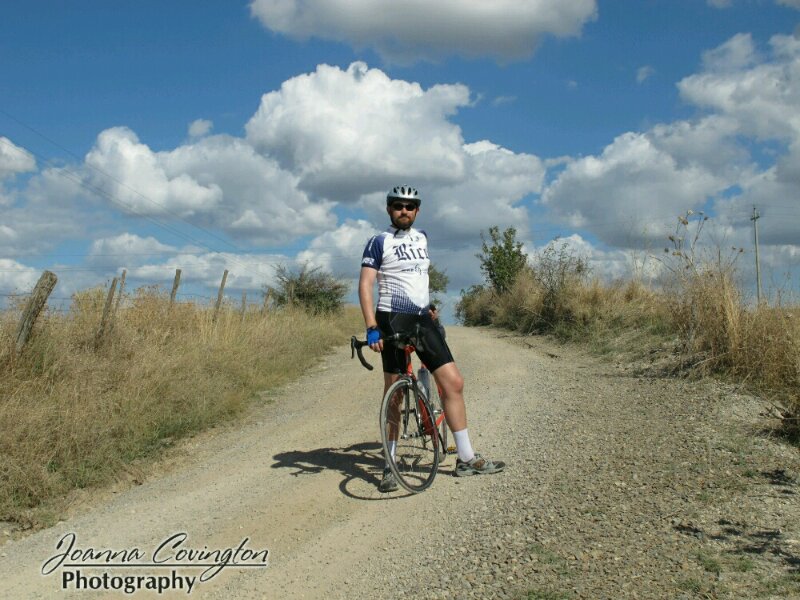 Pretty much as soon as we got off our gravel road and hit the main asphalt road, though, we were on the main road into Montalcino which was high above us on a hill/mountain.  The rest of our ride was a slow ascent with lots of stops up to the top and the town where our hotel was waiting for us.  And of course on the main road, now, we had more car traffic than we've been having.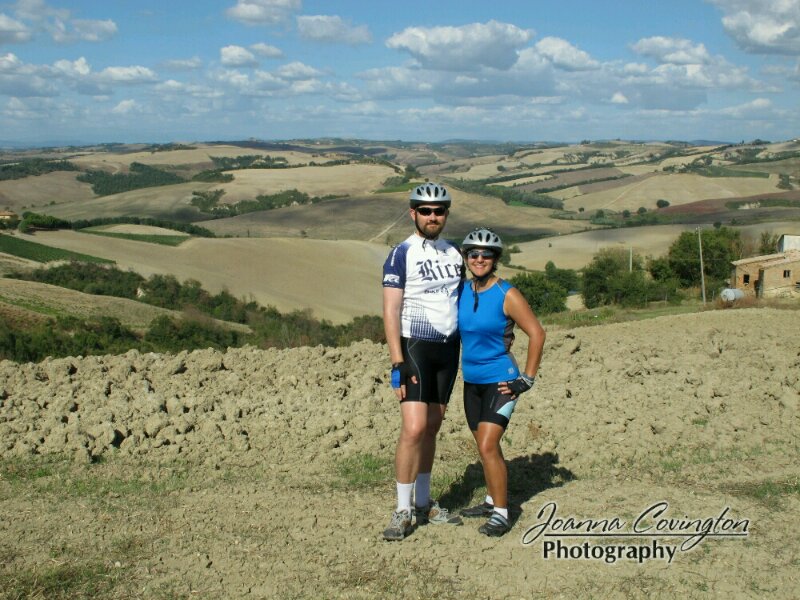 That reminds, me.  I can't remember if I mentioned yesterday, but so far except for the first 5k out of Siena we've really had a great bike route on roads with very little traffic and mostly on extremely smooth asphalt pavement.  The roads have been smoother than the typical Houston road which has me rather spoiled now.  =)  The Italian roads don't have any shoulder to speak of, however, the cars are quite used to seeing cyclists on the road and we've even passed several, so they were careful to drive around us or even wait for a chance to pass.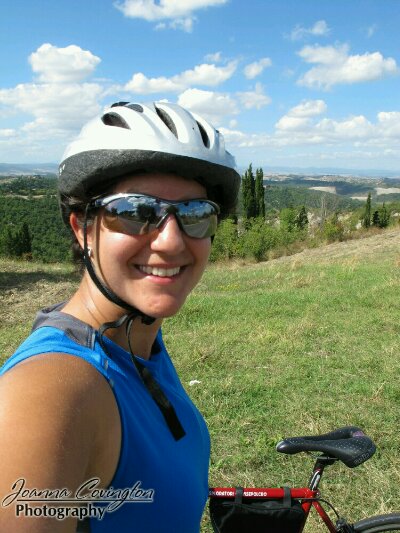 Climbing to Montalcino at the end of the day wasn't super pleasant, but the views sure are great at the top.  Our hotel seemed to be a popular one for cyclists because when we put our bikes in their garage, there was a huge pile of bikes in there….more than 10 and later on that night we saw even more cyclists arriving.  It was also very odd to find out that our room was actually in a building several blocks (and straight uphill) away.  We figured we'd check in, get our key and go upstairs with our luggage.  However, we had to wait for another person to come fetch us and basically walk us about half a kilometer up the road to a different building where she checked us in, and gave us our key to a room on the top floor.  Then we had to go back down and fetch our heavy luggage, drag it up the street, and then up many flights upstairs before we could call ourselves done for the day!
Our gelato after that trek was much deserved and we liked the gelato at this place so much that we came back after dinner.  After our gelato we went back down to the garage to work on the bikes a little bit.  Bikes need to be checked out every now and then to make sure all is okay to keep going and we wanted to pump up the tires to full.  Iron Donkey was nice enough to provide us with a full-sized bike pump that we are carrying around in our luggage (rather than the small travel pumps on the bikes).  So, we took the pump down to the bikes and first started with my bike to pump up the tires.  Well, the pump had a more different valve connector than we were used to, and it turned out to be a very poor pump.  The representative had told us that it can be finicky at times, and it was indeed so finicky that we were frustrated.  And before we knew it, messing around with the pump on the valve, we managed to give me a flat tire.  =(  Sigh.  Well, 2nd flat for the day and 2nd flat for the trip and only two days in.  Luckily they gave us 3 extra tubes and I quickly changed out this flat as well and we used the tiny travel pumps to pump up the rest of our tires. 
I will contact our Iron Donkey rep and see if we can have them pick up this bike pump because we certainly aren't going to try and use it again and also, we don't feel the need to carry it around anymore!  (Note:  Iron Donkey had us leave it at our  next hotel at reception and they will come pick it up at a later time, so all is good)
Now, after we've taken care of the bikes, we can finally shower and all of a sudden it is time to go find dinner.  We tried a couple places before we found one with an open table and had a very yummy dinner at Ristorante Pizzeria San Giorgio.  We split a mixed bruschette to start which was very amazing.  Bruschettas here come with many different toppings more than just the regular tomato topping we are used to.  Then, we split a first course gnocchi dish combined with mushrooms and sheep cheese, and then each had a main meat course.  My beef on top of a pile of mixed greens was the favorite and was absolutely delicious.  Mark enjoyed his pork as well, but we both decided my beef won.  We are also realizing that we probably aren't drinking enough water while we bike, because we order a ton of water at dinner and I am just feeling so parched.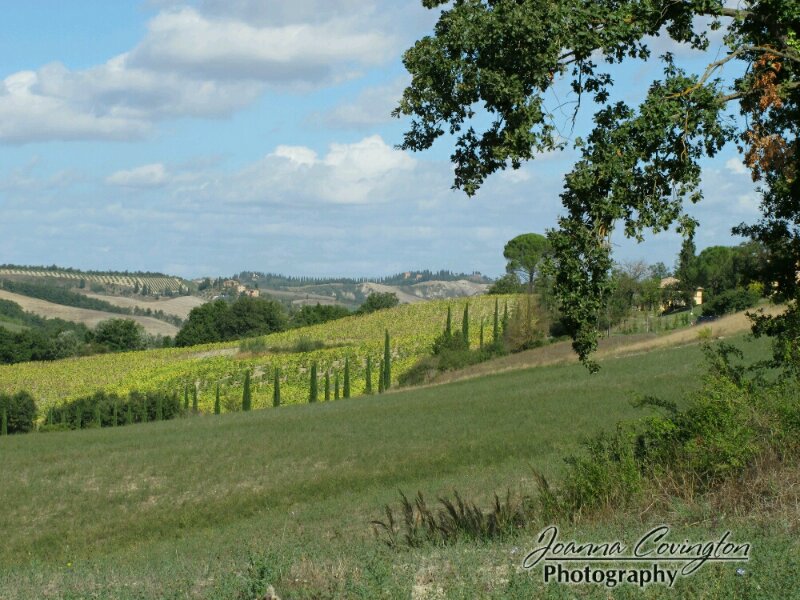 I'm biking without my normal camelbak (waterbag that rides on my back in a backpack and holds 1.5 liters of water) and instead I opted to go with water bottles.  Well, as it turns out my bike frame was too small for 2 water bottles and only one fits.  So between us we have 3 bottles and I find myself almost rationing out how much water I drink.  The weather here is also very dry.  Anyway, we will try harder in the next several days to drink more.
So, after dinner we went back and had more gelato and then it was pretty much right to bed because, well, we were rather tired.