Wednesday, September 18th, 2013 (Day 8}
Biking Day 1 Itinerary:
Bike from Siena to Buonconvento
weather:  sunny, 80 degrees F, not much wind
– woke at 7:30a and packed up the luggage to have them downstairs by 9:30a
– departed Siena hotel around 10a
– biked through Siena to porta San Marco (about 2km)
– official start of our bike tour
– 11:20a stopped for lunch at a grocery store
– 2:50p arrived at Pieve a Salti (hotel 3km from city center)
– pool
– dinner at hotel restaurant
Biking stats:
Total Distance: 43.7 km = 27.2 miles(from edge of Siena)
Max Speed: 43.1 kph = 26.8 mph
Moving Time: 3hrs 13min
Map:

This morning came too early for me since I didn't go to bed on time last night, but we had to wake up and get moving to get everything all packed up in just 2 bags for our luggage transfer from Siena to our next hotel in Buonconvento.  The luggage needs to be at the reception of each hotel on our trip by 9:30am and then a taxi driver will pick it up and deliver it to the next hotel.
We ended up leaving on the bikes probably around 10am and we biked about 2km or so through the streets of Siena to get to the southern exit of the historical center.  The streets were cobblestones and very steep with lots of pedestrians, so we ended up walking parts of it just for safety.  Now we could start our official tour looking at the very well written directions given to us by our Iron Donkey representative.  The directions were perfect and we never had any issues getting lost or anything.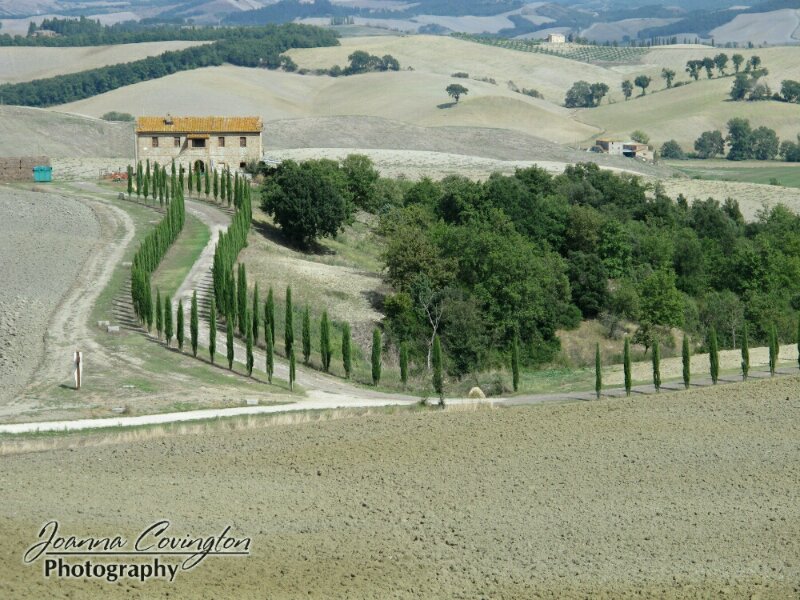 Biking turned out to be absolutely gorgeous!!  Once we were about 3km away from Siena, we turned off the main road and we were on perfect scenic roads with very little car traffic.  Plus, the road asphalt was as smooth as could be.  It was so pleasant to bike here.  The terrain was of rolling hills and some of the climbs were a bit long for this, our first day of riding, and basically our warm-up day.  =)  But we made it up all of them.  Alongside the road we saw fields being harvested for grain and hay, we saw fields of old sunflowers, estates with long roads lined with tall cypress trees, and of course as we left Siena we could look back to see it on the horizon.  It was beautiful!  I love biking here.
Today's ride was advertised at about 38km, though we found out at the end that our final hotel was 3km from the center of town.  At about 18km in, we found the town of Ville Di Corsano which was listed as a good place to stop for lunch, but the Osteria was not open yet as it was just 11:20a and we went to the grocery store instead.  Light lunch was bread, cheese, and fruit.
After lunch, the rest of our ride continued to be magnificent and gorgeous.  I was always on the lookout for someplace to mount my camera to get a group shot, and I found one when there was a large metal advertisement sign on the side of the road.  My new Joby gorillapod has magnetic feet and I was able to mount the point and shoot camera on the side of the sign for a group shot.  =)
Oh, and this reminds me….all day I was missing my kickstand!!!  These Italian road bikes we rented didn't come with kickstands and I'm going nuts without a kickstand.  How to people live without them?  We are constantly trying to balance the bikes against our bodies when we stop or need to lay them down in the grass or something.  It's very inconvenient for sure.  Plus with a kickstand, I could use my bike to hold my tripod.  Anyway, a minor annoyance on a perfect day.
We had some fun downhills, (one at 15% grade), but it was hard to forget the uphills since we would bike uphill much longer than downhill.  The toughest grade we encountered going uphill were two 16% grade short uphill runs on the way to the hotel.  =P  We were able to do them, though!
Our hotel, Pieve a Salti is awesome!  It's more than just a hotel.  It's like a little mini-resort out on their farm and of course is up on a hill so the views in all directions are amazing.  At this farm they mostly specialize in grains and legumes.  We noted the spa, the beautiful pool, the landscape, and most importantly, the fact that they had a restaurant serving dinner!  The farther we got away from Buonconvento and going up these 16% hills, I was starting to worry about having to go back to town for dinner.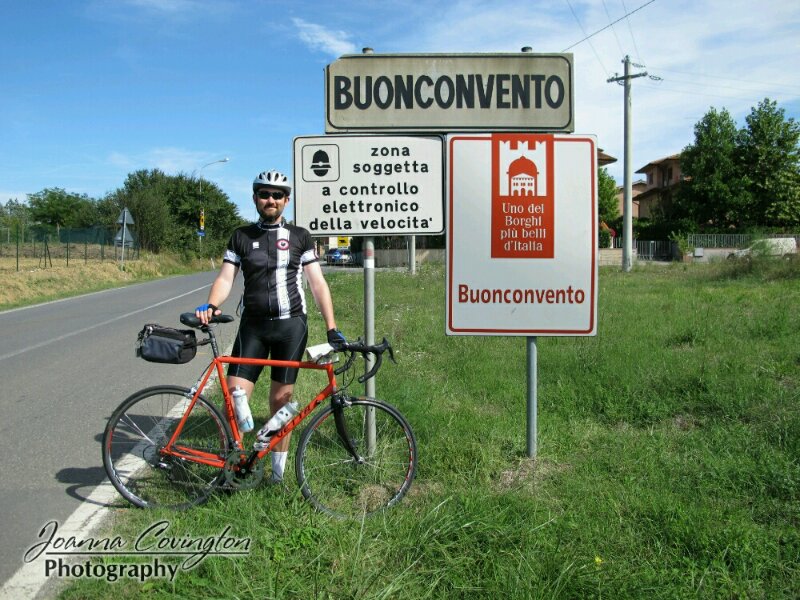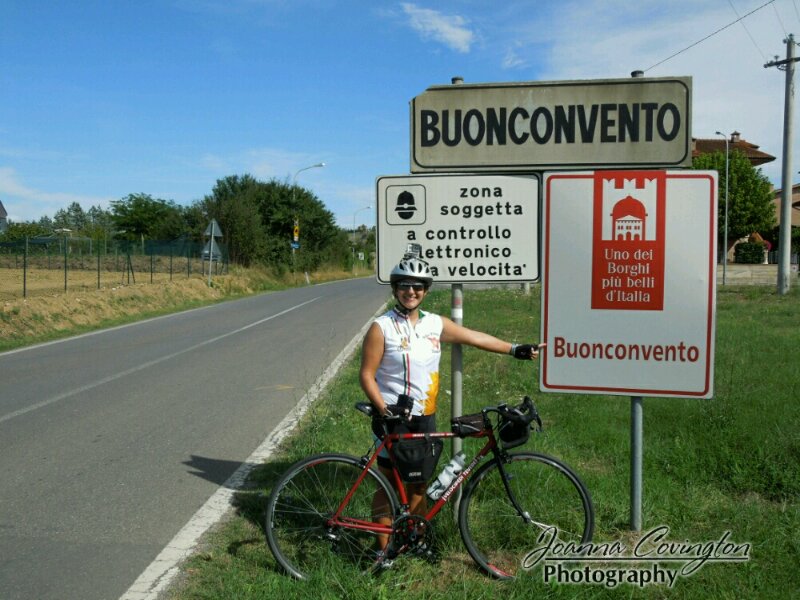 We arrived about 10 minutes to 3pm and had to walk down a long gravel road to get to reception, noting the pool along the way.  We showered, did laundry, unpacked, and then headed for the pool.  It's sunny and perfect outside.  Oh, but wait….I'm used to pools in Texas where it is warm at night and the water temperature is moderate.  This pool was quite chilly!!  So, there was no swimming, but a quick wade and then a lot of sitting by the pool in the sun reading a book.  It was quite a lovely way to finish the day.
Finally, before dinner, we watched the sun set behind the distant Tuscan hills and then had a marvelous dinner at the on-site restaurant.  Now, we are pretty tired and will sleep well tonight.