Friday, September 20, 2013 (Day 10)
Bike Day 3 Itinerary:
Bike from Montalcino to Montepulciano
weather:  sunny, 82 degrees, perfect
– 8:30a wake up and breakfast
– 10am departure from hotel
– visited Fortress at top of Montalcino, and a Friday market to buy some local pecorino cheese
– 12:15p lunch stop in San Quirico D'Orcia, found a Coop grocery for additional lunch food
– 2:30p break in Pienza to walk around
– arrived 4:15p in Montepulciano
– 7:30p dinner at Ristorante deglia Archi (lamb, chicken, and pici)
Bike Stats:
Total Distance:  44.5km = 27.7 miles
Max Speed: 50.5kph = 31.4mph
Moving Time: 3hours
Map:

It is another beautiful day in Tuscany as we woke up again to sunny, clear skies and a perfect day ahead of us.  We walked down from our rooms up the street from the Hotel Il Giglio and to their breakfast where they had a really nice breakfast spread laying out for us.  There were actually too many yummy treats to eat for breakfast.  =)
Ah, and I should mention that it was very hard to sleep last night because we had a clock tower right outside our window.  It chimed on the hour, 5 minutes after the hour, and every 15 minutes all night long!  Oh boy, we were sick of that thing.
At 10, with our luggage in the hotel reception, and our bikes packed up, we headed out to see the fortress at the top of town.  We walked the bikes up, up, up some really steep inclines and then found ourselves in a little Friday market.  Awesome.  We bought some local cheese called Pecorino cheese.  It's made in Pienza which is a little town area we are biking through today.  Then we parked the bikes at the base of the fortress and wandered in.
We were able to climb up on top of the walls and walk the perimeter of the walls getting all the magnificent views of the whole entire area.  Nothing was in the way of our views!  Beautiful.  We were also highly amused by a flock of small, but loud birds that kept flying around us.  Montalcino sure is high up here and we feel very rewarded now that we can look down at the climb we did yesterday!  Of course today we will have to bike all the way down, and then back up to go to Montepulciano, with lots of ups and downs in between.
It did end up being a bit of a challenging day as we started going.  The first 4 kilometers were magnificent as we screamed down the Montalcino mountain to the valley below, but soon we were climbing again.  We are now biking through the Montalcino Nobile vineyards and the views around every corner are still amazing.  It is easier to do all this climbing when we can keep stopping to take photos of the views.  I really do love biking in Tuscany!!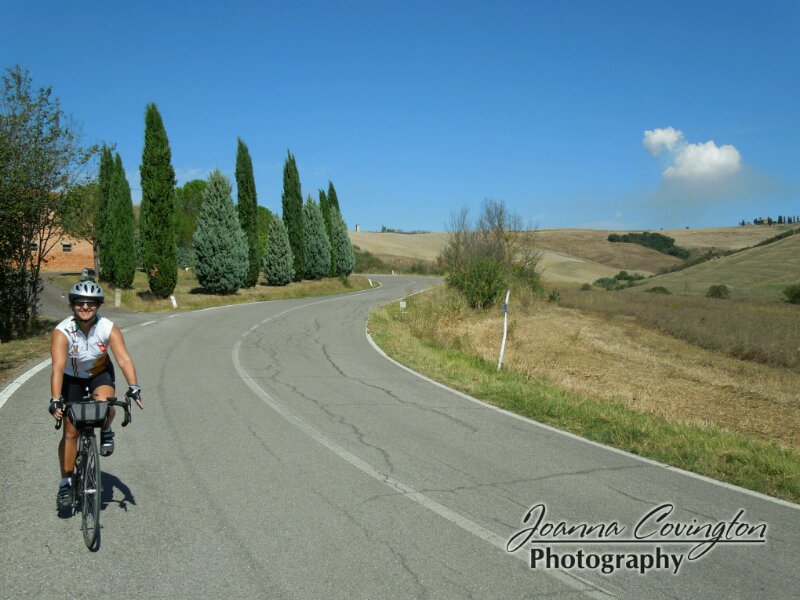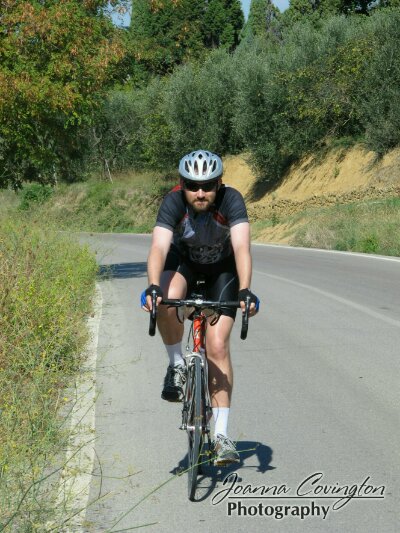 The morning was full of ups and downs and stopping for photos, then eventually we ended up in San Quirico D'Orcia where we saw a sign to a Coop grocery store.  We headed off our bike maps to find the Coop and it was on top of a really steep climb!  Mark waited with the bikes while I went in and found some food including little tubs of gelato to reward us for that climb to the store!  Of course there wasn't a pretty spot to sit and eat, so we tried to go down and get back on our bike route with our food to continue on to a good spot.  Well, as it turned out, what we thought was the route, now took us up, up, up, another steep climb through a little residential neighborhood.  I could tell that Mark was getting quickly sick of this, so we just stopped at an intersection with some shade, set up a picnic, and ate right there in the neighborhood.  The food was good, and the gelato totally hit the spot.  Our little spot ended up being off the beaten track enough that there weren't many cars driving by, though we did get a look from an older Italian man walking past us.  =)
After lunch, we packed up and continued biking up this little, but steep hill and found outselves right in front of a park with benches…..just about half a kilometer away from where we had given up.  Haha.  oh well.  We still had a good lunch, but we laughed at ourselves for not going just a bit further.  Oh, and then even more amusing, was the fact that our little road now dead-ended into the same Coop where we bought our lunch.  So, next time we are here, we will instead of going back downhill, just go across from the Coop to the little park down the street.  Got it!  =)
And now we still need to find our bike route.  We continued down the road, pulled out the google maps on the phone every now and then and soon found ourselves back on the right route to leave town.  It ended up being rather easy.
From here we biked on, going up and down, of course, until we hit the town of Pienza.  This town had a cute little pedestrian-touristy area, so we locked up the bikes and went for a stroll.  The little pedestrian street was super cute, and filled with all the cute little Italian shops that we are now getting used to in these small Italian towns.  We passed by the souvenir shops, the shops selling leather goods, the butcher shops, and of course lots of wine shops, and shops with the pecorino cheese of the area.  The town square had a large church and also some sort of museum, though we opted not to go in.  This was certainly a fun little stop to make.
And then, on from Pienza, we didn't make many more major stops until we hit Montepulciano.  We had more rolling hills to conquer and at times we wondered if this day would ever end, but we did finally hit the city walls of Montepulciano around 4:15pm.  Since our hotel was on the far side of the steep-hilltop town, we took a less-steep approach to the town, and instead of going through it, we biked around it and then found our Hotel Albergo Il Marzocco right inside the town gates. 
The hotel had a little garage where we could store our bikes, and then we had to cart all our luggage up many flights of stairs, but finally we had arrived!  The room is decent, but the shower is pretty terrible.  We are here for two nights, so that was disappointing.  The shower is in a very narrow tub, but instead of the shower attachment being at a small end of the tub, it is right in the middle of the wall on the long side of the tub.  And there is no shower curtain, but just a little folding door/wall that we could use to try and contain the water inside the tub.  Overall, not the worst we've seen in Europe, but certainly not great.  We took our showers, did our laundry, and then were quite happy to find that the wifi router was literally right outside our hotel door.  So we had amazing wifi at this hotel.  And it was all free for all our devices.  yay.
oh, and of course, I forgot to mention that we did go and hit up a gelato spot once our luggage was in the room.  We definitely deserved it today.
While I worked on blogging, Mark worked on finding us a place to eat.  We ended up at Ristorante deglia Archi a bit up the street from us.  Though over the past several nights we haven't needed reservations for restaurants (we've been lucky), the places have always been completely full.  Well this place got good reviews, but we were one of about two tables full at the restaurant and it was an odd experience.  I was starting to wonder if the restaurant wasn't popular or just the town wasn't popular or maybe our area of town wasn't popular.  In any case the food was very yummy.  We had an appetizer, then a pasta (pici – local pasta), and then our meat (lamb for Mark, chicken for Joanna) and we were happy. 
From here, it was pretty much home to blog and to bed.  We decided that since we had 2 nights here and tomorrow's bike ride is supposed to be a loop ride, that instead of biking we are actually going to take an extra rest day.  Biking out of this town through another hilly loop ride doesn't sound super interesting to us, and also the loop rides pretty much just take us back to Pienza which we already saw today.  So, instead, we will sleep in, and then explore the town.