Saturday, September 14, 2013 (Day 4)
Itinerary:
– 9:30a wake up and breakfast at hotel
– 11am check out of hotel
– Saturday market in Greve
– Cantine in Greve
– Vino al Vino Festival in Panzone
– Drive to Siena, find apartment
– walk around Siena, find dinner
It is another beautiful day in Tuscany!  Today the high got up to about 24 degrees C and it was sunny and gorgeous all day long.  We woke up again to sunlit the sunlit vineyard at our hotel and went down for the included breakfast.  Then it was up to the room to pack up and check out.  We did come home last night to find Mark's "lost" baggage at the front desk, by the way, so this morning I consolidated our bags as we packed up just for the car ride to Siena.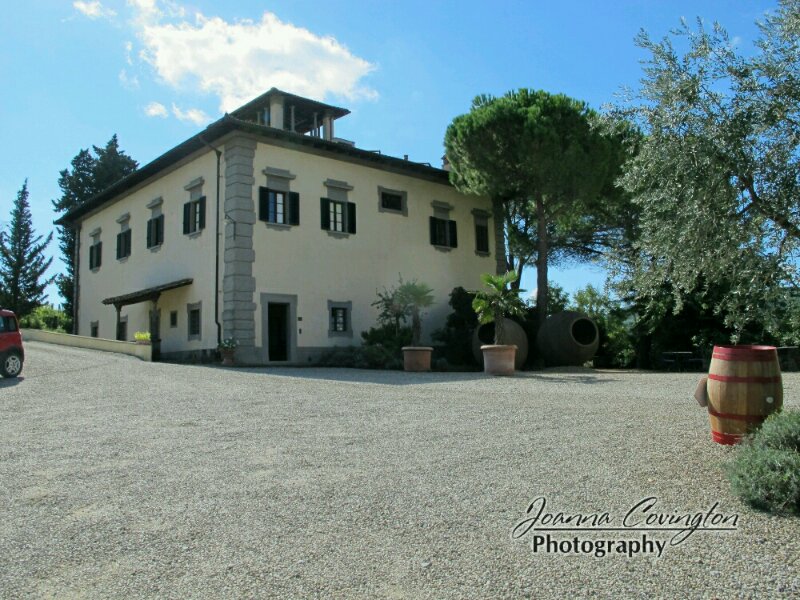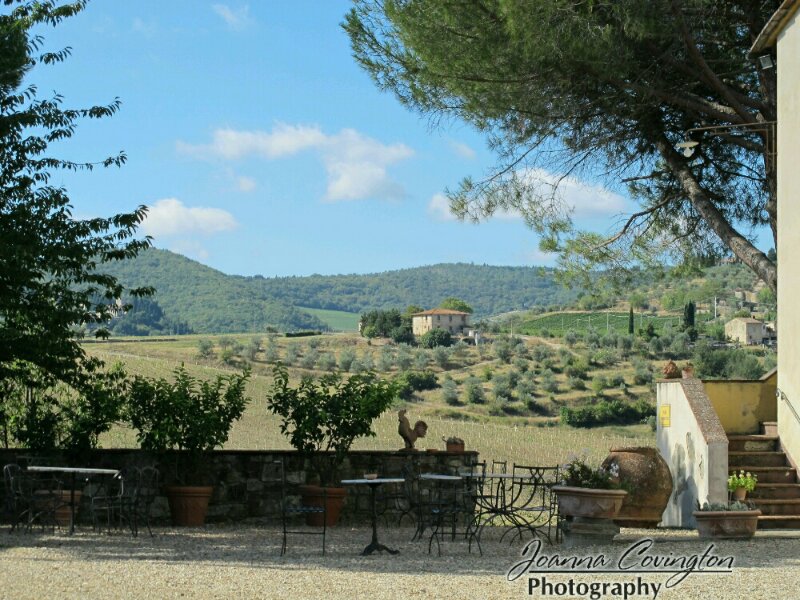 We first went to Greve for two things.  One to check out another of the bike jersey souvenir shops, and also to check out the Cantine which is a really cool wine tasting store.  First we had to drive around to find parking, but I was very surprised that we didn't have to pay for the hard-earned parking spot.  Then we found out that it was lucky we stopped here.  We haven't actually seen Greve in the light of day and it was FULL of people because there was a Saturday market taking up the full square.  So, this was a nice surprise.  We wandered around the market area, checked out the souvenir shops, and ended up in a touristy butcher shop.  Antica Macelleria Falorni was a very large butcher shop full of hanging boars legs from the ceiling.  There were many little rooms in the shop all with salamis and dried meats packaged more for a tourist than a local.  We ended up buying some small packages of the sliced salamis.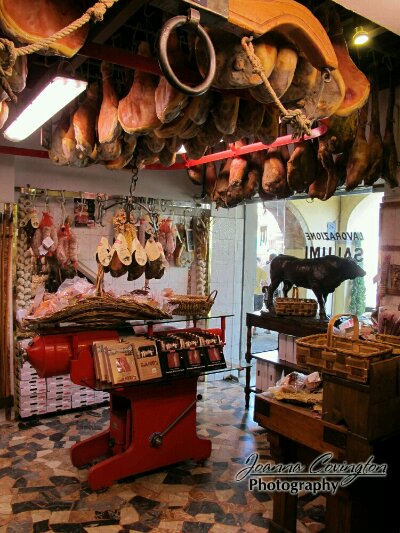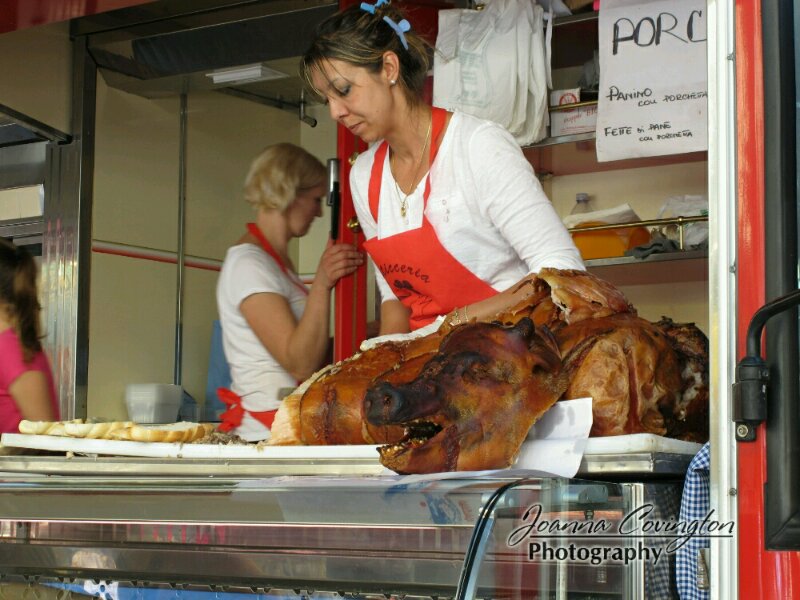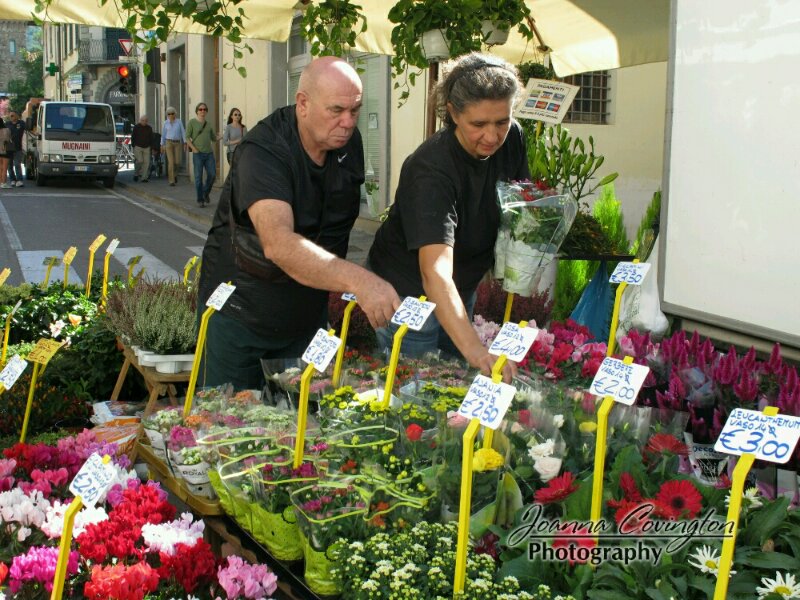 Then we wandered about some more and found out way back to the Cantine which is really just a big wine shop.  However, they've got things figured out.  In the wine shop, you purchase a "winecard" which is a credit card of sorts just for this shop.  Then, you can walk around to the wine dispensers all over the shop and taste the wines.  A tasting is usually about 60 Euro cents to about 2 Euros for the expensive wines.  They even had a tasting section for olive oils which was cool.  It was a unique experience.  Then of course most people will purchase the bottles of wine that they like.  So, as I said, this store has it really figured out.  Pay to taste, pay for the bottle.  We ended up buying some olive oil and balsamic vinegar, as we learned that the wines can be purchased back in the States without the need to worry about shipping them back or packing them carefully in our luggage and then lugging them around everywhere with us.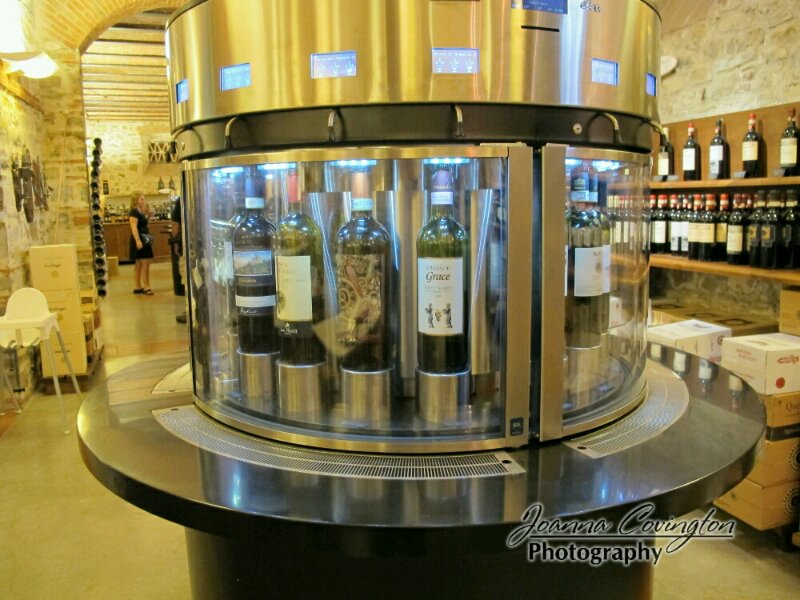 Here is Mark's ranked tasting list:
1 – Fontodi Chianti Classico – starts standard, finishes spicy
2 – Vignamaggio Chianti Classico – standard, finishes dry
2 – Modus Ruffino IGT – would work well as a table wine (without food), nothing really stood out
2 – Castello Monsanto Chianti Classico – Standard with slow build to spicy finish
3 – Vignamaggio Chianti Classico Reserve – drier and spicier
– Brunello di Monticello Fanti – meh
Next stop was the Vino al Vino Festival in Panzone.  This was a small little festival in filling a very small square in the small town with booths of different wine vendors all offering their wines for tastings.  To enter, you visit the first booth to buy a wine glass and a wine-glass-carrier that hangs around your neck so you don't have to carry around the empty glass.  Then you can visit the vendors and taste.  Mark didn't end up doing any tastings here, but it was fun to see all the artwork associated with the event.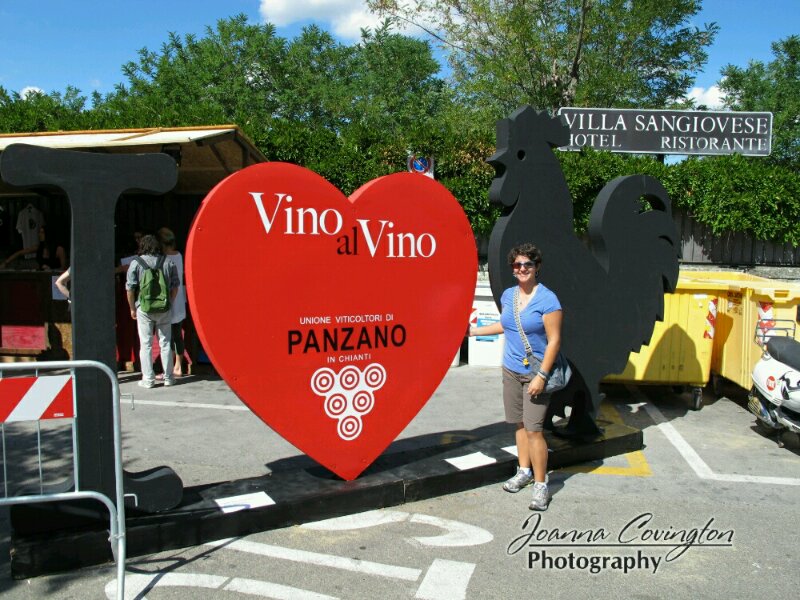 We walked around the tiny town and picked up some pizza for lunch and learning about the Bicycle Film Festival which will be in Florence during the dates that we are there.
Now we went ahead and took the scenic route towards Siena which was only about an hours drive.  The whole drive through the Chianti area from Florence to Siena is about 1.5 hours of driving, but we did this in 2 days which was a really good amount of time to spend for this.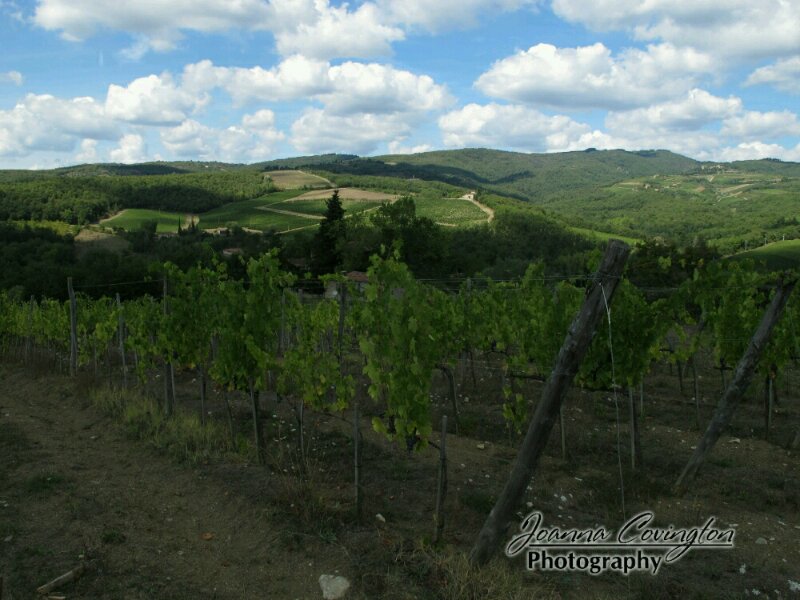 At 4p we hit Siena and would have loved to return the rental car at this point.  However, the rental car return office in Siena is not open on the weekends, so we can't return it until Monday morning.  This is only slightly annoying since the historic area of Siena is a pedestrian-only zone and therefore parking costs are extremely high.  But, we were able to call our apartment office before we arrived and get directions in as well as an area to park the car.  Siena is a town that has been competing with Florence to be the best city in the Tuscany area, though Florence kind of won out and has a much larger population.  However Siena has quite it's own charm as the historical and main part of the city is completely surrounded by absolutely huge, towering walls and only a few gates (or portas) into the city.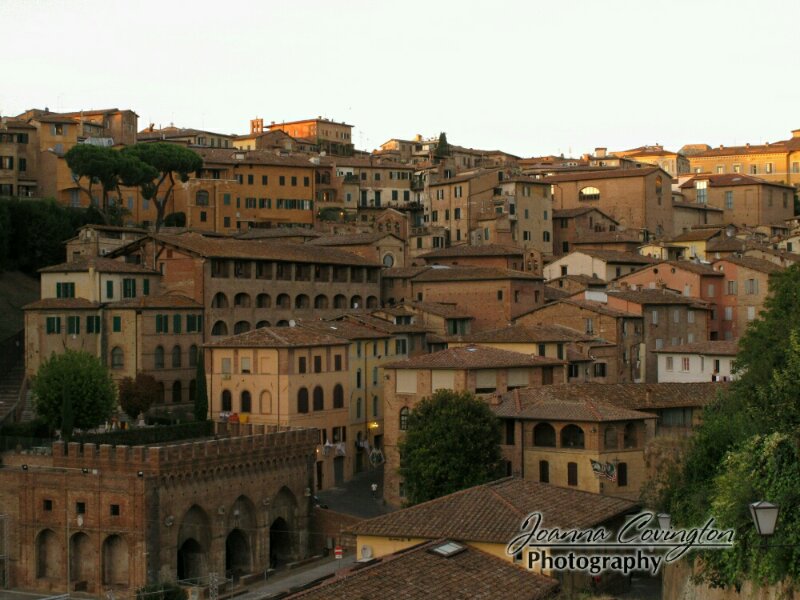 It was much easier than expected to bring the car in and find the apartment office.  We'll be here through Wednesday morning, and our apartment is actually fairly large for a city rental.  We have two distinct areas, one a kitchen area and one the bedroom, and then a hallway connecting the two with the bathroom off the hallway.  We are at Casa Vancaze Il Campo and while their furnishings are a little older with a kind of "sagging" aurora around them, the place is actually fairly clean and is working out very well.  We are located a very short walk away from the main Piazza del Campo.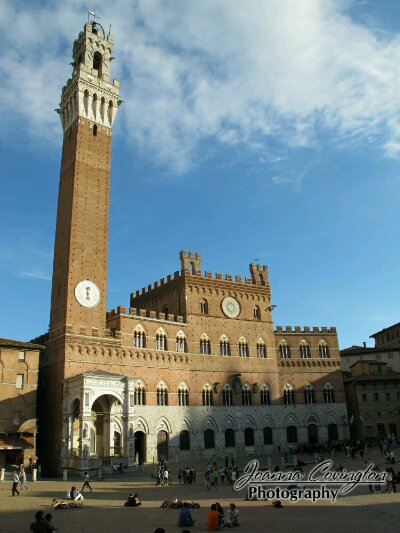 We dropped off our luggage in the 3rd floor apartment and then drove our car a short distance away to park the car for 2 days.  It was an easy walk back to the apt where I unpacked and we got a little settled.  Now, at 5:30p, we decided to go for a little walk around Siena with no real destination in mind and just kind of wander to see what we can see.  We started with the Piazza del Campo which is a much larger square than I would have guessed it to be.  There were two things to note about this piazza as it was different from other piazzas in Italy.  One, was that the main building of the piazza was not religiously-oriented, and the other was that there was no huge ornate fountain or anything in the center.  I did find later that there is a fountain, but it was not huge or very notable. It was just a huge half-circle shaped piazza where people were sitting and laying down scattered around.  We had our pre-dinner gelato and then went for a walk towards the Duomo a few streets away.  Siena has undulating terrain and many of the streets are quite steep.  Some have steps and others are just a very steep ramp, but it sure made for a bit of a workout to walk around.
We reached the Duomo as the sun was going down and the top was a beautiful golden color.  We will definitely come back here another day to visit the inside.  Then we walked towards the sunset hoping to find an area for a good golden-building photo, but we kept bumping into walls.  It was a fun walk.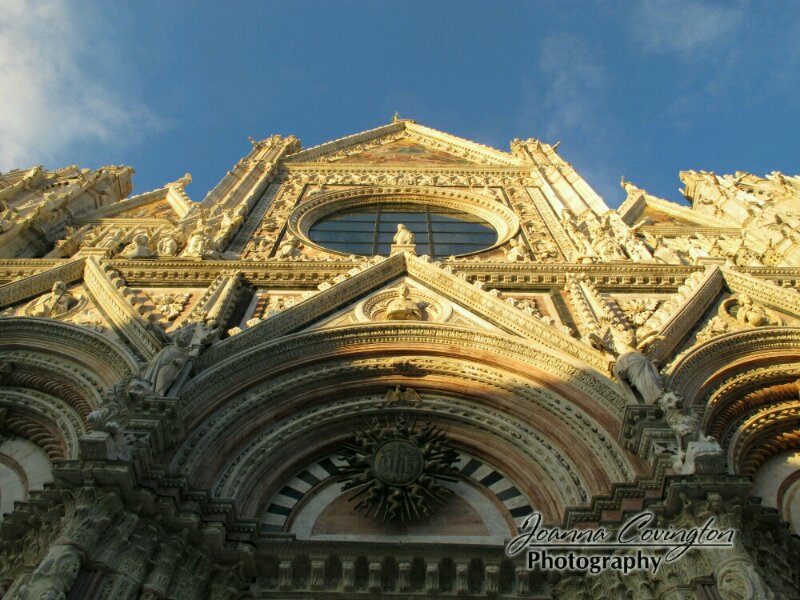 Eventually it was late enough that we could find a place for dinner and we enjoyed our dinner at Da Guido Ristorante.  We have decided that splitting one of the pasta dishes as an appetizer works well, so we split a walnut, cheese, and pear ravioli which was yummy.  My guinea fowl stuffed with mushrooms and sausage was very good and Mark's beef tenderloin was perfect.  And finally, the tiramisu and apple pie for dessert topped the experience and we walked back home staying up late to update the blog and use the very decent wifi connection here at the apartment.