Friday, September 13, 2013 (Day 3)
– 8am wakeup, breakfast at hotel
– 11am winery tour Castello di Verrazzano
– visit Castellini di Chianti
– visit Poggibonsi
– visit Castellini di Chianti again
– dinner in Greve in Chianti at Gallo Nero
The big ticket item for today was our first winery tour at the Castello di Verrazzano.  As it turns out,  you need to book tours well in advance of your Chianti stay, and our decision to book this tour mostly fell on availability when we booked about 2 days in advance.  But we enjoyed our tour very much and met some interesting people.
The breakfast at Agriturismo Corte Di Valle was included and was a decent spread of food including yogurts, fruits, sweet breads, cheese, and ham.  Since we didn't have to be at our tour until 11am, and it was only about 1km away, we had plenty of time to walk around the grounds a bit after breakfast and just kind of relax.  Today is our first real day of vacation after all after all the traveling.  Oh, and it is a beautiful day today!  It is sunny, and the cumulous clouds are sparse, but pretty enough to add interest to the sky in photos.  The temperature got up to about 26 degrees C during the warmest part of the day which was absolutely perfect.  The evening was chilly enough that I could have used a light jacket, but while walking around to/from dinner we were fine.
So, with a beautifully, perfect day of vacation, we drove just down the road to the Castello di Verrazzo winery estate for our booked tour.  The tour includes a tour of the estate, wine tastings, and a light lunch.  First we learned a bit about the history of the Verrazzo name, for instance the estate was named for the wild boar found in the area (Verra means boar and zzano means wild).  There are still some wild boar in the area.  Giovanni di Verrazzano was a map maker who traveled to America and mapped the area from North Carolina up to New York, and we are told that he discovered New York.  Or at least that's how the Italians tell it.  The story ends when he was eventually eaten by cannibals in America.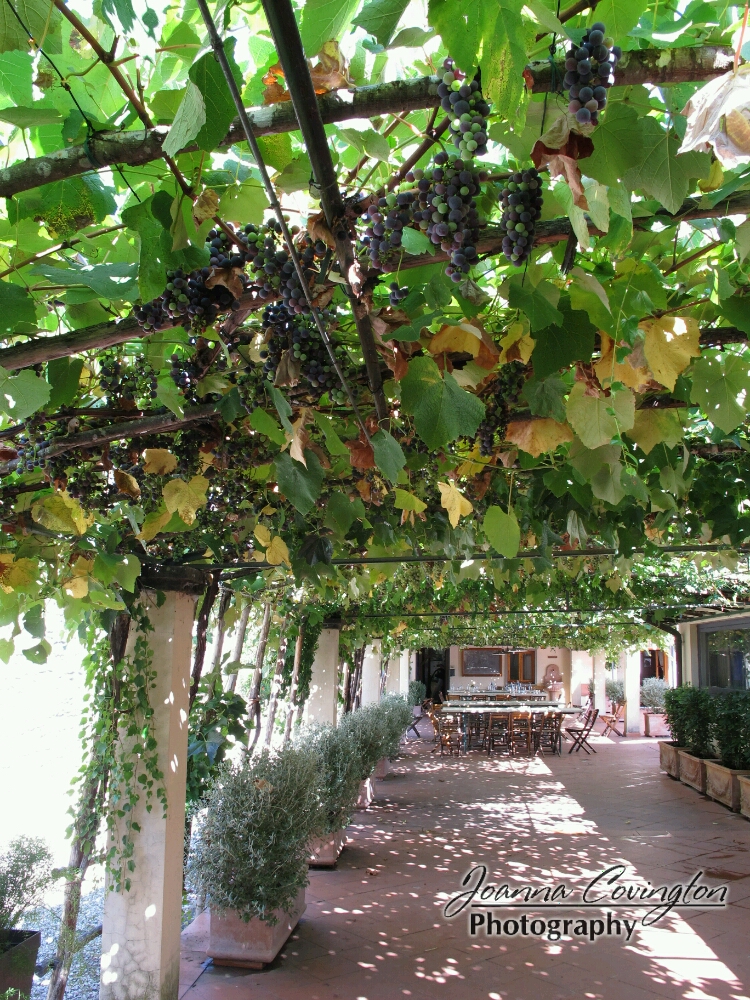 So, back to the estate.  It has 500 acres of which 100 acres are the historic vineyards, 40 acres have olive trees, and the remainder is the forest where they do have the boar.  I have about 2 hours of interesting facts written down about how wine is made, all kinds of history about the estate, and what all the Chianti Classico regulations are.  But the part I found most interesting, was that apparently to make the best wine the grapes have to suffer.  This means, the vineyards must grow on slopes so there is good drainage, and you can't irrigate the area.  The soil is rocky and low quality as well.  Pretty much anything they can do to make the grapes suffer, they do.  Apparently this makes the vines grow fewer grapes, but the grapes are of higher quality.  This applies to the red grapes at least.  White grapes require less sun, but more water, and then hang to dry for 2-3 months before they are used.
The estate is a "farm" level estate meaning that it only sells products that come direction from the estate.  So they sell wine, olive oil, boar meat, and balsamic vinegar.  Balsamic vinegar is actually aged for 10 years here and it was very, very good, and also very expensive.  After our tour of all the different wine cellars, the owner's personal stash, and oogling over the size of the wine barrels, we headed into the restaurant for our light lunch.  We had various salamis and prosciutto, cheese with balsamic vinegar,  and biscotti at the end.  In the tastings, there were 3 types of red wines and a Rosé to taste with lunch,then a dessert wine for soaking the biscotti and finally a grappa to go in the coffee.  It was all a very involved light lunch.  At our table we met a young couple from London who were there with their parents from South Africa and another young couple from Holland.  We all had very interesting conversation through all of this.  =)
After our lunch and tour, we didn't have a whole lot planned for the day, so we just decided to drive our rental car to see where we might end up.  We ended up driving through Panzano which has a wine festival going on this weekend (we'll visit tomorrow), and then through Castellini de Chianti where we got out of the car for some photos of the Tuscan country side.  We decided we were going to drive on to San Gimignano, but we ended up stopping first in Poggibonsi (thought this was a funny name) for a quick grocery stop.  Then, we realized that we were in a fairly largish town that might have a Tim (SIM card mobile phone carrier) store.  So, without a map or knowing where we were going, we just started driving around and amazingly found a Tim store!  And the guy helping us spoke enough English to get through the sale and we walked out with two prepaid SIM cards with data access for our stay here in Italy.  Yay for SIM cards.  At this point we decided not to go on to San Gimignano and instead drove back to Castellini di Chianti (noting a good sunset watching spot on the way)
The driving is all very scenic over rolling hills, beautiful vineyard-covered countryside, and some foresty areas as well.  In Castellini di Chianti, we first stopped for gelato, and then decided to go for a little walk around town.  This ended up being a great decision!!  The walk down some historic tunneled paths reminded me of Positano and we poked into several artist shops, an art exhibition, and then some souvenir shops.  Then, we found a souvenir shop that had cycling jerseys in it!  And lots of shirts that had bikes on them.  Another shop down the way was full of cycling jersey designs too!  We've been cycling in various countries looking for jersey souvenirs and never found anything like this.  So, we walked out of there with a tshirt and 2 jerseys.
Now of course, it was near sunset, and we had to chase the sunset as we drove quickly around all the twisty roads looking for our sunset spot.  We got there in time for sunset, though it would have been nice to be there about 10 minutes earlier.  But it was still a great golden sunset and we enjoyed watching.  I had decided not to take my DSLR on this trip and instead rented a point and shoot camera that can give me more manual controls than any that I own.  So, I had to mess around with the new-to-me camera a bit to get what I wanted.  I have a very different mind set when I don't have my DSLR and the pressure to take fantabulous shots goes way down and I'm okay with just snapshots.  =)
Anyway, now that the sun was down and it was the dinner hour, we drove back to Greve in Chianti and ate dinner at Gallo Nero which served us an amazing meal.  We loved our pumpkin ravioli appetizer and then main courses.  My chicken and spinach was so delicious I wiped my plate clean with the bread afterwards.  Mark was very happy with his beef dish as well. 
We actually closed down the Italian restaurant, which is quite a feat since they eat so late, but we just sat and chatted and chatted and chatted away about everything and anything with each other.  It's so nice to be with each other face-to-face when we can actually converse.  We are very happy to be back together again. 
We had a most excellent first day of vacation and we are looking forward to more wonderful days.  Plus the perfect weather I ordered was here on schedule.  =)