Sunday, September 15, 2013 (Day 5)
Itinerary:
– sleep in
– lazy morning
– lunch at a pizza place near del Campo
– Siena Catterdrale (Duomo)
– Cripta under the Catterdrala
– Museo dell'Opera with Panorama dal facciatone
– dinner at Da Guido
Well, today started out pretty lazy when we didn't even set an alarm for this morning after staying up until at least 1am being productive online last night.  =)  So, this morning was a morning of sleeping in and more playing on the internet.  Mark gets speeds slower than dial-up modem speed at his work internet now, so he's getting high on high-speed internet.  Plus, I just always seem to have a list of stuff that needs to get done.  😉
We had breakfast in our apartment and didn't really venture out until probably around 2pm and the morning sun had turned into a bit of a cloudy, overcast day.  I didn't see any temperatures for the day, but I'd guess it never really got above 20 degrees C today.  Our apartment is less than a 5-minute walk from the main square, the Piazza del Campo, so we always start the day out walking towards the square.  Today we went there and just found a quick walk-in-pizza-by-the-slice place for lunch and grabbed a quick slice.  Real Italians eat lunch on the go like this and just stand around a tiny table, or hang out in front of a restaurant eating their food standing up before heading on with their day.  So, this is what the pizza place was like and it was fine for us.  We each had our slice of pizza and then walked back to the square with the Duomo complex.
It turns out the Duomo has several points of interest with in the same building structure, and we went ahead and bought a collective ticket that included admission to about 6 different places.  First stop was the Catterdrale, or the main Cathedral.  As with most Italian churches, the church was designed and built hundreds of years ago (11th century), but the interior actually looks more modern.  The interior is all striped with black and white stripes which give it that modern look to it.  The walls are covered in religious frescoes and the ceiling is ornate.  The floor is also covered with artwork and sectioned off so we don't walk over the most important features of the artwork.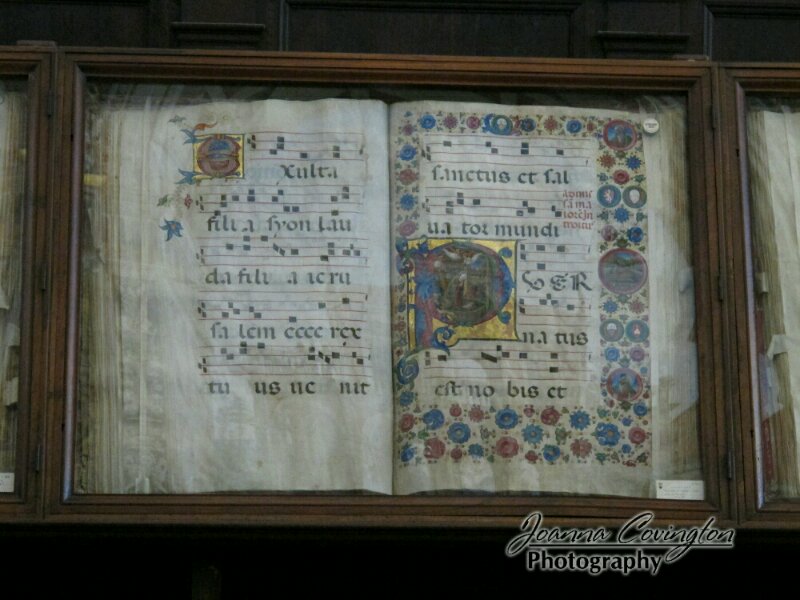 It took some time to wander around in here and check out all the cool artwork before we headed out and around the side of the building where there was the Cripta with a separate entrance and underneath the Cathedral.  The Cathedral is built terraced on the hill, so there are several levels below.  The crypt is only named a crypt because it is underneath, but it certainly isn't a crypt and instead just uncovers more pieces of frescoes and other artwork.  What was most interesting was that they didn't even discover the crypt until the 1999, which is pretty crazy to me. 
When we left the Cripta we walked outside and saw that it was raining out!  I guess those overcast skies were bringing rain!  Well, its a good thing we have indoor activities today.  So, we dashed over to the overhang and across the way to the Museo dell'Opera and toured this museum.  This included more Italian and specifically Sienese artists.  It also seemed to have some of the original frescoes and statues from the cathedral housed in better conditions over here in the museum.  We kept checking outside to see if the rain stopped and when it did, we walked out on the Panorama dal facciatone which was accessed from the museum.  It was an outdoor walk, nearly as tall as the top of the cathedral and offered magnificent views of Siena.  From here we could really get to see how dense the buildings were inside of the walled-in area of historic Siena.  Luckily, also, while we were up here on the upper level, the sun just barely came out for a short time, but long enough for me to get some extra sunny photos in.  =)
At this point, we were pretty much done for the day as it was probably around 6p or later, and now all we had to do was kill some time before dinner.  We started out going for a walk just heading in a random direction, but it started sprinkling again, and we decided that we didn't really want to walk around in the rain so we came back to the apartment to wait for dinner time.  Dinner in Italy is between 7:30p and 10:30p.
For dinner, Mark put me in charge of choosing a place and I decided that yesterday's dinner was good enough that we should go back to the same place, so we went back to the Da Guido Ristorante.  This time we started with an appetizer of gnocchi and then our main dishes were the guinea fowl (again) for me and the veal for Mark.  We opted to skip dessert and instead went to a caffe afterwards for a small dessert.  And that was pretty much the end of our evening.
We are starting to realize that we have only about 1 more day's worth of activities to do in Siena, but 2 more days here.  Siena is definitely a cool place to visit, but definitely 2 days is enough time here.  =)