March 16, 2012 (Day 10)
Bike Odometer:  86km (53.4 miles)
From Mondello to Castellammare
Biking time: about 10am to about 5pm
Weather:  Sunny, 70-75 degrees, no wind
Wow, what a great day to be out cycling!  Today was our first day on the bikes.  We had to get our bike legs back after a week of lazy vacationing, but we were on our way fairly fast.  The directions Iron Donkey gave us were very good and we only got slightly lost once.  But it was just a short detour and we got back on track fast.
Breakfast at the Mondello Palace this morning was decent.  They had a nice breakfast layout with carbs, pastries, some fruit tarts, some cakes, fruit, cereal, yogurt, meat and cheeses.  We took some time this morning packing up and getting ready to cycle.  Our bike tour operator handles the luggage transfers.  We just left our 2 backpacks and one duffel bag and the front desk to be transferred and then headed out on our bikes.  We each have a rear trunk bag on the bike with everything we might need.  I've got my camelbak waterbag and between us we have 4 water bottles, so even if we dont fill up with water on the route, we should have plenty.
The beginning of our ride had more traffic on the roads that we would have liked, but it was certainly easy enough to stay out of the way of the cars.  Basically, we just had to get out of the Palermo greater area before the cars thinned out.  Our route was mostly coastal, though the second have including some climbs and descents.
We definitely took our time, stopping when we felt like it or to take photos of the blue, blue ocean.  Once we got out into the country area, the roads got much prettier and the flowers were all over.  Field after field were full of yellow flowers.  We saw farms of trees just starting to bloom with pretty pink flowers.  They are obviously farmed trees since they were all in rows, and I wish I knew what fruit they produced.
They day was beautifully sunny with temps around 70F.  Towards the end of the day we had a long downhill in the shade that put goosebumps on our arms and legs, but for the most part we were very happy cycling in the sun with hardly any wind to speak of.  We cycled through a few small towns in the first half of our ride.  At one point when we needed a snack, we just bought some oranges from a fruit truck on the street.  It is definitely orange and lemon season around here and we have been eating so many oranges! 
We did come across many other Italians out for their bike rides.  I guess most of the Italians that cycle, cycle to train, rather than for fun.  They were definitely all decked out in fancy cycle clothing from head to toe.  They were all very nice though, nodding or waving at us as we passed and we all yelled "Ciao!" to each other.  I'm finding Sicilians to be extremely friendly. 
One thing that we noticed and have been noticing as we drive through sicily is the incredible amount of litter on the sides of the road.  It kind of ruins the beautiful mountain scenery, but I guess I'm just used to the "Don't Mess With Texas" campaign.  However, today we literally came across basically what amounted to dump sites of trash on the sides of the road.  We started to wonder if Sicily had a trash strike recently.  I still need to look that up.  (note to self)  The trash was just in heaps.  We did actually pass one trash truck with a claw-like arm picking up one of the worst piles. 
Today was more of a travel day and less about the stops along the way.  I think some of our other cycling days will have more sites along the way to stop and tour.  We are having a great time out here in the Sicilian countryside.  When we arrived at our Hotel Cala Marina here in Castellammare, they gave us access to the garage to park our bikes and then led us up to our room where they had already deposited our luggage transferred from last nights hotel.  Ah, now this is service!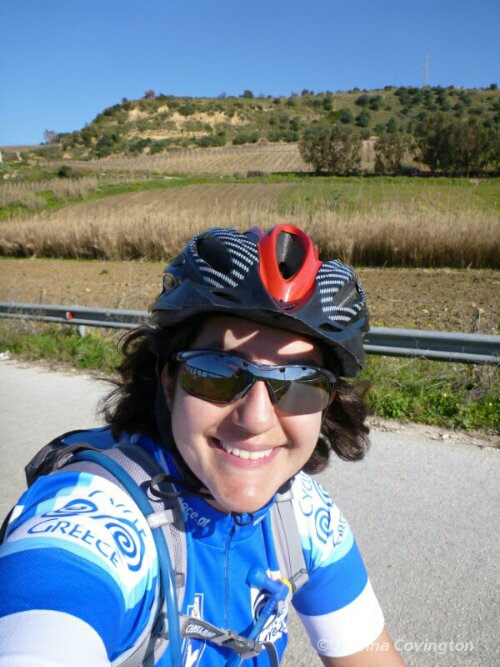 Unfortunately we had to wait until 8pm to go get dinner, but this coastal town is much more popular than the other towns we've been in.  We saw plenty of others out eating dinner this time around.  We had some great seafood for dinner and now we are winding down ready to go to sleep.  Tomorrow we are doing an out-and-back bike ride to Scopello and staying in this same hotel again tomorrow night.  It is nice that I don't have to pack up all our stuff tonight and we will have the whole day for our laundry to dry out.