March 15, 2012 (Day 9)
Today is the last day in our rental car.  We trade in our car for a manual transmission in the form of two road bikes tonight and start biking tomorrow.  We got moving fairly fast this morning compared to other mornings on our vacation.  The days are looking sunny and perfect now.  It was good that we got that cold, windy, rainy weather out of the day.  Today was yet another perfect and sunny day.  We checked out of Astro Suite and said goodbye to Cefalu.
We drove up, up, and away through all the roadside flowers to the little town of Caccamo with it's large castle on top.  The castle was deserted of tourists when we arrived, but open for us to wander around on our own.  It was delightful to be able to poke into the corners of the castle without anyone else bothering us.  I guess each new family living here remodeled the castle for their needs and added on new rooms because by now, the place had as many rooms as a palace.  The interior was fairly recently renovated maybe 10 years ago or so, so the castle didn't feel all that old inside.  The original and ornate wooden ceilings still remained and the exterior walls were all original.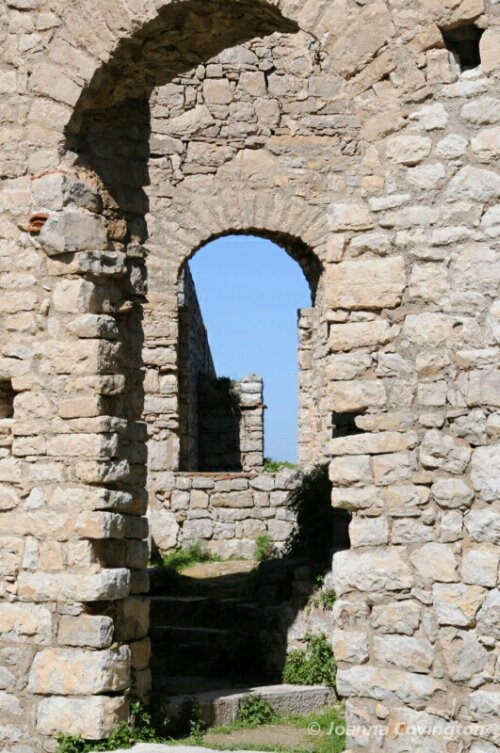 The castle had an amazing 360 view down into a valley with a large and clear blue lake.  The fields surrounding were full of wildflowers.  The most prodominant flower color is yellow right now, but there are many many different varieties of the yellow flowers.  I certainly don't know all the names, but we've seen many different ones. 
The town of Caccamo only held the locals and a walk around the streets didn't find us any lunch places.  Instead we stopped at one little shop to pick up some cheese, and then another little shop to pick up a loaf of bread and we sat with the wonderful view to eat our sandwiches.  With fruit purchased earlier from a local fruit stand, we couldn't really have asked for a nicer picnic lunch.
While we ate lunch we had a wonderful time people-watching.  First there was an old man that came by the water spigot next to me to fill up his multi-gallon container.  Then we watched a girl of about 9 attempt to sweep a porch.  She had absolutely no idea how to use a broom and it was almost comical to watch.  We watched several cars make the tight turns in the road and one car almost back up into a bench with people on it.  This is a pretty relaxing way to spend the early afternoon.
Finally, we hopped back in the car and drove down to Solunto, some ancient Roman ruins near Palermo.  The site was much larger than I was expecting and we didn't have time to wander around all of it.  It did actually remind me of wandering Pompeii though much of the ruins left were really just the foundations.  The roads and stairs were all lined with rocks absolutely covered in green grasses, plants, and lots of little wildflowers.  It was beautiful!
The view from the top was pretty grand as well.  We could see for miles and miles from the blue Mediterranean ocean to the snow-capped mountains of Parco Madonie.  We could see the industrial city below and the fields of farms on the mountains in the distance.  It was hard to leave, but we had to make it to the Palermo airport to return our rental car by 4pm.
The airport was located fairly far west of Palermo which meant we had to drive through some of the Palermo traffic to get there.  Italian driving can be amusing.  At one point, two lanes as drawn on the pavement became 5 lanes as the cars and motorcycles decided to drive it!  Our bike tour operator, Siciclando, the local operator hired by Iron Donkey, the operator who arranged our tour met us at the rental car return and soon we were at our hotel in Mondello.
We put our bike seats on our rented road bikes and accepted the various accessories that came with the bikes.  We have everything we need to start our self guided bike tour.  Our contact is really nice and will be available by phone should we have any questions or need assistance.  We sat down in the hotel lobby and accepted our bike tour information packets.  38 pages of information!  I love packets of information.  =)  The route is very well planned out and the turn-by-turn directions are amazingly detailed.  We should find our way just fine.  The even provide us with the names of the towns along the way where we can stop and eat or pick up snacks and refreshments.  Our longest day will start tomorrow with about 50 miles of cycling, but most days are 30-40 miles.  We will be able to cycle at our own pace and visit sites along the way.
It is now just about 8pm and time to go find a place to eat dinner.  Until tomorrow!