Trouble viewing email?  click here
Be sure to view the Flickr slideshow at the bottom.
July 21, 2011 (Safari Day 13)
Itinerary: Early morning safari, packed lunch, afternoon safari, dinner at Vundu.  Today we will sit and watch the animals rather than rush through to see as much as possible.
Animals spotted: impala, yellow-bellied bulbul, baboons, waterbuck, oxpecker birds, white-crested helmet-shrikes, golden-tailed woodpecker, brown-hooded kingfisher, trumpeter hornbill, eland, elephants, cape buffalo, purple heron, black-headed heron, egret, crocodile, hippo, fish eagle, kingfisher, kudu
We have had amazing luck with getting up early, so we were up and ready at breakfast again before 6am watching the sunrise and shivering a little in the cold.  At this point we'd gotten to know the staff quite well and could chat with them as friends.  Owen left early this morning and the gossip at breakfast was all about him.  It was probably a little too much gossip, but it was fun.
At 6:30, we drove down the road aways to the floodplain to sit and watch.  We sat here in the car, chatting quietly, me snapping photos, for about an hour or so.  I learned that the reason the impala look so photogenic in the morning is not just because of the golden hour, but also because their fur is all fluffed out due to the cold mornings and actually is a darker red color.  The impala are everywhere, but we haven't really just sat to watch and take photos of them.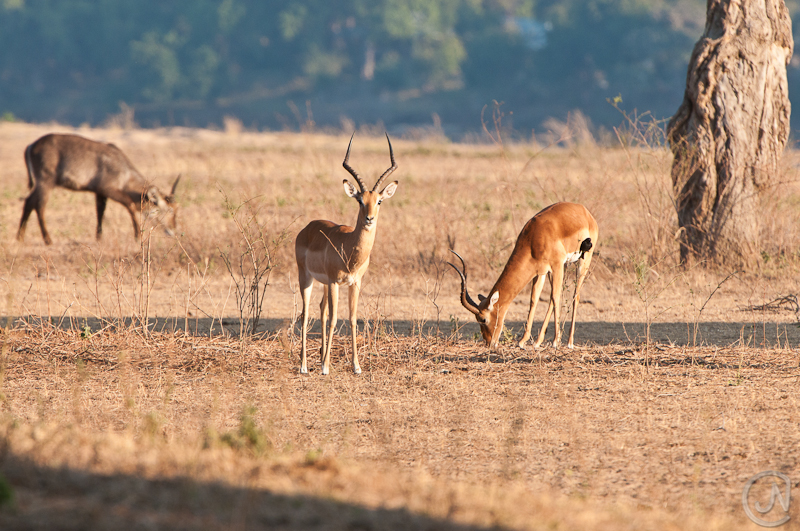 In Andrew's words, everything was "quite chill" this morning and really very amazing to be a part of nature, un-noticed and almost invisible in our land rover.  The impala in front of us ate their breakfast with some waterbuck in the area.  The waterbuck eventually laid down to soak up the morning sun in the grass.  Several baboons were playing in the trees while others were sitting facing the rising sun.  Many little species of birds surrounded us going about their business looking for food.  Some yellow-bellied bulbul were chatting and darting around under a tree.  A helmet shrike landed in a tree next to us.  We heard and saw golden-tailed woodpeckers.  A brown-hooded kingfisher flew around and we saw trumpeter hornbills on the ground.  As the waterbuck settled down, birds stood on them looking for insects.  What a great morning to just sit and watch the world wake up.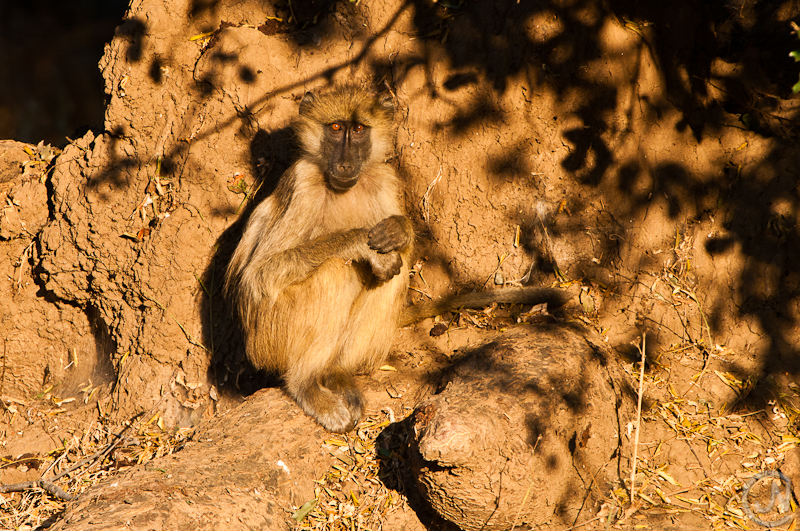 The silence was broken when guide Mark hiked by and said hi.  He commented that we had worn brighter colors canoeing yesterday making us easier to follow in the water rather than our usual khaki safari colors.  After joking around with him, we drove to another spot for a morning hike on the floodplain.
While hiking, we came upon a male eland with his dewlap making him appear very large.  He did not seem very concerned with us and didn't run away immediately which Andrew thought was strange as eland are usually pretty excitable.  We saw our first baobab trees with leaves.  Usually the baobabs only have leaves 2 months out of the year in the rainy season, but here on the river plain, the water table is high and the trees keep their leaves.  Mark took a video of a kingfisher hovering and we found elephants far away.
While hiking back to the car, we found a small group of female eland who were eating leaves off the trees.  They made amazing stretches to reach some of the higher leaves of the trees that impressed us.  We saw some mistletoe, a parasite, in the winterthorn and learned that it spreads through sticky seeds that get stuck to the bird's (barbet) beaks and when the bird flies to a new location, he wipes off the sticky seeds on new branches.  Baboon were slowly ambling around in front of us and we scared some impala into their graceful leaps and bounds.
Driving further we spotted a pair of extremely old cape buffalo.  Andrew called them the "dugga boys."  They walked with a slow and arthritic stride and it was almost painful to watch them move.  They had lost all the fur on the tops of their backs through the years of scratching and rubbing mud.  The fur around their eyes had been worn off through the years and we could see that their toes were curled up.  There is a poison plant that if eaten causes the buffalo to curl half their toe up.  These dugga boys very slowly ate next to the car and then crossed in front of us to continue on not caring about us at all.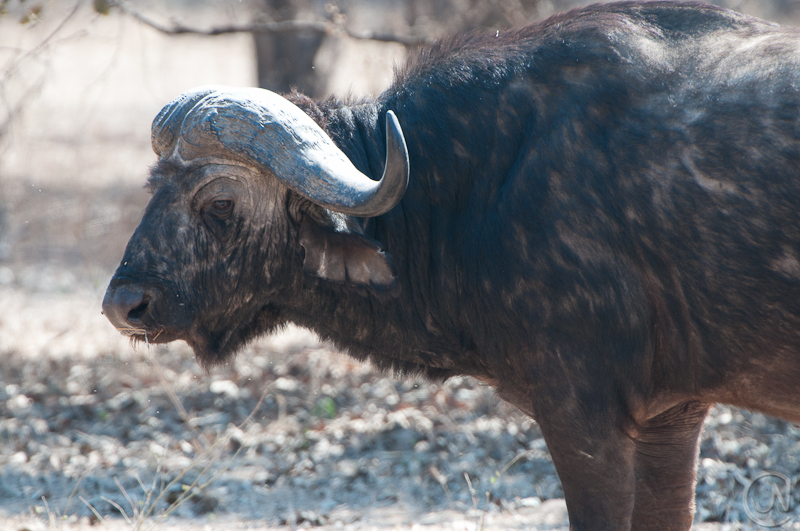 We stopped at Green Pool full of the water hyacinth to watch the elephant.  One young guy was enjoying himself immensely.  He was quite happy, belly deep in water, shoving grasses into his mouth using his truck.  His mouth was so close to the water he almost could have just opened his mouth and eaten, but he only knows how to eat by bringing food with his trunk.  He was so content and cool in his water pond that we had to smile at him.  He tried so hard to keep his tail up and out of the water.  For some reason, elephants don't like their tails to be wet.  But soon his tail fell into the water.
Further in the distance down the pond, we saw a breeding herd enjoying the grasses and water.  Behind us and very far were another group of elephants in the dust eating twigs and trees.  While we sat watching our happy juvenile belly-deep in water, the herd from the dusty land came almost too close to us to reach the water.  Today I really felt like part of the African landscape and not just a visitor.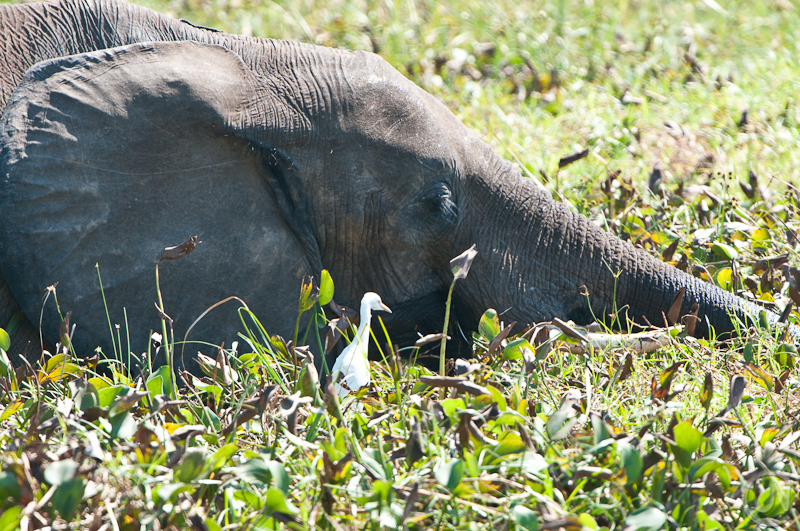 In the water we saw a gorgeous purple heron, a black-headed heron with all it's colors, and a large group of egrets.  The egrets stick with the large animals like elephant who pull up various bugs as they move around to eat.  A lilac-breasted roller posed for me in a tree, but I was still unable to catch him with his wings open.  I keep getting photos of empty branches when they fly off.
Our lunch stop was at Long Pool where we brought our table, chairs, and food to a shady spot along the bank of the pool.  On our first day here, Andrew had given us all these warnings about not standing in one spot too long near the water as the crocodile could plan an attack, but I guess we were safe here in the shade.  The crocs wanted the sun.  When we came down, we scared a group of hippo louging on the opposite bank and they ran, crashing into the water when we appeared.  After lunch, Andrew took us to another location where we sat for a while as I tried to take a photo of a hippo's open mouth.  Once we had settled down, they settled down in the water with their eyes and ears pointed towards us watching us ominously.  Nothing happened while we all sat still.  So, Mark stood and started pacing up and down the shore to try and provoke them while I tried to guess which hippo to point my telephoto lens at.  It was really hilarious watching the hippo start and grunt as Mark walked around and then to see 60 pairs of eyes and ears staring at us.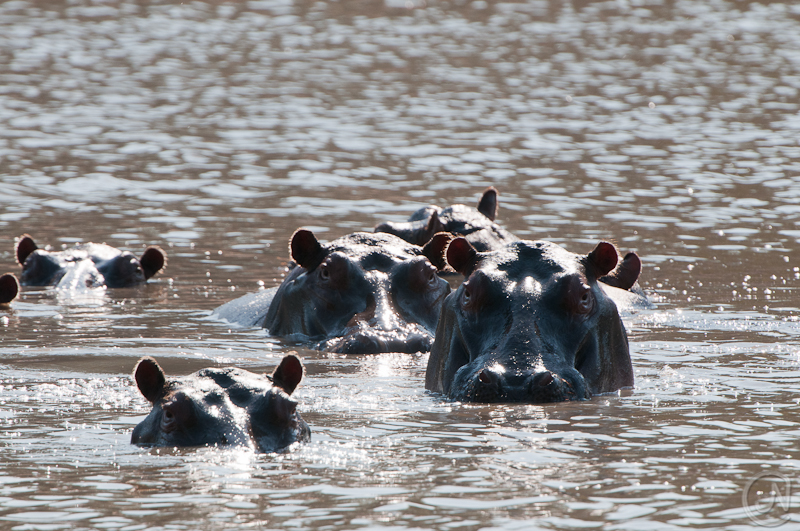 Just over the bank and across the road from long pool was a large stretch of dry, cracked, desert land.  If I were lost and hiking through that parched atmosphere, I'd never know that I was 50 feet away from a pool of water.  It was very strange to see desert so near water.
We drove and stopped to hike to an elephant, but there were too many for us to approach safely.  We were able to walk near some buffalo who stood quite chill, but we had to keep moving as we ended up sandwiched between the elephant and buffalo and both herds were coming towards us.
We stopped at hippo point to watch the sunset and a fish eagle posed in a tree with the golden rays of sun on his white head.  A kingfisher hovered and darted into the water.  It was so very pleasant sitting here and then all of a sudden a hippo made quite a display opening his mouth and throwing himself around and I missed a great photo.  It doesn't seem like it was meant to be.  We found a few large male kudus with their spiraling horns on the way back home.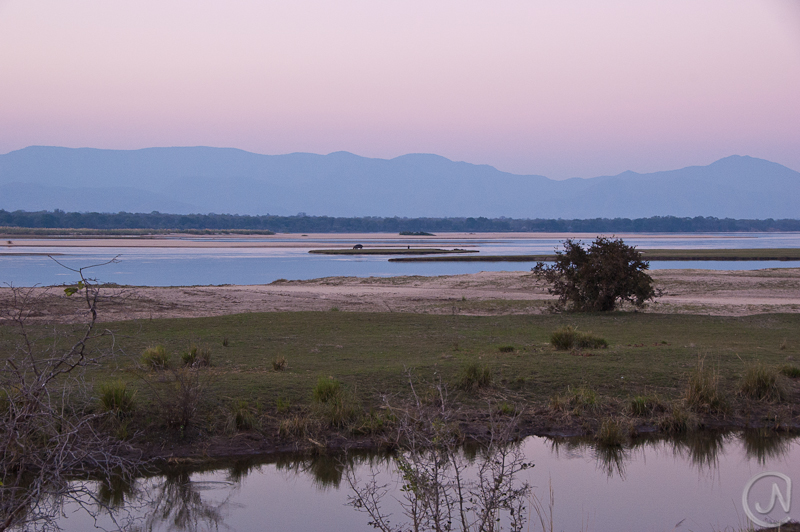 Dinner was incredibly noisy especially after our chilling day.  With the two families of four and the staff, the table was full.  There was good conversation and we moved to the fire after dinner with everyone else to chat into the night.  We found out tonight that our plane would leave tomorrow at 2pm, so we'd have time for a morning safari.  I had thought today was our last safari and tomorrow almost seemed like it would be an encore.  I will be sad to say goodbye to all our new friends at Vundu.  I will be sad to leave the safari lifestyle and will miss the elephant and the hippo grunts, and all the amazing adventures just waiting around the corner.
I am already thinking of coming back to visit and will definitely visit Vundu.  I talked to guide Mark about canoe trips and he mentioned a good canoe trip would start at Kariba dam and spend 5 days on the water to get to Mana Pools.  I am typing that up for reference for next time.
———————————————————————————————————————–
Below you'll find a slideshow from flickr showing more photos. If the slideshow does not appear, please click on this link to see the original post: http://thetravelgeeks.com/?p=499 and scroll to the bottom. To view the slideshow, click once on the play button, or triangle, in the middle of the image below.