Trouble viewing email?  click here
Be sure to view the Flickr slideshow at the bottom and the video link in the middle.
July 20, 2011 Safari Day 12
Itinerary: Early morning safari, lunch at Vundu, afternoon canoeing, stargazing at night
Animals spotted: lion, saddle-billed stork, impala, baboon, vervet monkeys, eland, slender mongoose, bateleur eagle, honeyguide, hippo, elephant, frog (toad?), fish eagle
After such a successful early morning yesterday, we were up again at 5:30am and on the road at sunrise. We were in luck, too!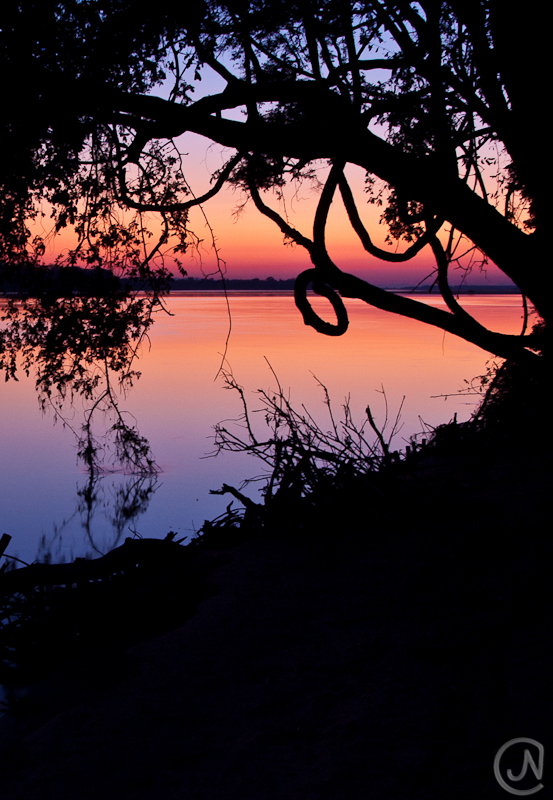 We drove slowly along, and I thought I saw a lion in the bush. I didn't want to mention the L-word unless I was sure, though b/c I've been mistaken before. Tree, roots, stumps, and termite mounds can all look like animals when you are looking hard enough. Also, impala, kudu, or waterbuck could be laying funny on the ground. Nope, I was sure. Lions! No one else had spotted them yet.
We stopped the car to look at the four lions in the brush. They were the same four we saw on our second day canoeing, 2 cubs, and 2 lionesses. One lioness was old with a tip of her tail and corner of her ear missing. Once again we were the only ones on the road, so as we watched, the lions came out of the bush into the open! What luck!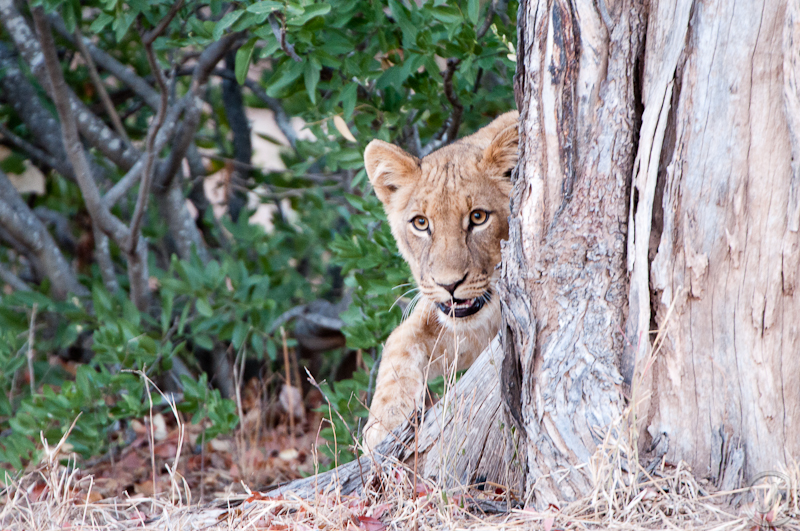 Andrew started to move the land rover forward to get a better view and one of the cubs actually made a move to pretend to hunt us to the point just short of pouncing. It was so adorable, but since the vehicle was in motion I didn't get any photos. However, when we stopped, the cubs rolled around, pounced each other and played giving us quite a show. Not too far away we could see some impala calmly going about their business and some baboons watching the show as well. Amazing. I snapped off a couple hundred photos and got a few good ones to share. The two cubs were just too cute. Unfortunately, our show was cut short as a vehicle pulled up behind us and the lions darted back into the bush.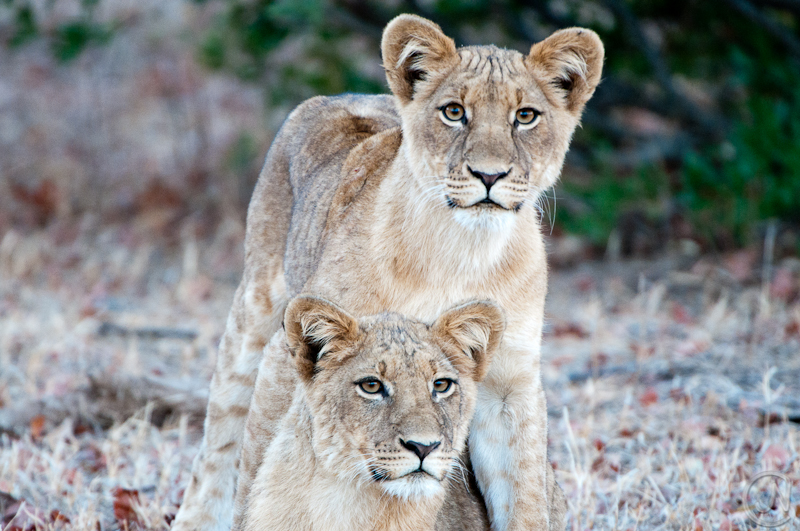 We drove out to hippo point and found a beautiful saddle-billed stork strolling along. We could see she had yellow eyes which indicates that she is female.
We also drove along to a troup of baboons basking in the early morning sun. It's chilly in the morning. Mark and I wear our fleeces and warm hats and the baboons find a patch of sun and sit facing the sun to warm up. The baboons seem to have life all figured out sitting in the morning sun. They almost look like monks sitting still, scattered on the land, praying towards the rising sun.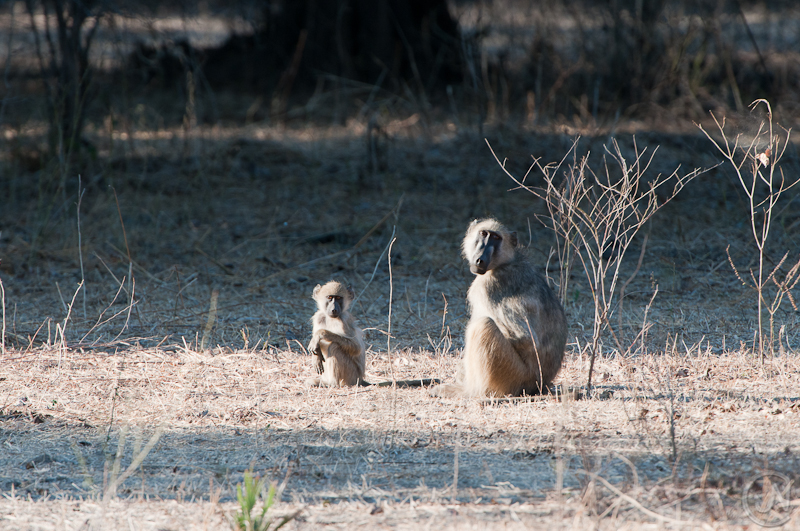 At this point we turned back around and drove back past Vundu and to the northern section of Mana Pools and the Rukomechi camp area. We didn't enter the Rukomechi concession, just as we wouldn't expect others to enter the Vundu concession, but we found an area to hike. We could see very large lion tracks or spoor in the dirt. Andrew thought these were from a male lion last night he might have heard calling.
We hiked and found a hole formed by the illusive aardvark. Andrew has only seen the aardvark on 3 occasions and he could tell us that they dig incredibly fast. He saw an aardvark dig a hole to avoid becoming food for a lion once. This particular hole would not have an aardvark in it now as the aardvark abandons them quickly and other animals use them.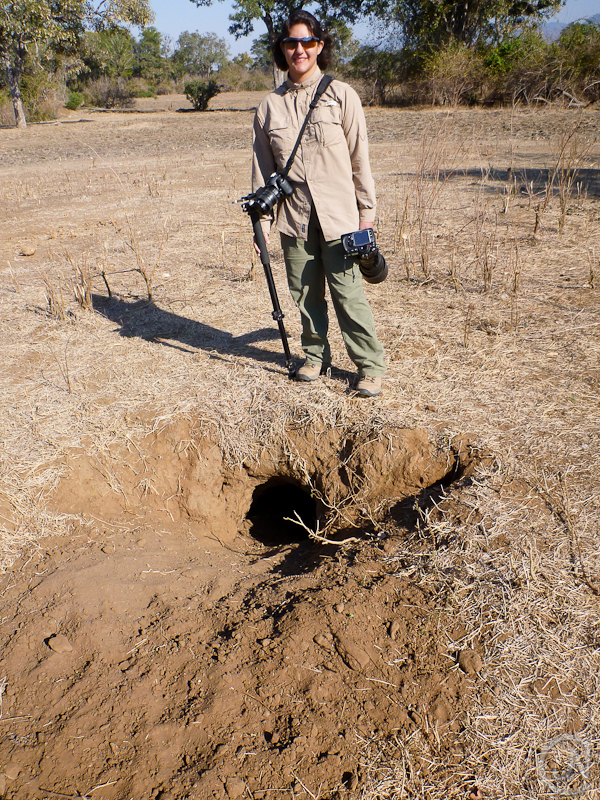 Three bateleur eagles flew overhead, two juveniles were playing in the sky. We found many tracks as we walked including lines of vertical scratches in the dirt near hippo prints. As the hippo walks sometimes he drags his chin on the ground and the lines were the hairs on his chin. A honeyguide bird called to us to lead us to a beehive. Their trick is to intrigue a honey badger enough that the honey badger will follow the bird to a beehive, crack it open, and then both the bird and the badger benefit. It is strange though, because usually the honey badger is nocturnal and the honeyguide is not. Nature and it's animals are very interesting.
Hiking back we found five elephants. A cow was sleeping, standing of course. You can tell she is sleeping because she is still and her trunk is resting. A young elephant was practicing his skills reaching into trees with his young trunk. We bypassed around the elephants. Mark and I still need to read up on why the temporal gland behind the elephants eye, leaks fluid all the time. There are many suggested reasons, mostly due to musth and stress, but we've seen plenty of elephants calm and still leaking. Andrew thinks that the gland leaks because twigs, leaves, and other things get stuck in there and the gland is just trying to work the foreign objects out.
Back at our car we found a note from another guide at Vundu, Doug, who had spotted 17 wild dogs just down the road! Holy cow, off we went. Apparently if a pack of wild dogs does not have young puppies, there is no den to return to after hunting. So usually after their morning hunt, they will find a good shady spot and sit for the duration of the day. Doug must have found one of these shady spots when driving his guests to the airstrip. He had included a rather hilarious handwritten map. The road was quite clear, but the location of the dogs was not. He had circled an area and labeled it "trees" right next to where the dogs were. Well, in the mopane woodland, the trees were everywhere. We drove a full loop around to the airstrip and on the Rukomechi concession, but found nothing. We didn't want to get caught on someone else's concession, so we came back to camp for lunch and siesta.
During siesta time, I'm afraid I had another frog incident. Why is it always me? There was low water pressure, so I opened the toilet tank to view the water level and there was another frog staring up at me. I uttered what Mark now knows as my frog-shriek mostly just in surprise at finding something living under the tank lid. We left the tank open the rest of the day, but the little guy never hopped out. I guess he was quite happy living in the toilet.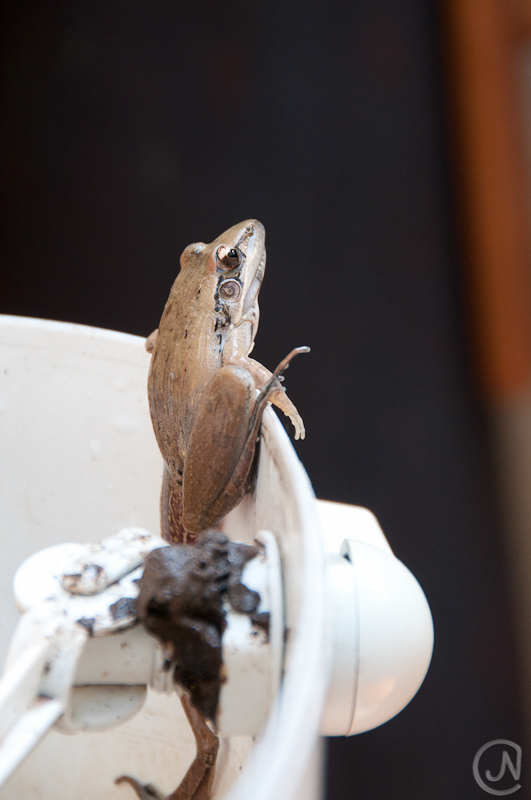 After our break we met at the canoes near our room for our afternoon canoe adventure. There is one hippo that lives outside of our room. During the afternoons we can usually see him just off the shore from our room honking away. Lancelot, as the staff calls him, apparently sleeps on the path to our room, really just feet from our door. We don't go out at night to find him. Other than Lancelot at our canoe launch, we really didn't see as many hippo as we had on our canoe safari.
We did find an elephant on one of the islands in the river. We tried to canoe up to him, but he never did turn to face us and pose for photos. He was standing near some waterbuck and they frightened him when they ran away from us. I think if it wasn't for them, I would have gotten a classic photo of an elephant from canoe level. It was pretty neat to watch the waterbuck leap from the island to the short and leap up the bank.
Down the river we did find a "cheeky" hippo who kept opening his mouth at us…always when I wasn't looking. I did canoe with my D300 and 18-200mm lens this time while Mark did most of the paddling. I was hoping for some good hippo photos. But it can be hard to take photos from a moving canoe. =)
With so little hippo on the river, we were able to canoe down a little channel between some islands. However, we found a very shallow area and had to get out and walk our canoe across some sand. We saw the guide in the canoe in front of us with Owen, get out and walk, so we did as well. However, then, we managed to get stuck on a muddy lump in the river and had to scoot our way off. The family canoeing behind us got to see the whole embarrassing thing. Oh well.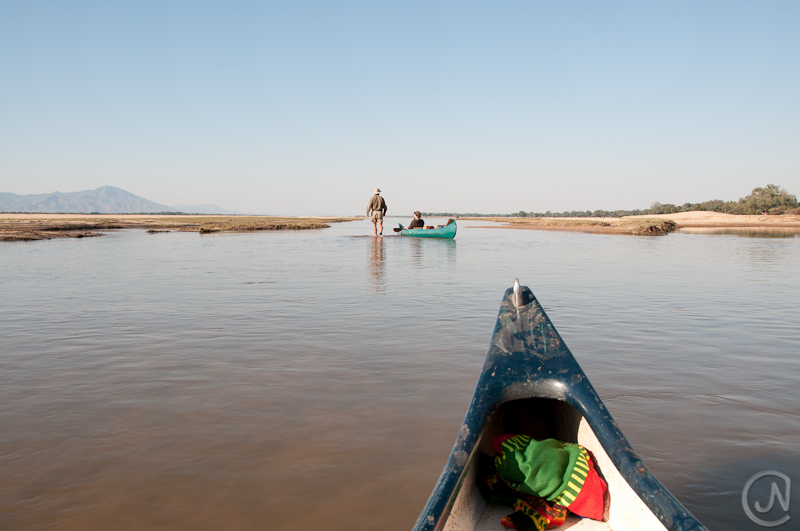 At the shore a fish eagle came down to drink from the river before flying off. We canoed past a camp set up with a solar panel for energy. And then came the exciting adrenaline rush of the day. As we followed Andrew close to a shallow area to avoid several hippo, the water next to our canoe started to smooth out and look quite different. Just as Mark was about to point out the strange water to me, it was like a bomb went off and a hippo exploded out of the water and ran for the deep water. Holy cow! Thank goodness we followed our guide's advice of staying in shallow water because hippo will always run to deep water when frightened. Andrew, in front of us, hadn't seen that hippo and asked if our hearts were pounding. Owen, in his canoe, amused Mark and I by saying, "you know what; I was really fine."
The two hours on the river went by way too quickly and soon we were at the put out loading our canoes into the trailer. The family behind us loaded their canoes, and then we took two land rover loads back to Vundu. With five canoes on the trailer, it looked ready to break some springs when the land rover hauled the load out of the floodplain.
We had several interesting encounters on our way back to camp. First, several impala ran in front of the land rover, as they tend to do and one jumped as high as the windshield wowing us all. She almost seemed to hover in the air before landing and making several more high leaps off into the distance. We also stopped to watch some elephant and let the land rover loaded with the canoes beat us back to camp.
Tonight's shower was more eventful than most as the water pressure completely gave out in the middle of my shower. All turned out okay though as the water eventually came back. At dinner, we met a new family that had arrived today. They had actually been here at Vundu last year and loved it so much they came back. I can understand why they came back here and if I could, I'd probably come back every year. What an amazing place!
After dinner, the staff had set up a table and chairs off in a flat area for Andrew, Mark and I to go star gazing. It's too bad we can't go out on our own in Africa, but with lion, elephant, and hippo around, it's good to have a guide sitting there with a rifle while we sit in the complete darkness to watch the stars.
The camp had never had any guests request star gazing before, but I really would recommend it to anyone traveling to the area. The darkness is intense with no remnants of city lights. The only lights came from the occasional staff member going to bed with a flashlight and a lodge across the Zambezi from us.
The southern sky is very different from the northern hemisphere. Down here the most well-known constellation is the southern cross (found on both the Australian and New Zealand flags). We searched for more new constellations and especially the cloudy-looking band of the milky way stretching across the middle of the sky. I've waited 11 years to see the southern sky again and I was not disappointed.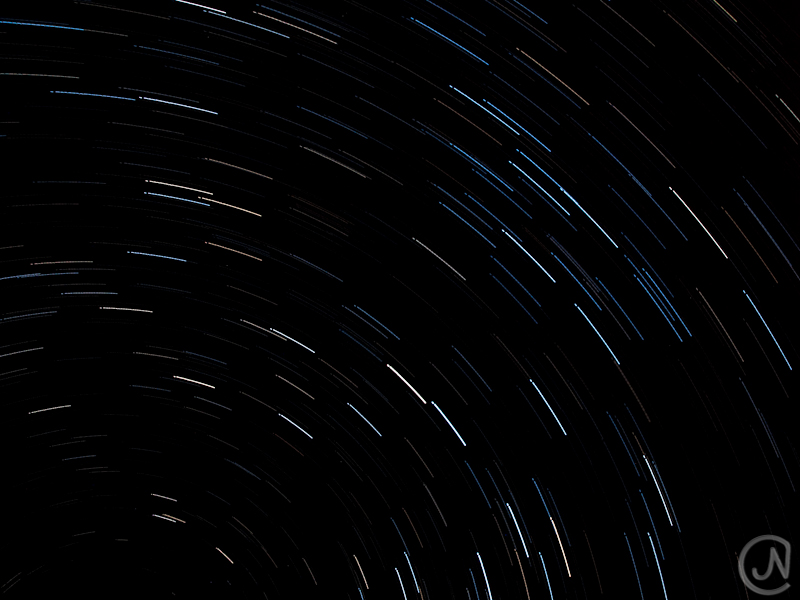 The three of us traded travel and hiking stories. We enlightened Andrew about the practice of using bear bells and he told us many stories of how the Africans go camping. We've traveled enough now that we can bring up lots of memories of different parts of the world and how they differ from each other. I learned that Andrew had been to Waitomo in New Zealand to the same cave that I had once tubed down the underground river to see the glow worms. Eventually, though it was time for bed so we could get up tomorrow and have more new adventures.
———————————————————————————————————————————-
Below you'll find a slideshow from flickr showing more photos. If the slideshow does not appear, please click on this link to see the original post: http://thetravelgeeks.com/?p=481 and scroll to the bottom. To view the slideshow, click once on the play button, or triangle, in the middle of the image below.