Friday, October 3, 2014 (Day 10)
Itinerary:
– 7am wake, breakfast at 8a
– leave Hotel Weßner Hof at 9:20a
– 11:36a arrive at toboggan run
– 12:36p leave toboggan run
– detour or gas (12:50p – 1:20p)
– 1:43p arrive at Hotel Kranzbichlhof
– drive back to Berchtesgaden
– 3pm load Jennerbahn cable car to top
– 4:30p load Jennerbahn cable car to bottom
– 5:10p to 6p hike to Malerwinkl
– 6:45p dinner at Hotel Königssee
– 7:30p leave Königssee
– 7:50p arrive at Hotel Kranzbichlhof
Odometer:
Starting km: 1403km
Unterwössen: 1406km, 9:30a
Reit im Winkel: 1420km, 9:45a
Ruhpolding
Inzell: 1451km, 10:28a
Ramsau: 1475km, 11:07a
Berchtesgaden: 1485km, 11:23a
Oberau: 1499km, 12:44p
Hotel Kranzbichlhof: 1529km
Ending km: 1558km
Weather:
Sunny and clear, beautiful day!  It started out at 50 degrees with a morning fog and climbed to 53 degrees at the toboggan run.  It was 51 degrees at the top of the Jennerbahn.
Journal:
Today we wanted to get on the road early to hit all the areas we want to visit.  Plus it is supposed to be a beautiful, sunny day!  However, we still did our normal wake at 7a, breakfast at 8a in the hotel thing.  Breakfast was extensive here at the Hotel Weßner Hof and was very good.  As it turns out it was a good thing we had a big breakfast this morning.  Even though the wifi wasn't great on the 3rd floor in our room, the hotel was still a good place to stay and we enjoyed the view out our window this morning towards the mountains where we could watch the morning fog take over the lower areas and then encompass the hotel.
We drove out of the fog fairly quickly, and then we mostly just drove through the morning stopping at a couple places here and there for some photos. We managed to finally get a photo of the elusive Alpine Road sign.  The only way we knew how to navigate the Alpine Road or the Deutsche Alpenstraße was from a website we found giving us the list of towns we should visit in order.  I didn't even have a good map of the exact Deutsche Alpenstraße.  I just kept entering the next town destination into the car navigation system and we saw these signs along the way, spread very thinly: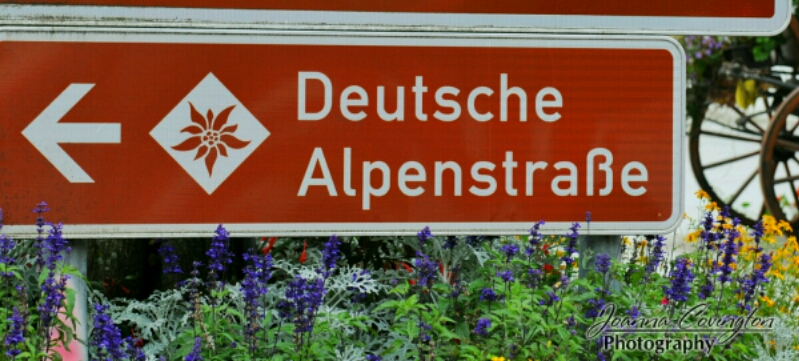 We also stopped to catch a photo of this interesting sign that we see before any size bridge.  It turns out the symbols are a military load bearing sign, but we were amused for the first few days with the tank icon on the sign.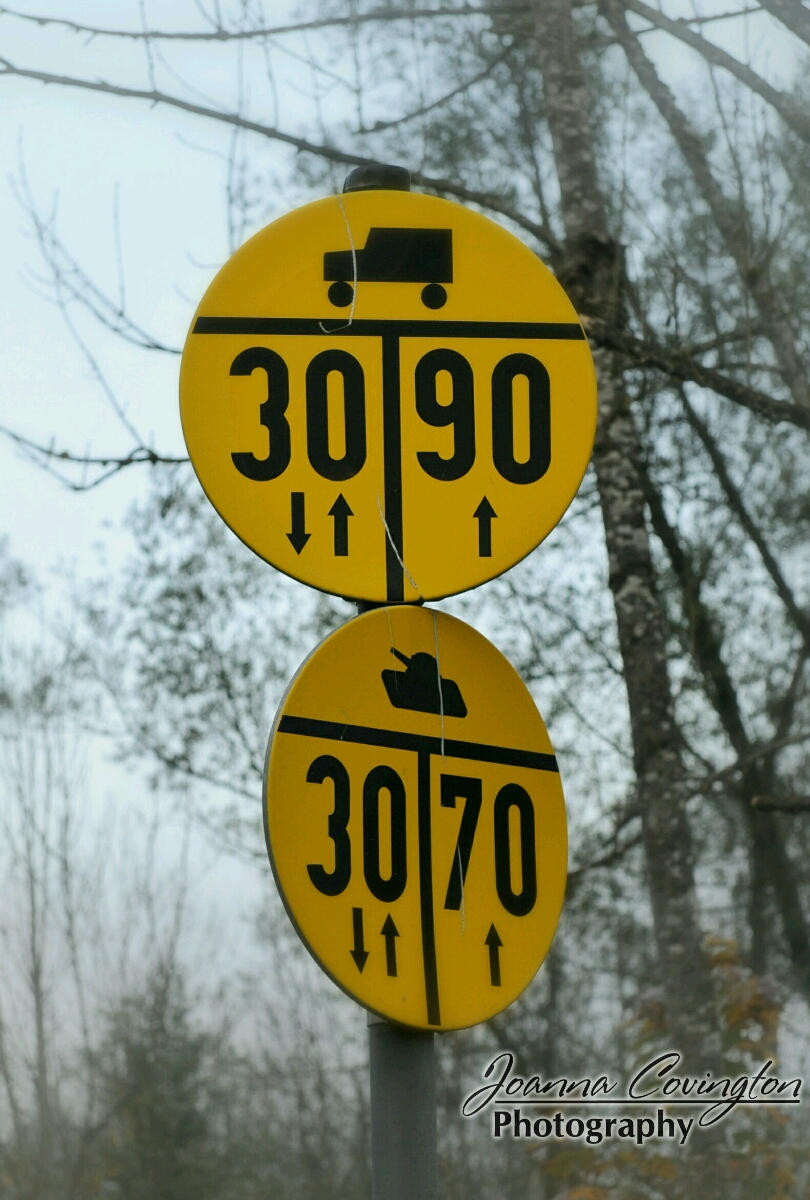 There were several spots where there was traffic to slow us down for construction when the road turned into a single-lane road.  Our guide for the Alpine Road told us that today we would be viewing "typical mountain scenery" and we sure did!  I'm not sure how mountainy the earlier part of the alpine road was, but this was definitely a beautiful road with lots of mountains to look at.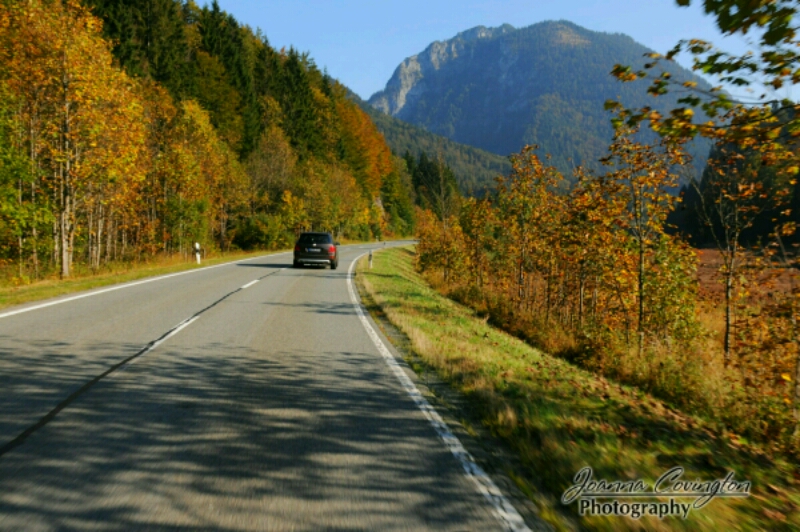 We reached Berchtesgaden before noon and decided our first stop would be for a toboggan run.  The summer toboggan runs have been all over the place on our drives, but we haven't had a chance to actually try it out yet.  Now we finally will.  I'm not sure if this is true at all locations, but at this one, we purchased tokens for the ride.  It was one token for one person to ride and we each got our own little car.  You sit in the car with your feet straight out in front of you and a brake lever between your knees.  You push the brake lever forward to go and pull back to brake.  That's it!  Enjoy the ride!  My first run down, I was very cautious and went rather slowly.  The track had several sharp turns in it and also a speedometer halfway through that measured your speed.  Mark actually said he fell out the first time through, though it was easy to get back into the car and keep going.  All was fine.  We each went 6 times.  =)  We definitely had it down by the end and my fasted recorded speed was 30kph, while Mark hit 32kph.  At the bottom, the track moved us onto a chain system that then proceeded to pull us right back up to the top of the run!  No walking required!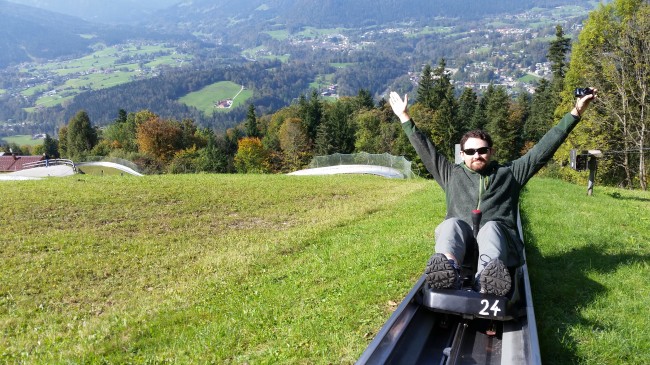 We really did have a lot of fun and we took several videos of our experience.  We amused the lady behind the booth when we went back to buy more tokens after we realized how much fun it was.  There were not many people here while we were here, maybe 5 others, so it was fast to get on the ride.  We are both glad that we did this.  =)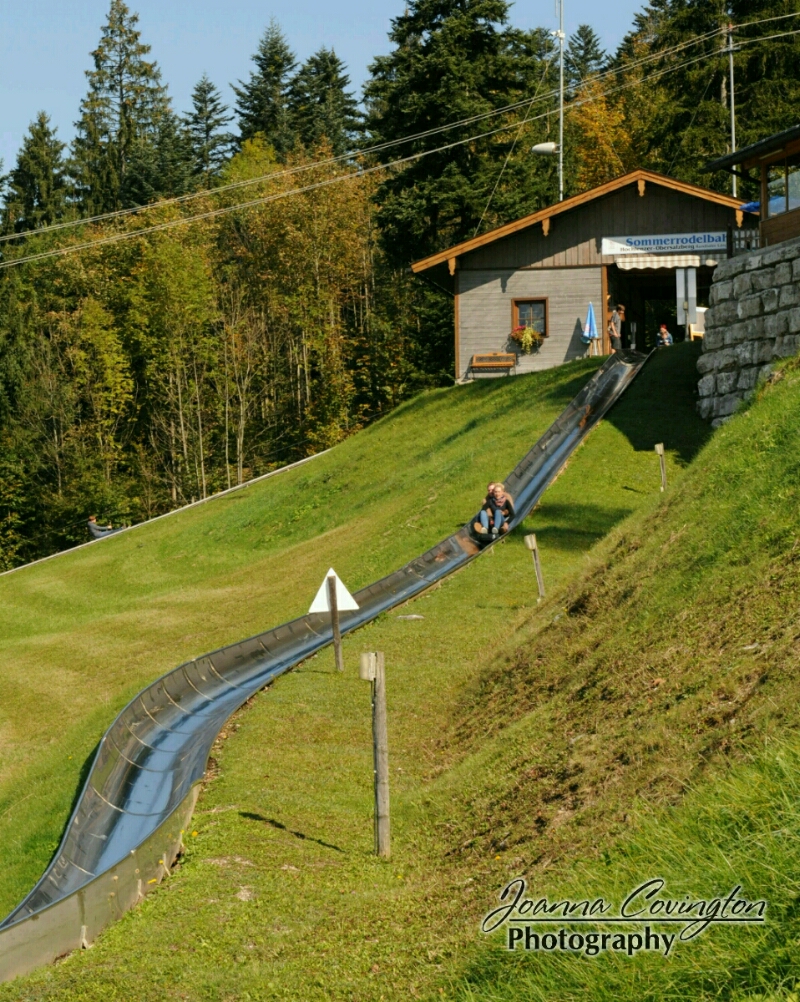 Berchtesgaden was not very far from the hotel, though we had to get a hotel out of town.   In fact, our hotel was about 500 meters into Austria.  In order to legally cross the border with our car, we have to stop at a gas station and get a "vignette" or a tolltag sticker for the car.  As it turned out there was no gas station on the way to the hotel, so we ended up on a long detour trying to find a gas station.  Finally, though, we found one on the outskirts of Salzburg (yes, we were so close to Salzburg, but didnt visit) and went on to the hotel.
At 1:45p we finally reached Hotel Kranzbichlhof and only stopped long enough to drop off our belongings and get the room key.  This hotel was only open between 2p and 6p for check in which did not gives us much of a window of time.  We really wanted to spend the day hiking, but we didn't want to be pressed for time at the end of our hike.  So we came by to get the room key first.  I'm not sure when it was built, but it sure felt very new.  Also, it was all built out of this special wood that's scent is apparently good for the heart (or so the hotel host told us).  It did smell very woody and good.  We were happy with the room, happy with our view out the window from the 3rd floor, and very happy to see the wifi signal strength was very high even in our room.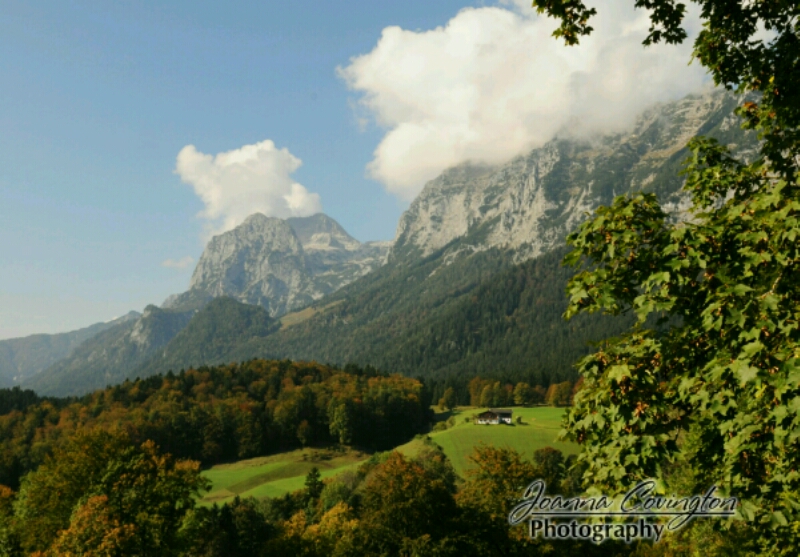 Now we could head back to Berchtesgaden and park to ride the Jennerbahn cable car to the top of a mountain.  As we arrived, we found out that the parking area was enormous.  One parking area serves several exhibits and this is a very popular holiday destination for people from Salzburg as well as Germany.  And it is a beautiful weekend, so we had to park far away.  I was looking around for Disney characters in our row or something so we could remember where we parked!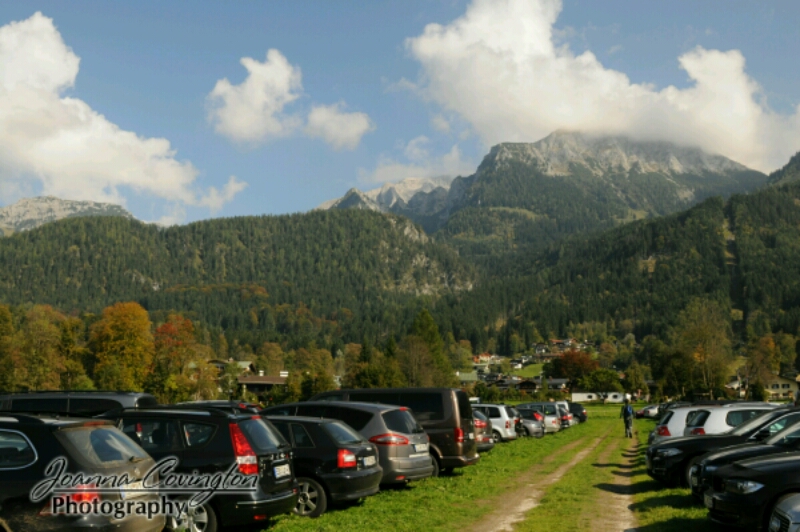 it sure was about the prettiest parking lot, ever, though, with all the scenery surrounding us.  We loaded onto the Jennerbahn at 3p and were interested to see that the gondolas each only fit 2 people, facing out.  It basically looked like half of a gondola car.  The ride to the top was about 30 minutes long, too, so there was lots of time to look around.
At the top, here it was 3:30p and we still hadn't eaten anything for lunch.  We didn't want to waste time with food, so we grabbed a quick Magnum ice cream bar each and then started hiking.  At the top of the mountain, the clouds kept rolling over us, but the views were indeed magnificent.  However, we only really had an hour up here since the last car down was at 4:30p, so we didn't spend a lot of time looking at the views or taking photos.  Instead, we just picked a direction and started hiking.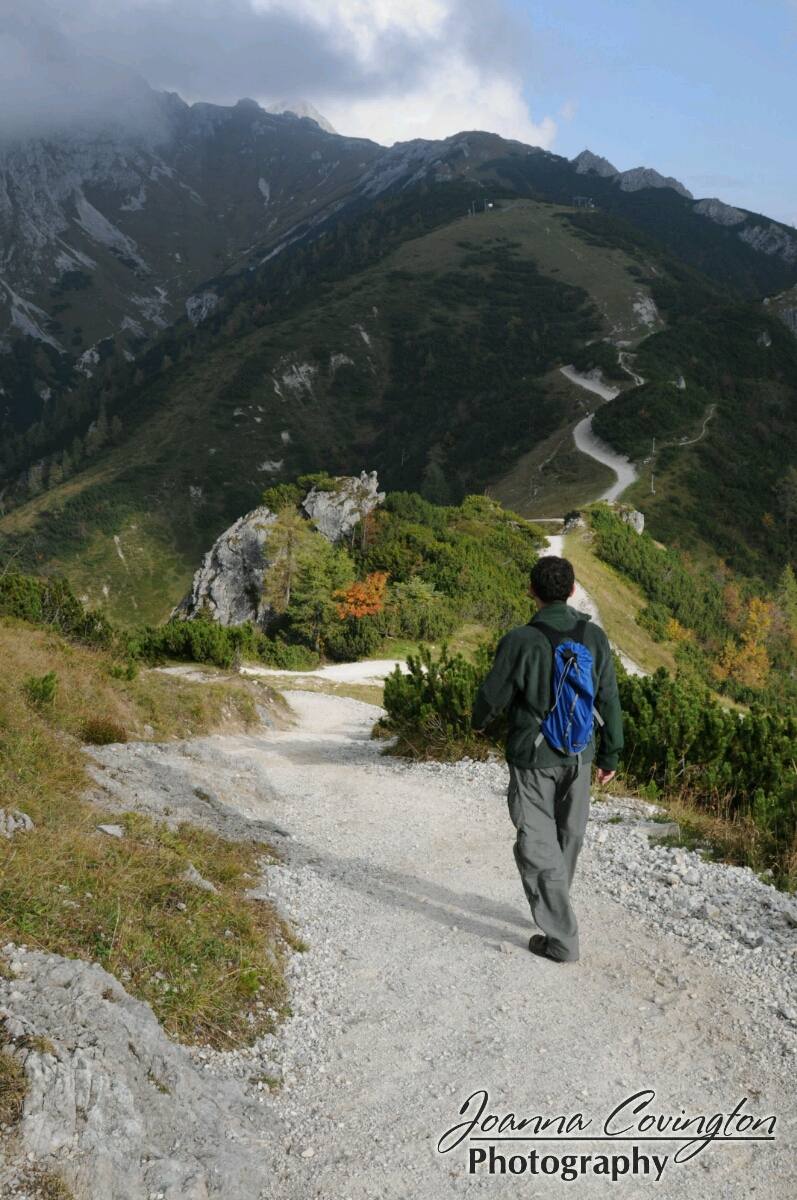 The path turned out to be crazy steep!  We started going down, down, down, down, and ended going up, up, up.  Going up, it was so steep, with leaning forwards, my hands were almost ready to touch the pavement in front of me to help me hike!  There were many other people out here hiking as well, but they all looked like they'd been practicing on the mountains more recently than us.  We were gasping for air as we climbed back to the cable car ride back down.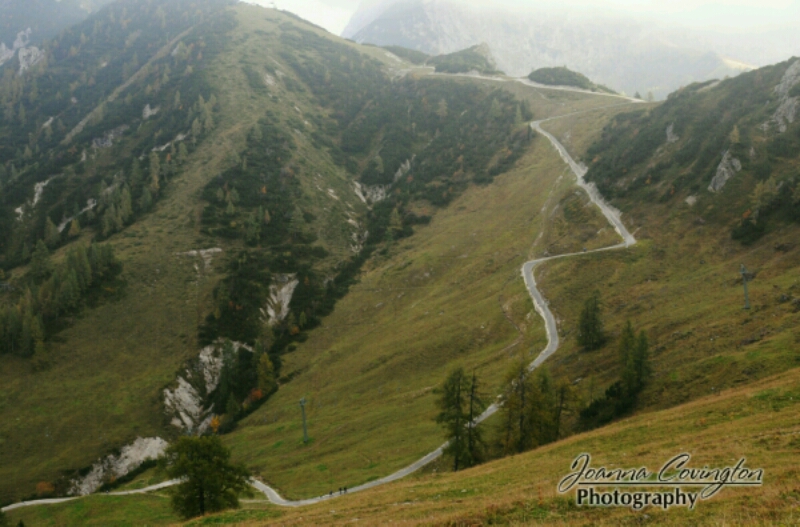 The top of the Jennerbahn was at 1800 meters, and it was 51 degrees at the top and windy.  We had incredible views down to Beschtesgaden, and we were supposed to see Lake Königsee on the other side, but we didn't find the right viewpoint.  At 4:30, we were gasping and sweating with exertion, but we felt great.  It was good to be back hiking on a mountain again.
The line for the ride down was long, but the ride down only took 20 minutes.  We spent the time trying to figure out all the inner workings of the cable car system and how people could load at the mid-level stop if all the cars were full coming down.  We are engineers, and this is the kind of thing we converse about.  =)
At the bottom, we realized we were also at the location for the start of the hike to reach Malerwinkl, a good viewpoint of Lake Königsee.  However, as I had forgotten, the sun sets quite early in the mountains, so while there was still daylight out, we were already in the shade of the mountain at 5pm and our hike was dim and our view at the lake didn't have the brilliant pop of color.  We still really enjoyed the hike though!  Fall colors, very few people on the path, and comfortable temperatures made it enjoyable.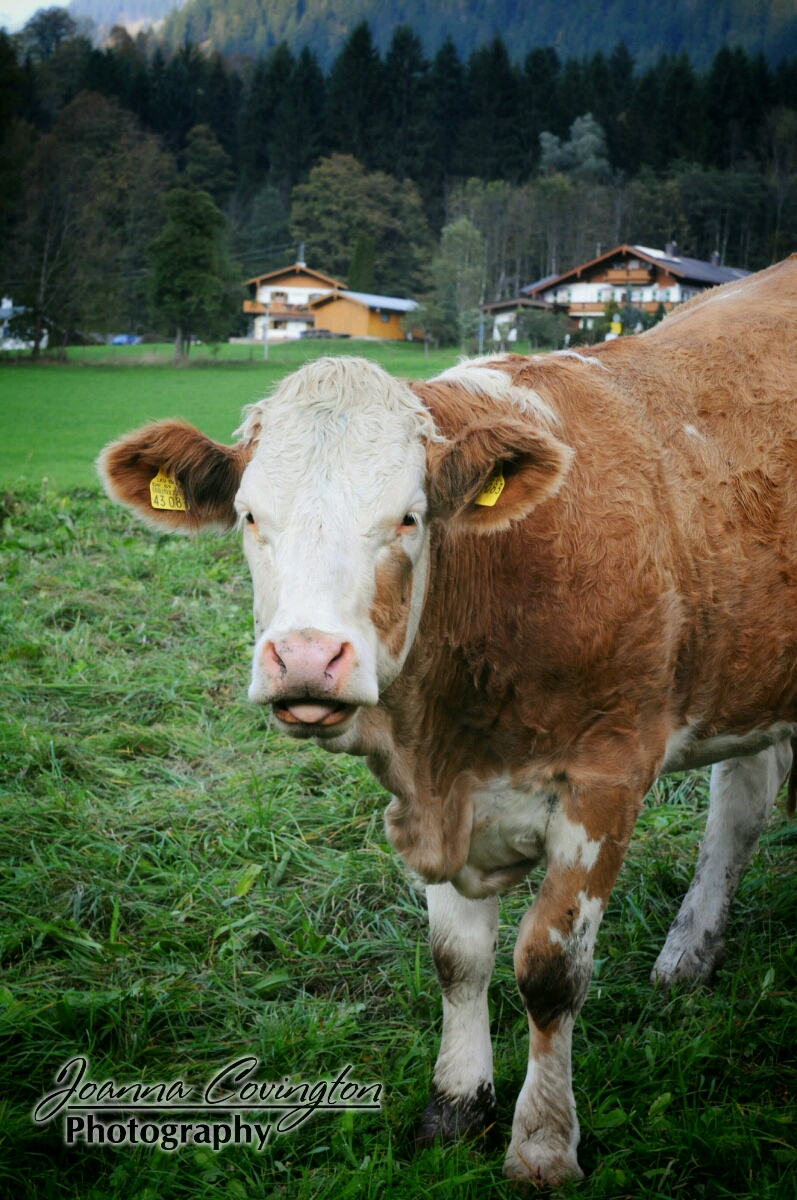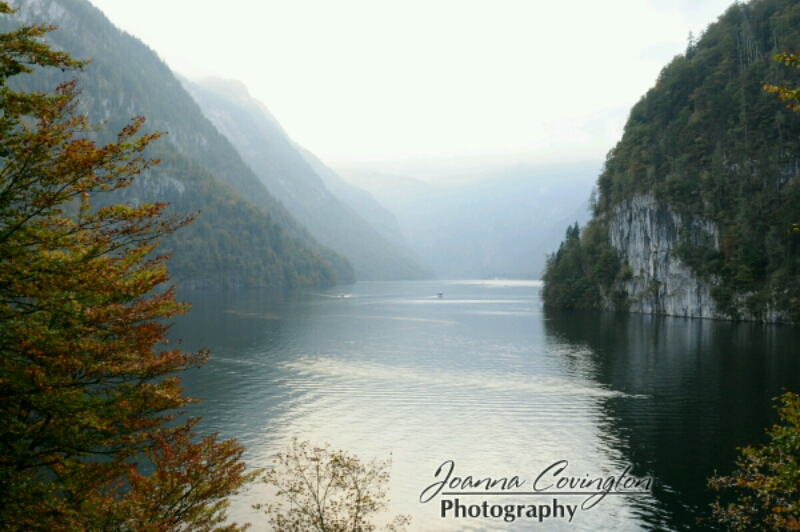 We hiked for about an hour and ended up emerging in the touristy spot on Lake Königsee with lots of shops and restaurants, and also the boat landing if you were to take the boat ride across the lake.  We had originally hoped to take the boat ride across the lake as there is good hiking on the other side, but well, the day just needs to be longer.  Next time we will spend many days here.  It was 6p and we hadn't eaten a meal since breakfast and as we were so hungry, we just started eating food from stands.  For instance, I stopped to get a German pretzel.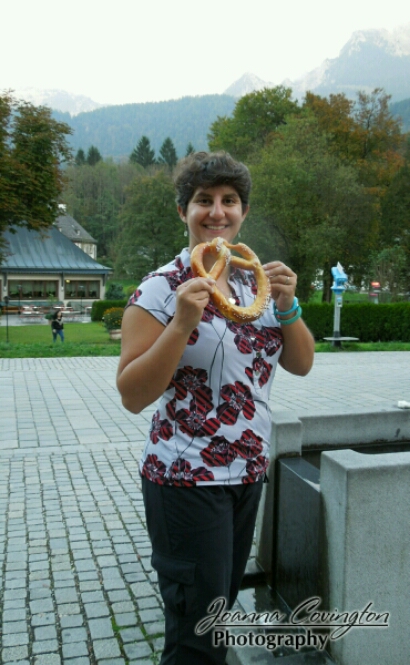 That only made us hungrier, so we stopped for ice cream.  And then, we realized we better actually go inside somewhere and get some real food.  However, the lure of continuing to eat junk food was very high.  Next on our list was the stand with the crepes!  We ate at Hotel Königsee which was very fast.  In fact, the food came out about 2 minutes after we ordered!  If we had known that, we would have just stopped here before the pretzel and the ice cream.  =)
At 7:30p, we left the Königsee area and drove the 20 minutes to our hotel.  At this point, we were pretty dead tired and even though there was great wifi at the hotel, it was all we could do just to shower and fall right into bed.  So, no blog posted tonight, but I'm only a couple days behind at least.  Tomorrow is our last vacation day!  How did that happen so quickly?  We are sad that we have to end our vacation, but we know we will be back to the area.  We are smitten with the SW Germany/Switzerland/Austria area.