Wednesday, October 1, 2014 (Day 8)
Itinerary:
– 7am wake up and breakfast in hotel
– 9am leave for castle
– 10:35a castle Neuschwanstein tour
– 12:30a get into car and start driving
– 2p pack lunch stop under covered area
– 3:30p rain stopped, got out at Kochel to take some fall lake photos
– 4:20p arrive at Hotel zum Sauberkabinett
– 5p to 6:45p walk around the area
– Dinner at Ristorante Pizzeria Da Ricardo
– 8:30p back at the hotel and rain starts again
Odometer:
Starting km: 1083km
Ending km: 1220km
Weather:
Gray and rainy.  Temps range from 57-60 and feels chilly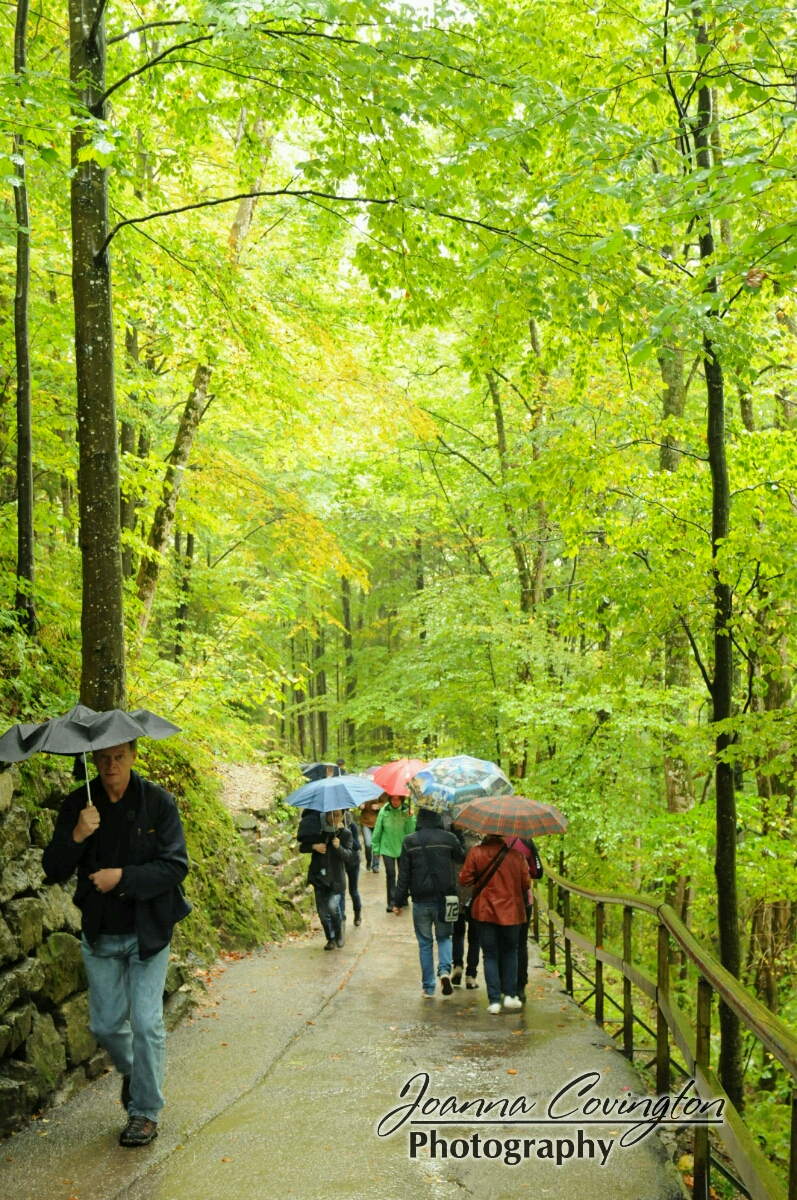 Journal:
The morning started out with a skype call to India, as Joanna continues to work with cycling club business while on vacation.  The call was at 7am, and we were eating breakfast in the hotel soon after.  The day was indeed starting out very gray and full of a misty rain.  We will keep on keeping-on, though and visit the Neuschwanstein castle today.  At 9am we left for the castle, but we only had a very short distance to drive.  The castle was almost right behind the hotel.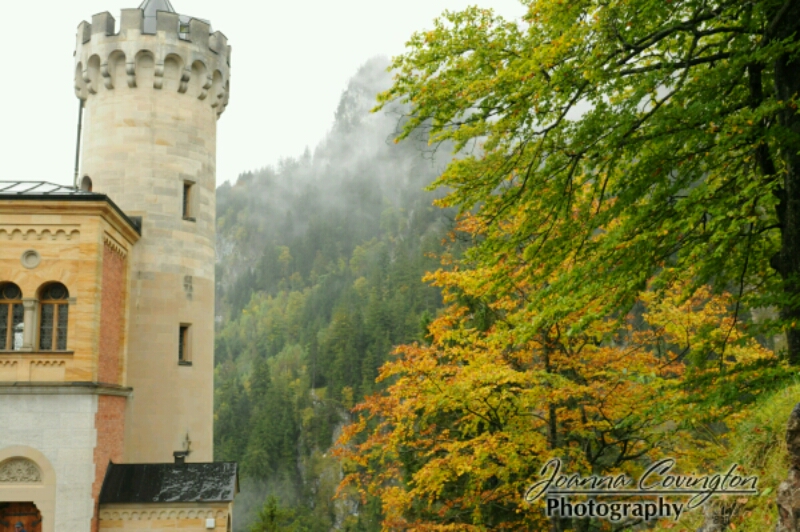 I made a reservation for tickets for the tour online about a month ago, and luckily the timing worked out well.  Our tour tickets were for 10:30am and the map said it was a 40 minute walk up the hill to the base of the castle where our tour started.  We had an hour.  So, we started trudging up the road, though the rain, and with several other throngs of people heading in the same direction.  There is also a horse carriage ride up and a shuttle bus, but we wanted to walk.  As it turned out, the walking time was only about 20 minutes.  So, we didn't have to rush.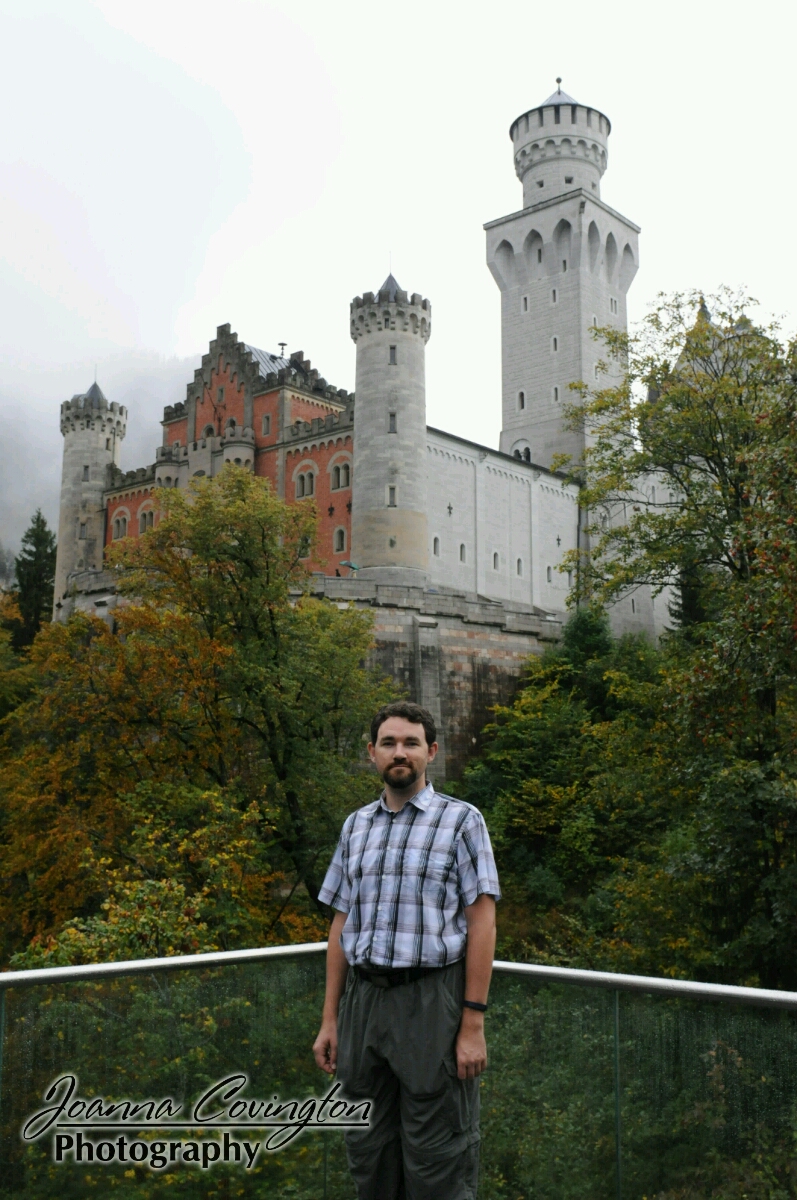 We were able to spend a little time taking photos of the castle, though it was rather annoying to deal with the rain and trying not to get my camera too wet.  I was not prepared this morning and didn't bring the appropriate rain gear for my camera.  Everything I wished I had was sitting in the car.  Oh well.  I made do with a ziploc bag and grabbed the correct touristy photos.  The castle still looks quite grand even in the rain, though of course we would have wished for a beautiful sky.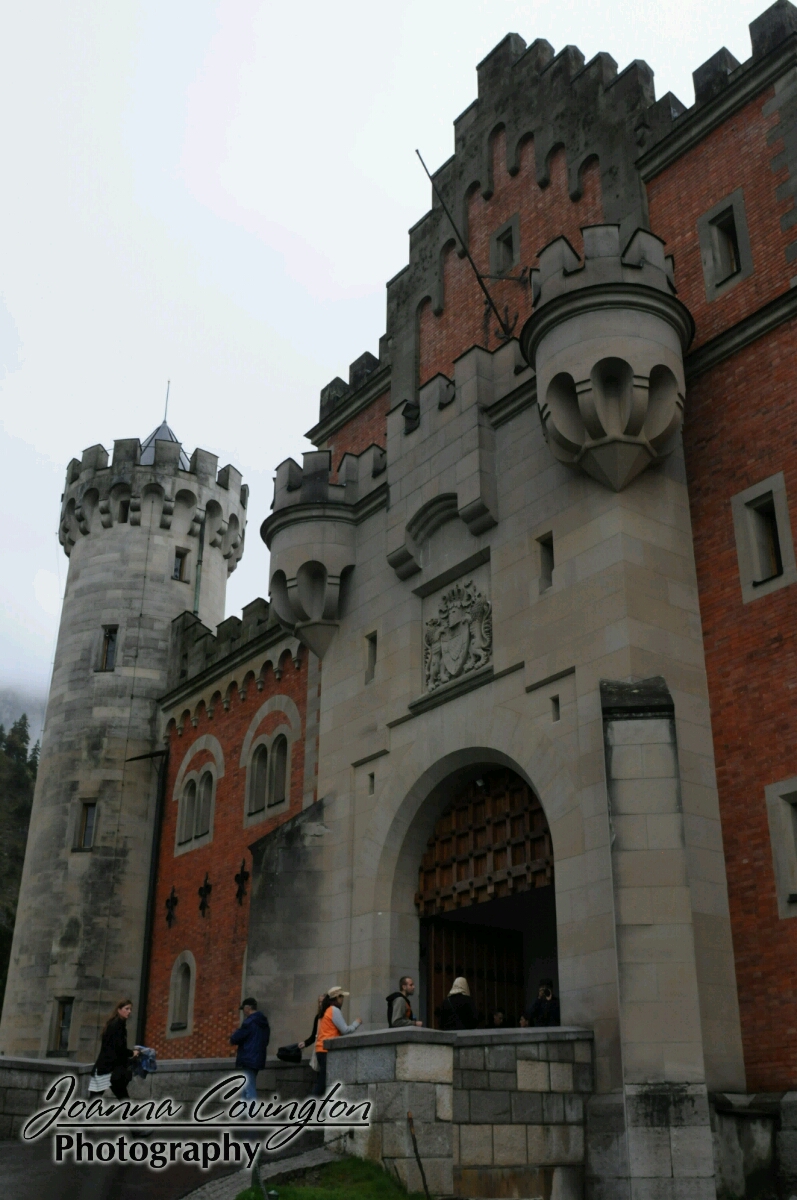 About 20 minutes before the tour started, the rain starting coming more heavily, so we, with several hundred of our best friends crowded in this tiny covered walkway entrance to the castle.  It was crammed with people and there was no walking through!  We waited it out and then scanned the barcode of our tickets to get into the main tour of the castle when our tour time was called. 
If you don't know or remember, this is the story-book castle that Walt Disney used as inspiration for his famous Disney fairytale castle.  The castle was built because "Mad" King Ludwig II wanted a more medieval-looking castle.  His castle wasn't stereotypical enough for him.  It was constructed between 1869 and 1886.  The only reason construction was started was because King Ludwig died in 1886 and the contractors all stopped working.  So the castle was never finished.  Our tour was through the rooms that were finished and included an extremely ornate bedroom.  We've been to places like Versailles and this was even more ornate.  The bed was topped with numerous gothic sculptures for instance, that looked like a hundred tiny buildings all with spires were on top.  We also saw the concert hall.  King Ludwig dedicated his castle to the operatic works of Wagner and the concert hall was for Wagner's work.  Only, there wasn't a concert played in the castle until the 1990s when they started having concerts in this room open to the public.  The acoustics are perfect, so they say.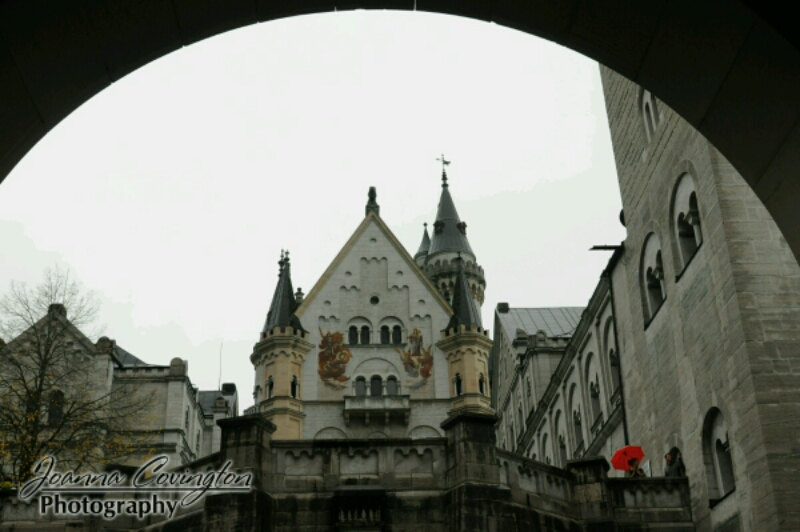 Throughout the castle there were many, many swan images either painted on walls, as sculptures, or as images coming out of the walls.  King Ludwig loved his swans.  There was one life-sized swan that was built as a humidifier.  It was huge and beautiful and was filled with water and put on a stove.  Also, the castle was filled with many chandeliers replicated crowns.   One hallway even went through a portion of a cave, complete with stalagmites and stalactites!  Our official tour with tour guide ended after about 30-40 minutes and we were free to continue on our own.  We passed through a couple gift shops, and actually many more rooms (unfinished rooms and not decorative) before leaving the castle. 
After our castle tour we walked around the back to the famous bridge viewpoint where you can look back at the glorious castle with the gorgeous lake in the backdrop and the Alps all around.  All we saw, though were clouds, and a castle peeking through.  There is a lower castle as well, but we didn't spent the time to tour it.  We captured the obligatory photos, but I was rather disappointed at the lack of view.  I bought many postcards of the drop-dead gorgeous views of the castle to satiate me need for amazing photos.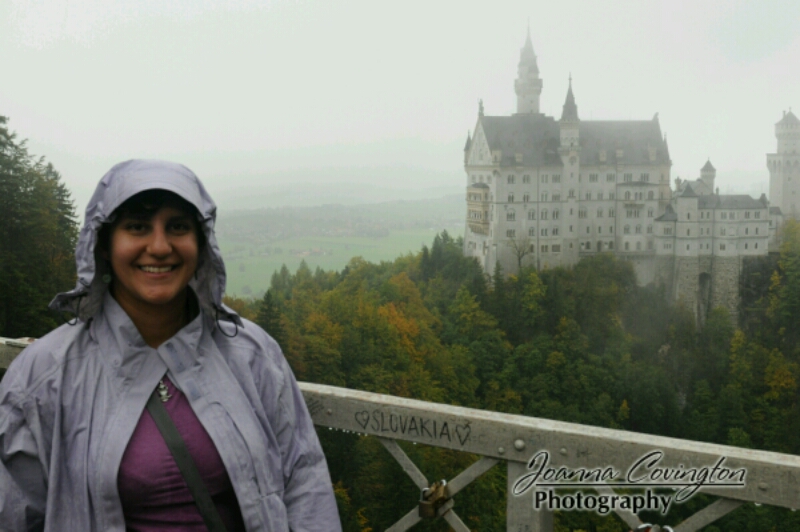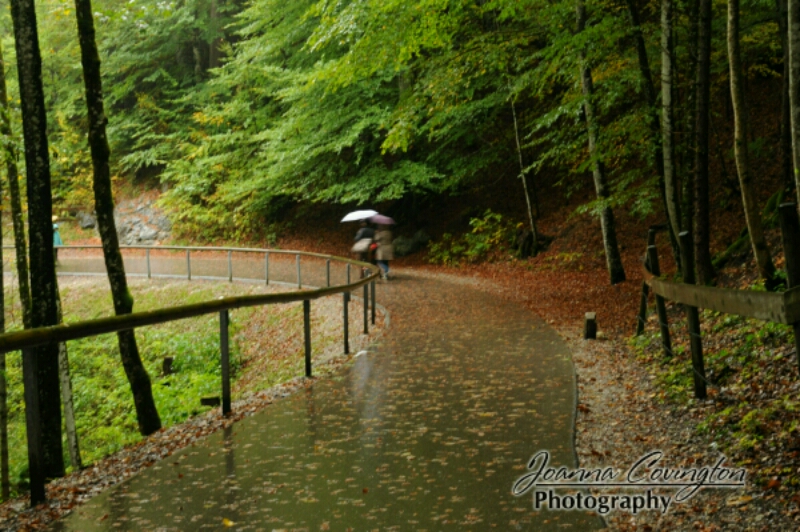 It continued raining as we walked down to the car and we left about 12:30p.  It rained, and it rained, and it rained all through our drive, and there really wasn't much to stop at because there were no views of the Alps.  Mark was starting to wonder why this was called the "Alpine Route."  The route was, though, lined with deciduous trees changing colors for fall.  I was so intrigued by the trees that were just starting to change, or were partway through changing.  Some trees, only the tips of the leaves shown yellow, while the rest of the tree was green.  Some trees were half yellow and half green and all stages in between.  I've never seen anything like it before, and I marveled over all the fall trees for our drive wishing that I could take photos.
We till had our pack meal from yesterday, so we found a random stop on the side of the road with a covered area where we could eat lunch, late at 2p.  It was cold, rainy, and actually reminded me a lot of Iceland except for
a) we were not eating in the car, and
b) there was plenty of traffic
With lunch over at 2:40p, we kept driving until we hit the Kochel area.  The rain had almost stopped and we could see tiny patches of blue sky peeking between the clouds every now and then.  We drove down to the lake and walked around to get some photos as the lake was reflecting well.  This was about a 30 minute stop and then we were on our way again.  The rain is mostly stopped, though the sky remains gray.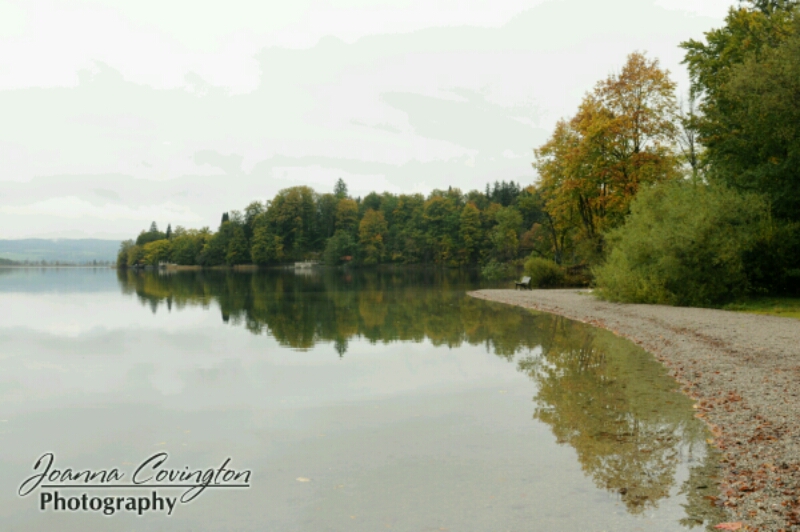 We arrived at Hotel zum Zauberkabinette at 4:18pm.  The hotel is mostly known for it's weekend magic shows, but also the whole hotel was themed with magic illusions.  We were incredibly impressed by the decorations of the hotel, the friendliness of the staff, and the clean rooms.  The rooms were even themed, and we were happy to be in the "sun" room.  Outside the hotel there was an optical illusion to make it appear that person was coming out of a hat.  There were sculptures coming out of the walls and magic-like sculptures around of cards or hats, or the like.    It was also quite a maze to get from reception to our room through many doorways and themed rooms.  One hallway was covered in mirrors that distorted our image.  We walked through a fake cave area lit up with lights.  There was all kinds of art popping out of the walls, too.  The kitchen/dining area had a table and chairs upside down on the ceiling, and a water faucet filling a pot coming out of the wall.  The water faucet appeared to not be connected to anything, but flowing water moved from it.  The downstairs area was decorated as a dungeon with chains out of the wall and painted rats coming out of a grate on the floor.  There was an MC Escher-like stairway with figures of wooden people coming out of the wall everywhere as well as an MC Escher duplication of stairs on the wall.  It was elaborate, to say the least.  Also, the hotel appeared to be quite empty, but also we arrived early.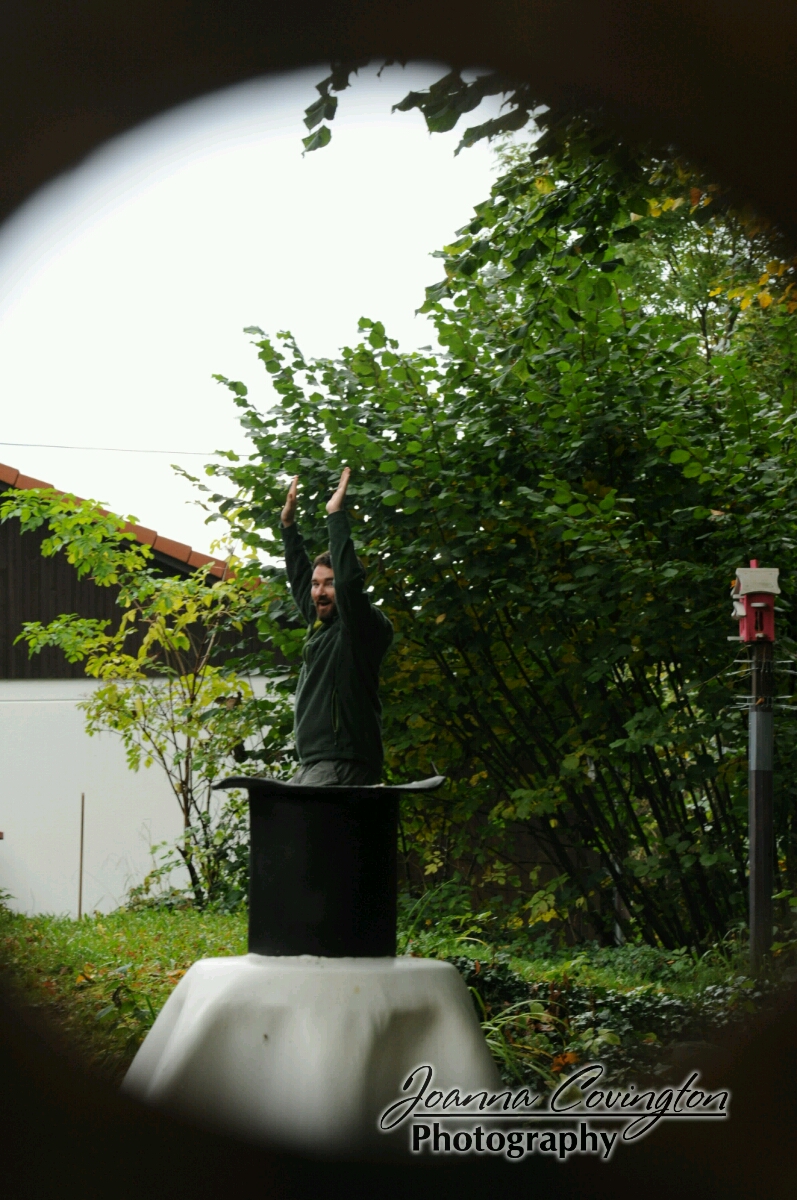 Since it had stopped raining, and we had time, at 5p, we headed out on a path for a walk to get the blood moving again.  We walked through the countryside, along a river, and near a lake before turning around.  We saw blue skies, sun, and horses came to greet us.  In fact as we walked over, they came running over to us hoping for food.  Cows moo'd their greetings and even a mule came to visit. 
After our walk, we walked on to dinner at Ristorante Pizzeria Da Ricardo about 7p.  In the country, places restaurants close early.  They had good Italian food for us and it was easier to order with both Italian and German on the menu.  Also, we got an Italian greeting, and I can speak/understand more Italian than German, so it was a pleasant communication.
We walked back to the hotel arriving about 8:30p, and just as we got in the room it started raining again!  Talk about perfect timing!!  We are excited for a sunnier day tomorrow as we head on with our road trip along the Alpine Route.