Friday, February 7th, 2014 (Day 10)
Chitabe Camp Day 1
Itinerary:
4:30am wakeup
7am – 9am flight from Cape Town to Jo-burg
12p – 1:30p flight to Maun, Botswana
bush flight to Chitabe Camp near Moremi Reserve
4:30pm game drive
dinner and birthday celebration for Mark
I feel like today is our vacation from our vacation or something.  =)  Today we fly to Botswana for a week-long safari vacation.  It was very odd booking this safari just 2.5 weeks ago, and we pretty much just ended up with an itinerary based on availability with a very basic request to go to the Okavango Delta area in northern Botswana.  And now, so quickly after booking, we are going.  This didn't leave much room for planning or research, so we'll just see how it goes when we get there.
This morning started out too early with less than 4 hours of sleep we were up at 4:30am to get ready and be out of our apartment on Kloof Nek by 5am.  The owner came down to the garage to collect his key and see us off and we had no traffic getting to the airport.  It took about 25 minutes to get to the airport or so, but we still had oodles of time to check in the rental car, check our luggage through to Maun, and get to the gate.  I think we still sat for 45 minutes before boarding at least.
We fly from Cape Town to Johannesburg, then from Jo-burg to Maun, Botswana.  And finally we will have a Wilderness Air charter flight to the Chitabe Camp itself.  Our first flight was uneventful and I slept the whole time.  I was surprised that South African Airways fed us breakfast on the plane since I am so used to domestic flights in the US nickel and diming you for every little thing.  We arrived in Jo-burg and with a 3 hour layover first we wandered around the shops.  For lunch, Mark had a banana and bacon sandwich which we've seen on several menus here.  He said it tasted like bananas and bacon.
We spent most of our time in a bookstore where I tried to find that one insect on the Cape Point beach.  I couldn't find it, but i did determine it must be in the cockroach family.  I also looked at lots of pretty pictures of South Africa in various photo books.  I need to figure out the best method of publishing some of my photos in photobooks one day.
At 10am we met a courier who brought us my camera rental gear!  This was rather amazing.  I found many lens rental shops in and around Jo-burg, but this shop offered to courier my rental to the airport instead of shipping it to Cape Town and it worked perfectly.  I rented the same Nikon 200-400mm lens that I rented for Zimbabwe, a 1.4x teleconverter and a second body, a Nikon D600.  There is no changing lenses on a safari game drive, so the second body is crucial to getting any landscape photos.
After picking up the lenses, we went through security and passport control as we are leaving the country to go to Botswana and found ourselves in the terminal we had visited before on our Zimbabwe trip.  Everything was looking familiar to us.  Soon, we boarded our bus (and sat on the bus for about 15 minutes) and then headed to our plane.  The plane was a smaller commercial plane, but still about the same size of a plane I'd from from Amsterdam to Marseille.  It wasn't full either and Mark and I were able to get the full row of seats.
Now the day is feeling a bit long with travel becaue we arrived at Maun at 1:15pm and our charter flight will be leaving at 2:30pm.  The Maun airport is bigger than the Bulawayo one, but still pretty small with just a domestic terminal and an international terminal.  It was very easy to find Wilderness Air just inside the waiting area was we entered through passport control and our names were listed on a board.  At this point there wasn't the usual information on when flights are departing, but we did notice that everyone from our plane was headed on some sort of safari.  Portions of our arriving flight were met by a line of guides with signs to take people on various ground safaris and a large group were headed into the same little domestic terminal we were going to to go on various charter flights.
Also, I needn't have worried about the weight requirements so much because our duffel bag counted as our 1 weighed and checked piece and then my backpack with all the camera gear was weighed while I was wearing it and counted as hand baggage.  All passengers are weighed holding their hand baggage.  So, all was good.  We were just tapped on the shoulder when it was time to go through security and then we were in another waiting room where lots of people were being called to board charter flights.  We kept trying to figure out who we might be going with, but group after group disappeared and we were still sitting.  Finally it was down to 4 of us and we were all called to go on our charter flight.  The other couple wasn't even coming to Chitabe Camp anyway, but the charter flight would drop us off and then them.
I'm sorry to those of you who read my blog and are into types of planes.  I'm sure we were on some sort of Cessna plane, but I couldn't tell you which model.  The luggage compartment was underneath the door to the inside and there was room for 6 people plus the pilot.  We had 5 people including the pilot and one seat for the hand baggage.
The taxi-ing and setup time was probably much longer than our actual airtime of about 15 minutes to the camp and we marveled as we flew over Botswana to see what it looked like.  The most striking through was just how green everything was and how much water there was everywhere.  It is the rainy season here in Botswana during the summer and everything is lush and green.  From the plane we could see a large rainshower heading our direction.  We also could look down and see some herds of giraffe and elephant.
As we landed, we saw our safari vehicle chase some ostrich off the runway and then we could land.  We said goodbye to our pilot and our two companions and met our driver who would be taking us to the camp.  Since the plane had to take off again, we drove down the side of the runway to scare off some impala from the airstrip and also take note of some giraffe that might cause a problem.  From here we started our drive to Chitabe Camp and spotted several animals along the way.
Also a light rain picked up and we were handed very thick padded ponchos that we could use to cover up.  It was still warm and muggy outside, so I just used the poncho to cover my belongings at first, but then eventually held up the poncho to keep the water that was flying off the side of the roof canopy from soaking me.  The safari vehicles have roof canopies here in the summer, partially for the sun, and partially for the rain.  We are now noting differences from our winter-Zimbabwe experience.  We have our rainsuits with us, but it's still hot and muggy out….enough to be slightly uncomfortable in long pants and happy with our tshirts.  Yay for quick-dry clothing through!!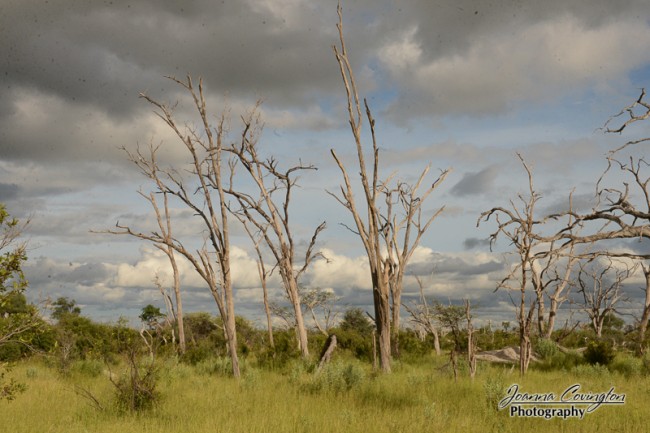 We arrived at Chitabe Camp about 4pm and the whole camp came out to greet us, sing to us and introduce themselves.  Their names fell out of my head as soon as they said hi, but it was still nice of them.  We will get to know them better later on.  We headed to the main lodge area where the other tourists were having their tea time.  There are only 4 other people here at camp right now and tomorrow just 4 of us total as one couple is leaving.  This is not the high season since it is rainy, and I can see why there was availability here for us.
We were given our safety briefing as well as a briefing about what time to meet where.  Bascially, don't walk outside alone at night (we will be escorted to breakfast, and to and from dinner).  Also, we will be woken up each morning at 5am for breakfast and a 6a – 11a game drive followed by lunch.  Siesta is from noon to 4p and then tea is at 4pm.  The evening game drive is from 4:30 to about 7:30pm and dinner is at 8p.
We were feeling rushed since the evening game drive was about to start, so we were taken to our luxury tent.  The walk paths are made up of boardwalks and all the buildings are elevated at least 8 feet off the ground.  Our tent has a large main room with the bed in the center.  Behind the bed is a wall that gives privacy to the bathroom area.  There are two sinks, an indoor shower, and a toilet area.  There is also a door to an outdoor shower should we choose.  It's raining now, so probably not today.  We've got a fan in the room and outlets for continuous lighting and power!  This is a rare treat.  We also seem to have hot water whenever we want it.
Once we were left on our own, I quickly dumped out the bags and got the cameras ready for a safari.  We went over to the main tent, but the game drive had already left.  It turns out that they were giving us as much time as we needed, and one of the camps staff was just going to drive us over to meet the game drive vehicle when we were ready.  Well, that was easy.  And here I am with a brand-new-to-me camera going on safari.  I'm just the person that I like to make fun of.  =)  The D600 is quite different from my D300 and not quite as intuitive.  But with two cameras, I was just fine.  I just smile back thinking about it.
Antony is our guide and we were all looking warely at the clouds.  It definitely looks like rain.  But, we had some time before the rain started to photograph a lilac-breasted roller, a red-billed buffalo weaver nest, and some impala. We are back on safari and the names of creatures are slowly coming back to us!
We are most impressed, though, to see the amount of green and the amount of water.  I know I've said it before, but it's the main difference between Botswana in the summer and Zimbabwe in the winter.  The "road" is a double-track path and many times we are driving through standing water.  Often it gets pretty deep.  Thankfully we are up very high!  I'm amazed at what you can drive through with a Land Cruiser safari vehicle.  The center of the road is all very tall grass, and if the double track is not wet or muddy, it is often sand.  We are definitely bouncing around and I'm hanging on to my monopod and two cameras and trying my best to keep all the equipment far enough apart so it doesn't hit something.
I do love the look of the impalas as they are so pretty.  However, most guides will not stop for impala since they are pretty much everywhere and the guests want to see lions.  But we were happy to stop and watch the impala.  They stay pretty close to the car as we drive up.  Our safari vehicle with us sitting inside does not look like a human, it looks like some strange animal and the other animals are quite used to this loud animal on wheels.
We drove past some dead trees and learned the water table rose over 1 meter deep in a flood 20 or 30 years ago and killed off some of the trees.  We also saw a baobab tree damaged by the elephants as well as it's sibling tree killed off by elephants.
I noted a large rain shower in the distance, and then pointed out a triple rainbow.  We didn't stop for a photo though, and as soon as the rainbow became a full half circle, we were getting a light rain and I was covering all my equipment.  I had a dry bag for each camera and even one that was long enough to cover the telephoto lens.  While in Zimbabwe, I was covering my cameras from the dust and here I'm covering them from rain.  Dust is not a problem.
We found our way back to the airstrip and learned that another group had found a leopard in a tree near here.  We went off-roading (a surprise to me that it was allowed) and drove right up to the tree with the leopard.  Underneath was a herd of impala and a single wildebeest who had no idea there was a leopard in the tree.   We were amazed at this.  It turns out this tree has had quite the story today and told from bits and pieces of stories from several people.  In the morning there was an impala carcass hanging in the tree and a small pride of lions under the tree trying to get at the dead impala.  No leopard.  Later on, the leopard came back to the tree and had the impala up with him.  And later on when we were there, there was no more impala, but the leopard was there with antelope alive and well below.  We watched the leopard for a while.  He groomed, and then fell asleep with all four paws hanging off the branch.  It's amazing that he stayed up there, but he did look quite relaxed.
And now the rain storm in the distance reached us, so I put my cameras in their dry bags, and we each put on a rain jacket.  The rain got pretty hard, and Mark and I sat in two rows of the vehicle so we could both sit in the center and away from the rain pouring in from the roof everytime the Land Rover made a turn.  We came back out to the airstrip and an enormous amount of impala were out here on the airstrip.  They come out into the open in darkness and bad weather to stay safe.
We kept driving around for another good while, but didn't spot too much else in the rain.  We saw wet impala and then we came across an elephant in the water who was limping quite badly.  Sadly that elephant might not be long for this world in his condition.  We also stopped when we came across a bush hare running along the road.  Bunny!  The hare was not too shy and stayed put while we talked about him and watched him.  We also spotted some kudu.
Back at camp we went to our rooms to lay out the wet stuff.  Actually we weren't that wet.  The dry bags kept the photo equipment dry as it was supposed to and really just our jackets were a bit wet.  Since it was now dark out, the guide came and collected us for dinner around 8pm and we headed to the bar area to chat with the couple who was leaving tomorrow and opted not to go on a game drive this evening.  Dinner was served in the dining area and we were treated to a song and dance number by some of the camp staff.  They sang to bid farewell to the couple leaving tomorrow and they sang to welcome Mark and I to the camp.  We definitely felt like family by the second day here.
Dinner started out with delicous soup and bread followed by a buffet-style spread of food that would have served an army.  After dinner, we again were treated to a song as the camp staff all danced in carrying a delicious chocolate cake and singing for Mark's birthday!  Since I didn't get him a cake yesterday, this was perfect for sure.  We were all happy and chatting away the evening until about 10pm when we were lead back to our cabins and to bed.
Tomorrow is an early day and we are looking forward to it!