Wednesday, February 5, 2014 (Day 8)
Itinerary:
Table Mountain visit
Signal Hill
Kirstenbosch Gardens
Shopping
Dinner at Mexican Restaurant
With two days left in Cape Town, we knew we wanted to spend one hiking at the top of Table Mountain.  Our apartment host had suggested today as a better day for the weather, so we were up at 8am to get a start on the day.  Of course, though, we were having a bit of a lazy start to the day, so we ended up mostly hanging out until about 11am when we made our drive.  Now that it was mid day we had to park a bit further down the mountain and then walk up the road a bit to get to the cable car.  Surprisingly enough, there was no line, though.
One thing to note about parking in South Africa that we learned quickly is that there is almost always a "parking attendant" who helps you find a parking spot and helps you get out.  For his trouble, you are supposed to tip him.  We aren't quite sure if these attendants are sanctioned by anyone, or if they are just random people who want to make some money, so they get up early and stake out a spot somewhere.  I have a feeling it's more of the latter.  Most of the tourist sites, the attendants actually have a vest on that makes them look like they are supposed to be there taking your tips, but I've found throughout our travels, that just anyone on the street will just start helping you get in a spot or back out of a spot even if you don't need the help.  Then they come up asking for a tip.
Tipping isn't expensive.  Since it is around 10 Rand to the US Dollar, I am usually tipping about 5 Rand or 50 cents.  Mostly I just found it was a hassle getting my coin purse out and getting them their tip.  It only took me about 2.5 weeks to just start carrying a bunch of coins in my pocket for these situations.  =)
So, at this point, we really should have looked up at Table Mountain and seeing all the clouds covering the top cable station, but we had our plan for the day, so we just got our tickets, hopped on the cable car and halfway up we started entering the clouds.  Hmmm.  As we arrived at the top cable car station, the cloud cover was so thick that you couldn't see much more than 20 yards in front of you.  Also, we should have checked the weather on top of the mountain because though it was hot and sunny down in the city, up here it was cold and cloudy, and somewhat misty.
Well, everyone, and I mean everyone was in the cafe in line for coffee and we opted to have an early lunch up here to see if the clouds would clear a bit.  Lunch was actually pretty good considering it was a tourist cafeteria, and the only real issue was just finding a spot to eat.  Sadly, the clouds had not cleared after lunch, but we wanted to do the longer hike anyway.  And since we are stubborn, we set out into the cold, misty, windy, cloud cover to go hiking.  I noticed after a few minutes that my camera was becoming wet, so thankfully I had packed a dry bag with me and I put all my stuff in the dry bag in my backpack.  Soon after, our arms and legs were wet, the water was making droplets on Mark's beard and our hair, and the wind was whipping about us.  And, then a little bit after that we were pretty much just wet because we are walking in a cloud.  Clouds are full of water, and though it wasn't raining, of course we were wet from the cloud-water.  We looked at each other, hair soaking wet and turned around.
Interestingly enough some company, maybe DHL or an airline was shooting a commercial up here in the mist and we came upon them as they were in the trail and we watched for a few moments.  It wasn't that interesting, and we moved on.  Oh well.  So much for the Table Mountain hike.  We are super glad that we came up last night to see the views and the sunset.  =)
We took the cable car back down and though we were soaking wet, once down in the heat and sun, we dried up pretty quickly.  We had found out the other day that you can actually drive up Signal Hill which is another mountain next to Table Mountain and through not quite as tall, also overlooks Cape Town.  There were no clouds over here, so we made the drive.  This was a great idea.  There was another one of those yellow frames to pose with for a photo with Table Mountain, so we did that and walked around a little bit.  We got a really good view down to the Cape Town World Cup Stadium and also down to the waves crashing in the ocean.  The wind was strong today as well as it normally is in Cape Town as we are learning.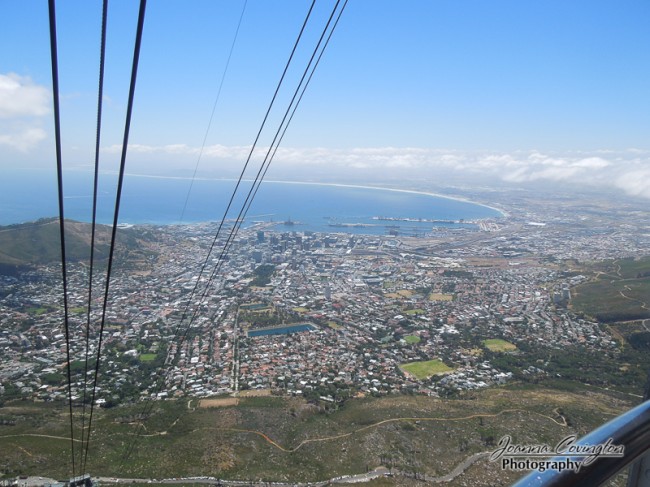 At this point, with the whole afternoon ahead of us, we decided to take tomorrow's activity of visiting Kirstenbosch Gardens and go ahead and do that today.  I did not know much about the gardens, but it turns out to be a huge facility with tons of trails for walking around all the plantlife.  Also, the Gardens are located on the other side of Table Mountain from Cape Town and it turns out this was where all those clouds were originating.  So, we had some overcast skies in the garden.  The map we got for the Gardens showed many, many paths curling around and leading everywhere.  And after walking for 10 minutes and comparing to the distance we traveled on the map, we quickly determined the area was much, much larger than we had expected.  There were lots of little themed gardens here.  We visited the sculpture garden before we found the cafe for a tea-time snack.  Also, we were amused to find a weed garden that took us on a tour of the various weeds and told us which were the invasive species to not only South Africa, but to many countries.  There was a water-wise garden that taught us how to grow a garden of our own in hot conditions (actually similar to conditions we have in Houston), with plants grouped in your garden in order of how much water they need.  So, put all the plants that need a lot of water closer to the building and within easy and-watering range.  It also told us about various plants that didn't need much water and could survive together in an environment like this.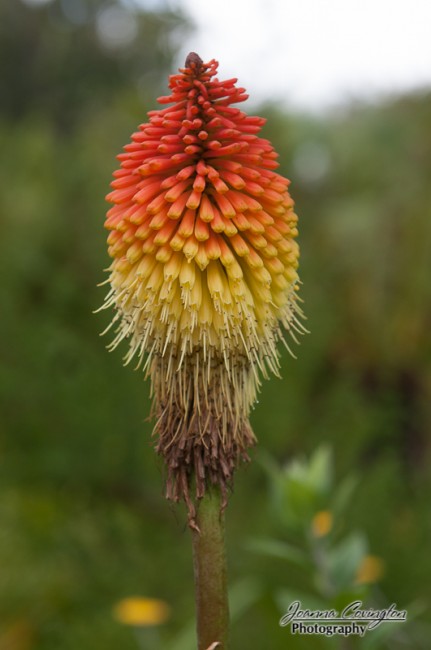 We also spent a lot of time in the fragrant garden where they actually wanted you to touch and smell the plants.  They had us touch some very fuzzy plants, and some hard plants.  Also, the various wild herbs were very fragrant when you rub the leaves between your fingers and then smell your fingers.  The only issue was we ran of of fingers!  The smells all started to overlap.  =)  We also walked through the Fynbos plants which are the plants native to this area and saw the remnants of the Protea flower which I believe is the national flower.  They are all died off now, but the flower is larger than my hand!  Plants called the balloon milkweed were incredibly interesting with the flowers/fruits looking like a balloon.  Also, there with cycads that dated back to the period of the dinosaurs.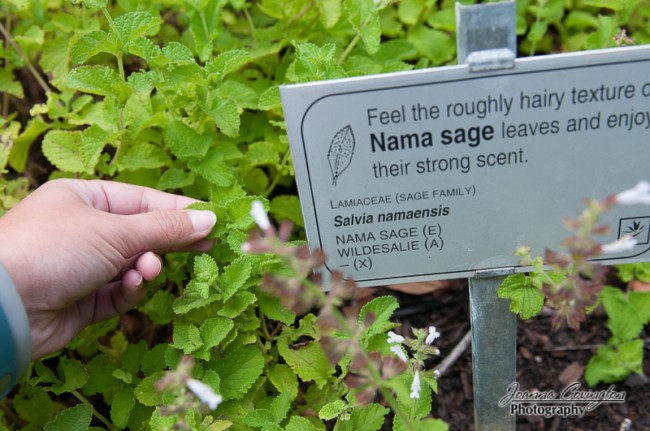 We spend a lot of time here at the gardens and would definitely highly recommend a visit here.  Afterwards, we didn't do anything much exciting.  We stopped at yet another mall to get some more groceries, and then headed back to the apartment to hang out until dinner.  For dinner, we visited a Mexican Restaurant that turned out to be fairly good.  The nachos were not quite right, but the tacos they had were pretty spot on with Mexican Food and could be compared to 100% Taquito in Houston.