Sunday, February 2, 2014 (Day 5)
Itinerary:
Lazy morning
Errands
beach walk
Braai with Mark's coworker and family
We woke up to a fantastic view out of our large windows overlooking the ocean this morning.  Without even having to lift my head out of bed, I could watch the sunny day over the beach and waves below.  It was incredibly relaxing and a fantastic view, so we took the opportunity to sleep in and be lazy today.  We also made some bookings and planning for the upcoming week.
Finally around noon, we decided we better actually head out and find some lunch after some errands.  We needed to stock up on a few groceries and get a few other items that came up as we were unpacking.  We ended up eating a yummy Thai lunch right near the grocery store, too.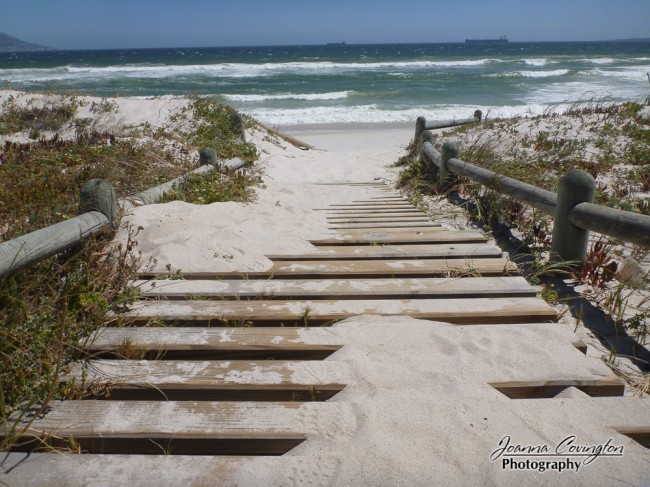 In the afternoon, we opted to take a walk along the beach as the beach front was a 5 minute walk from our apartment.  However, we learned that Cape Town is known for their wind and boy was today a windy day.  We started out pretty good, checking out the views out to Table Mountain, looking a the thousands of mussel shells on the beach, and looking at all the people out kite boarding on the tall ocean waves.  It was a great day for kite boarding as with all the wind a jump up would last more than 10 seconds as the person absolutely flew through the air!  We stopped many times to watch all the kite boarders practice.  At one point, we thought it might be nice to leave the sidewalk and actually walk along the sand.  As soon as we hit the sand, we were literally sand-blasted as all the wind was whipping the sand around us.  It was not comfortable at all!  Our skin was getting hit, sand was in our mouths and eyes, and we ran off the beach pretty fast.  Oh, and later on we found out there was actually a kite boarding competition going on today as well!
Out in the ocean, the wind was whipping across the waves and creating quite a spray.  With the sand blasting away in the wind, the area was starting to look hazy with sand in the air and there was even sand blowing in waves across the lanes of traffic paralleling the beach.  It was really quite epic, this wind, and soon we decided to head back to our apartment and enjoy the beach from our windows up on the 6th floor.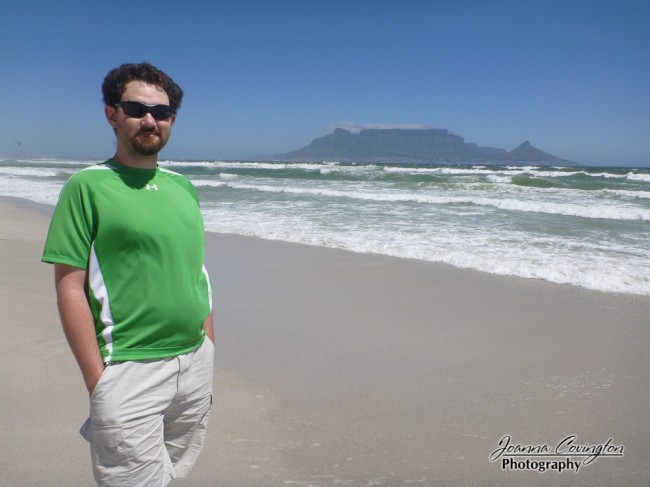 Also on the agenda today was to meet up at 5pm with one of Mark's coworkers.  He and his family were hosting a South African braai for us.  The braai is what we would consider a BBQ.  They cooked us an amazing amount of meat on their outdoor grill built into the side of the wall, and filled our evening with great stories and socialization well into the dead of night.  I think we went home around 1am.   They keep a full bar stocked as well, and Mark had a good time trying out some new beverages.  It was really so nice of them to host us for the evening and it was a great way for us to get a really good dinner.