Saturday, February 1st, 2014 (Day 4)
Itinerary:
Drive down to Cape Point
Walked to the lighthouse
Visited Cape of Good Hope
Airport run to pick up lost luggage
Checked into apartment in Blouberg
Weather:  sunny and hot
We were rather tired from our travel days.  Well, at least I was tired and it was so nice to sleep in a bed!  As such, we slept in and missed our 9am scheduled breakfast.  We came up to the top level of the Aqua Terra hotel where the view was absolutely magnificent.  There is a small infinity plunge pool up here and we are overlooking other residences as we are on the side of the hill up high.  We can see down to the ocean and around the whole coastline.  Since we didn't get breakfast, we ate the leftover pizza from last night's dinner for breakfast.  I do enjoy cold pizza for breakfast and I don't allow myself the luxury often.  =)  While we were eating, the owner's rather large dog came in to sit with us.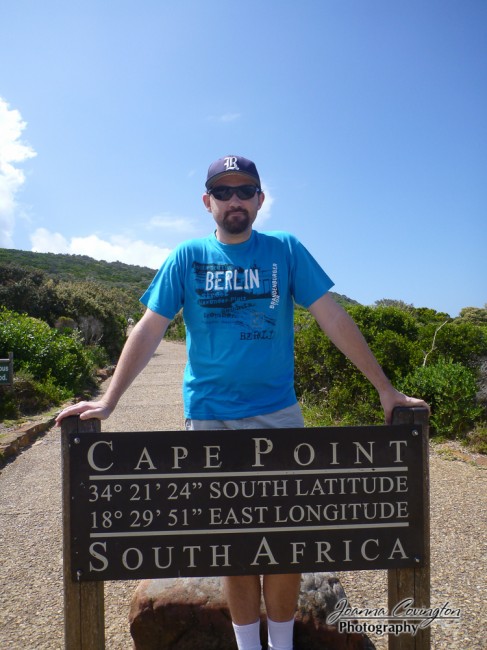 We don't have much luggage since my checked baggage didn't make it in yesterday.  Before we left the hotel this morning, though, we were able to call and confirm that it had arrived at the airport today.  We also were in communication with our apartment owner where we are staying the night and she will not actually be there to meet us.  So, we can't have the airline drop off the luggage with no one there to greet it.  So I told them that I would just come by the airport and pick up the baggage.  That ended up working out very well.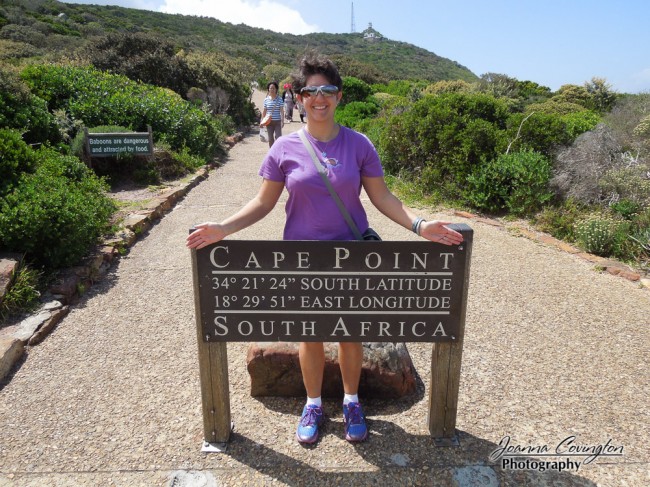 At 11am we started driving south to Cape Point.  This is the touristy southern-most-tip of Africa.  The actual southern-most-point is Cape Agulhas which we will visit on another day.  Cape Point is popular as it is very easy access to Cape Town.  Cape Point is a national park down here at the southern tip and we drove around the area making a few stops.  First we noted that there were many cyclists out on the road.  Apparently Cape Town and Cape Point are popular places to cycle, but I can't understand why because as we would learn today, the area is EXTREMELY windy.   Other than the cyclists, though, the road was not very busy.  It is an absolutely gorgeous day, too.  We are so glad that we purchased shorts yesterday as well because it would have been too hot and sweaty in jeans today.  There are baboon crossing signs everywhere as well.
Cape Point of course has a bunch of tour buses in the parking lot and we were amused to see that you could get tickets on a little funicular from the parking lot to the first lighthouse.  It wasn't even that far of a walk!  We definitely did the walk out to the first lighthouse and spent some time taking photos, looking at the crashing waves down below and enjoying the summer weather.  The first lighthouse is the older one and a newer one was built on a much more precarious position closer to the actual point.  Cape Point is up high on a rocky cliff that drops down rather steeply into the ocean below.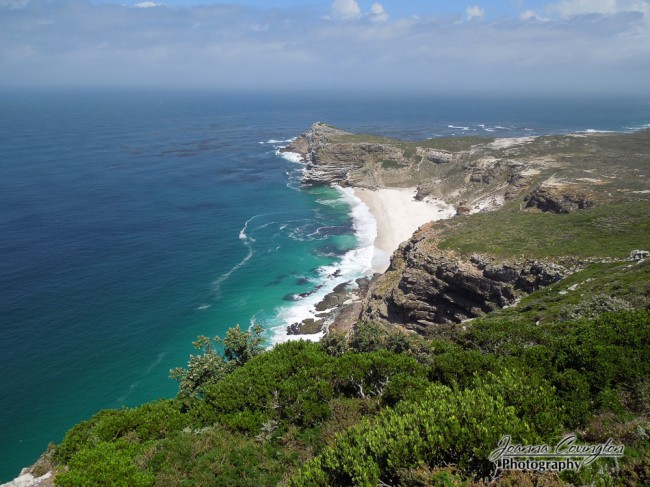 From the old lighthouse we could see that there was a walking path out to the new lighthouse, built in 1919 after the SS Lusitania wrecked on the rock out cropping (Bellows Rock).  While we were walking out, there were a few surprising sprinkles of rain, but nothing to be concerned with.  I think the humidity was just that high.  =)  We saw two types of lizard out sunning themselves.  the Black Zonure and the Agama lizard.  We also found several rock dassies, also called rock hyraxes and look just like the marmots we see in the States.  They live out on the rock out croppings.  I was able to walk pretty close to one as it was perched above me.  I turned around to pose with the dassie for Mark's photos, and when I turned around, the dassie was staring down at me with it's huge teeth pointed towards me and the cute creature became a little scary looking.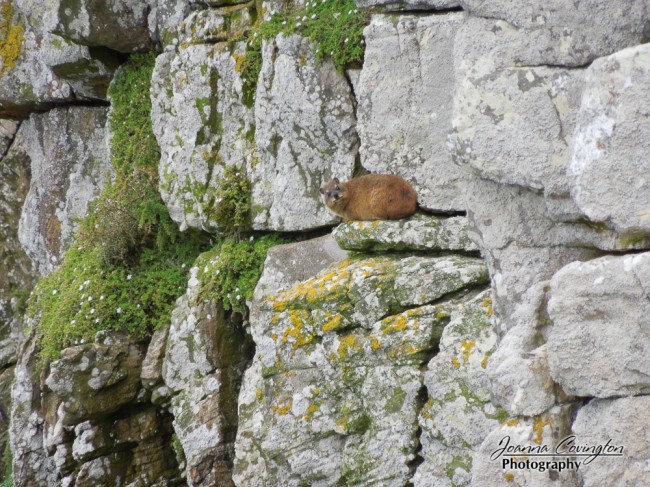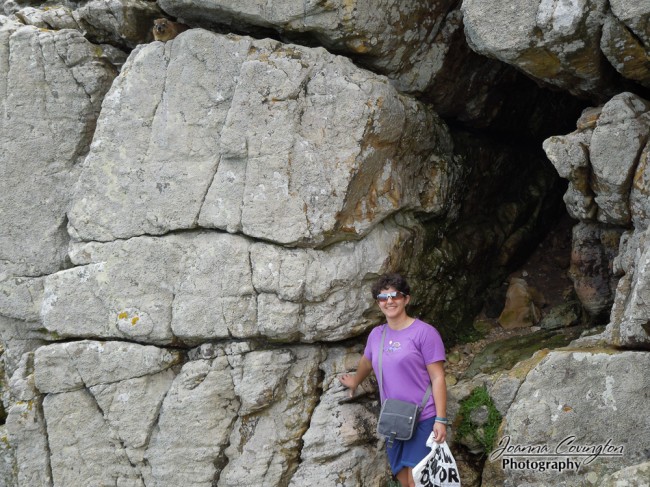 The ocean water down below is extremely clear.  We can actually see a few seals swimming around down there.
We had our lunch at the cafe here at the point and then drove over to the Cape of Good Hope.  On the way we finally saw some baboons on the side of the road!  We've been warned by the tourbooks and also some South African's to never leave our car windows open and be careful in baboon areas because they will steal your stuff.  Well, these were the first that we saw walking along the road.  =)  We also stopped to watch a couple of wild ostrich running along the beach.  Wow, now we feel like we are in Africa for sure.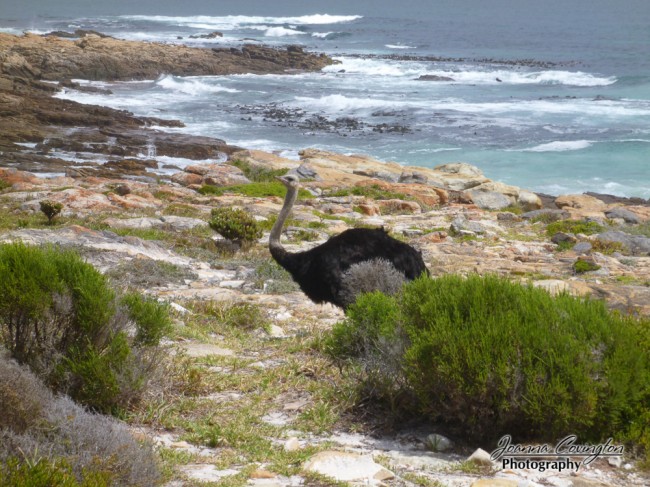 At the Cape of Good Hope, we were highly amused by the huge line of people waiting to get their photo with the sign down here.  There were some very concerned tourists who wanted to make sure that everyone waiting in line for their turn alone with the sign.  We watched some minor altercations as well!  We were amused, too, as a light rain started and scattered the bulk of the tourists anyway.  We walked out on the rocks a bit to watch the waves crashing in and we were amazed to see thousands of small beetles or actually probably a cockroach relative migrating away from the incoming tide.  It looked like a horror movie as we looked below and the rocks were moving with the insects.  Ick!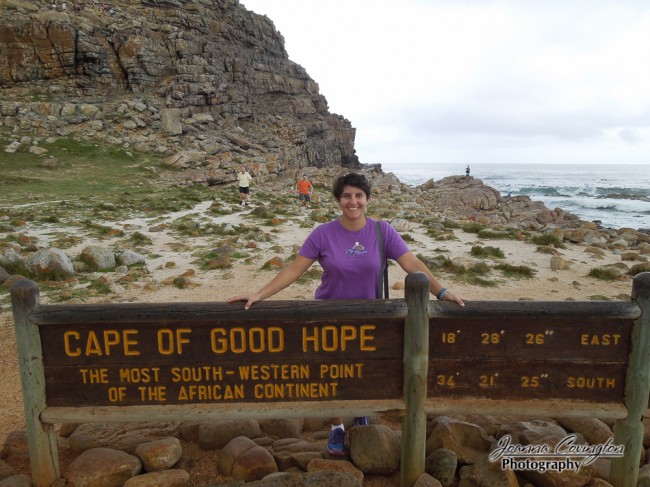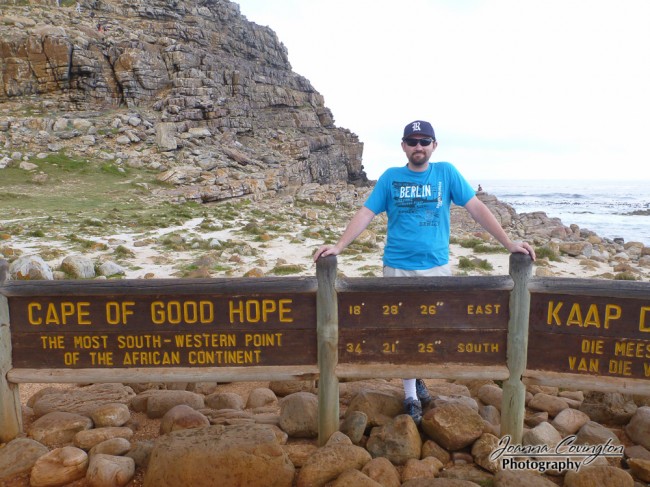 At 4pm, we decided to move on and drive back to the Cape Town airport to pick up the luggage.  Luckily all was there and accounted for and it was just a minor stop before heading to the northern suburbs of Cape Town to the small area known as Blouberg to find our apartment.  We are at Serendipity 608 for the next 3 nights and were very very happy with the accommodation.  The owner left the keys in the mailbox for us.  The apartment is inside a security gate as well, so we are not worried about parking the car.  The apartment is very large with two bedrooms, a living room, dining area and kitchen.  Also very important is the washing machine we can leave here with all clean clothes.  The master bedroom is on the corner of the building and has two huge windows overlooking the coastline which we will really learn to love.  We are up on the 6th floor of the high rise apartment, too, so the view is perfect.  We have the setting sun right outside the windows as well since we are facing west across the coastline.
We unpacked and make sure all our stuff was accounted for and then took photos of the sunset before heading out for groceries and dinner.  Grocery stores are actually open late here in South Africa compared to Europe.  We found one open as last as 9pm even.  The plan was to get some groceries and then head to dinner, but we realized we wanted some cold stuff, so we ended up buying a frozen dinner to eat at home tonight.
We watched netflix on the computer and had our dinner at home and just enjoyed a normal night together.  It is these little things that we miss by living apart and on vacation we seek out these moments.  Also, sadly since we did not have our luggage, we didn't have the sunblock today either, so Mark got sunburned.  And actually, I got my very first sunburn ever as well!  I was surprised.  I guess I didn't build up enough of a tan cycling in the Houston cold January to protect me.
Tonight we also did some planning for activities for the upcoming week in Cape Town.