Wednesday, January 23, 2013 (Day 14)
Now that skiing is over, it's time to try our hand at some winter hiking.  We were actually hoping for some snowshoe-ing while we were here, but the information was lacking.  We were also told it wasn't safe to go without a guide.  But, most of the winterwanderwegging is on packed trails that we can hike in our regular boots anyway.
So after another hotel breakfast, we hopped on a 1.5 hour long bus ride to the Krimml Waterfall.  It is supposedly the tallest in Europe, though, I think that just means it's the tallest in elevation.  I've seen photos of this waterfall completely frozen, but with all the "warm" weather we've been having I doubt it'll be frozen today.  Still, we want to go.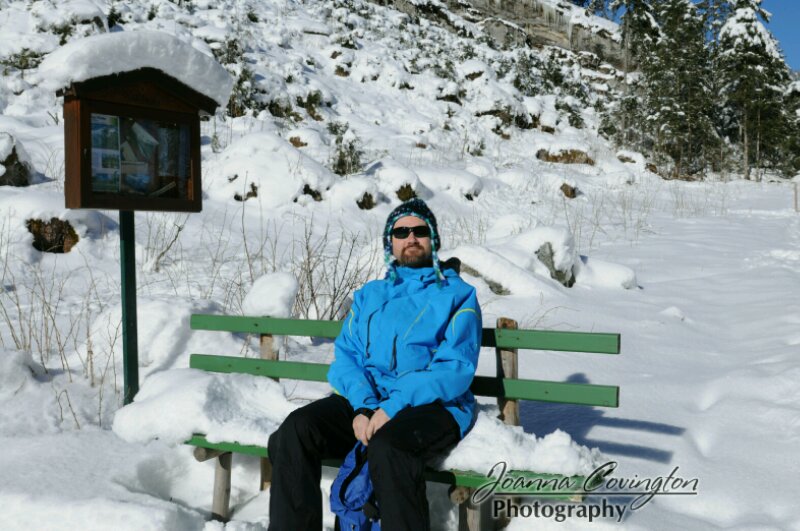 Also today is the first day we've seen the sun come out!!  We almost forgot what it was like to be in the sun after two weeks of gray and cloudy days.  I'm excited about this sun.  So, the bus ride through the sunny winter wonderland was a pretty gorgeous ride.
The hike was definitely well worth it.  We were first able to hike to the bottom of the waterfall in probably about 10 minutes or so.  The trails were carved out and mostly packed down, so the going was easy.  Unfortunately, the waterfall valley was not in the sun, so we spent the rest of the day in the shade which turned out to be the coldest temps we've seen on this vacation with -5 to -10 degree C temps.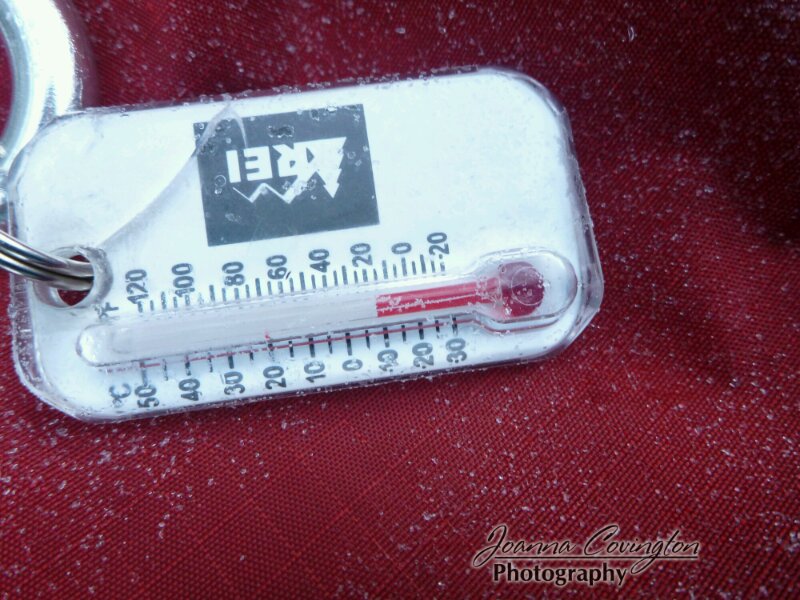 Waterfall photography turned out to be a bit of a fail as the waterfall covered us in mist, which then immediately froze.  It wasn't so bad on us since we were in waterproof and warm gear, now just covered in little ice crystals.  However, the mist sprayed all over my camera…and froze….and that was not so good.  Mostly it was not so good that it sprayed on my lens and froze.  =P  I did get some photos at least, but then i had to spend some time trying to clean off my gear as best I could by warming it up with my hands until the ice melted and then soaking up the water with the paper towels I brought.    Learning for next time….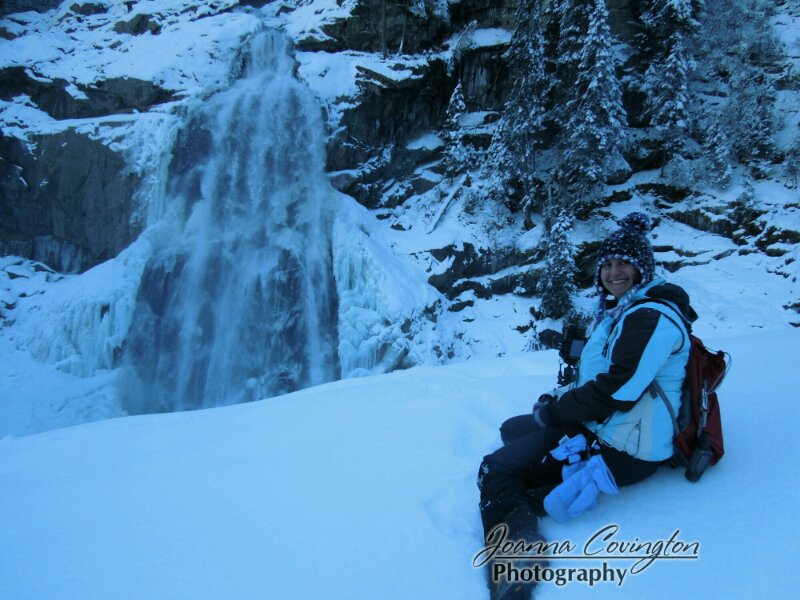 We kept hiking around and found that there was another trail that went up to other viewpoints going up the side of the mountain to view the waterfall from up higher.  It was a multi-tier waterfall, so this made sense.  The trail is a summer trail, but there was a packed path through the snow for our winter hiking.  We had to pass by a sign warning us of dangerous conditions of course, but we were glad we went.  We also saw way more people than I thought we would.  It wasn't crowded, or anything, but I was surprised to see several others out and about.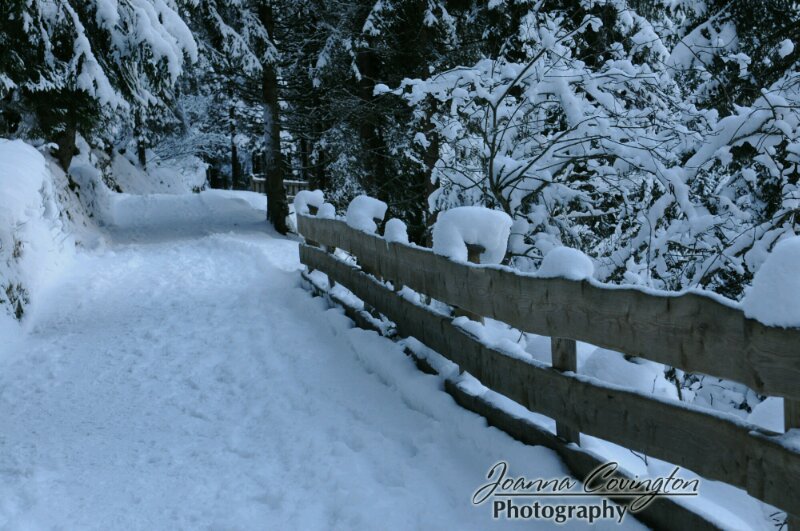 Finally, with some time to kill before the bus came back to get us, we decided to build a snowman.  This proved easier said than done.  I don't think I've ever really built a snowman larger than maybe 8 inches tall.  We are both novices at this, so we thought we'd start with a packed ball.  That did not work.  So instead we just built a mound of packed snow that I then carved into a snowman shape.  =)  It was great fun.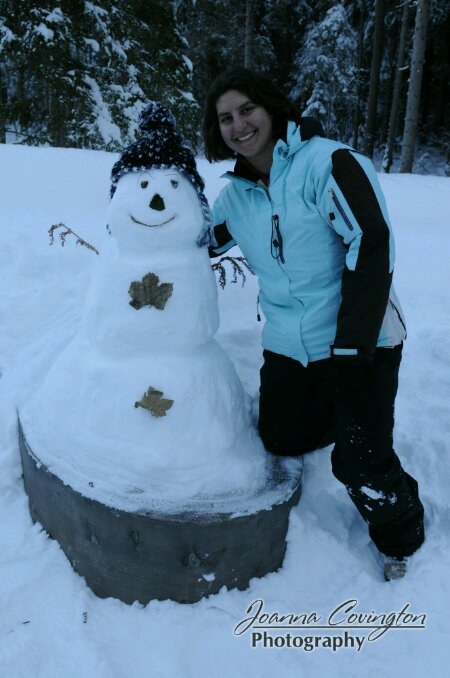 Mark went in search of snowman decorations and came back with some leaves and twigs.  With my hat on top, I thought we built a pretty cool guy.  =)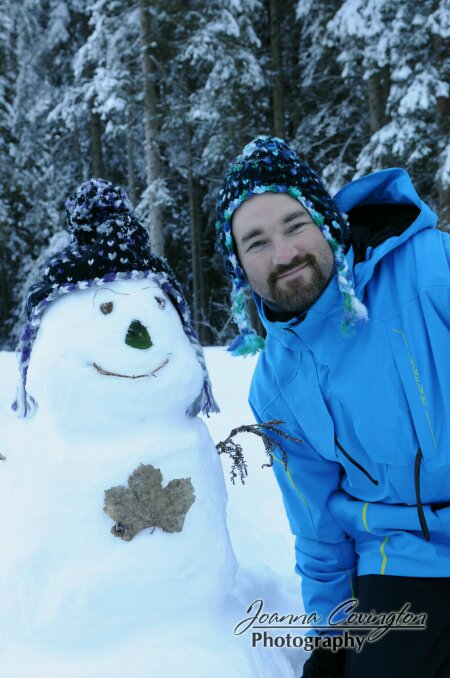 The bus ride was another 1.5 hours back to Zell Am See, and then it was nearly time for the Nite Race event.  They had built a short ski run through the center of town, and were planning on a race around poles.  Ski times were about 10 seconds to 14 seconds or so…so it was a short course of course.  It was really neat and made me feel like we were at a tiny Olympics or something.  They had some racers that competed for fastest time in both a mens and womens categories for trophies.  Then, they had various people come out and entertain the crowd on the snow.  There was a two-person dance/drill team that did some dances to music.  There was also a flame juggler.  They also had several people ski down in various forms of historic ski dress including girls in skirts and everything.  VIPs also skied.  For instance the mayor was a VIP.  The announcer was super hyped up and did almost all the announcing in German of course, but put in a few phrases of English every now and again.  Mostly it was just great fun to be here with the music, the skiers, and everyone who came out to watch.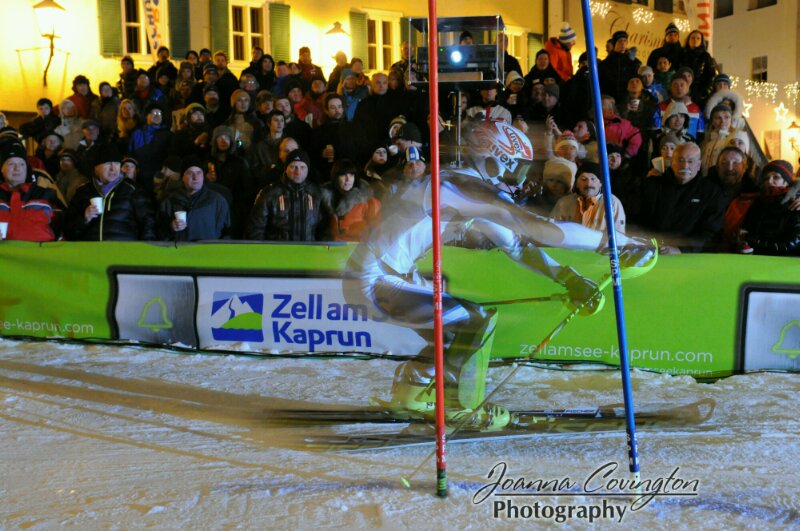 It did get cold standing around not doing anything, so we went back to our  hotel after a while and had yummy weinerschnitzel for dinner.  Another great end to another great day.