Tuesday, January 22, 2013 (Day 13)
Today is our second and final day of skiing in Austria.  We are better beginners today, on our second day of skiing, but my shins and calves are definitely feeling the ski-boot pain.  Immediately we can see that it will be a much clearer day for skiing.  It's amazing how much easier it is to ski when you can actually see down the slope where you are going!
For most of the day we had a light snow fall coming down, and temperatures around freezing again.  We still warmed up pretty fast once we started skiing.  We found an area today that had some nice easy blue slopes and we stuck to this area.  We both worked on perfecting our skiing technique.  Mark told me that I should move my weight to my outer ski and though that is exactly opposite of what my body wants to do, I tried it and I could see improvement.  I guess those ski instructors do know what they are talking about.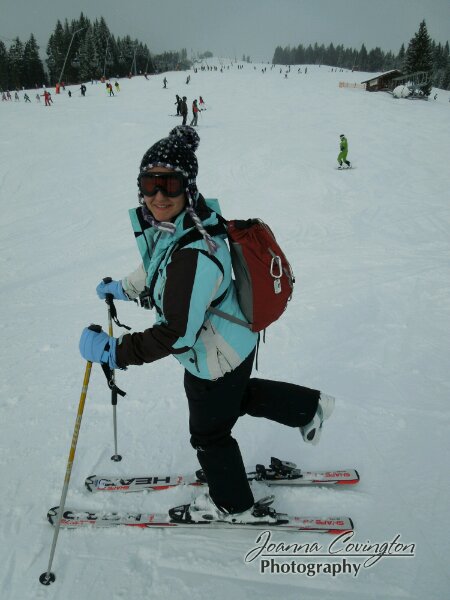 We have mastered the nice slow chairlift on our easy blue slope, too, and we are mastering getting through the turnstile gates with skis and poles.  We had our lunch at one of the mountain restaurants and since it was so nice out, we decided to cool off and eat outside.  We both got spaghetti and while we were eating, it started to snow!  So, it was snowing in our spaghetti.  We immediately wanted to post that on Facebook, however the free wifi wasn't working well and the data cell signal was bad, so we spent too much time trying to post, but laughing about it. 
Back on the slopes we went after lunch.  I finally mastered the settings on my GoPro camera to take photos at 30second intervals and also mix in some video feed.  So I have many more photos today.  We pretty much skied until the chair lifts stopped taking people up the mountain.  It was so much fun, but we both agreed that just 2 days of skiing was probably our max, and our achy muscles will need a break from skiing tomorrow.
It took a little longer to get back to the hotel b/c we got stuck on the wrong side of the mountain at the end of skiing.  The lift to get us back to the correct side was already shut down by the time we got there.  So, we went down to the base and took the free ski shuttle to the right Intersport to drop off our skis and collect our boots.
Today was the worst day of my cold, and by the end of the day, I was pretty tuckered out.  I went back to the room and fell right to sleep for a nice long nap.  Our plan was to take the Tuesday night toboggan bus to go sledding, however, we found out that there wasn't enough snow for the toboggans.  So, I stayed in and napped while Mark read his book.
Eventually we headed out for a pizza dinner and then back home to bed.  It was a great day out on the slopes for sure.  I'm feeling at a good level, where I might be ready for another ski class to help me advance a little more.  Of course now I wont go skiing for a good long while, so I'll lose all of that.  =)