Saturday, September 8, 2012 (Day 22)
Zermatt
weather:  beautiful, clear, sunny day
Today is our last day in Zermatt, and also, really our last day of vacation.  After today we have two travel days before we will find ourselves back in our respective homes.  This vacation has been a good one.  It felt wonderfully long and like it would never end, so now the end is coming as a bit of a shock. 
We woke up early enough to take the first Gornergrat-bahn train up to the Rotenboden stop.  As a photographer, the first thing I like to do is study postcards and photos of an area and I was in love with the photos of the Matterhorn reflected in a lake.  With a little research, we found out this lake was the Rifalsee Lake at the Rotenboden stop.  Unfortunately, the sunrise reflected on the Matterhorn was between 6:50a and 7a at this time of year, so the 7am first train up was a little lake, but there's nothing we could do about that. 
We made it to our 7am train and by 7:30a we were at the Rotenboden stop.  On the way up, we were treated to the views of the Matterhorn waking up for the morning as well as the rest of the alpine scenery.  The train goes up a mountain pretty fast and the top, Gornergrat is well over 3000 meters high.  We were most amused as we passed by a little construction site on the way up and found a small herd of sheep had found themselves trapped inside with what looked like no way of escape.  they were all just looking at each other trying to figure out where to go or what to do.
We got off at Rotenboden at 7:30a.  There were actually two lakes, though I'm not sure which one was Rifalsee  In any case, the smaller of the two was closer to the Matterhorn, and seemed to be what I had in mind for my photos, so we hiked down about .75km to the lake.  We had actually left the train with 3 other photographers sporting DSLRs and full-size tripods.  I miss my full-size tripod when I'm on vacation, though I had my mini one with me.  As we walked down, we saw one photographer was already stationed here and he must have gotten some amazing photos of the sunrise.  He either woke up at 1am to hike up here, or perhaps stayed in the Gornergrat hotel at the top and hiked down this morning.  In any case, I was a tiny bit jealous, but also amused to see he had spread his gear out on all the surrounding rocks so there was about one lens on each rock.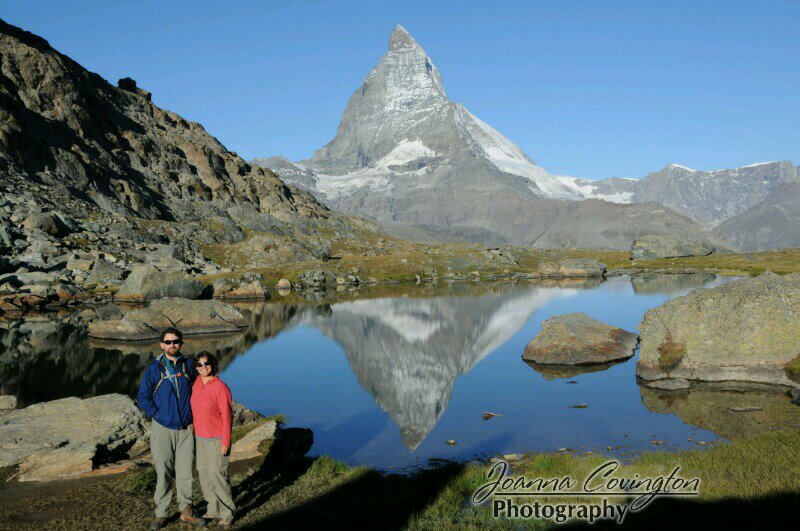 We continued on to the small lake with just one other photog.  Mark was very patient and waited for me while I spent quite a while taking a couple hundred photos I'm sure, to look for the best one.  Light moves fast and though we started out in the shade with cool temps of 5 degrees Celsius, the sun was soon upon us warming our backs and bringing the temps up to 7 degrees C. 
It was cool enough overnight that there was frost on some of the grass and it must have snowed in the area sometime this summer because there were still a few paths of melting snow.  As we walked back to the larger of the two lakes, Mark read that something about the lake and the climate up here provided the perfect atmosphere for several plants and flowers that would not normally grow at this altitude.  In fact, these plants have set the altitude record for being able to survive up here.
We caught the train up to Gornergrat at 9:30am and it was a short ride up.  Here was tourism at it's finest, too.  We stepped off the train to find several hired photographers with St. Bernards dressed up with the little wooden barrel around their necks.  They grabbed people to pose in front of the Matterhorn, with the famous rescue dogs and then give them a ticket to go purchase that photo.  The area is full of Japanese (I think?) tourists and any of their groups partook.  People watching up here was fabulous!
Also up here is a hotel, the Gornergrat Hotel in fact, and it claims to be the highest hotel in the Alps, I believe.  It was very fancy and sported a "summit mall" for tourist shopping.  Everywhere we go you can buy Swiss watches, chocolate, and Victorinox Swiss Army knives.  We admired the views from the viewing platforms.  We were looking at the Monta Rosa range of the Alps which hold some of the tallest alpine mountains.  In the US, we call our tallest peaks, 14ers because they are over 14,000 feet.  Here, they call them 4000ers because the tallest ones are over 4k meters.  Below us we could see a glacier that seemed to be melting away.  We could see a meandering river of meltwater down the middle of the glacier making a couple oxbow lakes and awesome snaking curves.  Mostly though, we just enjoyed the 360 degree panorama of snow-peaked mountains around us.
We didn't stay too long, and took the 11am train back to Zermatt.  We were both hungry and a bit tired.  Once again we visited the take-away sandwich shop in Zermatt and took our wonderful sandwiches back home to eat with tortilla chips and salsa and a recently purchased pint of Ben & Jerry's ice cream.  From here on out, the plan was to relax, enjoy our last day here, and do some souvenir shopping in town.
I had plenty of time to type blogs, and we enjoyed strolling around in the tourist shops for our last souvenirs and tshirts.  We were actually hoping to find more hiking-related tshirts in the area, but we really didn't.  All Swiss towns are completely full of sporting apparel stores, though, and we browsed through some drooling over all the cool hiking items they have here.  When it is time to go shopping for our next outdoors trip (like a multi-day backpacking or bike touring trip) we definitely need to do our shopping in Switzerland or Germany.  They have some cool stuff.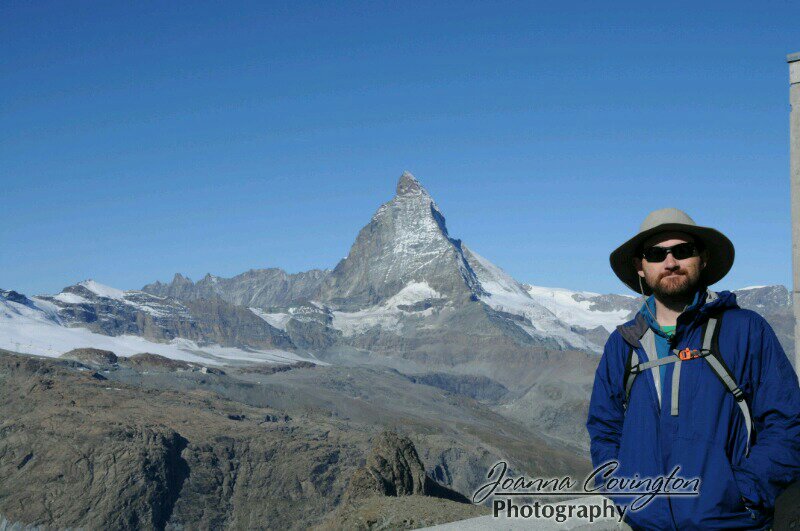 We went out for dinner at a place near the bridge in town with perfect views of the Matterhorn.  It was called Old Zermatt and we were both happy with our schnitzels.  Plus, we could see some clouds around the Matterhorn….the first clouds we've seen since we arrived in Zermatt and I was hoping for a colorful sunset.  Alas, not that much color, but it was very nice to sit and watch the sunset at the Matterhorn.  The clouds helped keep the alpine mountain from getting too washed out as the sun went down.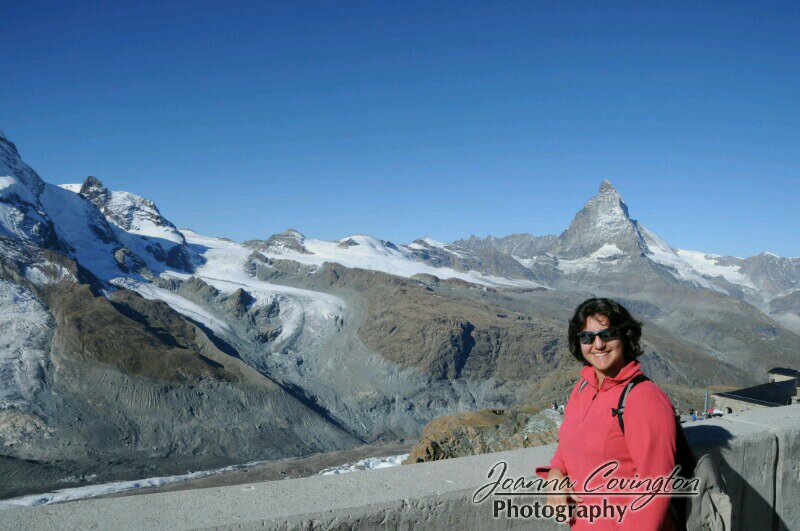 Sigh…..tomorrow we must leave Switzerland to travel to Marseille, but for one more night we are going to bask in the glory of the Swiss playground.  We are already planning our next trip back.  =)