Monday, August 27, 2012 (Day 10)
Brunnen
weather:  sunny, gorgeous, perfect
What a great day today was.  We really enjoyed going up Mt. Rigi.  Actually, our original plans was to go canoe-ing today, but that didn't work out mostly because I woke up with a migraine leftover from last night.  Luckily, just more sleep was needed and by the afternoon, we were good to go.  So, it ended up being a rather nice lazy morning in our lovely apartment.  We could see the pretty day outside and all the windows were open to let in all the breeze. 
When the afternoon rolled around, we opted to first stop off at the visitor's center/tourist information desk in town.  They gave us some pointers for our canoe outfitter – Adventure Point.  It turns out the guy is not always in and we should call and set up our rental.  We did that and found out that tomorrow was totally booked up as well, so we will go canoe-ing on Wednesday.  It's good to have the information.  We also asked about going up Mt. Rigi and got some good information about where the construction zones were.  There are actually 3 ways to get up to the top, and the best starting point was an easy train ride from Brunnen.
So, we took the train to Arth-Goldau, then hopped on the Goldau-Rigi express to head up to the top, Rigi Kulm.  We were very happy to find out that our Swiss Passes cover this train as well, so it was all free for us today.  From Goldau, which is just another town along Lake Lucerne (Lake Lucerne is actually a very large lake in central Switzerland), it was about 50 minutes on a semi-steep train that went up the mountain.  We enjoyed the views from the train especially all the waterfalls we passed.  Of course there wasn't much of a chance of anything except for snapshots as we climbed, so I refrained from photo ops until we got to the top.
As it turns out, our railway is the only one that really goes to the tippy-top of Rigi.  Mt Rigi towers over the whole area of Central Switzerland.  Right away we were blown away by the view in all directions on this sunny, very clear day.  Also, the weather was much cooler up here on the mountain where it was getting to be quite warm down by the lake.  Up here we actually needed our fleeces on to stay comfortable in the breeze.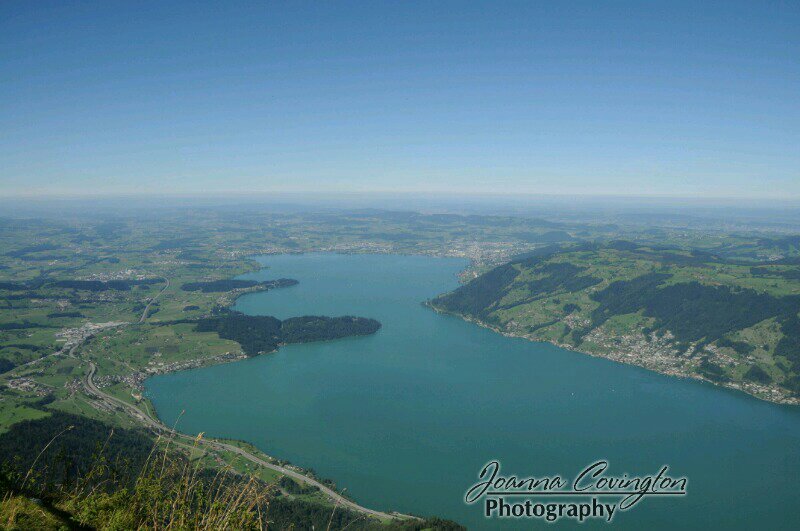 The views were magnificent as we had a 360-degree view.  We could see down to Lake Lucerne, and all the other lakes in the region.  We could see off to where Zurich was hiding even.  To the south we could see all the snowy mountains of the Swiss Alps including the Bernese Oberland we had left not too long ago.  We could see Lucerne and many other cities along the lake, though Brunnen was hidden by some foothills.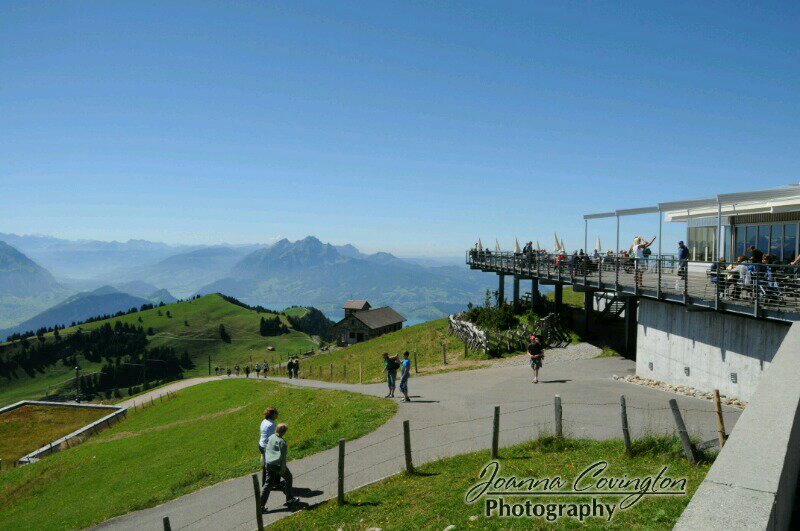 Our first task was to eat lunch at the restaurant at the top.  There was a cantilevered porch that almost hung in midair.  I enjoyed a lovely bowl of creamed vegetable soup while Mark ate his pasta covered in cheese and onions with a side of applesauce.  After lunch, we climbed the last 5 minutes up to the tippy top where a giant radio tower stood.  We were surprised that the tower even had a viewing platform for us tourists.  Mostly, we just walked around taking in all the views.  Of course it is impossible to take a good enough photo to really show you how magnificent it was to see for miles and miles, but I took more than 100 to try.  =)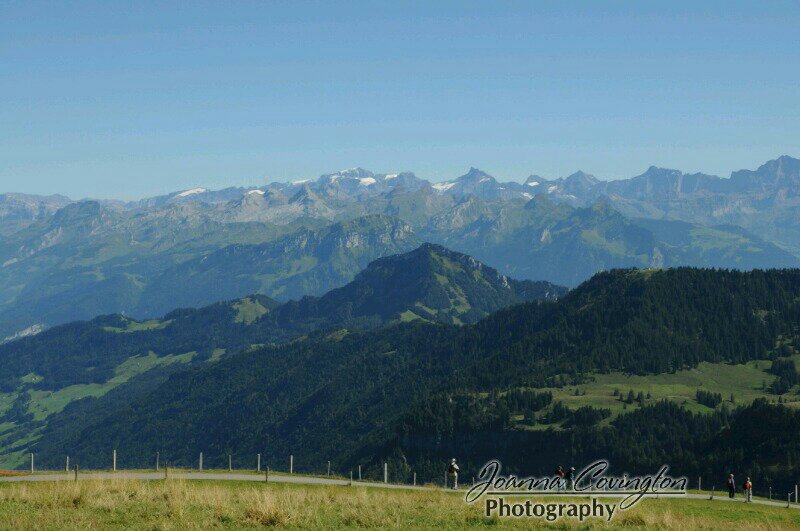 Seeing as how we didn't come prepared to do any massive hiking, we just went from area to area to the panorama signs that showed us what all the names of the surrounding mountains were.  When there wasn't a panoramic sign, we just pulled out google maps.  How cool is it to have a data plan on top of a mountain?  We love it.
We could hear the cows way way down below clanking away and then we noticed just over the edge from where we were sitting there was a small herd of sheep with their smaller bells.  Also, many of the signs were incredibly informative, even in English about the history of the tourism of the mountain.  I think the railway has been around since 1875 and before that they were bringing VIPs up via horse or even sitting platforms carried by 4 very strong men!  This is how the Queen at the time came to visit!  It also turns out that Mark Twain visited the area and climbed Mt Rigi.  Many signs quoted him from his time here.  I guess he loved it here as well.  We certainly do.
The trains back down were running hourly and when we had about an hour until then next train, we decided to slowly start descending between train stations.  The walk down was magnificent and more views seemed to come around every corner.  There is a little Alpine farmer up here that makes his own cheese and sold his Rigi cheese in the restaurant.  We walked by an events tent as apparently, concerts are held up here at certain times of year.  We walked down about 2 train stations before it was time to actually wait for our train.  While waiting, we learned that the trains went much later that originally thought.  I thought the last train down was at 7pm, but it turns out we could have stayed up here until 11p, even.  Too bad because a sunset view from up here would have been spectacular.  But I had no intention of hiking back up just to sit for a couple hours and wait.  =)  I wouldn't put Mark through that.
So, we headed back down to Goldau and then took our train back to Brunnen where we arrived in time to stop at the grocery store and at our apt and then head to the lake to watch the sunset.  I had high hopes for the sunset tonight as the clouds looked all nice and wispy, but the skies cleared by the time it was time for colors.  It was still decent.  From Brunnen, we can't actually see the sun hit the horizon line, but it does go down behind the mountains low enough that we get a good burst of color.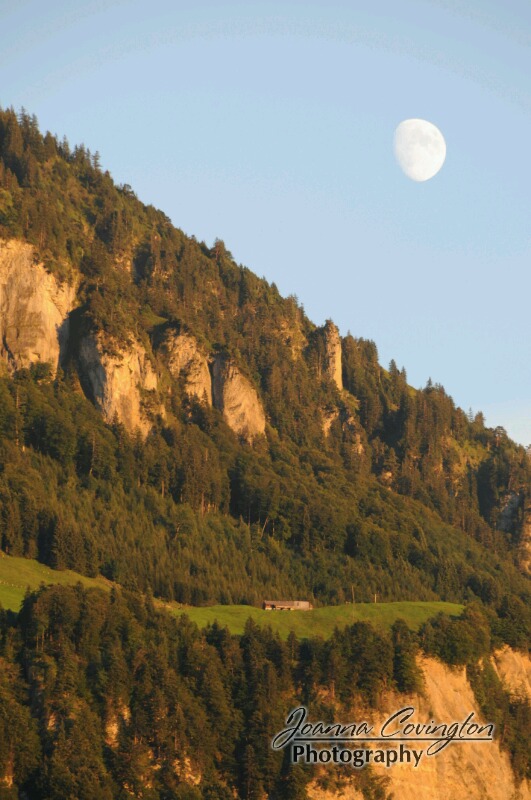 We decided to go ahead and try the Mexican restaurant for dinner, though our hopes were not too high.  They did actually have some dishes listed that looked Mexican at least, like fajitas.  Mexcalitos was the name of the place and it was okay, but we were right not to get our hopes up too high.  Mark was amused by his pink margarita, but the fajitas were okay.  My quesadilla tasted good, but wasn't like anything I might eat in Texas.  =)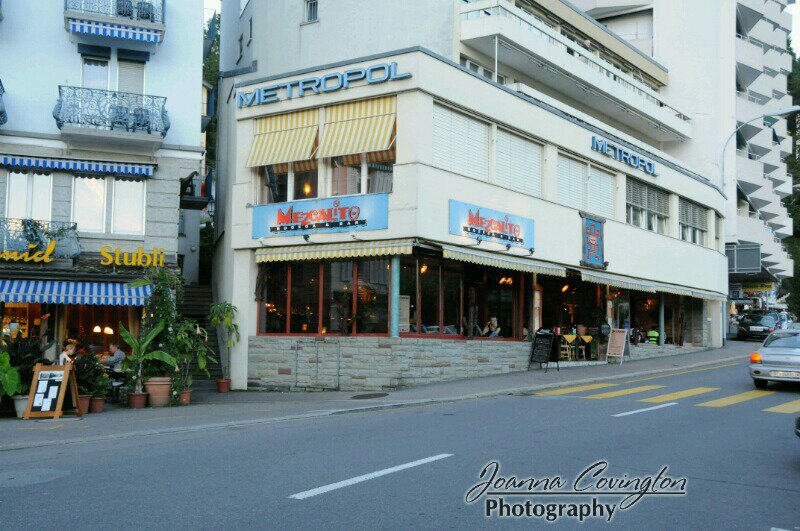 And of course our evening activities included watching some more recorded TV we brought with us and generally lazing around until we fell asleep.  Great day today.  Tomorrow we will see what comes, though we are thinking a bicycle trip around the lake is in order.