Sunday, August 26, 2012 (Day 9)
Brunnen
weather: first half of the day was rainy, second half sunny
As predicted, we woke up to rain and decided a lazy morning was the best course of action for the day.  We caught up on post-writing (ugh, I'm getting behind again.), did some research into sight-seeing in the area, and basically just had a lazy breakfast.  Oh, and of course, there's the daily laundry.  I always enjoy staying in an apartment because the kitchen sinks are so much larger for laundry rather than the small bathroom sinks.
Finally, we decided that a visit to the museums in Lucerne were the best idea for a rainy day.  The train from Brunnen to Lucerne around Lake Lucerne is about 45-50 minutes, so it is pretty easy to get there.  First stop was the Verkehrshaus, or the Swiss Museum of Transport.  The tour book made it sound really awesome, and transportation is very interesting to both of us.  Plus, the Swiss know how to do transportation, so we figured this would be a pretty awesome place to visit.
And we were right!  The Swiss Transport Museum was huge!  There was a building each dedicated to airplanes, cars, trains, and boats/cable cars.  Plus, between all these buildings was a large courtyard that looked more like a small theme park with areas of fun activities, mostly for kids.  There was a lake with remote controlled model boats, there were free scooters everywhere to use, there was a whole construction site the perfect size for small children to operate all the machinery and work around.  Plus was was most intriguing to us was a huge display on solar power both for houses and mostly an exhibit on alternative energy for cars.  Unfortunately, this whole exhibit was in German.  =(  Leading out from this exhibit was a curvy track made out of traffic cones for test driving all kinds of things.  You could test drive a Segway, an e-bike, and even a Volt (electric car)!!  It was too bad that you needed Swiss identification and drivers licenses for that.  But it sure was fun listening to the silent Volt drive around the track.
Anyway, back to the museum.  We started in the air museum building.  The middle was full of old-style airplanes through the history of flight.  Along the outer edges were exhibits of all kinds of air transport history.  There was a lot of information about the helicopter since that is one of the most important inventions for the Swiss mountains.  The helicopter is important for Swiss rescue a well as a transport option for all the Swiss mountain towns as they need supplies.  Oh and the museum is full of little interactive exhibits as well!  We were most amused when we moved on to the SwissAir exhibits including a model of a full-size commuter airplane that you could walk onto and sit in the airplanes seats!  Haha.  There was even a display showing all the differing classes of seats from first class to economy. 
As we moved through the air museum there was even a floor dedicated to space travel where we were amused to see the museum kept highlighting the one Swiss astronaut in history.  This felt like a very fitting part of the museum today, as we have recently learned of Neil Armstrong's passing.  It's always neat to learn details about space travel.
The next building we visited was dedicated to the car and roads.  This building was actually quite dark inside, though we were very intrigued by a full wall of different cars all parked vertically along the wall like they were on bookshelves.  Then, there was a machine that removed the cars on their platforms and took it down to a viewing area where demonstrations on each car were given in German.  It was fascinating to watch this machine work!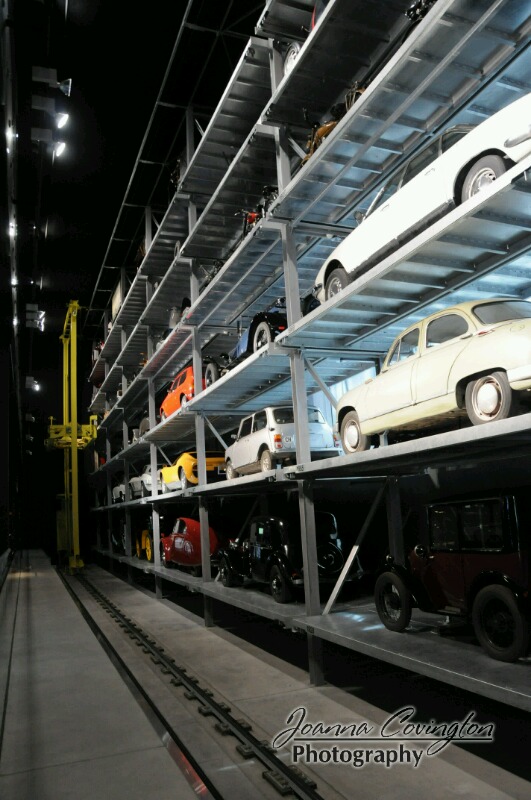 There were lots of little tidbits of information of course about how wasteful cars are, but we had fun working on the interactive computer displays with quizzes for us.  We each took a couple fairly hard quizzes on the other side of a large model of a city.  The city used old stereo equipment as the sky scrapers, and a rack all around the city was full of moving cars.  When we took our quiz, we were each assigned a car, and the more answers we got correct, the faster our car would move through the city.  Of course a lot of the questions were Swiss-related like, how many nuclear power plants are located in Switzerland? (5, by the way) It was fun.  The computer interactive exhibits are nice because you can change the language very easily so we were able to get a lot of information.
The transport museum closes at 6pm, so we figured we had time for one more building.  The boat and ship building also had a floor dedicated to the cable car, so of course we went over there.  Probably the most interesting exhibit was a video of how they make the cable wire for the cable cars.  An absolutely HUGE machine twists small wires through various stages to make the thick cable wire.  There were models of all kinds of different ways to attach the cable cars to the wires and my favorite were tiny models of cable car lines moving around and around.
We were amused, as well, by a computer programming exhibit that took you through several interactive displays to show you how computer code works.  You could even use your museum ticket to check out a little emoticon guy that you carried around through the exhibit to play some computer games and such.  We stayed here until the museum finally closed.
Did I mention that the clouds and rain had pretty much cleared and turned the day beautiful once we got to the transport museum?  Well, now after our visit, it was looking to be a beautiful evening, so we headed to the old medieval section of Lucerne.  There are two wooden medieval bridges in Lucerne to visit.  The main and big one was Kappellbrucke (Chapel Bridge) and was absolutely gorgeous in the golden light of the setting sun.  The bridge dates back to the 14th century and is now covered on both sides with flowers.  Along the roof of the bridge, paintings are displayed every few feet, though many are recreations of the ones that were destroyed in a bridge fire many years ago.  The center of the bridge held a round water tower that adds to the ambience and when we walked across, we found that there was enough room here for a little souvenir shop as well.
After the necessary photo shoot, we opted to have dinner at one of the restaurants along this little river with a view of this beautiful bridge.  We ate at Da Ernesto Restaurant dining on Penne Aurora and Risotto Pescatore.  Our dinner was seasoned quite a bit with hunger as we skipped lunch, but it really was tasty.  Plus, I had a great view as the sun went down to keep taking photos of the bridge.
The next medieval bridge was much darker due mostly to the paintings depicting death and the black plague.  This was the Spreuer Bridge dating back to the 17th century, I believe and is actually still in mostly original condition.   Around this bridge was a plaza called the Muhenplatz and we were mostly very interested in why the river water was being channeled into three very different paths.  Information was all in German, so this is something to look up. 
And by now it was time to head back home to Brunnen and to bed.  It has been another great day on vacation.  Thanks for reading, and thanks for all the comments!