June 29, 2012 (Day 17)
Copenhagen
Weather: rainy day, partly sunny evening, cool temperatures
Copenhagen in English, or København in Danish is on the far east side of Denmark and just over a bridge from Sweden. This morning, we allowed ourselves to finally sleep in and it was glorious. We just made it to breakfast before they closed and found the largest variety we've had so far for breakfast. Everything was labeled and the food was good. We were due at our rented flat at noon, so we checked out of the hotel and walked to the bus stop. Well, our hotel was on the corner of a triangular intersection, and once we had walked the whole triangle block, we realized we were looking for the bus stop on the wrong road. We laughed at ourselves and then found the correct bus stop. However, now it was starting to rain. We took the bus to a metro station, and then the metro to our flat.
Guess what! Well, you guys already know, but the interesting apartment buildings that we were commenting on biking past yesterday held our rented apartment. We were amused about this as we walked through the rain towards the flat. The flat was wonderful too. The building is very modern and we are renting a 3-bedroom apartment with a large living area. The owner has two small children, so we skipped the kids rooms, but I can see how this would be a great place for travelers with kids. And what I always worry about the most, the bathroom shower has tall enough and had a shower curtain. We also have a washing machine and a drier. I will be doing lots of laundry today. =)
However, we decided to get out and see the city today. Since it was raining, we figured out the metro lines and then headed towards the city center to visit the Dansk Design Center. Here we were in heaven learning about all kinds of new materials being developed. We learned about new ways to use recycled plastics as well as new materials that recycle easier. There was translucent concrete that allows light to come through and is used in architecture. I loved the packaging exhibits. We saw the new shoebox packaging for Puma that used so much less cardboard and got rid of all the tissue paper and included a bag that the customer can re-use. There was cork wallpaper, and new plastics developed from recycled yogurt cups, plastics made from recycled mobile phone covers, oh and shark paper that was very interesting. This material is anti-bacterial due to research on shark's skin and it's triangular shapes that make it impossible for microbes to hang on to the surface. We saw biodegradable plastic cups, and a type of material that actually can be grown in about 5 days into the shape needed for packaging material to replace styrofoam. There was a really cool pouch that you can use in areas of Africa with no safe drinking water. You place the pouch in a puddle of dirty water and it slowly filters the water into the pouch which you can then drink safely.
There was a little exhibit of the history of Danish materials underneath where we learned about LEGO, started here in Billund, Denmark. We will be visiting LEGOland in a couple days. The world-famous LEGO brick, patented in 1958, has been in the pipeline since 1947 when LEGO acquired an injection molding machine, which made it possible to mass-produce toy components in the new material of the time: plastic. The word LEGO is a contraction of the Danish LEg GOdt: play well! In the shop, we were excited to see books on cycling culture in the area and even a cyclopedia.
Eventually, we had enough and exited the museum to see that the sun was coming out! This made our walk along the tourist street, Stroget, more enjoyable. We found a 7-11 and soon found out that there are 7-11's all over the place. We had shwarma for lunch and then we window shopped our way down the street. We were delighted to browse through a cycle shop, and window shop at a musical instrument shop. We also found a game store and purchased a puzzle to work on while we spent evenings at home in our flat.
Eventually, we made our way to the Rundetaarn, The Round Tower. The tower, built in 1642, was built as an astronomical observatory and it's known for it's spiral ramp leading up to the top where you can see expansive views over Copenhagen. The tower also served as an academic library for scholars of the time.
We haven't seen too much of Copenhagen at this point, so we felt the view was a great introduction to Copenhagen for us. We could see where all the various neighborhoods of Copenhagen were located and I was rather surprised to see how many magnificent church spires were scattered over the skyline. I almost felt as if I were in Florence, Italy for a moment. Down in the former library there was an art exhibit made of white stones and sand designs, but most interesting were several scrapbooks of history about the tower. Here we saw articles about a bike race that went up the spiral ran, and photos of royalty that came up in carriages. There was also an area where we learned some history about the tower. On the spiral, we saw a solar system chart.
From the tower, we walked towards Christianshaven, hoping we could find some dinner. We walked along the canal and took photos of interesting sights along the way. Oh, and this would be a good time to mention the trucks full of screaming students. Apparently, the graduating high school and college students celebrate by hiring large trucks and filling the back with students blaring music, dancing, and yelling out to everyone. We saw one of these trucks while we were biking the other day. The other cars seem to join in the fun and honk along and pedestrians wave and yell back. Oh, and the students all wear these little navy-like caps. We saw these trucks multiple times for the rest of our stay in Copenhagen.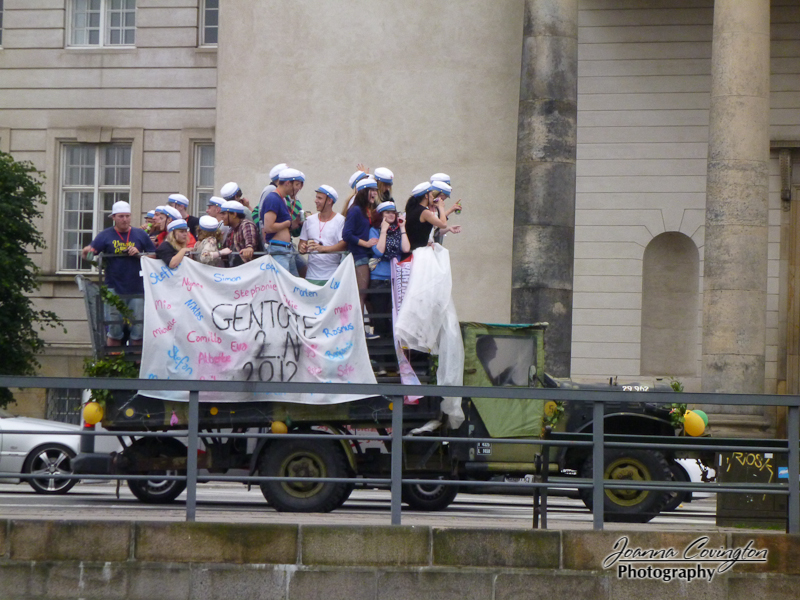 Well, now in Christianshaven, we had a restaurant recommendation from our Lonely Planet tour book, but it turned out to be hard to find. We wandered around a bit before we finally found it only to learn they were only open tonight for company events. We decided to head home and find a place to eat along the way, but restaurants in the area close at 9pm. There is a large mall just one metro stop from our apartment where we stopped for dinner. Unfortunately it was 8:30 by the time we arrived and the place was all closed up. Thankfully we found an Italian place open, but it was pretty basic mall food. They waitress informed us that we had 5 minutes to order or the kitchen would close on us.
Walking around the mall after dinner, we found the largest grocery store we've been to in Europe and stocked up with some groceries for the rest of our stay. Back and home we stayed up doing laundry and planning out the rest of our stay.