June 28, 2012 (Day 16) Bike Day 10
Bike from Køge to Copenhagen
9:20a – 2:45pm
64km (40 miles)
weather: sunny, little wind, low 70s
It's our last day of cycling as we will be in Copenhagen this afternoon. This tour has been great. We are ready to bike more parts of Germany, and perhaps even more parts of Denmark. (Though Denmark has shown us quite a bit of wind so far.) We have gotten to know the other people in our group pretty well by now, too. Oh, and for all of you out there who think you could never do a vacation bike tour….most of the people we meet on our bike tours are retired and have the time to take all these vacations. Mark and I look forward to still be doing bike tours when we are in our 60s too. =)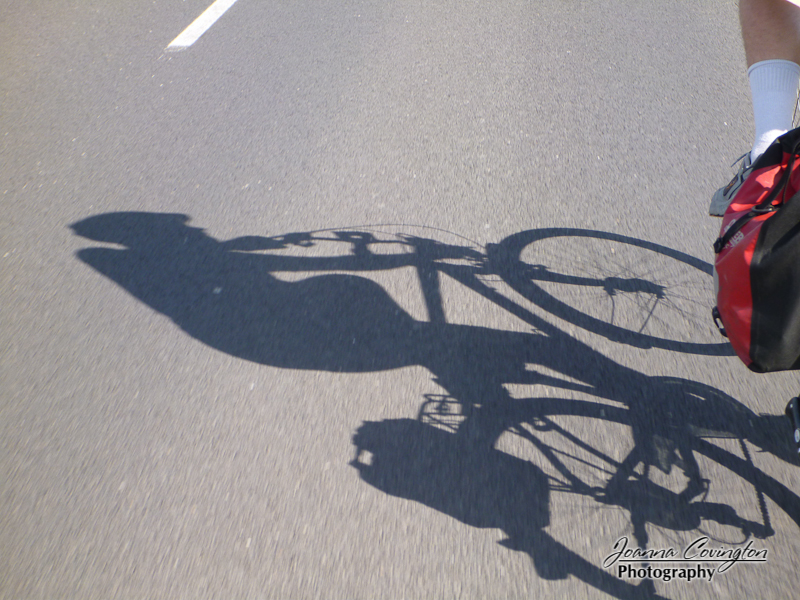 After yesterday, we were still tired this morning and had a slower start today. My eyes still felt swollen with wind burn from yesterday still and I was happy I brought plenty of eye drops. In Sicily I had wished for eye drops due to intense allergies. We've biked through some areas that have made my eyes itch with allergies here too. Breakfast was good at our hotel in Køge. They had quite a variety of everything this morning.
Oh, and today was an absolutely perfect day for cycling. It's nice that our last day is a perfect weather day. We didn't make too many stops for the first 30km or so. Mostly we just enjoyed biking without the crazy wind. We noticed that our Denmark portion of our tour takes more roads and less cycle paths than in Germany. I actually thought it might be the other way around. Most of the roads today had very little traffic.
We stopped at a church very early on to walk around their gardens, then continued on until we were within sight of Copenhagen. We stopped at Hot N Cold sandwich place for lunch and then found ourselves biking through some very lovely park trails. It turns out the closer we got to Copenhagen, the more extensive the bike network got.
Also, we saw so many people out and about biking everywhere. The bike trail network led us by schools, athletic clubs, and gyms. Kids were out biking between places, adults were out running errands, and we just fell completely in love with the bike culture here.
What a beautiful, perfect day! We continued cycling around some beachy strands. Everyone was out enjoying the weather, too. We found some great places to stop and take photos. On one lovely beach, we were interupted by the lifeguard who came over to ask where we were from. Then he offered to take a photo for us. =)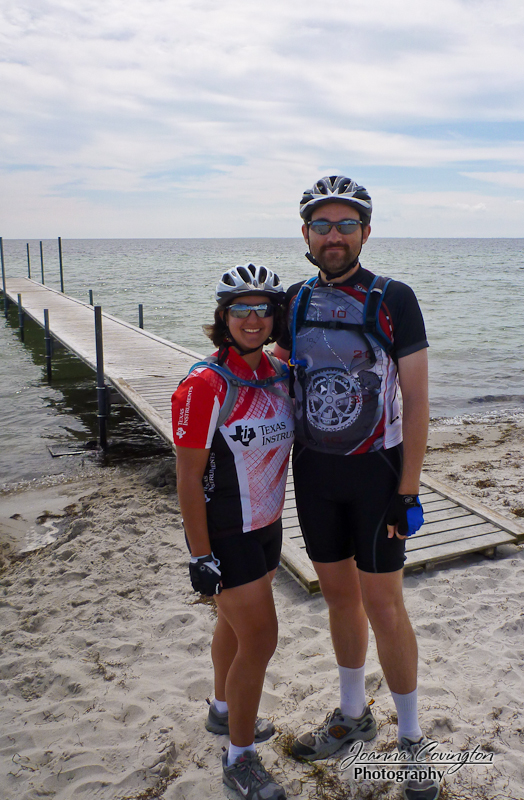 Now that we were close to Copenhagen, we found the area full of dedicated cycle paths. The paths kept us in parks and open fields. In fact, just several kilometers from the city center, we were still cycling in fields with cows and sheep and we couldn't even hear the major highway that we knew was right there.
just outside the city, still cycling in fields with cows and sheep, couldn't even hear the major highway that we knew was right there.
We crossed the bridge over to main-city Copenhagen and boom, there were cyclists everywhere! The cycle network of paths were spidering eveywhere and not even only following the roads. In fact, it was a little tough to figure out what direction to take since I had mapped our route to our hotel via the roads. =) But, we made it just fine. We got to our hotel, Hotel Scandic Sydhavnen, which was fancy and large. But, it had a great shower, comfy beds and free wifi.
We never did find any type of "Welcome to Copenhagen" sign, so we took our trip end photos in front of the hotel. It was a little anti-climatic to end our trip here, at a hotel, but we were proud to have finished biking the 650 kilometers (400 miles) from Berlin.
Since our luggage had not yet arrived, we went for a walk in search of ice cream. The hotel reception was careful to tell us there was not any ice cream in the area other than freezer cases, but we managed to find a little shop with some flavors for us. We waited around in the lobby for our luggage and discussed dinner plans with the rest of our group.
For dinner, the 8 of us got together and ended up eating at the hotel rather than travel and wander the streets looking for a place to eat. It was a great way to end our trip, chatting with our new friends, relaying stories about the ride, and getting information on where we should go next. Our group has collectively done many biking vacations and we all compared where our favorite places where and gave advice for places to go next. A great time was had by all.
So, we are in Copenhagen. We biked here from Berlin and we've still got time to enjoy the city in the next few days. It is strange that we won't be waking up to go biking tomorrow. This afternoon we turned in our rental bikes back to Mecklenburger Radtour when they showed up with our luggage. The exchange was smooth and easy. I definitely recommend the cycling trip from Berlin to Copenhagen to anyone open to a cycling vacation. It was great fun and great cycling.