June 19, 2012 (Day 7)  Biking Day 1
Biked from Oranienburg to Fürstenberg
82.7km (51.4 miles)
9:30am to 7:15pm
weather:  sunny, beautiful, light rain at the end of the day
What an exciting morning.  Today we start our bike tour from Berlin to Copenhagen.  It's a pretty popular route from what I've seen so far on the web and there will be cycle paths and signs taking us the whole way there.  We realized very quickly just how many people were taking off from Oranienburg to go cycling.  The area out in back of the hotel was chock full of cyclists.  Many were German and looked like they were doing their own bike tour.  There was also a huge stack of Mecklenburger Radtour (our bike tour company) luggage in the lobby, plus a stack of luggage from another bike tour company.  Out in back there was a bicycle shed where we went to get our rental bikes. 
Wow, these rental bikes aren't just hybrids.  They are iron giants!  They are heavy and huge with flat handlebars way too tall and places for full saddle bags.  We each got one dry bag saddle bag that attached to the back of the bike.  One had some repair tools inside and we tried our best to fit the bikes to us.  We put our own seats on, though with these style of bikes, we'll be putting more weight on our seats than we are used to with the road bikes and less weight on our hands.  When I stand next to my bike, my handlebars come up to my chest and I feel clumsy getting on the bike to test out the seat height. 
Our lead tour guy explained the route to us and what signs to look for on our way.  We have a really nice booklet published in Germany, in German (no English edition available) that has detailed maps of the whole 630km and lots of great looking information about every little town we will pass through.  Thankfully it also provided a code to download the GPS maps and I put those on our GPS before leaving home.  So we have that to follow.  This is good because we did not get one of those handlebar paper pouches that we usually get to hold the turn directions.
We met two other English-speaking couples who were going our way as well.  Though it is a self-guided tour (meaning we dont have a guide with us), we have other people on the same tour that we will see throughout our journey.  We might be staying at different hotels here and there, but it's still nice to be able to chat with others along the route.  Since we booked with a German bike tour company, I was wondering if we'd be the only English-speaking folks on the tour. 
So, with our clumsy iron giants, we started biking towards Berlin.  We will take 10 days to get to Berlin, biking the whole way with a little ferry ride to Denmark.  Once we figured out which direction to start going, we found ourselves biking along a bike path on a canal.  And we weren't the only people here!  Lots of people were out biking along the canal and what a beautiful day it was to be out biking.  The canal was pretty narrow, but we saw some small boats, fishermen, and of course lots of bikes.
At the first town we got to, I found myself with a flat tire!!  No way!  I haven't gotten a flat tire in a long time and I'm on big knobby tires now.  =(  We pulled over and pulled out our bike tools.  The first thing we noticed was how hard it was to remove the hybrid bike tire.  I'm used to little road tires.  Once the tire was off, we realized the tube was more complicated than we are used to.  To remove the tube from the wheel, we had to unscrew 3 parts and  the actual valve portion of the tire fell off into the grass!  oops.  So the valve consists of about 3-4 pieces, awesome.  We found the leak, but the tour company didn't give us a new tube.  So we repaired the leak and then attempted to inflate the tube.  Hmmm, all these little pieces went together some how.  What a mess.  We spent a good deal of time finally figure out how to put the valve back together and then we pumped up the tire and headed off.
Just a few minutes later my tire was flat again.  Sigh….  We took it all apart again and searched for a new leak.  Nothing.  We tried to see if the repair job was leaking….nothing.  Finally I placed a plastic bag in my lap and made a little puddle of water so we could pull the tube through it and look for little bubbles of a leak.  Finally, we figured out the valve was what was leaking.  We must have dropped some sort of gasket in the grass or something.  Well…..this town does not have a bike shop, but the next town 14km away does. 
After some thinking, Mark had the wonderful idea of using a leaf between the screw parts to seal off the leak.  It wasn't perfect, but it leaked much more slowly.  We took off again.  About 7km down the road, I had to pump up again, but we made it all the way to the next town.  We exited our canal bike path right to a bike shop.  The guy spoke no english, but he fixed my flat and we purchased a few extra tubes.  Yay, now we can continue!  It took about 1.5 hours to deal with the flat.
The canal was skinny, but it apparently needed several locks throughout because we biked past several, including one lock that was actually lowering the water height for a boat to get through.  How neat.  It was like an itty bitty Panama Canal.  =)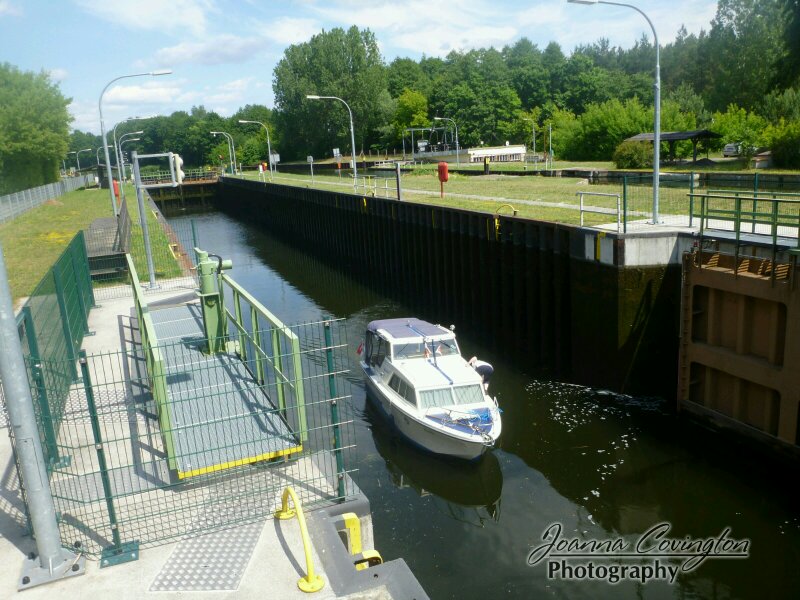 The town also had a little German cafe where we ordered our first German food of this trip!  We got some yummy chicken schnitzel and potatoes.  It was way too much, but it was tasty.  I guess we finally feel like we are visiting Germany now that we've had schnitzel and potatoes. 
Back on the road again, and feeling rather delayed, we got back on some dedicated cycle paths and enjoyed the pretty day and the cycling.  Eventually we came to a local brick museum.  This turned out to be probably the best find on our entire trip.  However, we didn't know this going in.  We walked in their grand entrance full of old machinery and vehicles and found the bike racks.  Lots of bikes were parked, so we parked and started wandering around.  We had read a little bit about the museum and that it was one of the first to figure out a way to almost automate the brick heating process, and the first building we came to appeared to be this grand invention.  It was gated with a ticket slot, so we poked our heads in to even see if the exhibits had any english.  There was some english on the signs, so we went ahead and got tickets.
This is probably one of the best and most interactive museums we've visited.  There were multiple buildings of exhibits with motion detecting lights, automated ticket-takers, interactive displays, and we were free to roam about on our own.  We were the only people in this building, so we learned about the brick making process inside the very building they were making the bricks.
Then we moved on to the next few buildings that were strung together with a passage of arrows telling us which direction to walk.  We watched a short film that was really completely random and had nothing to do with the brick factory except that it was set in the area.  But, when we entered the more modern brick factory, we were amazed at the equipment.  They had interactive displays where we could hear factory workers talk about working there.  The best part was that the workers obviously were not actors and had no idea what to say and were just rambling on.  We got to walk around and touch all the machinery.  There were lights, LEDs, sound, and flashing lights indicating the path the bricks took through the factory. 
However, one of the most fun parts was entering the brick heating area where we were asked to pick up a brick (white plastic) and walk around in the circular building.  As we walked, the bricks changed color from white-cold to yellow, orange, and red-hot.  It was so much fun in this museum!  We stayed all the way until they closed and then biked on.
From then on we pretty much biked on to Fürstenberg without many stops.  We passed a complex that sure did look like an abandoned concentration camp, but there weren't many signs we could ready.  We also saw several, what looked like guard towers, at the edge of the woods next to clearings, but we later learned these were just hunting towers. 
Finally, we arrived at our hotel and found that we were located on the edge of a river.  It was still beautiful out, so Mark had a beer and we ate snacks out on the edge of the river before our showers.  We walked the short distance in to town to find that pretty much everything was closed, but we did find a chinese place open.  Chinese food, but the menu was in German!  Ha.  We had pretty much no idea, and we were sitting there trying to translate the menu with our phones and google translate.  I found out they were out of noodles (how can a Chinese place be out of noodles?) and there went my plan for an easy order.   I ended up just picking something and it was good.
Sadly, a light rain started as we left the restaurant and we walked quickly back to our hotel and went to bed.
Hotel Haus an der Havel is situated in a beautiful setting with the river running by it.  We were not that impressed with the rooms, however.  First off, the windows didn't open, so to ventilate and cool off our room after the showers, we just left the door open.  The rooms were very simple, but they were definitely adequate and in the end we slept just fine.  The hotel didn't have any wifi, so no blog posting tonight.  Breakfast the next morning was decent.