June 18, 2012 (Day 6)
Berlin weather: sunny, warm
Today is our last day in Berlin.  We've really enjoyed the city, especially all the bike traffic.  We do love renting an apartment while on vacation as well.  It makes us feel more at home and less like tourists.  I could definitely see us coming back to Germany someday….maybe with a better grasp of the language.
We woke up early enough to get all packed up and then head into the city for breakfast and some souvenir shopping.  We were able to accomplish all of this easily before noon when our apartment host showed up to take our key.  Then we were off, walking to the Ubahn station, transferring to an Sbahn train and eventually ending up in Oranienburg, Germany which is really just a suburb of Berlin.  It took probably an hour to get here by train and the difference between bustling city and small town was huge, as expected.
For one thing it was much easier to figure out how to get to our hotel, booked by Mecklenburger Radtour for us and only about a 500m walk from the train station.  Also, even though we arrived around 1p, everything was all closed already.  Once we checked into our room and dropped off the bags, we started walking and almost couldn't find a place to eat lunch.  We ended up eating some sandwiches at the grocery store.
Our bike tour officially starts tomorrow, though the tour company started by booking our hotel for tonight.  We will have a 9am meeting where we will get our bikes, some instructions and then be off.  We are really looking forward to our bike tour from Berlin to Copenhagen.  The trip is 630km in length, includes a ferry ride to Denmark, and is apparently a national cycle route.  There are published books just on the route and the route will be signed for all 10 days of biking on the dedicated cycle paths to Copenhagen.  We are a little anxious wondering what the hybrid bikes will be like since we are used to road bikes.  Road bikes were not available for rent, and wouldn't work as well since not all of the cycle paths are paved.  The tour company booked all our hotels, and will move our luggage between hotels while we do the cycling.  The tour company, Meckenburger Radtour, is also providing us with the rental bikes of course.
Anyway, so back to today.  We walked towards the Sachsenhausen concentration camp memorial, about a 20 minute walk from the town of Oranienburg.  We knew that, today on a Monday, the museums on the site would be closed, but the camp was still open for touring.  We were unable to find a tour group for a Monday, but it turned out to be not a problem since they were still renting out audio guides for the site.  The audio guides were amazing and had more information on them than we really had time to listen to.  We stayed until closing time, about 3-4 hours from the time we arrived and we still could have stayed longer.
It is quite a sad experience to visit a concentration camp.  I never thought I would want to, but I also feel that we have to do these things and remember this history and almost experience it to make sure that we remember.  I'm glad we came even though we left a bit sad and depressed.  I'm sure you can imagine.
The site is preserved as a memorial.  The concrete walls of the camp and guard towers are still there in their equilateral triangular shape.  Most of the buildings have been destroyed, but they have laid out the footprint of each of the bunkers and buildings so you can imagine would it must have looked like.  Several bunkers were either rebuilt or preserved so you could look inside and see all the bunks pressed up against each other, or the public washrooms.  Probably the most horrific part of the tour was the site of the crematorium.  It has mostly been torn down, but they saved some of the foundation and created a memorial in the location.  There are mounds and memorials where the mass graves were and mounds and memorials where the ashes were buried as well.
I don't think we could have properly toured the site without the audio guides.  The camp is very large and we were out in the open in the sun for the whole time.  However, it was impossible to even think about complaining.  I'll spare you the details of the audio guides because that information can be found everywhere.  I will share my first impressions of the camp.  We approached along a rather beautiful, tree-lined path and then came to the courtyard where the guards lived.  The courtyard was full of flowers, trees, and life and very pretty.  We sat on a bench to listen to the audio guides and almost enjoy our surroundings. 
Before us, though, we could see the entrance gates to the camp with the infamous phrase, " Arbeit Macht Frei,"  work will set you free.  We knew what was to come.  It was hard to enter through the gates and once inside you saw a barren, sprawling bit of earth all brown and empty.  Talk about setting the mood for the history lesson…..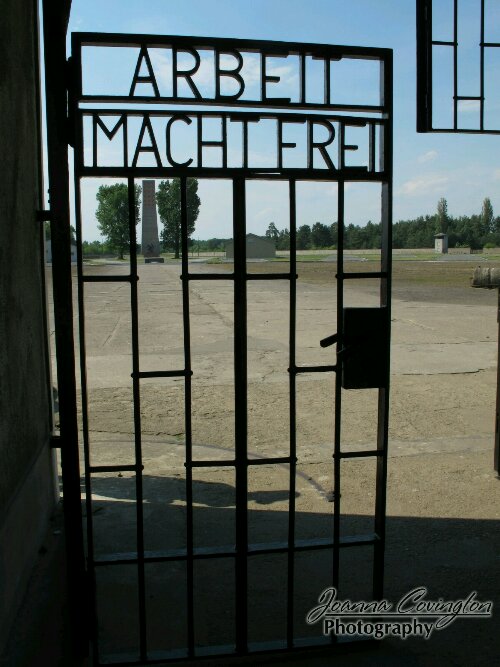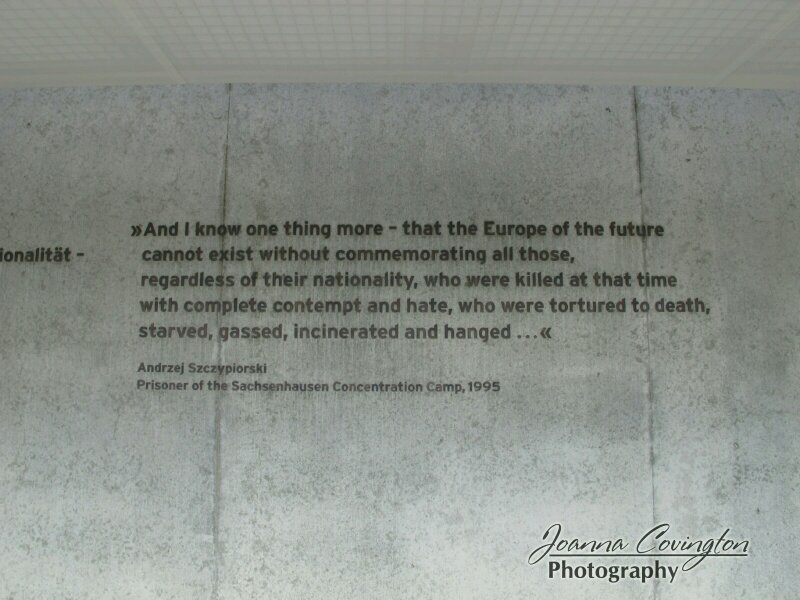 After our tour, we walked back to Oranienburg and noticed that our sunny day had turned cloudy, threatening rain.  In fact, we started feeling the dampness in the air and then the sting of the falling hail as we walked.  We quickly ducked into a covered storefront area to wait out the pouring rain and hailstorm.  We thought we might be stuck here for ages, but only about 5-10 minutes later, the sun was shining and the storm clouds had moved on.  Amazing.  We emerged and walked to the edge of town and back taking photos of some historic buildings and churches and then stopping for some ice cream.
For dinner we found a pizza place serving outside in the nice weather, so we sat and had a lovely dinner.  The great thing about the cultural restaurants, like this, is that we can actually read Italian menus.  We can pronounce the Italian foods, and we can talk to the waiter about it.  In the Mexican restaurants from before, the best part was being able to converse with the waiter in Spanish.  =)
I'm sure I've mentioned this before as well, but we are still so amazed by the long days.  Before we know it, it is 10pm and the sun is setting.  Poof, the day is gone, but there is still light outside.  Twilight seems to extend to about 11pm, when we should already be in bed.  We walked back to the hotel and got ready for our cycling vacation starting tomorrow!  Copenhagen, here we come.