Saturday, October 4, 2014 (Day 11)
Itinerary:
– 7a wake, 8a breakfast at hotel
– 8:40a leave Hotel Kranzbichlhof
– Drive the Rossfeld Panoramastraße from about 9a – 11a taking lots of photos
– 12:45p – 1:30p stop in Seebruck for a view of Lake Chiemsee and lunch
– drive to Stuttgart on the autobahn
– 3:40p to 4p stop for gas and pit stop along the highway
– 5:00pm arrive at Porsche DropOff north of Stuttgart and say goodbye to the car
– 5:30p S-bahn train to Stuttgart Hbf
– 7p train to Frankfurt (with a quick train change in Mannhein)
– 8:50p arrive in Frankfurt about 45 minutes late due to train delays
– Check into Hilton Garden Inn
– Dinner in the Squaire
Odometer:
Starting km: 1558km
Berchtesgaden: 1608km
Seebruck: 1685km
Edge of Munich: 1756km
Gas: 1909km
Ending km: 2021km
Weather:
It is another beautiful, gorgeous, perfectly sunny day in Berchtesgaden this morning, though it is chilly at 48 degrees.  It warmed up to about 60 in the sun in the area.  As soon as we left Berchtesgaden, the cloud cover rolled in and we drove in the gray and cloudy, 55 degree chilly weather.  With the top down it chilled me to the bone.  In Stuttgart, the sun was out and it was 66 degrees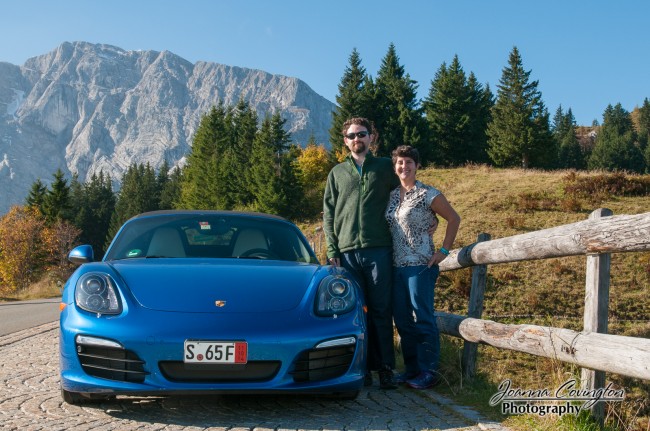 Journal:
It's a photo day!  I am excited to exercise my photography skills today, but also very sad that it is our last day on vacation.  We have to turn the car back into Porsche today.  We can actually turn the car back in at any point, there is no deadline, but we planned out our day so that we would turn it in around 4:30p and not arrive in Frankfurt too late.  Our flight is out of Frankfurt very early tomorrow morning, so we will spend the night there.
Breakfast at the hotel was the standard fare, and we were quick to leave this morning because we wanted as much time as possible in Berchtesgaden before we have to hit the road.  We even managed to leave by 8:40a!  We had decided to drive around the area looking for scenic overlooks to get more photos of the car.  Mark is going to need a lot of good photos to a) show off the car and b)remember what the car looks like because it'll be some time before we see it again.
We randomly decided to drive on a road in the area we hadn't touched yet, and it turned out to be the absolute best decision we ever made.  This was the Rossfeld Panoramastraße and was some sort of national-park-type-scenic-road.  There was a toll to enter the road and as such it limited the traffic to just sightseers.  Also, at 9am when we entered the road, traffic was light enough that we could stop and take photos as the opportunities came up.
I was hoping to get a couple good photos this morning, but I ended up with a slew of awesome photos to show off the car.  So, enjoy!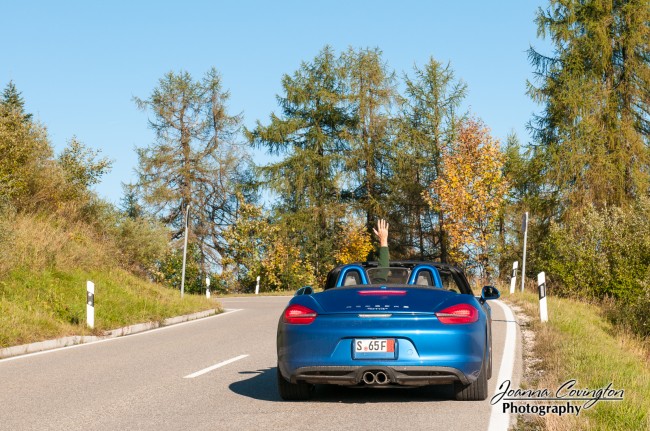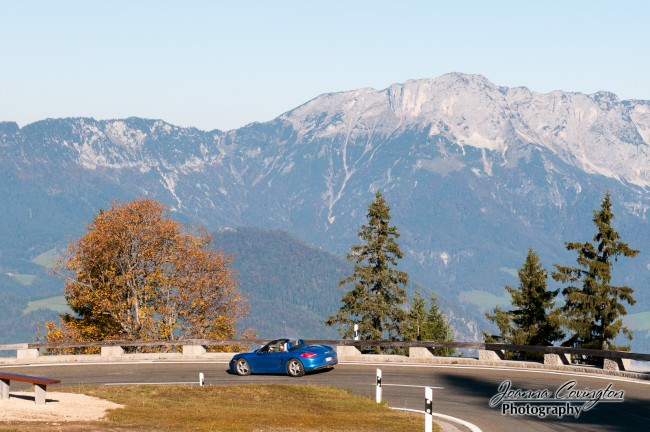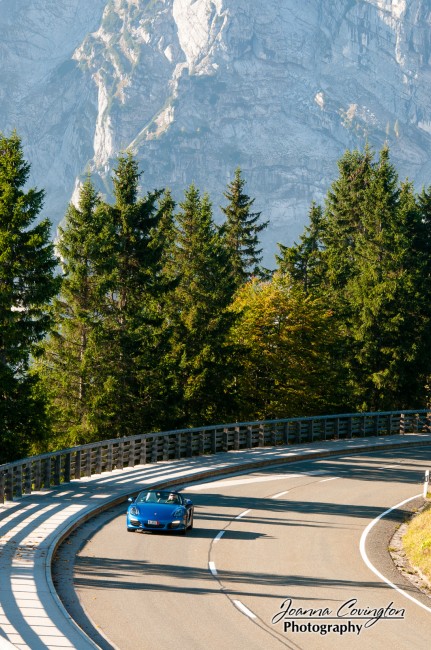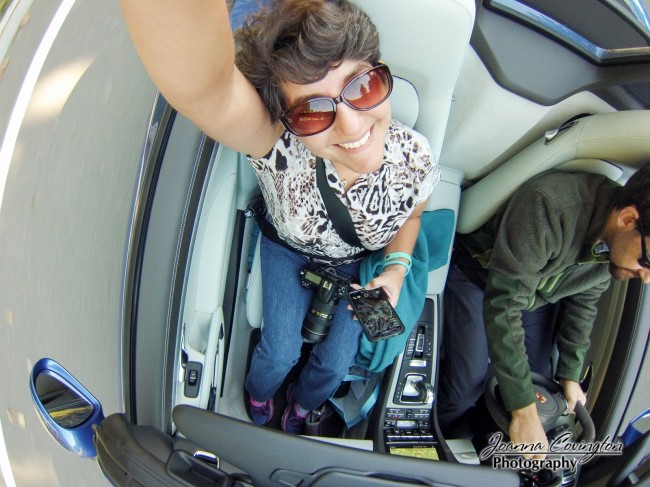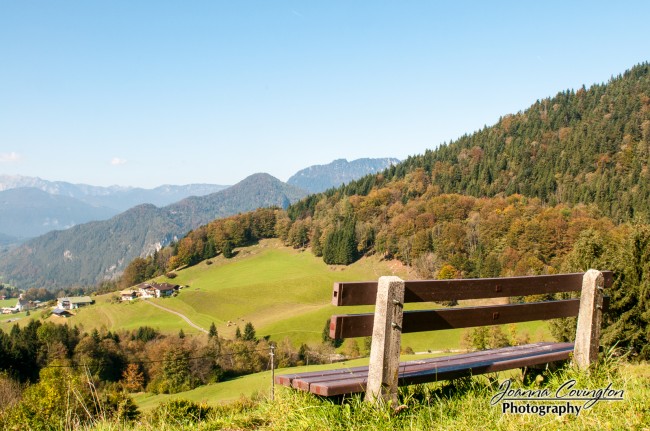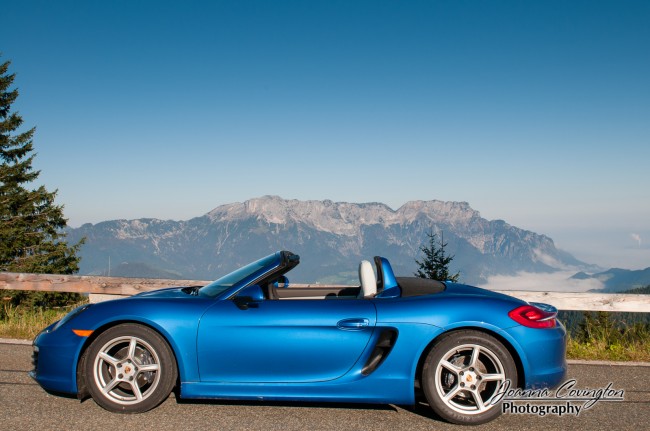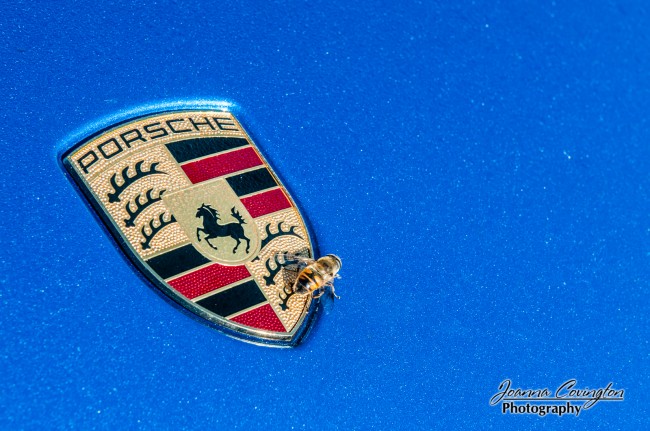 We drove the road up and down twice, and the second time through when it was after 10a, the traffic was definitely picking up and it was harder to find parking spots without other people in the photo.  Along the road we also saw another photography team, but this one was of a cyclist on his bike and the photographer in the car.  The photographer picked the spots for the photos (almost all the same spots I picked) and had the cyclist ride up and down and at different speeds to get the right shot.  I basically did the same thing with Mark, but he couldn't turn around in the middle of the road, so we usually only did one pass of photos.  It was a fun morning.
Sadly, we had to leave, and on the way through Beschtesgaden there was lots of traffic from all the people coming in to spend the weekend.  No wonder I had trouble booking a hotel room here!  Finally, though, we were on the road.  Our plan is pretty much just to drive all the way to Stuttgart at this point.  We are going to stop at a lake we missed on the way up, and then keep going.
Then, the day turned gray and cloudy and we kept hoping the clouds would dissipate.  I kept checking the weather along our route and the forecast kept promising sun, but instead all we had was gray.  Gray and 55 degrees with the top down is very cold, by the way, in case you are wondering.  We only road with the top down to our lake and lunch stop and it took about 45 minutes for me to warm up again.  Mark was nice enough to leave the top up for the rest of our ride to Stuttgart for me.  I think he must have been cold, too, though.  😉
We made sure we weren't driving through Munich as it is the last weekend of Oktoberfest and we do not want to get into that mess.  We pretty much took the big loop highway that went around Munich and headed on our way.  It stayed constantly 55 and cloudy for the whole drive, sadly.  But I guess it makes it easier to leave when the weather is bad.
We had to make a quick pit stop along the highway.  I was surprised that at the gas station we had to pay to use the restrooms.  I figured with buying gas, restrooms would be included.  Anyway, it was all automated and we had to go through a turnstile to go upstairs.  I think our restroom ticket turned into a 50 cent off coupon of some sort, but the information was in German and it didn't matter.  =)  The restrooms were very clean and had scrolling ads digitally displayed in the mirror which was fun and interesting.
The autobahn on the way back to Porsche had lots of areas under construction, so really, there wasn't too much highway where Mark could go as fast as he wanted.  We had to keep slowing down for construction speed limits.  So, it wasn't quite the crazy road I was picturing it to be.  Actually, most cars were going at normal highway speeds as we went whizzing by in the left lane.  Mark managed to get the car up to 137mph for a stretch of road and he said he enjoyed it.  All I can say is that I am not the right audience for sports cars.  =)
We pretty much reached Porsche right at 5p, and about 30 minutes later than we were hoping to arrive.  If we had arrived at 4:30p, we would have been able to catch a much earlier train to Frankfurt.  However, it was fine, we have time.  We spent about 20 minutes at Porsche, taking some last photos and saying goodbye.  Mark had a little bit of paperwork to fill out and the Porsche guy helped us out further by driving us the 5 minutes to the Porsche S-bahn station.
From Porsche, it is a very easy train ride to the main part of Stuttgart, and then we had to haul our luggage over to the main train station and get a ticket to the Frankfurt airport.  At this point the earliest train we could catch was not for another hour, so we grabbed a snack and then were quite entertained just people watching at the train station.  It seemed that 90% of the crowd was wearing lederhosen and didls and were rushing around for Oktoberfest.  It was so entertaining to watch.  We could check out everyone's clothing for one thing.  Also, we noted that many people were carrying balloons tied to their wrist (possibly to make it easier to find your party at Oktoberfest).  The balloons were shaped like unicorns, minions, beer mugs, and other random cartoon characters.  We saw how many people had a giant heart-shaped cookie of sorts tied around their neck.  Also many people were carrying bottles of beer.  No photos, but it made our wait time go by fast.
The train to Frankfurt was longer than it had to be due to train delays of some sort.  Most of the explanations were in German.  We had to change trains once, but mostly it just felt like a long time of traveling.  However, it did feel like we were back to normal carrying all our belongings through train stations.  We arrived at the Frankfurt airport about 8:50p in this giant curved mall-like building called the Squaire.  Our hotel, the Hilton Garden Inn, was just above the train station and super easy to find.  Wifi at the hotel was spotty in our room, too, which was too bad.  But, we were tired and ready for bed anyway.  Plus we were hungry.  We just went downstairs and grabbed some sandwiches to-go for dinner and ate in the room and then fell asleep.
Tomorrow morning the alarm is set for 4:15am!