March 22, 2012 (Day 16)
Bike Odometer: 54.4 km (33.8 miles)
Bike from Mazara del Vallo to Segesta archaeological site
Biking time: 9:30am to 2:00pm
Weather: mostly sunny, 70 – 75 degrees, slightly windy
Today is our last day biking in Sicily.  =(  Actually it's our last full day in Sicily.  Tomorrow we are flying to mainland Italy to continue our vacation on the Amalfi Coast.  We joked today that we should skip dinner and eat about 5 cannolis each instead.  =)  We stole some fruit and bread from the hotel breakfast this morning for our lunch since we don't know if there will be any stores along the way.  The breakfast again had that amazing homemade cake.  It is hard just to eat one sliver.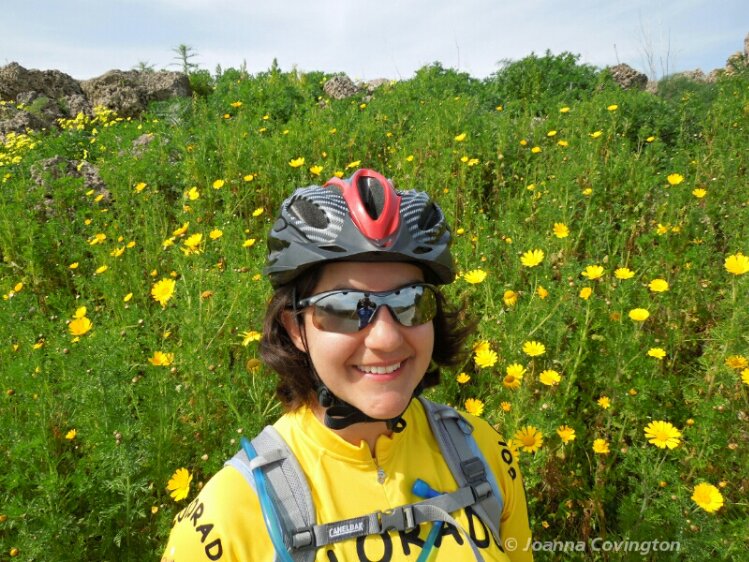 We managed to get moving by 9:30 this morning which is the earliest yet.  Our Siciclando contact is meeting us at Segesta today to drive us to our hotel in Monreale, so we don't want to make him wait for us too long.  Our Italian SIM cards in our phones have been very useful to keep in touch with him.  We texted him that we were leaving and about when to expect us and then we said goodbye to the western coast of Sicily and started biking inland.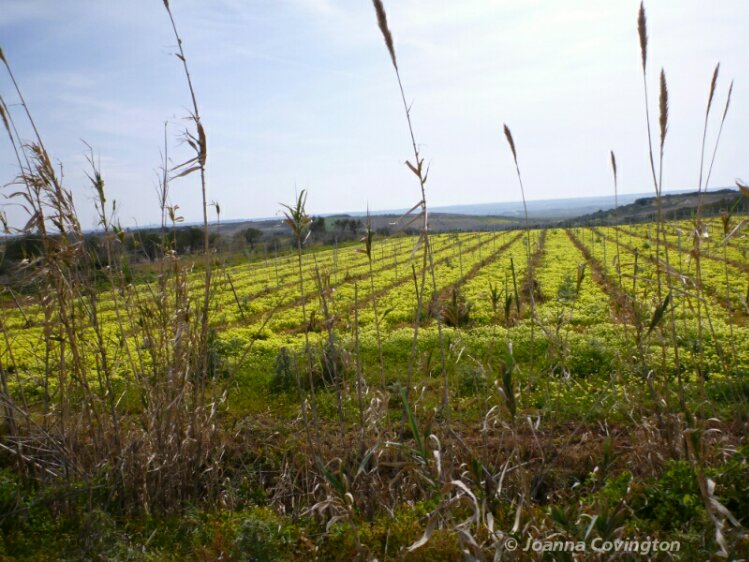 The sun was out again this morning and we can now safely say that we had perfect sunny, biking weather for our whole cycling trip.  There were some wispy clouds out, but our whole ride was sunny and it did not get cloudy until well after we had put the bikes away in the van.  Actually, the sun was almost warm today shining on our backs and it felt very good. 
Funny story just as we were trying to bike out of town.  We had to cross some train tracks and of the four arms to block the tracks, only one was down.  There was clearly no train around either.  All the cars were lined up of course, but we figured we could just hop across real quick on the bikes.  However, there was a police car up here blocking everyone from going.  On the other side were several joggers who wanted to cross, but the police stopped them.  A motorcycle came up and was blocked from crossing.  We were stopped.  We all stood there like this for at least 5 minutes with no train and feeling rather silly.  Finally, the police decided to turn all the cars around and have them go over to the next street to cross at a working railroad crossing!  The police went down the line and told all the cars to turn around.  We had no intention of turning around since we are following our bike cue sheets and don't want to get off track.  So we waited.  One of the policemen walked across the tracks to turn the cars around on the other side including some big trucks who were not happen and had to reverse down the street.  When the police were far enough away, a short one car passenger train actually did come down the track, but the arms didn't raise again after the train passed.  Eventually, with the police backs turned, we crossed over and kept biking. 
We biked through more vineyards today.  It is amazing to me that the grape plants can be trimmed down to just bare sticks and still grow back full of grapes.  We are not quite in the season for grapes yet, so all we saw were acres and acres of freshly tilled bare vineyards over the rolling hills.  We did see plenty of wildflowers as well which made the ride lovely.  If this is just the start of the wildflower season I can't even imagine how amazing it will be in a few weeks when it peaks.
We had a wonderful road to bike on today that had almost no car traffic on it.  This was perfect and one of the few roads that we haven't had to worry about the cars.  We could take video and pictures and even ride side-by-side for a fair amount of the ride.  At one point we passed near a sleepy shepherd and his dogs watching his herd of sheep near the road.  We alerted the dogs who got up and started barking and then the shepherd woke up and called his dogs back.  It's so much nicer to bike past barking country dogs who have their owner there to calm them.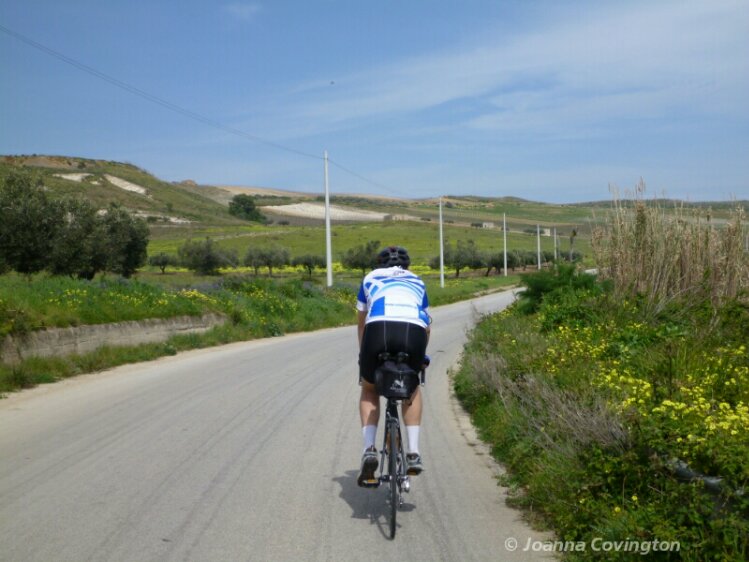 Finally, though, we had to finish the nice rolling hill type of biking and bike up a climb to the peak of our ride and the town of Salemi.  The town was pretty much a ghost town, but looked really neat perched up on a hilltop.  It was touch biking up to it.  We did see a fruit stand in town and grabbed some local oranges to add to our lunch.  Now we had 6 more kilometers to go of hill climbing to the town of Vita where we stopped for lunch.
On the way we were looking for a good place to eat and we passed by an empty lot.  We stopped to debate eating there, though there was nowhere to sit when this adorable little dog peaked out from the bushes and came whimpering over to us.  The poor dog whimpered until it figured out how to cross a gate and then came right to my leg and begged for pets, crying the whole time.  I had a new doggy friend.  I felt rather bad that we had to abandon our friend because it was crying so loudly and licking my legs and pushing its nose into my hand for petting.  The dog followed us down the road for a while before finally giving up. 
In Vita we had our picnic lunch with leftover cheese from yesterday and our stolen breakfast bread from the morning.  Our fruit stand oranges filled in the gap perfectly and then some small bags of M&M's from yesterday made the perfect end to lunch.  After Vita we found a long downhill ride waiting for us with perfect, smooth pavement and no cars on the road to bother us.  We went flying down the hill and made it to our turn off to Segesta very easily.
However, the last 4 kilometers of our ride were climbing up to the archaeological site of Segesta.  We found a place along the road with the Greek temples in the background to pose for our victory photo and then we found our Siciclando contact in the parking lot waiting for us.  He took our bikes and we went on a tour of the site.  Here there are 2 main attractions.  A very well preserved temple sat directly in front of us built by the Greeks in about 400 BC.  Then, about 2 kilometers up a hill sat a Greek theater overlooking the countryside from its perch on top of the hill.
The wildflowers made the perfect foreground for the temple photos and then we hiked up the hill to the theater.  Unfortunately our perfect weather finally came to an end as the clouds rolled in covering the landscape in a dull gray color.  The theater really had a wonderful view, though it would have been even better if they sun was out.  It was windy and chilly up here too, but our hike kept us warm. 
Finally, we ended our tour of Segesta and hopped in the van for about an hour long ride to Monreale, just south of Palermo where we will be staying the night.  I was so glad not to be driving because when we hit the Palermo traffic, the cars and motorcycles all do their own thing.  Motorcycles are squeezing by wherever they can, even crossing the center stripe.  Cars on the left are making random u-turns in the street to come on the right.  Cross-street traffic doesn't stop and just pulls out into your lane hoping you will slow down for them.  People are pulling in and out of parallel parking spaces.  Cars are double-parking at random and sometimes directly in front of you.  As I said…..I was so happy I was not driving.
In Monreale, we had to navigate down a street barely big enough for one lane of traffic, but it was in fact two-way.  Our larger van had to squeeze by some tight spaces with on-coming cars.  Finally, though we made it to the hotel, Carrubella on top of a hill overlooking both Monreale and Palermo down below.  We have a magnificent view from our window, though the hazy smog of the city and gray skies above dulled the view. 
Our hotel bathroom is laughably small.  There is no room for a bidet, but one was thrown in anyway.  You have to set the stool on top of the toilet to take a shower, and you have to open the shower to use the toilet.  We've actually been rather lucky not coming upon any tiny euro-bathrooms until now.  For the most part our Sicilian hotel bathrooms have been very decent in size.
And now it is about time to walk to dinner.  Tomorrow we fly to Naples and pick up our Smart rental car to drive to the Amalfi Coast where we will spend the rest of our vacation.  Until then….