In less than 24 hours I'll be on a flight headed towards Marseille to meet Mark and then we are off to start our Greece vacation. Here's the basic itinerary:
I leave Houston on Wednesday, September 21st, Mark leaves Algeria on Thursday, September 22nd. The first week of our trip, we are joining an organized bicycling tour of the Peloponnese with Cycle Greece. The tour looks amazing and the cycling looks challenging, but I believe we can do it. We will be cycling about 50 miles a day for 7 days to visit Nafplio, Mycenae, Stemnitsa, Olympia, Lampei, Kalavrita, and then back to Athens all on the bike. After a visit to Athens, we will spend several days relaxing on the Greek island of Santorini in the little town of Oia before heading off for a week of hiking in Crete in the tiny tiny town of Sougia. From Crete we fly on a selection of flights back to Marseille for a night before heading home on Thursday, October 13th. We'll have internet at almost every single hotel we stay at along the way with just a few exceptions. I can't promise a blog entry every day as I imagine that the challenging biking will leave us somewhat exhausted in the evenings, but I will do my best to keep my loyal readers updated.
I'm all packed and ready with an action packer worth of supplies for Mark at his home in Algeria (This will stay in Marseille while we are in Greece), a duffel bag, camera bag and my backpack. With the extra biking clothing, accessories, and bike seats, this proved to be a little of a challenge, but of course it all fit. It's a lot to carry to the airport, but remember I'm packing for the two of us. =)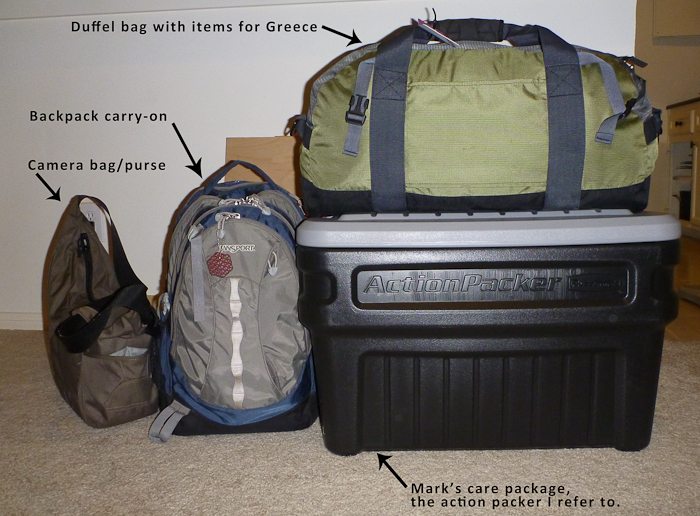 Tomorrow I'm off!